2. Lectora
With Lectora, you'll have no problem simplifying all your course creation processes. It's a rapid elearning development tool packed with useful features for creating dynamic digital learning experiences for your team.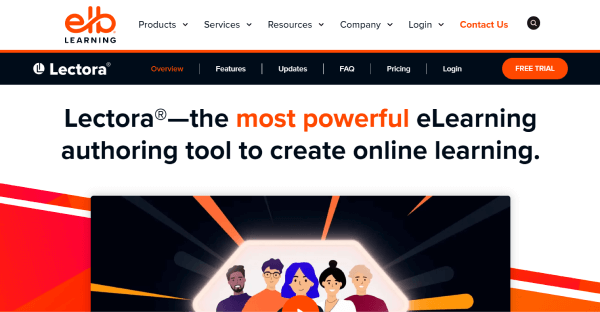 You can use the platform's assets library for stock images, audio, and videos that you can add to your courses to make them look polished and professional. It also has ready-made templates for unified color schemes and styles. These themes and styles are mobile-friendly and adaptable to various devices, allowing accessibility for a diverse audience.
Cost: Free (30-day trial); paid plans start at 1398 USD/year (per author)
Key features:
3. domiKnow
Another tool you might want to check out is domiKnow. It has knowledge management solutions that can help you boost performance and increase knowledge accessibility for your employees, customers, and stakeholders.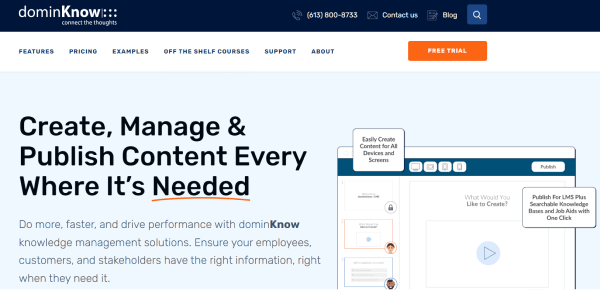 This rapid elearning development tool combines traditional course-making with responsive authoring and software simulation, all rolled into one neat package. That means you can build different types of elearning content faster with templates, stock assets, and real-time collaboration features at your disposal.
Cost: Contact domiKnow
Key Features:
Responsive authoring tool

Templates and stock assets

Interactive elements
4. Raptivity
Raptivity is a rapid elearning development tool that takes care of your course design process so you can focus on improving your content. With its user-friendly interface, it doesn't matter if you're an expert or novice course creator without experience in programming or scripting.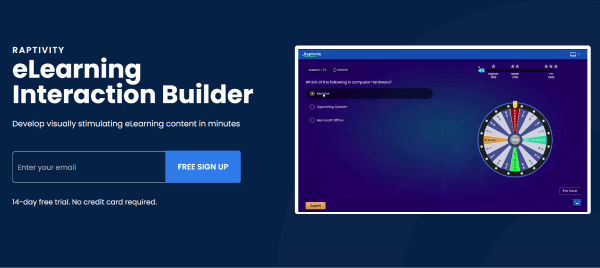 You can seamlessly customize your content and design to suit your learners' needs. Or, add a touch of fun with games and quizzes to boost your learners' knowledge retention. Raptivity also makes sure that your lessons can function across any device, eliminating the need for individual device customization.
Cost: Free (14-day trial); paid plans start at 30 USD/month
Key features:
Customization

Easy-to-use authoring tool

Games and quizzes

Compatible with multiple devices
5. Thinkific
Thinkific offers a course authoring tool that allows you to cater to a wide range of training needs while considering the need for scalability and accessibility.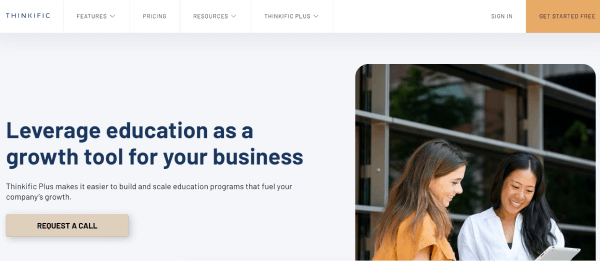 You'll have plenty of options to create your content. With its drag-and-drop authoring tool, you can add basic elements like images, audio, and video to your courses. You'll also have ready-to-use templates that can help you with making lessons, assignments, surveys, and quizzes.
While Thinkific boasts a set of impressive features, you'll have a couple of limitations in terms of courses, chat support, and author access. To gain full access, you'll have to opt for a paid subscription.
Cost: Free; paid plans start at 49 USD/month
Key features:
6. TrainerCentral
TrainerCentral gives you the flexibility you need to create elearning courses. You can build any type of course, set up a unique curriculum, and incorporate multi-format materials to enhance your elearning strategy.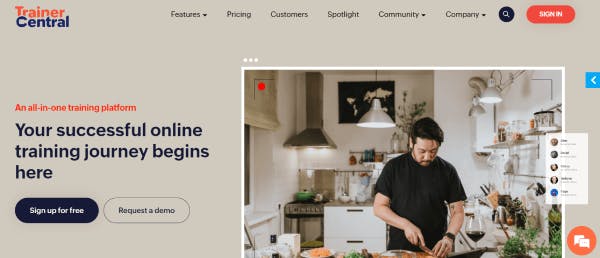 By using the rapid elearning development tool, you can have your content, assignments, and other supplementary materials personalized to your liking. You can gamify your content and put up a scoring system to engage your learners. You'll also have your own dedicated library where you can store all your courses and lesson materials.
Cost: Free; paid plans start at 20 USD/month
Key features:
7. WizIQ
With WizIQ, you'll have a set of user-friendly tools that'll help you facilitate engaging online learning experiences for your learners. To cater to different learning styles, its course creation tool supports various content formats such as text, audio, video, presentations, and HTML.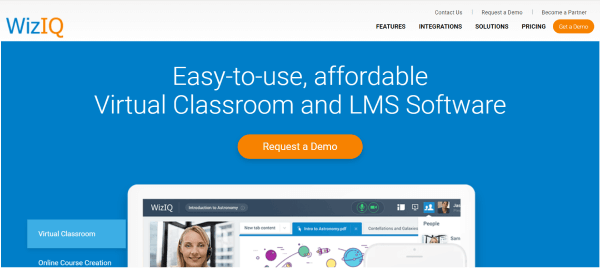 Besides an asynchronous format, you can also create branded learning portals to train your customers or partners through tutorials or live classes. WizIQ offers accessibility around the clock through personal handheld devices, so your learners can take their courses or join your live classes on the go. You can even sell your courses if you're looking to expand your reach and generate additional revenue streams.
Cost: Contact WizIQ
Key features:
8. CourseArc
CourseArc is another great addition to our list of authoring tools examples for onboarding, compliance training, upskilling, or reskilling. You can effortlessly design and deliver your training content while making sure it's available for your learners wherever they're located.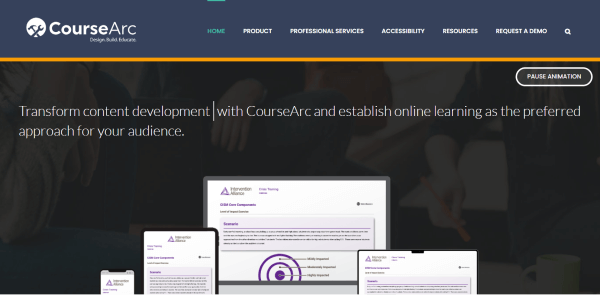 It has design block templates that you can customize with unique assets to maintain organizational branding consistency. You can also opt for its multi-branding feature, where content can be easily rebranded and white-labeled for reuse or resale purposes.
Cost: Contact CourseArc
Key features:
9. Visme
Visme is a popular design platform with free authoring tools for elearning. It's an all-in-one platform for streamlining content creation for training.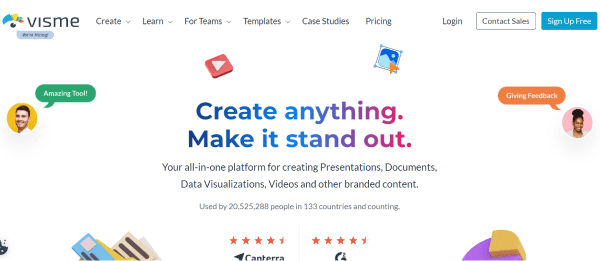 With Visme, you can create learning resources like slide courses, instructional videos, and training manuals. You can also pick from Visme's extensive stock library for free media assets and make your material interactive by incorporating elements like hotspots, pop-ups, and other fun effects. Or, customize it to your branding with your own logo, brand colors, and fonts for cohesive design templates.
You'll also have a chance to collaborate with team leaders and management with the rapid elearning development tool's real-time commenting and markup editing features. You can use "whiteboards" to strategize and organize your content authoring process.
Cost: Free; paid plans start at 29 USD/month
Key features:
10. Vyond
Unlike other rapid elearning development tools, Vyond focuses on producing engaging elearning and training videos that learners can access at their own pace. It's an excellent tool for organization updates, continuous learning, and scenario-based training.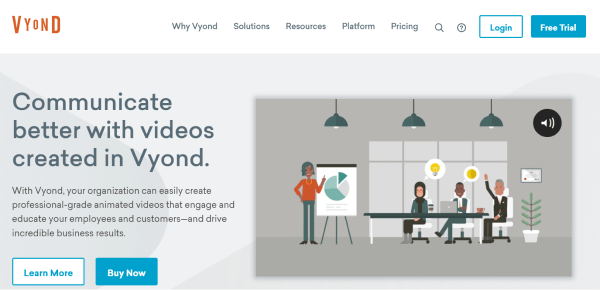 You don't need to have experience in video production to use Vyond. You can easily make professional-grade animated videos or enhance existing materials that you can integrate into your preferred LMS.
Cost: Paid plans start at 25 USD/month (per user)
Key features:
Smart video production tool

Customization and branding

Integration
EdApp is a mobile LMS designed for today's digital habits—delivering fun, engaging, and effective micro-learning directly to learners anytime and anywhere.
Sign up for this rapid elearning development tool today!