Quiz creation software is the best way to make quizzes in this digital age since they make learning more fun and enjoyable. It automates the assessment portion of your training, making the training process more hassle-free. Check out our list of the best 10 quiz creation software to help you improve your training programs:
Quiz Creation Software # 1 – Rapid Refresh by EdApp
Rapid Refresh is EdApp's very own quiz creation software, created to help you engage and motivate your learners, refresh training ideas, boost recall rates, and measure their overall learning performance.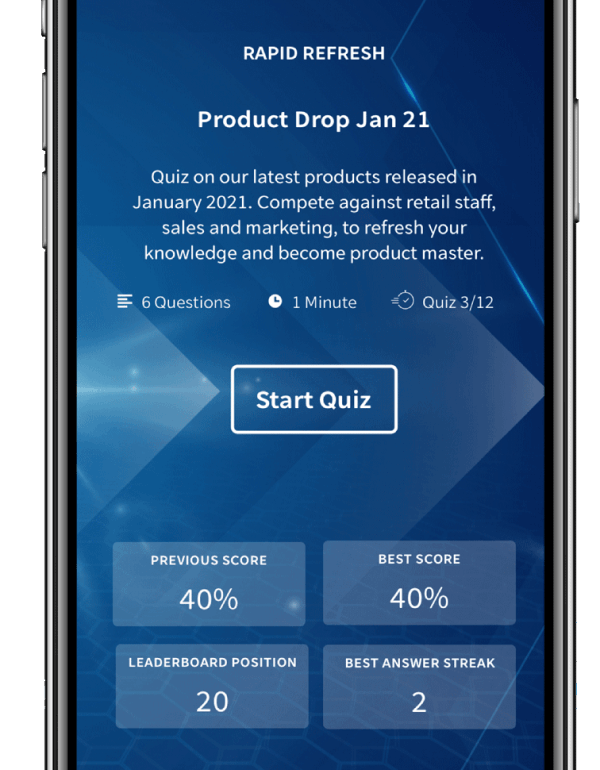 With its intuitive user interface, you can create dynamic and well-designed training assessments in seconds and publish them in minutes.  To create a quiz, simply input your questions into the learning tool's user-friendly Excel template. Rapid Refresh will then quickly transform your content into well-designed quizzes, which you can then send directly to your learners' mobile devices on a daily or weekly basis. You also have the option to launch all of the quizzes at the same time.
Its analytics tool enables you to track employee performance and respond quickly to reports quickly. Rapid Refresh's leaderboards feature supports your workers in enhancing data retention and performance.
Overall, this quiz creation software is great for conducting pre-tests to assess your employees' levels of knowledge on different topics. It can also be used to reiterate important information, such as business updates, as well as to detect skill and knowledge gaps.
In addition to quiz features, EdApp has pre-made courses that you can share with your team when they've finished their quizzes. They specialize on a variety of course subjects, such as active listening training courses, marketing, cyber security, and electronic commerce, among many others.
Offer expertly tailored professional growth that your team will love. Send over your learning requirements to EdApp's expert instructional design team, and they'll turn them into engaging and informative courses.
Cost: Free
Features: gamification, customization, in-app branding, leaderboards, reports, and analytics
Quiz Creation Software # 2 – Qzzr
Qzzr is a quiz creation software that helps your organization better understand your clients. With an easy-to-use and beginner-friendly interface, you can dedicate more time to developing great quizzes than learning how the program works. You can also include customizations, photos, and media to make your tests appear like they're part of your website or business. Additionally, you can use Qzzr's data and analytics feature to find out what your respondents are truly saying.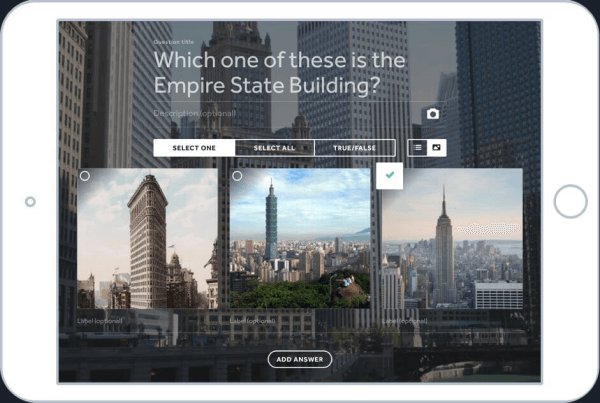 However, some Qzzr users report having several problems due to its highly-specialized use case limits. It's not a free application either, but it does offer a free trial.
Cost: $16.67 USD per month
Features: Simple UI, branding, custom elements, images, media uploading, data and analytics
Quiz Creation Software # 3 – Nearpod
Nearpod may be exactly what you've been looking for if you're seeking quiz creation software that incorporates presentations and videos. It allows you to build interactive quizzes and exercises by uploading supporting documents such as PowerPoint presentations, Google Slides presentations, PDFs, and videos.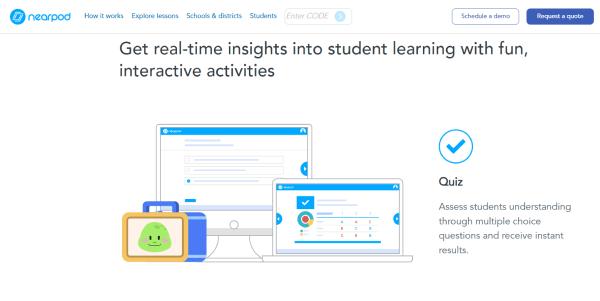 You can also make full use of their content library, which is full of pre-made resources for every training moment. You can keep your learners interested and engaged in your training topics and gain real-time insights about your program with nine different kinds of evaluations.
Despite Nearpod's free plan, your library storage and lesson capacity and the number of learners you can include in sessions will be very limitedcompared to getting their paid plan. 
Cost: Free
Features: supporting documentation uploading, pre-made resource library, nine types of assessments, real-time insights
Quiz Creation Software # 4 – QuizGame
QuizGame is a gamified quiz creation software that will help improve post-training knowledge retention among your team. It includes a variety of pre-made themes and quiz types, including games, stock-market-style structures, duels, and group trivia. It also gives you access to data analytics so you can track your workers' learning progress and interactions more effectively.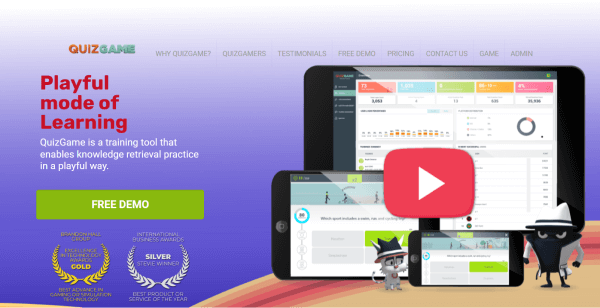 This quiz maker program effortlessly enhances your employee training by assisting you in measuring workers' current knowledge, creating a competitive environment, increasing engagement, and improving information retention.
Cost: Free demo
Features: pre-made templates, gamification, analytics
Quiz Creation Software # 5 – Typeform
Typeform is a quiz creation software that allows you to construct vocabulary tests for your team. The test maker platform enables you to increase learner engagement by modifying themes, Google fonts, colors, buttons, and other elements. You can include multimedia content available in their library, such as videos, logos, and photos. You also have the option to use your own media into them.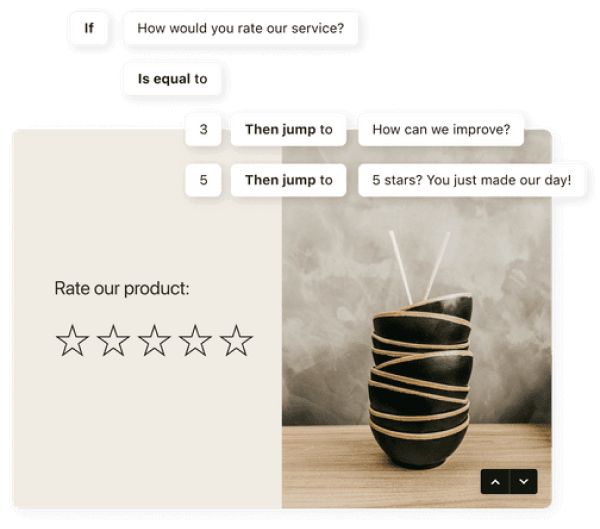 With no coding skills required, you can build your own quizzes exactly the way you want them to be. This platform's drag-and-drop builder makes it simple to design quizzes in minutes. It also includes integrations with other popular applications such as Google Sheets, Salesforce, Slack, Google Analytics, Zapier, and Hubspot.
While Typeform is fantastic, it must be used alongside other LMS before you begin testing knowledge.
Cost: $25-83/month
Features: quiz maker, survey maker, form maker, customization, integration
Quiz Creation Software # 6 – Opinion Stage
Opinion Stage is another beginner-friendly quiz creator that works on all of your devices. You can create a variety of assessments for your L&D programs based on what you believe would best engage your employees. Here, you can incorporate picture questions and use images, such as items or events, as a response to a question. You can also use Synonym Questions, which ask your learners to choose a term that has the same meaning as the supplied word. The more common question types like Fill in the Blanks and Multiple Choice are also available for you to include.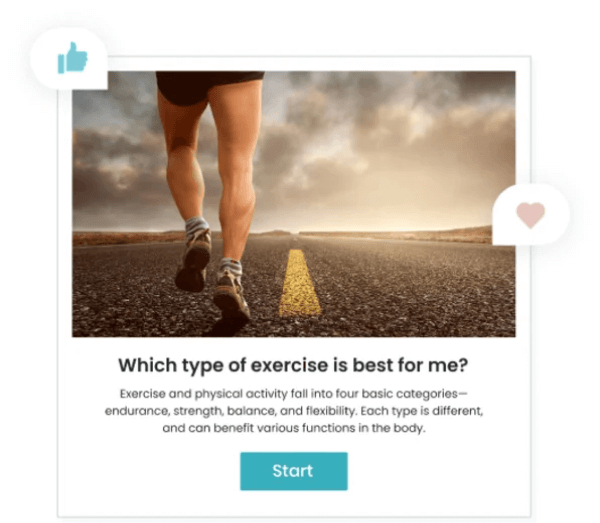 Opinion Stage offers many important features, but it also has significant downsides, such as the fact that it's only available in English.
Cost: $199/month
Features: multiple quiz options, mobile compatible, customization
Quiz Creation Software # 7 – FlexiQuiz
FlexiQuiz makes it simple to develop, publish, and evaluate online assessments for your teams, so you can give them a dynamic and engaging blended learning experience. With this quiz creation software, you won't have to worry about producing quiz content from scratch since all of the features are easy to implement and require no coding knowledge. Simply select from its question templates and formatting choices to create a quiz, including multiple-choice, photo choice, essay, short answer, matching, or fill-in-the-blanks. You can also enhance your questions and make them more interesting by using media such as GIFs, photos, videos, and music.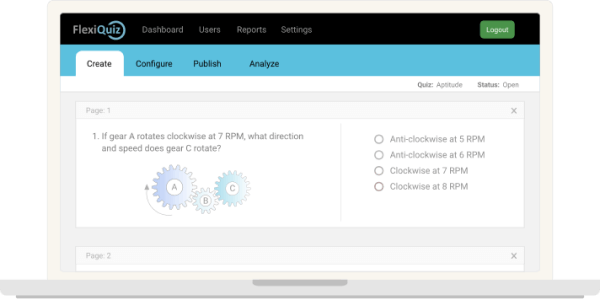 Keep in mind, however, that the free edition of this platform doesn't enable you to delete the FlexiQuiz logo. Only after upgrading to their paid membership plan will you be able to use the logo removal and branding tool.
Cost: Free
Features: various questions formats and templates, media integration
Quiz Creation Software # 8 – Fyrebox
Fyrebox is another quiz creation software that assists you in creating engaging and well-designed tests.You can check your workers' knowledge by using a presentation-style test on your site or a discussion quiz format on messaging applications like WhatsApp, Messenger, or WeChat.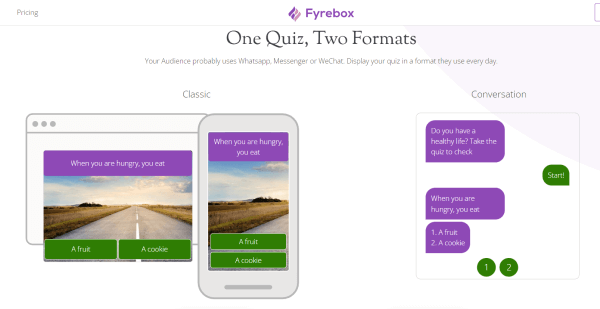 If you're not sure where to begin, Fyrebox offers well-designed themes and customizable templates to help you construct your first quiz. You can also customize your quizzes and include personalized elements by changing color themes, importing background photos, or selecting your favorite font style. 
All subscriptions allow you to generate an unlimited number of quizzes. However, keep in mind that the free edition publishes all quizzes with the Fyrebox logo.
Cost: Free
Features: customization, library of hemes and templates, unlimited quiz creation and completion
Quiz Creation Software # 9 – SpeedExam
SpeedExam is a one-of-a-kind online quiz creation software designed to help learners with self-study. It includes a variety of questions to challenge your learners more with their training. You can establish a question bank for your organization, then you can design assessments from that pool of questions.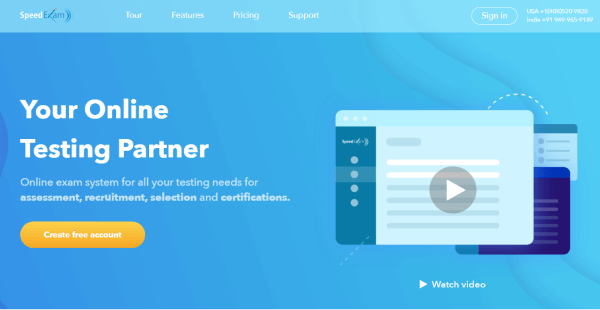 You can also build assessments that can be taken all at once, either in the same area or in various locations, which is ideal for companies that operate globally. With SpeedExams' exam monitor, you can even observe your workers while they take their examinations. Its free version allows you to only have up to 25 exam attempts every month with up to 5000 questions.
Cost: Free
Features: question bank, concurrent tests, automated proctoring
Quiz Creation Software # 10 – Edbase
Edbase is a user-friendly quiz creation software that allows you to develop exams in only a few minutes. Simply drag and drop items from your current collection of questions to your Edbase quizzes and reorder them in whatever way you choose. It also comes with a question editor, so you can add photos and videos to make your tests more engaging. You can even set time limits, randomize the order of questions, and even restrict learners' screens to ensure test honesty. Edbase has a free plan that only allows for 10 test takers and 20 exam attempts each month.
Cost: Free
Features: drag-and-drop question editor, question bank, integrity protocols
EdApp is a mobile learning management system designed for today's digital habits, delivering more engaging and effective micro-learning directly to learners anytime and anywhere.
Sign up for this quiz creation software today.