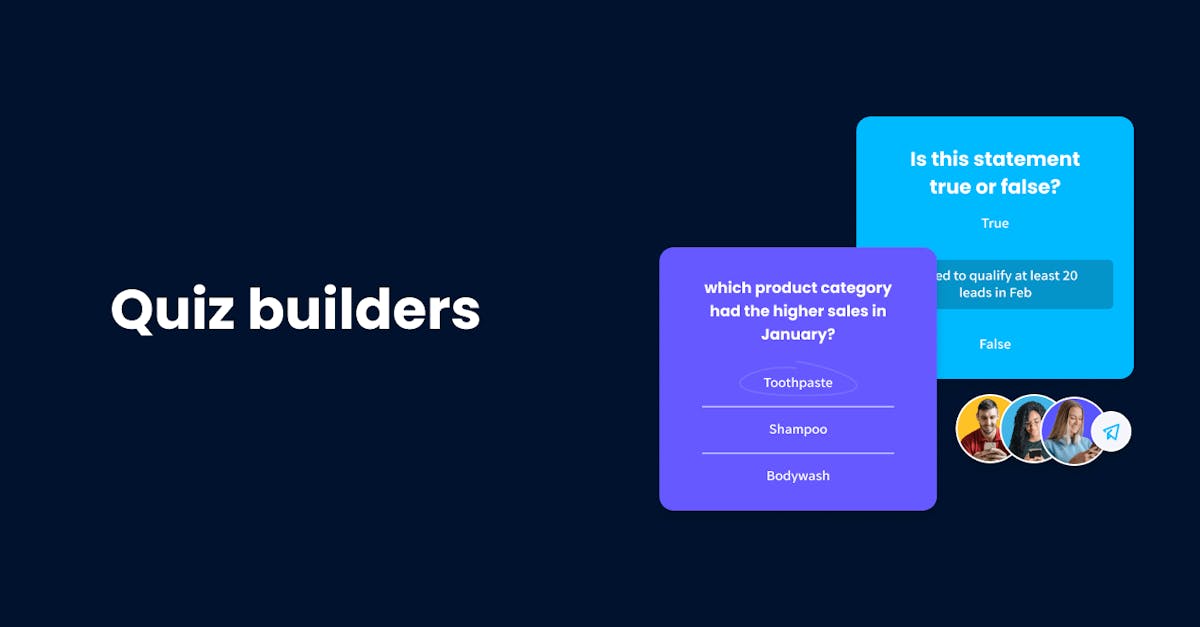 1. EdApp Quiz builder
Why use EdApp?
With EdApp, you can create an online quiz and take your training materials to the next level. You don't have to start from scratch. With EdApp, you have unlimited access to their free quiz maker formats, including word building, multiple choice, true or false, and more.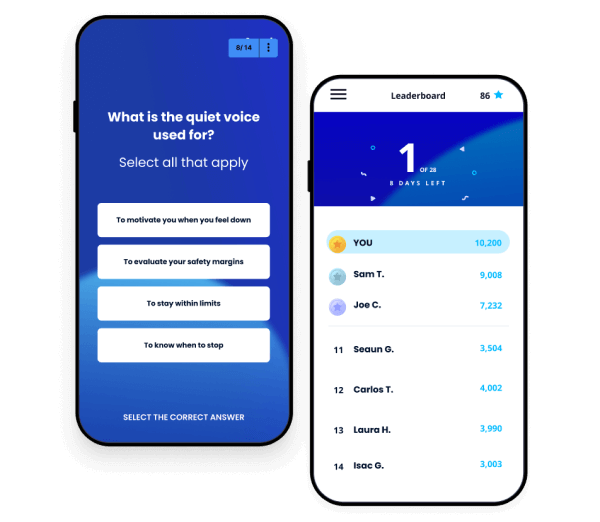 You can also gamify your evaluations and tests by using EdApp's game-based templates, such as find-a-word, Jeopardy, and letter jumble. 
Features:
Access a ton of quiz-building templates in the template library

Gamify your quizzes to increase knowledge retention

Make a quiz within minutes, not hours
Get started on your quizzes today.
2. Testportal Quiz builder
Why use Testportal?
Using Testportal's online quiz builder, you can also create a quiz online. All you have to do is select from the available questions, add your test questions, and in a matter of minutes, you'll have a mind-boggling test ready for your team. You can even watch the development of your team in real time and collect a comprehensive snapshot of the most thorough online quiz stats.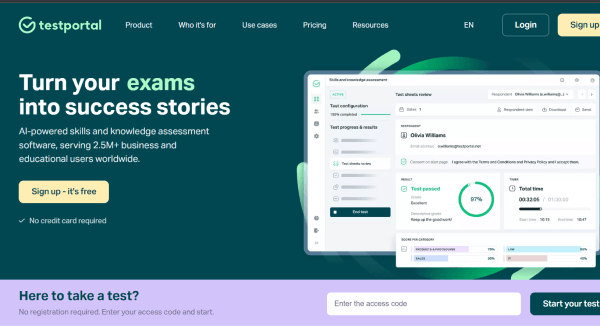 Features:
Effortlessly create quizzes online

Access training and quiz analytics
Cost: Starts at 29 USD per month
Platforms Supported: Web
3. Google Forms Quiz builder
Why use Google Forms?
Google Forms is more than just an app for producing forms; it's also ideal for making quizzes and exams. There are several quiz types available to show your exam questions, including multiple-choice, checkbox, and dropdown.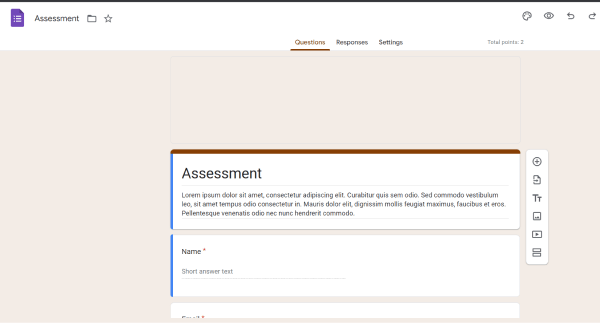 It even supports file uploads for more in-depth replies. Best of all, you receive an instant summary report of the results after each quiz. This is more efficient than manually documenting the answers of your learners. 
Features:
Upload your questions through the file upload feature

Use different types of questions with Google Forms' question templates
Cost: Free
Platforms Supported: Web, IOS, Android
4. Experquiz Quiz builder
Why use Experquiz?
ExperQuiz is a powerful quiz builder that streamlines the management and evaluation of corporate knowledge. To make learning more meaningful for your learners, you may build static and dynamic random question patterns and include course materials and explanations for each quiz.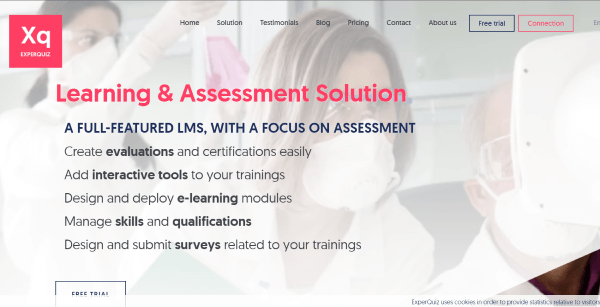 To make the evaluation process more interesting and engaging, you can modify the difficulty level or set a time restriction for each question.
Features:
Create random question patterns that are static and dynamic

Develop course materials and explanations of topics

Control the difficulty level and the time control
Cost: Free
Platforms Supported: Windows, Mac
5. Kahoot! Quiz builder
Why use Kahoot?
Kahoot! may be widely used in educational settings, but it may also be used for corporate training. You can develop a quiz in minutes, either from scratch or by modifying an existing template. Multiple-choice, true or false, polls, riddles, and other question forms are available.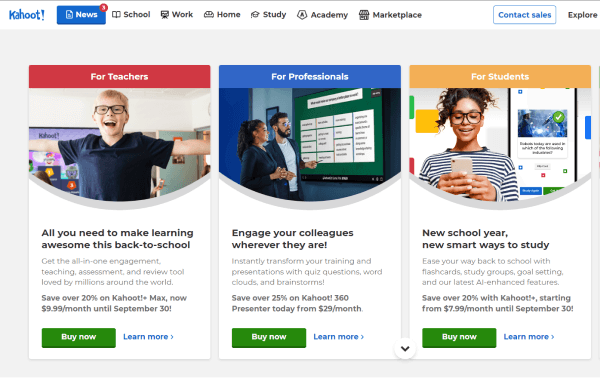 Kahoot! encourages your learners to train together through team competitions and asynchronous learning with self-paced activities. 
Features:
Create quizzes from scratch in minutes

Edit templates to make tests quicker
Cost: 10 USD per host per month
Platforms Supported: Web, IOS, Android
6. Qzzr Quiz builder
Why use Qzzr?
Qzzr is a quiz builder that helps businesses better understand their customers. You can spend more time generating quizzes than learning the application. Custom features, pictures, and media can be added as well to make your quizzes look like they're part of your website or platform. 
Features:
Understand customers through creating quizzes on Qzzr

Add in multimedia to make your quizzes engaging
Cost: Starts at 16.67 USD per month
Platforms Supported: Web, Android, IOS
7. QuizGame Quiz builder
Why use QuizGame?
QuizGame is a quiz builder that can help your team improve post-training knowledge retention. It includes a variety of pre-made topics and quiz types, including games, stock-market-style structures, duels, and group trivia. It also gives you access to important training data analytics, allowing you to watch your workers' learning progress and interactions more effectively.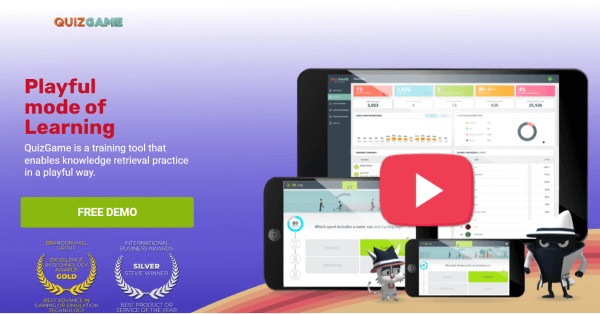 Features:
Easily improve employee training with QuizGame

Gamify the learning experience and boost learning engagement
Cost: Request a quote
Platforms Supported: Windows
8. SpeedExam Quiz builder
Why use SpeedExam?
SpeedExam is a one-of-a-kind online quiz authoring program that helps your learners to study on their own. It gives a range of questions to further push your learners' training. You can set up a question bank for your organization and then create evaluations from that pool of questions.
Features:
Build quizzes and tests that can be taken all at once

Generate pre-made questions on the platform
Cost: Starts at 20 USD per month
Platforms Supported: Web
9. Edbase Quiz builder
Why use Edbase?
Edbase is an easy-to-use quiz builder that allows you to create tests in just a few minutes. Simply drag and drop things from your existing question collection into your Edbase quizzes and reorganize them as desired. It also has a question editor, which allows you to add photographs and videos to make your tests more engaging.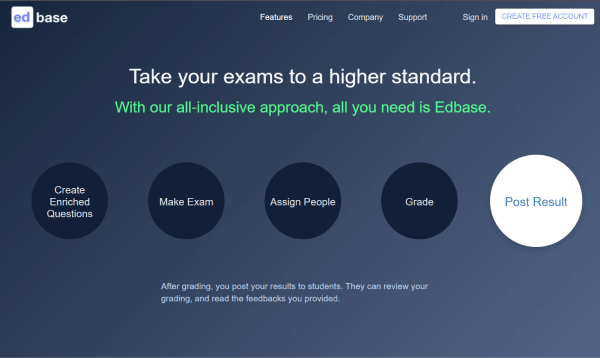 Features:
Take advantage of the drag-and-drop feature

Cut down on quiz-making time 
Cost: Starts at 30 USD per month
Platforms Supported: Web
10. FlexiQuiz Quiz builder
Why use FlexiQuiz?
FlexiQuiz makes it easy to create, distribute, and analyze online exams for your teams. This gives you the power to present them with a dynamic and interesting blended learning experience. You won't have to worry about creating quiz content from the start with this quiz builder, because all of the features are simple to use and don't require any coding experience.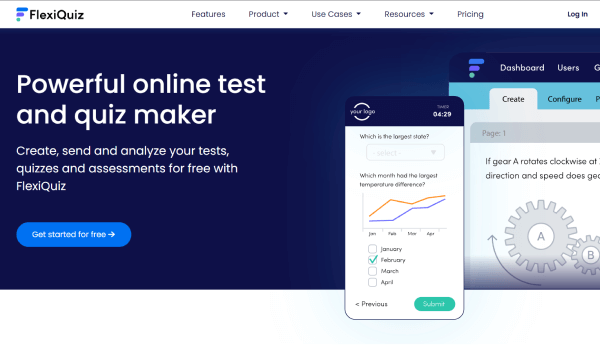 Features:
Create online tests for your teams from scratch

Develop a blended learning experience with FlexiQuiz
Cost: Free
Platforms Supported: Windows
How to create a quiz for training?
Creating a quiz for training involves several steps to guarantee that it's informative, engaging, and effectively conveys the intended information. Here's a step-by-step guide on how to create a quiz for training purposes:
Define learning objectives
Start by clarifying what you want learners to learn from the quiz. Identify the key concepts, skills, or knowledge areas you want to assess. These learning objectives will guide the creation of quiz questions.
Select question types
Choose different question types that align with your learning objectives. Common question types include multiple-choice, true/false, matching, fill-in-the-blank, and short-answer questions. Each question type serves a specific purpose in assessing different aspects of learning.
Create questions
Write clear, concise, and relevant questions that directly relate to the learning objectives. You can use tools to create an online quiz to help you get started on questions. Verify that questions are not ambiguous and have a single correct answer (for most question types). Use proper grammar and avoid jargon or overly complex language.
Craft answer choices
For multiple-choice questions, offer plausible distractors along with the correct answer. Distractors should be similar to the correct answer to make the question challenging. For other question types, such as true/false or fill-in-the-blank, make sure the given options are accurate.
Set difficulty levels
Design questions that cater to different difficulty levels, depending on the audience's proficiency. Include easy, moderate, and challenging questions to accommodate learners with varying levels of expertise.
Give clear instructions
Begin the quiz with clear instructions on how to answer the questions. Explain the format and any specific guidelines, such as time limits or resources trainees can use.
Organize the quiz
Organize the questions logically, considering the flow of topics and increasing difficulty if applicable. Avoid placing questions of the same type consecutively, as this can become monotonous for learners.
Do a pilot testing
Before officially using the quiz, have a small group of individuals (representative of your intended audience) take the quiz and deliver feedback. This helps identify any confusing or misleading questions and allows you to make the necessary adjustments.
Share feedback and explanations:
Include feedback for each question, regardless of whether the participant answered correctly or incorrectly. Explain why the correct answer is right and why the other options are incorrect. This promotes learning and better understanding of your training topics
Review and finalize
Review the quiz for accuracy, consistency, and clarity. Guarantee that the content aligns with your learning objectives. Make any necessary revisions before finalizing the quiz.
Select the right delivery platform
Choose a suitable platform to administer the quiz. This could be a learning management system (LMS), an online survey tool, or even a printed handout, depending on your training context.
Monitor and evaluate
After your learners take the quiz, review the results to gauge their understanding of the material. Analyze the results to identify areas where they might need additional support or clarification.
Remember that a well-constructed quiz not only assesses learners' knowledge but also enhances their learning experience. By following these steps, you can create an effective training quiz that promotes engagement and knowledge retention.
What are the benefits of getting a quiz builder for corporate training?
Using a quiz builder for corporate training can offer several benefits to both trainers and employees. Here are some of the advantages:
Quiz builders allow trainers to create standardized assessments quickly and easily. This guarantees that all employees receive the same set of questions, maintaining consistency in evaluation.
With a quiz builder, trainers can save time that would otherwise be spent manually creating and grading quizzes. This time can be redirected towards other essential training activities.
Corporate environments often require training for a large number of employees. A quiz builder can handle scalability efficiently, allowing trainers to assess and train a broad audience simultaneously.
Many quiz builders give instant feedback to learners. This immediate feedback helps learners understand their strengths and weaknesses, allowing them to focus on areas that need improvement.
Quiz builders typically collect and store data on your trainee's performance. Trainers can use this data to identify trends, knowledge gaps, and areas where additional training may be required.
Some quiz builders offer adaptive learning features. They adjust the difficulty of questions based on your team's previous responses, tailoring the training experience to individual needs.
Well-designed quizzes can make the training process more engaging and interactive. Gamification elements, such as leaderboards or rewards, can be integrated into the quizzes to motivate employees.
In regulated industries, quiz builders can help make sure that employees meet compliance requirements. They can generate certificates of completion for learners who pass the quizzes, delivering documentation of training.
Quiz builders often support online and mobile learning, making it convenient for employees to access training materials and quizzes from anywhere, which is especially important for remote or distributed workforces.
Many quiz builders offer customization options, allowing trainers to align quizzes with specific training objectives and corporate branding.
Quiz builders can offer security features to protect sensitive training materials and data, guaranteeing that only authorized individuals can access the quizzes.
Trainers can use the data from quizzes to continually refine and improve training programs. They can identify which training modules or topics require updates based on learners' performance.
In the long run, using a quiz builder can be cost-effective as it reduces the need for paper-based assessments, manual grading, and administrative overhead.
EdApp is a mobile learning management system designed for today's digital habits, delivering more engaging and effective micro-learning directly to learners anytime and anywhere.
Sign up for this quiz builder today.