Now, with digital platforms, testing goes beyond boring scantrons and pen-and-paper questions. There are many excellent, free online learning platforms with engaging courses and testing to help teachers and L&D professionals alike. 
Today, we are going to compare 10 different free online test maker tools that vary in functionality from simple forms to those with courses, testing, and advanced analytics.
Best Online Test Maker – EdApp
EdApp is free learning management software & online test maker designed with the digital learner in mind. EdApp takes pride in its free course library, authoring tool, test builder, and Rapid Refresh quiz maker, all in one learning platform. Training and learning have never been easier or more fun with this intuitive, award-winning platform. 
Feature list:
50+ authoring & testing templates (no coding required)
FREE course library with completion certificates

Gamification with real prizes built into the learning process

Automatic grading, scoring, and advanced dashboard analytics

Easy in-app branding and customization

Responsive SCORM 1.2 LMS

Test smarter with Brain Boost spaced repetition app: automatically-generated spaced repetition to reinforce content
Setup, create and launch quizzes in a few clicks with Rapid Refresh

Translate your test into 100+ languages with our cloud-based translation tool

Diverse question templates: multiple-choice (carousel, chat simulation, circle the answer, images), games (find-a-word, jeopardy, letter jumble, true or false), and more!
Cost: Free, forever. See other pricing options here. 
1. Nearpod

Nearpod is an online test maker, a student engagement platform, and online course software with lesson authoring, formative assessment, and free courses.
Features:
Author interactive lessons 

Access standards-aligned lessons from ELA to Social Studies for K-12

Run live lessons and get assessment data instantly

Support 100% student participation

Integrate with Google Classroom
Cost: Free and paid plans
Free courses include:
Self-Development

Promoting Respect

Exploring the Social-Emotional World

Self-Determination

Languages

Spanish (K-12)

French (K-12)
2. Udemy

Udemy is a large, open course marketplace for instructors and students alike and it is also an online quiz maker. Author video, text, and audio lessons with built-in testing capabilities. While Udemy does not allow you to create a single test or quiz, it is a great platform to create an entire course with included testing.
Features:
Free online courses with certificate of completion included

Learn from experts on a variety of topics

Publish content as an instructor and get paid

Multiple-choice tests
Cost: Free and paid courses
Free courses include:
Digital Marketing
-Email Marketing Made Easy for Beginners
-Copywriting: Fundamentals For Beginners


-Organic Search And Keywords
Business Management
-Knowledge Management Tools for SMEs


-Start Improving Customer Service
Coding
-Learn HTML5 and CSS3 By Coding Your First Website


-Code a 'Coming Soon' Landing Page in Bootstrap 4
Simple Test Tools
If you're looking for a simple, straightforward way to create quizzes and tests without free courses or advanced functionality, we have 2 options for you. 
3. Google Forms
Google Forms is an easy-to-use Google application which can be used as an online test maker and that allows anyone to create a survey, test, or quiz for students or employees. This program easily integrates with spreadsheets and other Google products, making data collection seamless and straightforward. 
Features:
Author tests, surveys, sign-in sheets, order forms, job applications, and more

Export collected information to an auto-populated Google Sheet

Customization and personalization: change anything from the background to question types to advanced settings

Embed images and videos

Incorporate add-on's like notifications, FormLimiter, and Certify 'Em with competition certificates
Cost: Free
4. HubSpot Forms

HubSpot Forms is designed primarily for marketers looking to gather customer data; however, it is also a powerful online test maker. Similar to Google Forms, it has drag-and-drop questions, and the settings are highly customizable.  
Features:
Easily integrate with WordPress and HubSpot's CRM system

Unlimited forms and submissions 

Up to 1,000 form fields
Cost: Free
5. Kahoot!
Kahoot is an online test maker and a digital assessment tool where users answer questions in real-time through online learning games. While many teachers use Kahoot, it can also be used in the workplace as an excellent way to take polls, engage employees in training content, and ask open-ended questions. 
Features:
Create quizzes in minutes or access an extensive quiz database 

Assign students or employees self-paced game challenges

Access reports with critical stats and download them to a spreadsheet

Customize point values, question types, and other game settings

Duplicate Kahoots again and again
Cost: Free and paid plans
6. Quizlet
Quizlet is a learning platform where students, teachers, and trainers can author quizzes in a flashcard format. You can create flashcards or access a vast library of pre-made flashcard stacks. 
Features:
Duplicate and customize existing flashcard stacks

Assign flashcards to students in a test format

Access pre-made flashcards for Professional & Careers and Standardized Tests

Utilize various study modes to support spaced repetition and gamify learning
Cost: Free
7. EasyTestMaker
EasyTestMaker is a free quiz maker that helps you author a variety of tests and manage your learners. Either administer your test online (where it is graded automatically) or print it out for users to do on paper. 
Features:
Variety of question formats: multiple-choice, fill-in-the-blank, matching, T/F, and short answer

Export all tests to PDF or Word

Create alternate test versions to limit cheating

Print analytics and student test results

Question pools
Cost: Free and paid plans
8. ClassMarker

ClassMarker is a digital testing system that can be used in a classroom or business setting. ClassMarker's interface makes it easy to create, distribute, and grade tests. 
Features:
Branding options

Certificates of completion offered

Automatic analytics and results

Do everything online: no software needed

Make exams public or private
Cost: Free and paid plans
You may also be interested in free learning tools or learning how to create an online course.
9. FreeOnlineSurveys
FreeOnlineSurveys is a free survey and test maker that can be used in small or large-scale online assessments. You can create unlimited quizzes using this platform.
Features:
1000+ responses supported
Customizable templates and test samples

Different test formats available (multiple choice, open-ended, rank,  etc.)
Cost: Free
10. Kahoot
Kahoot! is game-based online quiz software that uses colorful visuals and gamification elements to boost engagement. It offers quizzes with multiple-choice questions, as well as "type answer" questions wherein participants will have to type in their answers to show a deeper understanding of a certain topic.

Features:
Interactive game-based format

Multiple game templates

Real-time group participation or self-paced 
Cost: Free, Paid
11. ProProfs
ProProfs's free quiz maker allows for complete customization by adding images, themes, and backgrounds to make your quizzes visually appealing. You can also choose from hundreds of their templates that you can copy, edit as needed, or use right away.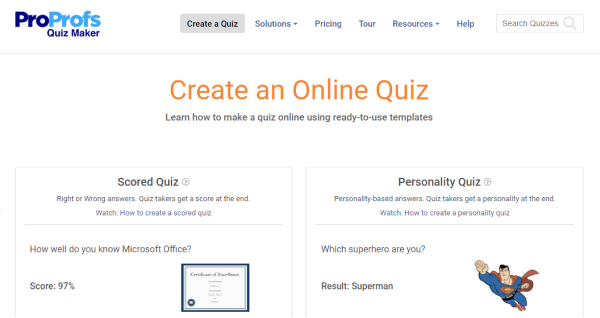 Features: 
Custom completion certificates

Huge selection of templates

Drag and drop interface
Cost: Free, Paid
12. Interact
With Interact's online free elearning creator software, you can create an unlimited number of quizzes. You can choose among Personality, Scored, and Assessment quiz types, with over 800 pre-made quizzes that you can edit and customize to your liking.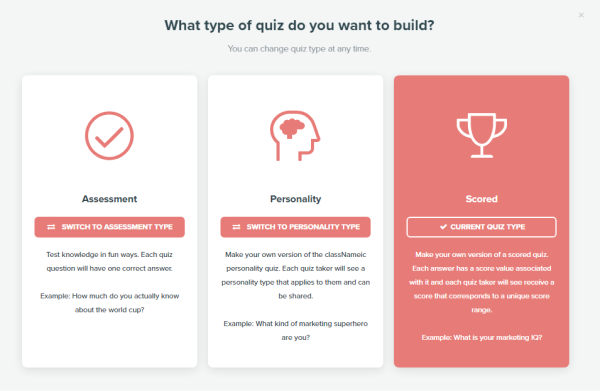 Features: 
Unlimited quiz creation and completion

GDPR-compliant

Customizable templates
Cost: Free, Paid 
13. Typeforms
Typeform is a free quiz maker that uses a drag-and-drop tool to help you quickly build great-looking online quizzes. It allows you to make interactive quizzes through the use of images, GIFS, and videos. Your quizzes are fully customizable, so you can adjust the color schemes, add background images and change the text.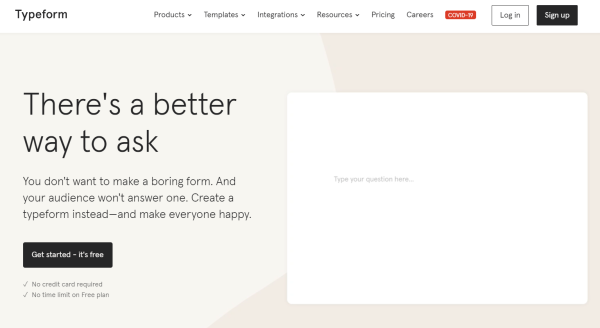 Features:
Drag and drop editing tool

Intuitive interface

Great customization
Cost: Free, Paid
14. Riddle
Riddle is an online quiz creator best utilized for lead generation but can be used by any organization for their online quiz needs. It has 15 different types of quizzes to choose from and has a template library to select from as guidance when making your quizzes. 
Features: 
GDPR-compliant

Wide selection of quiz types
Cost: Free, Paid