The rise of online learning today is eminent, and the best way to make the most out of it is by investing in the best online teaching platform that can help you give your learners the best learning experience. In this article, we'll provide you with a quick run-down of the 10 best online teaching platforms to consider for your elearning programs.
1. EdApp
Teaching online has never been easier with EdApp, a top-tier online teaching platform applauded by several organizations and companies for its advanced but ultimately user-friendly tools and features. This SAAS has raised the bar high in elearning, boasting a full range of powerful teaching solutions like microlearning, mobile learning, and spaced repetition that can take your workplace training to the next level.
EdApp's drag-and-drop elearning authoring tool is the key feature that sets it apart from the competition. There's no wonder, especially that it's very much easy-to-use, mobile-friendly, SCORM-compliant, and most of all, free for anyone who needs beautiful course content. It is also backed by a large base of engaging and intuitive templates that are ready to be populated by your courseware. If you're short on time, you can also import from their extensive microlearning course library. Most of their ready-made and editable courses include manager soft skills courses, sensitivity training courses, technical writing training courses, and more. 
Constantly pushing past their limits to secure the best online teaching platform for trainers and managers, EdApp has also built a Virtual Classroom feature that works harmoniously with video conferencing platforms like Zoom and Microsoft Teams. Here, you can schedule and carry out video conferences and virtual learning sessions with your team, which is a big plus in the realm of online training. There is also an option for a conference recording. This way, learners can still access and rewatch the class even after the session has already ended. 
There are so many more online teaching solutions that you'll discover from EdApp. It also offers an online quiz maker tool, customizable banners and badges, PowerPoint conversion, and discussions and assignments feature. Book a demo with them to learn more. 
Price

: Free

Key features:

Drag-and-drop authoring tool, intuitive templates,

microlearning course

library, ready-made courses, Virtual Classroom 
2. ProProfs LMS
ProProfs LMS is the world's easiest learning management system used by enterprises and educators across the world. Being cloud-based, users can access it anywhere, anytime, and on any device. This online teaching platform comes with a user-friendly training maker and a quiz-making tool for easier content creation. A library of 100+ ready-to-use courses and assessments enables rapid training development. It also allows you to upload engaging multimedia files such as images, audio, videos, presentations, and infographics. Its other offerings include mobile learning, social learning, knowledge base, and AI reports.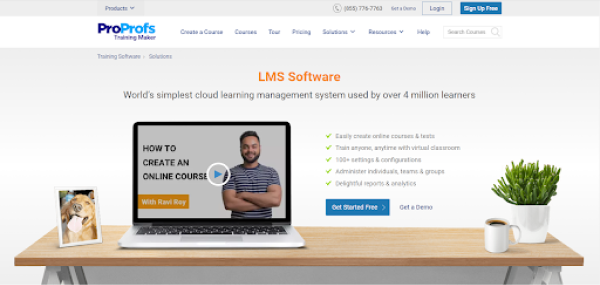 Navigation in this platform is also easy with its clean and lean layout and design. Aside from that, you'll have over 100 options for customization for course privacy, security, notifications, branding, software integrations, and more. The solutions provided are designed for users of all skill levels, but should you need any assistance, you'll meet an awesome support team to help you.
Price:

Starts at $1/learner/month (billed annually)

Key features:

Ready-to-use courses & templates, built-in virtual classroom software, collaboration tool, English, Spanish & 70+ other languages,

quizzes

, authoring tool.
3.OpenLearning
OpenLearning is a trusted online teaching platform that takes pride in its course authoring and designing tools, supporting the new wave of teaching and learning delivery. In this platform, you'll enjoy its drag-and-drop Content Widgets that will help you easily craft learning materials in any format—text, audio, files, and images. If needed, you can also leverage its Share Widgets to promote social and peer learning and achieve higher engagement and participation from your team. 
This platform is also known for its range of short courses designed by renowned education providers and organizations such as the UNSW Sydney, UTS Open, University of England, Temasek Polytechnic, and more. From coffee making to electrical works, this platform has virtually every topic that you can teach to your learners. 
Price

: Pricing starts at $60 USD/ month

Key features:

Course authoring and designing tools, drag-and-drop Content Widgets, Share Widgets, short courses 
4. Blackboard
Another online teaching platform to explore is Blackboard, which is equipped with a powerful range of teaching tools and solutions that revolutionizes online teaching and learning. Here, you can create online courses, organize tasks, and even monitor your learners' progress. You can also host virtual training and connect with your learners in real-time using its virtual classroom solution. But unlike most of the video conferencing software, it's more than just a live classroom—it also offers interactive whiteboarding, hand-raise notifications, breakout groups, and chat features, which makes the collaboration among your team more fun and exciting. Attendance is already automated, so that's fewer IT headaches for you. 
Blackboard, however, is not a free platform. You also need to contact the vendor directly to get an accurate cost estimate for your online teaching needs. 
Price

: Available upon request

Key features:

Course authoring, task management, course monitoring, virtual classroom, automated attendance
5. EasyWebinar
EasyWebinar allows instructors to host remote conferences and real-time learning sessions without any fuss. The best thing about this training platform is that it allows up to four hosts and moderators at a time. Meaning, you can collaborate with a co-instructor to teach and mentor your team for a certain topic or task. As for the learners' side, they can actively participate, share their insights, and provide feedback through real-time chat. They can also join the presentation whenever needed. 
Screen recording and archiving are enabled in this platform, allowing your learners to view and rewatch the video content even after class. It also includes an analytics tool that allows tracking of attendance and actions.
Cost

: Starts as $78 USD/month

Key Features:

Remote conferences, real-time learning sessions, multiple presenters at a time, real-time chat, screen recording and archiving, analytics tool
6. CourseCraft
At CourseCraft, you can easily put together online courses and manage them without any hassles. The best thing about this online learning platform is its simple and flexible editor, which functions like your standard word processing program. Just type in your training module, upload images and videos, attach downloadable files, and you're all set. You can even add some forms, quizzes, and surveys if you want to engage your learners and get some insights directly from them.
There's no limit as to how many lessons you want to upload and share with your learners—this online teaching platform has you covered. 
Cost

: Free and paid plans

Key Features:

Simple and flexible course editor, forms, quizzes, and surveys
7. LearnCube
LearnCube works like an online classroom where you can teach, mentor, and train your employees. In this platform, you can share files with your learners, run video conferences and corporate training sessions, and chat with them in real-time. This learning management system also takes your teaching methods to the next level with its collaborative online whiteboard, where you and your learners can draw, write, and sketch virtually. The best part? You can even add video, audio, images, and PDFs to enhance the learning journey of your employees.
LearnCube works on all devices, from desktop to mobile devices, which makes it an excellent choice for online teaching. The only disadvantage to note is that it doesn't scale well to large teams. While it allows users to create a group and private classrooms, they are only limited to eight attendees. 
Cost

: Free and paid plans

Key features:

Video conferencing, file sharing, real-time chat, collaborative online whiteboard 
8. WorkWize
WorkWize is the go-to online teaching platform for those who need to regularly train their employees and ensure compliance with industry policies and standards. While intuitive and easy to use, this platform is designed to be powerful and feature-rich. For starters, it features a user-friendly rapid authoring tool that you can use to build and deploy compliance courses. Feel free to have the content branded and edited based on your corporate style. For higher engagement, you can also run an offline instructor-led or classroom training in this platform, which the learners can access anytime needed. 
WorkWize also takes the hassle out of constantly reminding your employees by automatically sending them notices or re-enrolling them to the mandatory courses. This way, they will never fall out of the compliance loop. Just a heads up that only a free trial is offered by WorkWize. Using the platform to its full capacity will come at a cost. 
Cost

: Pricing starts at $5,900 USD/ year

Key features

: Rapid authoring tool, offline instructor-led or classroom training, automated reminders and enrollment
9. Arlo
Arlo is a cloud-based online teaching platform that can help simplify and automate your online teaching initiative. Here, you can create and deliver blended learning courses and online modules, store training resources, and automatically schedule and run live webinars. Discussion forums, assignments, and quizzes can also be activated to increase engagement and productivity from the learners' side. 
Unfortunately, Arlo only works through a monthly paid subscription. Users, however, are allowed to try all its key features for 14 days, all free with no credit card needed. 
Cost

: Pricing starts at $ 79 USD per month

Key Features

: Simplified and automated training management, cloud storage, live webinars, discussion forums, assignments, and quizzes
10. Quizlet
At Quizlet, you can use its signature flashcard format to transfer new knowledge to your employees. This technique is especially beneficial for visual learners as most information and key concepts are shown through images, resulting in better comprehension and easier recall. Aside from its customizable flashcards, Quizlet also allows you to set up game-show style contests to foster healthy competition among your workers. Some of its other notable features include timed games, adaptive questions, and practice tests.
ThisLMS software is available for free but you can only unlock analytics and customization options through their paid subscription.
Cost

: Free and paid plans

Key features

: Gamification, digital flashcard format, game-show style contests
11. Kahoot!
Just like Quizlet, you can also use Kahoot! to gamify your quizzes and assessments and introduce new concepts to your employees. The quizzes are creatively called "kahoots", which can be accessed via a web browser or a mobile app. They can be presented on a shared screen and answered by a group of "players" all at the same time. Alternatively, you can also arrange them as a self-paced challenge to be completed by your team asynchronously. It also provides reporting and analytics so that knowledge gaps can be spotted and feedback can be provided for a more holistic training experience.
With the free tier, you can create kahoots and connect remote teams of only up to 10. If you want to increase the number of participants for your quizzes, you will have to invest in a paid plan.
Cost

: Free and paid plans

Key features

: Gamified quizzes and assessments, live kahoots, reporting and analytics
You may also be interested in: