With online trivia platforms, you can make online and face-to-face training programs much more fun and engaging. Online quiz platforms can also help your learners retain information, increase learner engagement, and boost training participation. Learn how to use quiz makers to improve online learning and digital training.
Online Quiz Platform # 1 – EdApp
EdApp is a free course hosting platform and trivia maker that makes training more enjoyable and engaging for your team. Teams can catch up on their course lessons even if they have hectic schedules or work shifts, thanks to EdApp's microlearning mobile app. That's why EdApp is the most widely used LMS in industries such as retail, manufacturing, and construction.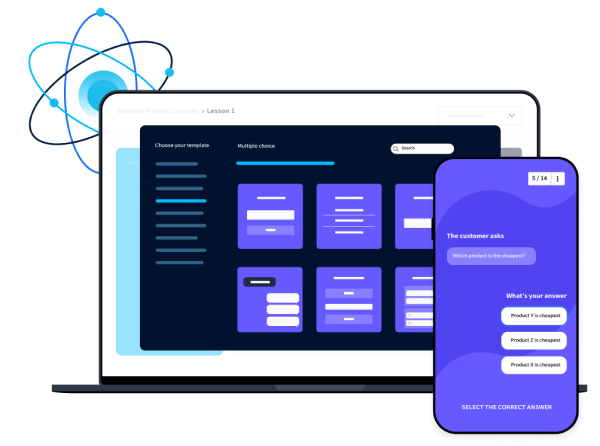 Rapid Refresh, its newest feature, is a beginner-friendly online quiz platform meant to test and reinforce your team's grasp of your training. The application will automatically translate your content into gamified tests, which you can then send directly to your learners' smartphones once you put up questions in an easy-to-use spreadsheet.
Leaderboards will automatically run for the duration of your quizzes. By displaying your team's best performers, you can increase their competitive spirit and motivate them to perform better. Aside from leaderboards, you'll have access to actionable reporting to identify any knowledge gaps in an employee or the entire team.
Cost: Free
Scope: 
Get started on EdApp's online quiz platform today.
Online Quiz Platform # 2 – Quizlet
Quizlet is a popular online quiz platform noted for its flashcard style. Its game-show format content is typically employed in educational contexts, but can also be used in employee learning and development. For quicker quiz creation, you can choose from a library of pre-made flashcard sets or make your own from scratch.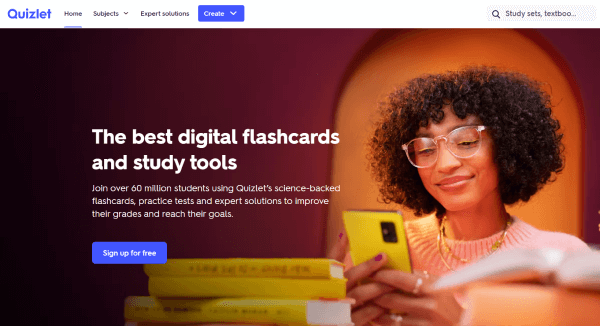 Audio and video elements can also be included in flashcards. This makes remembering and retaining knowledge less tedious and more appealing. Quizlet also has mobile capabilities, game-show-style contests, practice quizzes, and timed games.
Cost: Starts at 35.99 USD/year
Scope: 
Online Quiz Platform # 3 – Kahoot!
Kahoot! is similar to Quizlet since it's also frequently used in schools, but it may also be used for business training. You can make a quiz in minutes, either from scratch or by using a pre-designed template. They have multiple-choice, true or false, polls, riddles, and other question formats.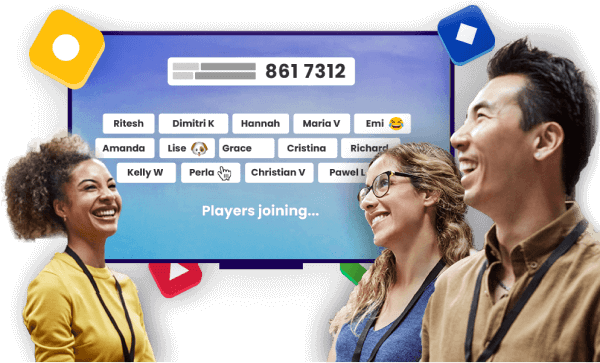 You could also include videos and images to increase engagement and learner interaction. Kahoot! encourages social learning through team contests and asynchronous learning through self-paced activities. Real-time data and analytics are also accessible and can be used to shape learning routes.
Cost: Start at 10 USD/host/month
Scope: 
Creation tool

Pre-designed templates

Various question types
Online Quiz Platform # 4 – FlexiQuiz
FlexiQuiz allows you to easily create, distribute, and evaluate online quizzes. Another type of online quiz platform is ideal for trainers who wish to present their learners with an enjoyable and engaging learning experience. Creating quizzes using an intuitive user interface needs no code or program downloads, making quiz creation straightforward and easy.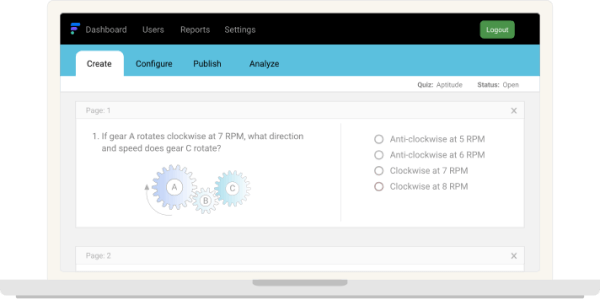 You can select from nine different question types, submit supporting material, and display question feedback at certain times. They even give customizable options, as well as branding, grading, and quiz sharing.
Cost: Starts at 15 USD/month
Scope: 
Intuitive user interface

Question types

Customizable options
Online Quiz Platform # 5 – Qzzr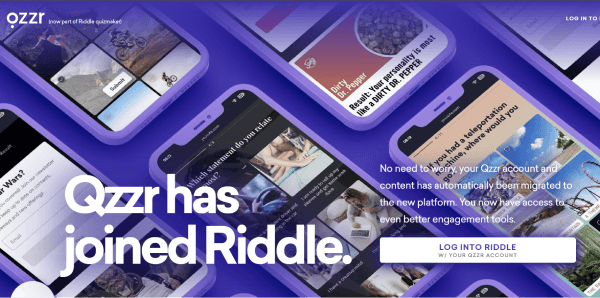 Qzzr is one of the online quiz platforms on this list that helps businesses better understand their clients. With an easy-to-use interface, you can spend more time developing quizzes than learning the program. You can also include custom features, photos, and media to make your quizzes appear like they belong on your website or platform. You can also take advantage of Qzzr's data and analytics tool to find out what your respondents are truly saying.
Cost: Starts at 16.67 USD/month
Scope: 
Simple interface

Custom elements

Media uploading
Online Quiz Platform # 6 – QuizGame
QuizGame is a gamified online quiz platform that will support your team in improving post-training information retention. It comes with a number of pre-made themes and quiz kinds, such as games, stock-market-style structures, duels, and group trivia. It also offers you access to data analytics, allowing you to better track your employees' learning progress and interactions.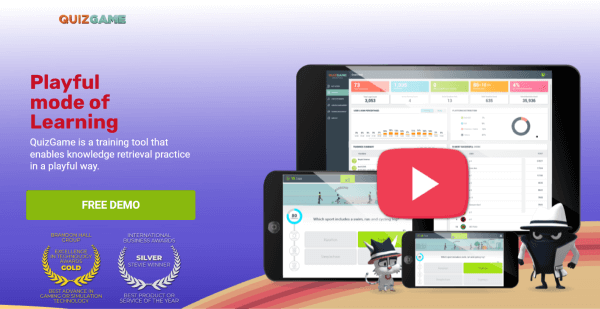 This quiz creator application easily improves employee training by supporting you in assessing existing knowledge, establishing a competitive environment, raising engagement, and enhancing information retention.
Cost: Request a quote
Scope: 
Pre-made templates

Gamification

Analytics
Online Quiz Platform # 7 – Fyrebox
Fyrebox is another online quiz platform that can help you create entertaining and well-designed tests. You can test your employees' knowledge with a presentation-style exam on your website or a conversation quiz format on messaging apps like WhatsApp, Messenger, or WeChat.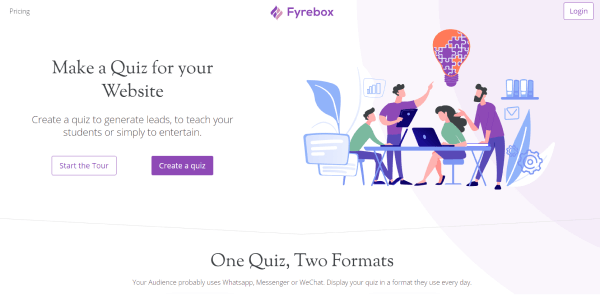 If you're unsure where to start, Fyrebox includes well-designed themes and editable templates to guide you in creating your first quiz. You can also modify your quizzes by changing color themes, integrating background photographs, or picking your favorite font type.
You can create an infinite number of quizzes with any membership. Keep in mind, though, that the free version only publishes quizzes with the Fyrebox logo.
Cost: Free
Scope: 
Customization

Themes and templates
Online Quiz Platform # 8 – PaperShala
PaperShala is a robust online quiz builder that allows you to create tests, reuse questions, and instantly verify results. There's no need to be concerned about power outages or network difficulties while your trainees take their assessments. Responses are saved in real-time and can be resumed at any moment.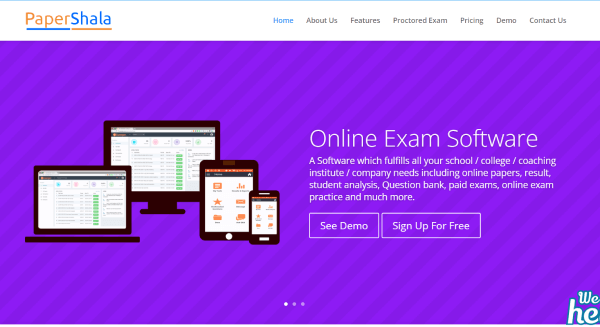 It features a question bank that stores all of your exam questions. Apart from that, it also displays additional information, such as total tries and total right & wrong answers. PaperShala also includes a separate student dashboard where learners may view their upcoming tests, current progress, and overall performance.
Cost: 4900 INR/month
Scope: 
Online Quiz Platform # 9 – Mercer Mettl
Mercer Mettl is an online quiz platform that caters to both schools and organizations. It has an easy-to-use interface that lets you focus on creating tests rather than learning how to execute them. It includes a wide range of question categories, including multiple-choice, true/false, and essay questions.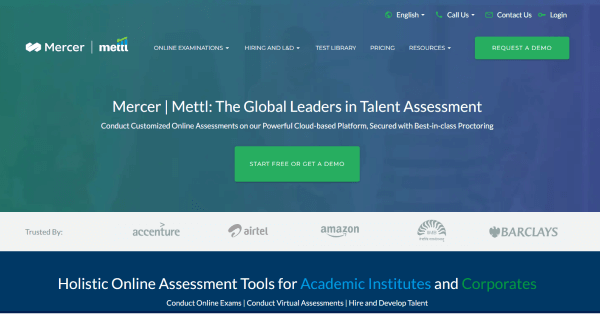 Its robust software also lets you conduct more complicated exams to assess extremely particular skills such as spreadsheet expertise and programming knowledge. Mercer Mettl, unfortunately, doesn't have a free plan, and their cost is based on your usage and the services you desire.
Cost: Request a quote
Scope: 
Test authoring

Complex skills testing

Different question types
Online Quiz Platform # 10 – Xperiencify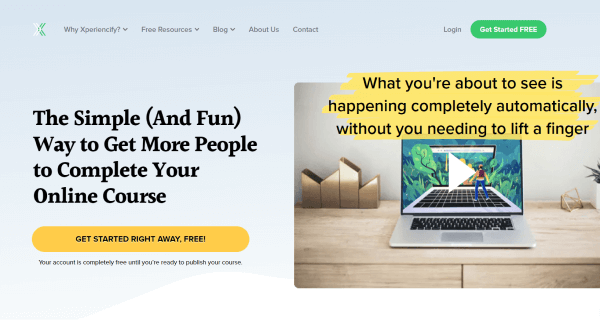 If you want to make your online quiz more enjoyable and engaging, Xperiencify is an excellent place to start. It includes a number of tools for creating game-style tests. But what distinguishes it is its ability to supply you with the maximum flexibility in customizing your quizzes that would drive your learners to take and complete your training program. You can also activate leaderboard and badge features, define variable incentives, and add a countdown timer to create urgency, among other things. Using Xperiencify to create quizzes is free, but distributing them needs a monthly membership.
Cost: Starts at 49 USD/month
Scope: 
Game-based quiz creator

Leaderboard and badges

Reward system

Quiz time
EdApp is a mobile learning management system designed for today's digital habits, delivering more engaging and effective micro-learning directly to learners anytime and anywhere.
Sign up for this online quiz platform today.