Onboarding training software makes acclimating new hires to the office easier and more efficient. These tools can help automate and streamline certain processes so you can focus on creating a welcoming environment that will make them feel at ease. In this article, let's look at the best onboarding training software to prepare new joiners for the job at hand.
Onboarding Training Software #1 – EdApp
EdApp is the perfect onboarding training software that covers everything you need. With its extensive course library, delivering high-quality training content is easy with ready-made courses like Onboarding Retail, Safety in the Workplace, Privacy Policy, merchandising training programs, and many more at your disposal. These courses are free to edit and customize as you see fit. You can also rebrand and make them your own. No coding or design background is needed. EdApp's easy-to-use authoring tool makes even first-time users feel comfortable using it.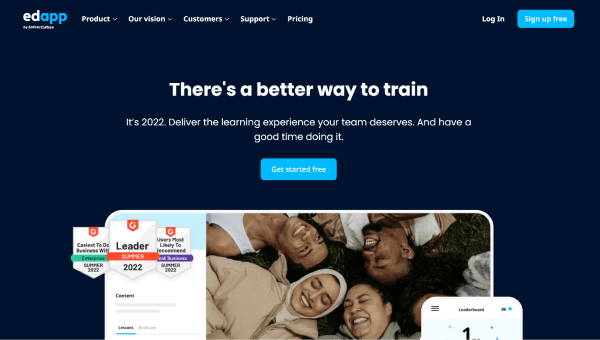 Another great feature is that you can create user groups to segment learners and tailor content according to role, team, or department. EdApp's push notifications will also come in handy to inform and remind new hires about the courses they need to complete. Messages can be customized and sent only to those who have yet to complete their training. To bring it all together, EdApp's analytics will allow you to see data such as course completion, progress, and performance.
Cost: Free
Key features:
Course library

Authoring tool

User groups

Analytics
Sign up for Free and Start Using the Best Onboarding Training Software Today!
Onboarding Training Software #2 – CreateLMS
CreateLMS is an onboarding LMS designed to onboard new hires without putting a dent in your wallet. With its course builder tool, you can design and manage online courses, assessments, webinars, and more. You can deliver training in different formats, such as blended training, synchronous, and asynchronous. If you're pressed for time with creating new courses, you can take advantage of the ready-made courses in their library that you can deliver to your team.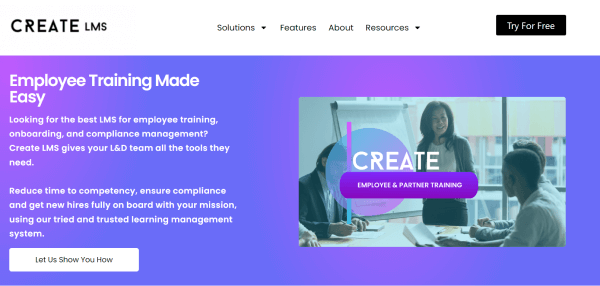 Cost: Available upon request
Key features:
Course builder

Different delivery methods

Ready-made courses
Onboarding Training Software #3 – AcademyOcean
AcademyOcean is another great onboarding training software to use to help train new employees. You can create courses like negotiating skills training courses to teach your team how to handle tough and challenging situations better. Set up your teams so you can assign which specific courses they should take. You can also personalize content to a whole new level by using the adaptive content feature where you set variables. Learners can then access the same course but see different elements which are based on the variables you set. To organize the courses you create, you can group them together and create folders for a certain topic. Each learner has their own profile so you can check their progress individually.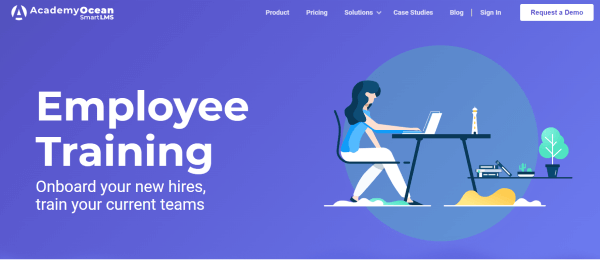 Cost: Starts at 225 USD/month
Key features:
Course builder

Adaptive content

Course organization
Onboarding Training Software #4 – 360Learning
360Learning is a collaborative onboarding software that gives new employees the organizational knowledge they need. Make course creation quicker with its collaborative authoring tool and then set role-specific paths to direct new hires to their relevant learning needs. One of its unique features is its collaboration hub, which functions as a learning community in which members can share their learnings through a forum-like discussion. Through the manager dashboard, you'll have full visibility of your new hires' progress and completion data and get weekly reports.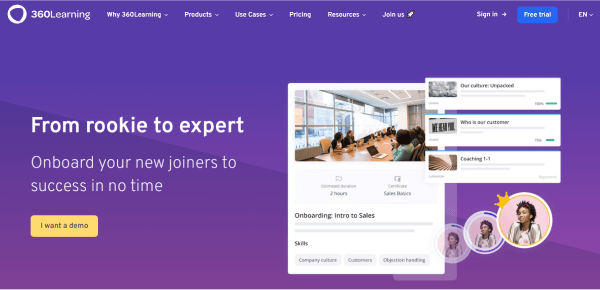 Cost: Starts at 8 USD/registered user/month
Key features:
Authoring tools, content integrations, collaborative editing

Gamification

Collaborative hub

Mobile-friendly, offline mode supported
Onboarding Training Software #5 – Sharepoint
Another onboarding training software you can check is Sharepoint, where you can build your training program in no time. You'll find a variety of useful templates that can make onboarding simple, from developing your courses and organizing activities to obtaining new hires' feedback. Additionally, it offers a welcoming platform where you can personalize training sessions and keep track of important schedules like course deadlines. After completing the lessons, the learner's skills and knowledge level will be updated in the database, making it simpler for managers and HR professionals to see the progress of the employees in their roles.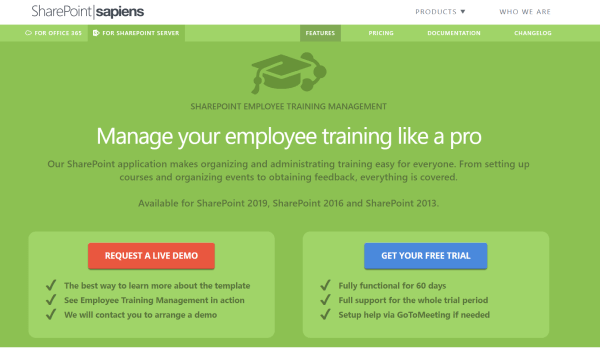 Cost: Starts at 4,799 USD
Key features:
Training development and monitoring

Feedback collection and analysis

Accessible training history database
Onboarding Training Software #6 – Helpjuice
Helpjuice is knowledge base software that also doubles as an onboarding training software. It keeps and organizes all your onboarding documents and learning materials in one place. It's a popular choice for most companies thanks to its easy content authoring and formatting feature. Helpjuice's authoring tool allows users to create company documents, publish different article versions, and collaborate with others in real-time. To simplify sorting documents and articles, you can create categories and folders to structure content. Its Google-like search is especially helpful for new hires who need to find information quickly.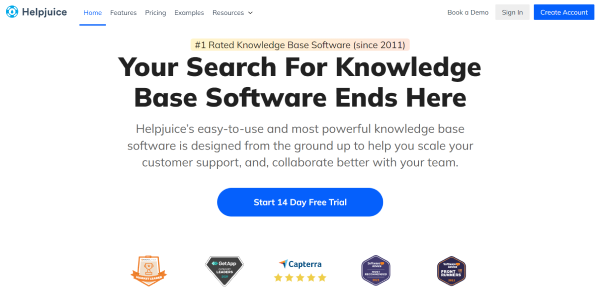 Cost: Starts at 120 USD
Key features:
Content authoring

Authoring tool

Categories and folders
Onboarding Training Software #7 – eduMe
eduMe is a mobile-based onboarding training software that gives a frictionless user experience. Engaging training courses can be created without technical knowledge with its editor, which has a simple interface. You can add assessments at the end of each course using the built-in exam creator and check results as they happen to immediately address any knowledge and skill gaps. As eduMe works even on smartphones, remote onboarding is made possible as new hires can take their courses without having to attend in-person training to complete them.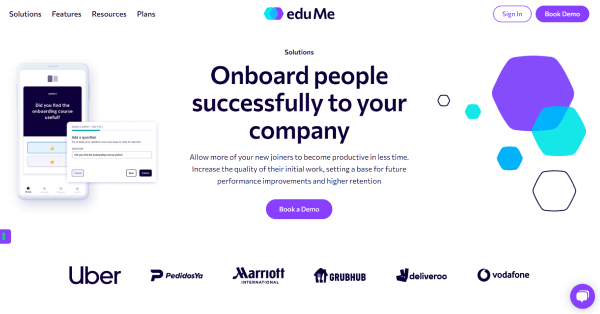 Cost: Get a tailored pricing quote
Key features:
Course creator

Assessment maker

Remote onboarding
Onboarding Training Software #8 – Eduflow
Eduflow is a social onboarding training software that promises to deliver a great onboarding experience. Its rich-text editor allows you to create SCORM-compatible courses that adapt to screens of any size. Eduflow also has hundreds of pre-built course templates that you can use or take inspiration from. Additionally, you can create guided exercises and collaborative activities. You'll then have access to different data points and insights so you can track every step of the onboarding process.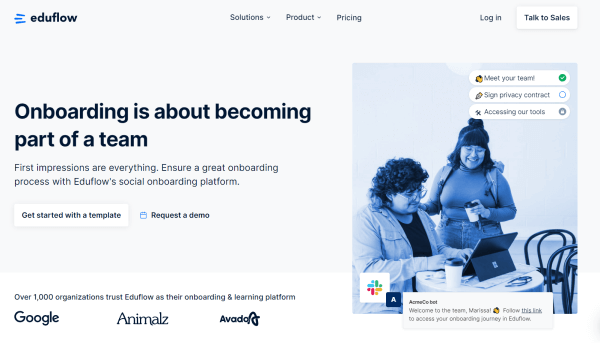 Cost: Free, Paid plans (starts at 49 USD)
Key features:
Rich-text editor

Course templates

Progress tracker
Onboarding Training Software #9 – Whatfix
Whatfix allows you to build personalized onboarding experiences. To easily acquaint learners with their onboarding material, you can welcome them by first giving a guided tour of the app. You can then create interactive walkthroughs and self-help opportunities to empower them and encourage their self-learning journey. To guide learners further, you can set up a task list that they must complete as part of their onboarding. You can then track each user's task completion rate and even send reminders if needed.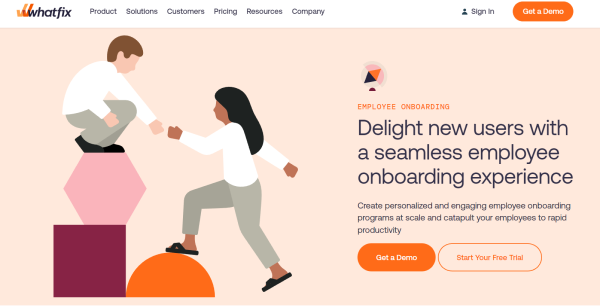 Cost: Get a quote
Key features:
Guided tour

Interactive walkthroughs

Task list
Onboarding Training Software #10 – Zavvy
With Zavvy, you can create your first onboarding in just a few minutes. You can either start from scratch or choose a template to speed things up. Just drag and drop different files to combine them, such as videos, images, GIFs, and more. You can even embed content from other apps like Typeform or Google. Zavvy also has a unique buddy assignment feature where every new hire will have an onboarding buddy to guide them through the whole process.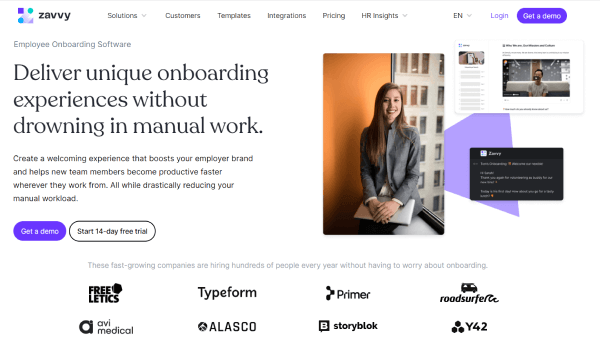 Cost: Get a free quote
Key features:
Templates

Third-party embed

Buddy assignment