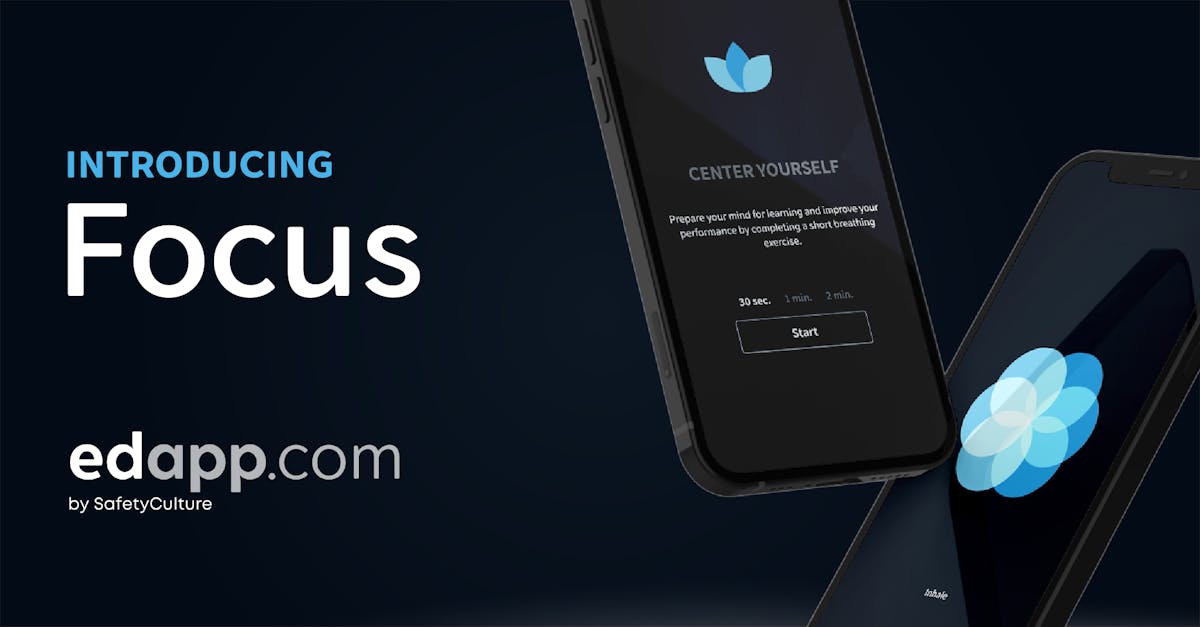 One of the reasons why learners love EdApp is that they can complete training when and where it suits them. But, that doesn't always mean that they are in the right headspace to learn and retain new information. That's why we're excited to announce the latest enhancement to our learner app – Focus.
As an in-built mindfulness feature, Focus provides learners with a short breathing exercise before they start their course to ensure that they are mentally ready to start learning. Designed to improve your learner's knowledge retention, all you have to do is turn it on for your teams.
Read on to learn more about how you can improve your team's information retention in one click with Focus.
Why was Focus developed?
As a learning platform, we are always looking for new, innovative ways to engage our learners and improve their knowledge retention. Studies show that learners better understand and retain information when they're calm and in a focused state – not when they have external pressure and stress distracting them from concentrating on their course.

As learners are often completing lessons in the flow of their workday, we wanted to provide the space for them to clear their minds of any of the other upcoming tasks in their day, recenter, and focus on the training in front of them. This not only improves the learner's experience but also leads to better training outcomes.
What does Focus do?
Focus is a simple mindfulness activity to help learners centre themselves immediately before starting a lesson to better understand and retain key concepts. To access it, learners can click on the 'Focus' button on the lesson screen that takes them to a short breathing exercise before launching into the lesson.
This paced breathing exercise is shown to improve focused attention and regulate the learner's nervous system. Through focusing on the breath, learners are able to regulate their stress levels and shift into a headspace that has more room to learn.
Activate Focus for your learners today
Set up Focus with just a click of a button!
Simply access the 'App Settings' tab through the EdApp admin portal and click on 'More' to enable the feature for your learners. Once enabled, your learners have the option to complete their Focus breathing exercises before starting their training.

Stay tuned for more exciting announcements coming throughout the year and please reach out to us at hello@edapp.com for feedback and any more enhancements you would love to see.