We are excited to announce that our customer, New Plumbing Solutions, has been selected as a finalist in the Best WHS Training Program at the NSCA/GIO National Safety Awards of Excellence 2021 for their use of EdApp.
Established in 1993, the NSCA Foundation National Safety Awards of Excellence are Australia's longest-running, independent awards that recognize outstanding Work Health and Safety initiatives. The awards are divided into nine categories that celebrate organizations and individuals that champion workplace health and safety as a cornerstone of business performance.
New Plumbing Solutions' safety team partnered with EdApp to develop a full suite of microlearning training modules and train 100+ employees on safety, compliance, policies, technical practices, and much more. As many of their employees work on-site, having a platform like EdApp that enables quick lesson creation and real-time edits means that the most up-to-date content can be easily accessed on their smartphone anytime.
The result of this new WHS training program was an increase in workforce engagement while achieving a 24 percent reduction in external training costs and delivering 33 percent more training and safety content to their on-site teams.
As one of the leading health and safety learning platforms, we put together some of EdApp's key features that made New Plumbing Solutions' WHS training program award-worthy: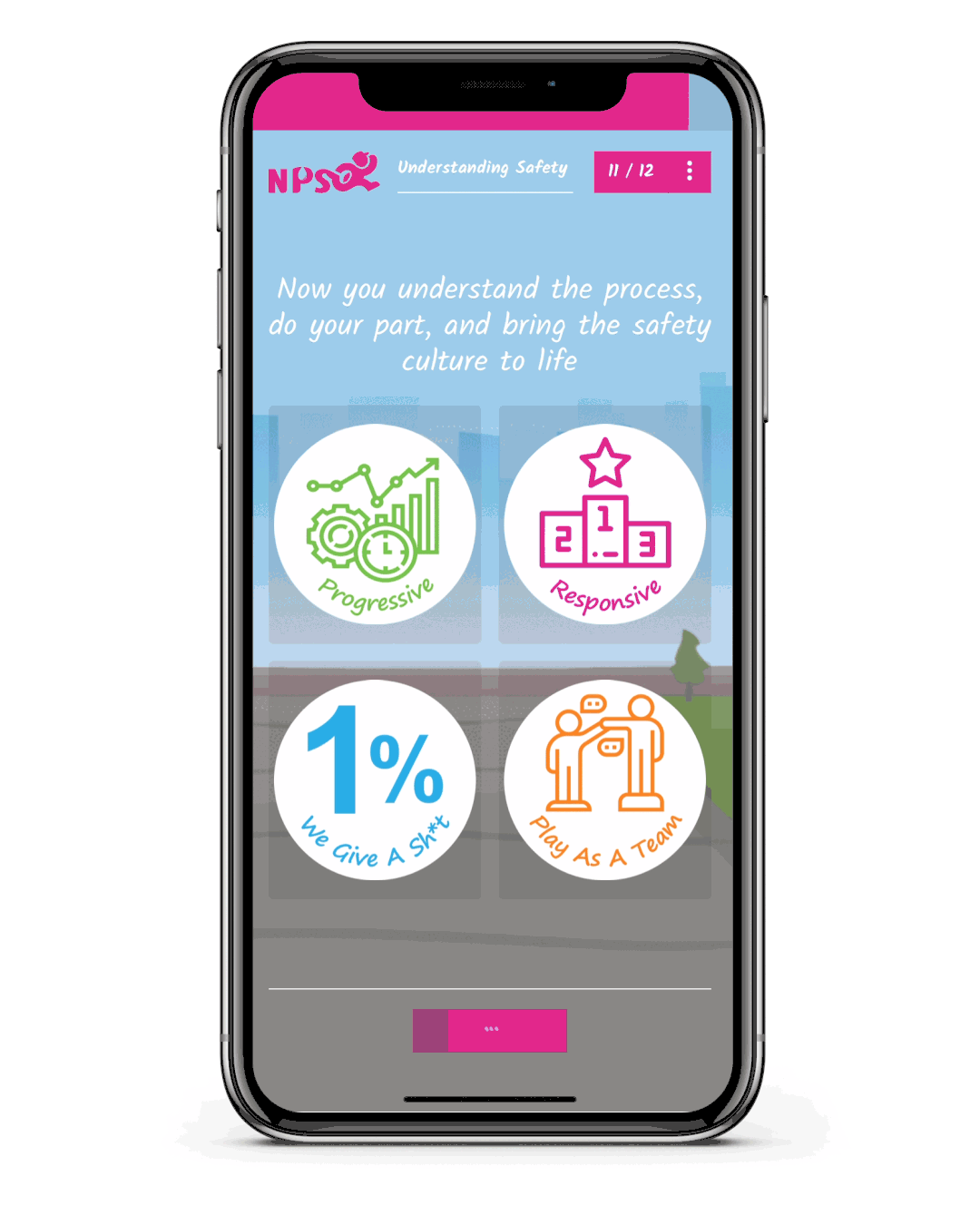 Real-time course creation
EdApp's real-time course creation enabled New Plumbing Solutions to quickly create, personalize, and deploy high-quality training. As most of the training was built from scratch, New Plumbing Solutions was able to access EdApp's library of 80+ interactive templates – including games templates, which motivated their employees to quickly complete their training modules without much follow-up from management.
Mobile-first training platform teams can access anytime 
With our microlearning app, New Plumbing Solutions learners are able to access bite-sized courses from their smartphone whenever they have 5 minutes to spare – whether that's on their commute, in between customers, or on a break. For teams or individuals who don't have consistent access to WiFi or data, learners can download their courses in offline mode whenever they have internet access and automatically sync their results when they're back in range. As lessons can be delivered to and completed by staff remotely, New Plumbing Solutions also reported an increase in trust in their safety team across their field teams, which has improved their safety practices and strengthened the feedback loop to management.

Bite-sized training teams can finish in under 5 minutes
EdApp's microlearning lessons allow New Plumbing Solutions learners to interact with short, highly-targeted lessons designed with human limitations in mind, like attention span and memory. This prevents cognitive overload, so their workers can easily digest and retain key concepts you need them to understand in less than 5 minutes. It also makes their team's practical application of new learnings 17 percent more efficient, which is essential for WHS programs.
Games to make training feel more like a break – not work
To further increase their engagement rate, New Plumbing Solutions used EdApp's in-built gamification templates – such as the jeopardy game, memory game, and letter jumble – to make their training feel more like a game, not work. Designed with native mobile features – like swipes, drag, and drop, and tap to match – EdApp provides New Plumbing Solutions with the ability to motivate their learners in a modern way. This includes creating friendly competition between learners through the company's leaderboard, which led to record engagement rates.
Remind learners to complete training with push notifications
As New Plumbing Solutions' team was largely in the field, they needed an easy way to remind their staff to complete their training. That's why push notifications quickly became a game-changer for their dispersed team. EdApp's push notifications feature not only allows you to send custom notifications to their learners' smartphones but also sends them automated reminders after a set number of days of inactivity so learners are more likely to complete their lessons. Plus, as EdApp automatically tracks course completions, New Plumbing Solutions didn't need to cross-reference any lists to see who had or hadn't completed their training for compliance.
Automatically repeat key concepts that learners are forgetting
Our Brain Boost spaced repetition feature compiles key concepts that New Plumbing Solutions learners are not understanding and repeats them until the individual learner demonstrates that it's been locked into their long-term memory. Using the principles of the 'Forgetting Curve' – where learners will forget more than half of newly learned material 20 minutes immediately after a lesson ends – Brain Boost ensures that learners are only spending time in areas that they need further development. This led to a demonstrably greater understanding of WHS practices.
Easily update training based on in-depth data
Using EdApp's advanced analytics suite, New Plumbing Solutions admins can see when individual learners have – and haven't – logged in, accessed, and completed their courses with a click of a button. Admins can easily access each learner's unique course history, as well as pull overall insights to see how learners are progressing in any course, their scores, and if there are any roadblocks or confusing instructions within the lessons. Through reporting and the ability to request learner feedback within your courses, they are also able to continuously improve courses for learners and quickly deploy any updates within minutes for a highly relevant training experience. 
EdApp would like to congratulate New Plumbing Solutions on their nomination and extend our thanks to everyone who made the nomination possible. We're continually humbled by how our customers use EdApp to create impact-driven training for their teams, and we look forward to the results in December.
To hear more about how our customers use EdApp to deliver exceptional training to their teams, visit our testimonials page or any of the customers listed under the 'Testimonials' menu tab. For a free demo on how EdApp can work for your team, reach out to demo@edapp.com to book today.