We've curated a list of LMS Systems that are equipped with tools for automating, streamlining, and simplifying training tasks so you can deliver timely and relevant training programs for your employees. With LMS systems, you'll have access to management features, such as authoring tools, engagement tools, analytics dashboards, and many more. 
LMS System #1 – EdApp
EdApp is an LMS system that offers you a built-in administration suite, which includes tools for managing content creation, increasing learning engagement, and tracking learning progress. Even without creating your own course yet, you can already get started on your training by deploying courses like inclusive leadership training courses and cyber security courses from EdApp's free course library. These free online courses for adults are also fully customizable, so you can personalize them according to your own expertise or your organization's specific standards. To create your own course from scratch, you can use this platform's user-friendly authoring tool which provides you with ready-to-use interactive templates. If you have existing training PowerPoint presentations, you can easily transform them into engaging courses with the PowerPoint conversion tool. After transforming your PPT slides into interactive microlessons, you can review them and have the option to select between different slide templates so you can further customize their layout. 
Aside from easy content creation, EdApp helps you ensure that your courses are effective and engaging by adopting different learning strategies like microlearning, gamification, and social learning. With microlearning and gamification combined, training materials are presented in short-form lessons that incorporate gaming elements to improve engagement and knowledge retention. This platform also uses social learning through its Discussions feature. It gives learners the opportunity to lead course discussions when necessary, and provide real-time feedback to peers through a forum-style approach. Coaches can even step in to provide insight into key responses. 
Offer expertly tailored professional growth that your team will love. Send over your learning requirements to EdApp's expert instructional design team, and they'll turn them into engaging and informative courses.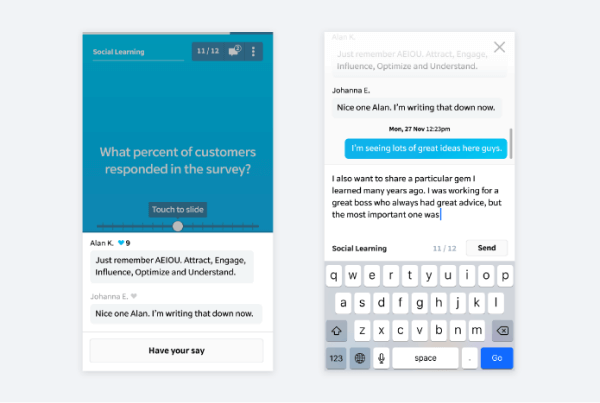 To track the effectiveness of your training programs, EdApp provides you with an analytics dashboard that includes actionable reports. It enables you to monitor the learning progress of your employees. You can even utilize automated and custom push notifications to inform learners about important updates and reminders. 
Key features:
Authoring tool

Interactive templates

PowerPoint Conversion

Course library

Discussions

Analytics dashboard

Push notification
Cost: Free
Sign Up for Free and use EdApp as your LMS system for free–forever!
LMS System #2 – ExpertusONE LMS 
ExpertusONE LMS is another LMS system that provides a simple user interface, making digital training across your corporation a breeze. Their invisible learning delivery eliminates the need to manually search for training courses. Its innovative tools, like shareable links and embeddable widgets, are placed in areas that are frequently visited by your employees, which gives seamless access to learning. All learning materials stored in this LMS are accessible using mobile devices, allowing the ultimate convenience for learning to take place anytime and anywhere, whether online or offline. Monitoring training progress is also made easy and simple with ExpertusONE's sophisticated LMS reporting system.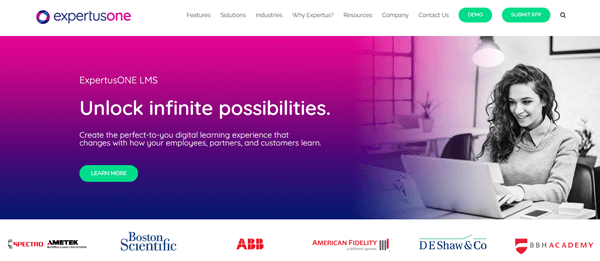 Key features:
Invisible learning delivery

Shareable links and embeddable widgets

Mobile accessibility

LMS reporting
Cost: Paid plans
LMS System #3 – Sibme
Sibme's expertise lies in providing engaging, blended, and personalized professional learning solutions that can help bring out the best in your team and sustain their long-term growth. With this LMS system, you can curate and share training content in different formats, encourage team collaboration, and meet live and virtually with your staff anytime and anywhere, on any device. You can even set personalized goals for each team member and witness their growth in real-time through its training monitoring solutions. Aside from giving you such fantastic features, Sibme also provides you with amazing customer support and services, giving you no sweat throughout the software setup process.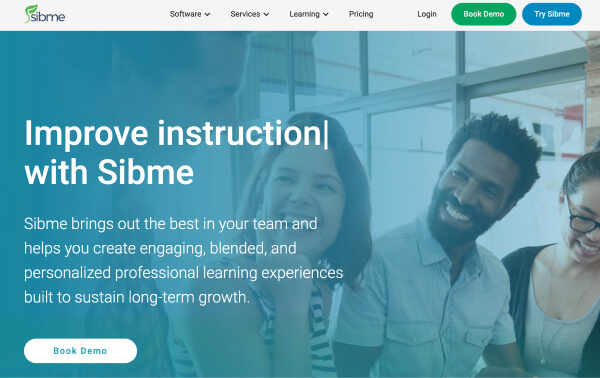 Key features:
Content creation and sharing

Team collaboration

Live and virtual classes

Personalized learning goals, reliable customer support
Cost: Pricing plans start at $10 USD per month per user
LMS System #4 – Chamilo
Chamilo, also a highly recommended LMS system, offers a range of course management tools that can help you create courses on any subject, including diversity and inclusion, harassment and bullying prevention courses, and inclusive leadership training courses. You can also organize virtual training sessions, and manage users, effectively addressing almost all of your training needs. But what sets this platform apart is that it offers open-source software that promises speed and ease of use, favoring trainers and instructional designers who want more control over the design and delivery of their courses. As for tracking and monitoring, Chamilo can also help generate reports and check the activities and progress of your users on the portal, like their best scores and time they've spent in a lesson.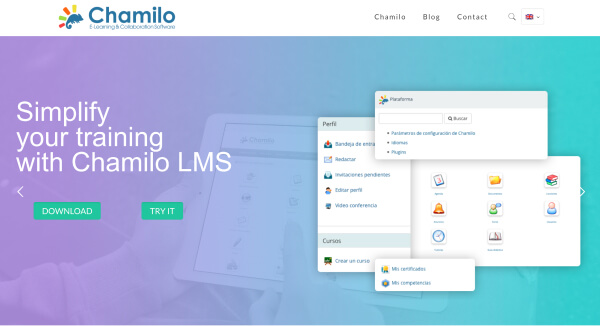 Key features:
Course creation

Virtual sessions

User management

Open-source software

Report generation
Cost: Available upon request
LMS System #5 – Forma LMS
Forma LMS helps you reduce the learning curve with its modern and responsive layout that is designed for an easy and engaging user experience. You can also use this LMS to create engaging courses in different formats: SCORM multimedia, HTML pages, videos, and powerful assessments. It also supports a range of configuration and automation options for user management, course management, and more, saving you an incredible amount of administration work. They even produce custom reports, helping you quickly spot skill and knowledge gaps within your team. You can also integrate this LMS with your existing intranet software.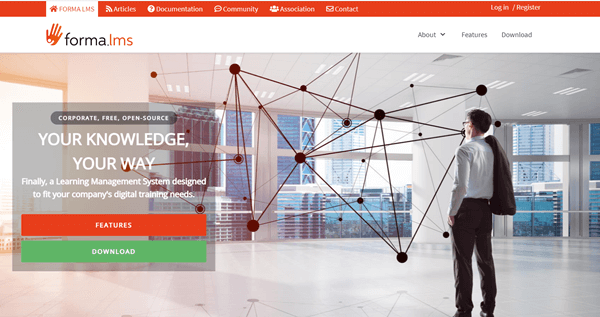 Key features:
Intranet integration

Modern and responsive layout

Different eLearning formats

Automation options
Cost: Free and paid plans
LMS System #6 – 360Learning
360Learning is a learning management system that is widely known for its collaborative training tools, which feature an authoring suite, a content integration system, and an analytics dashboard. As managers and team leaders, you can develop and deploy content to your employees without having to meet in person. All its tools require no technical skills to use, enabling you to create courses in just a few minutes. You can also include learning resources like videos, images, blog articles, and research into your course to keep training content up-to-date and engaging. With 360Learning, workers also have access to collaborative learning features, like discussion boards and group pages, that allow them to participate in meetings with both managers and their fellow employees.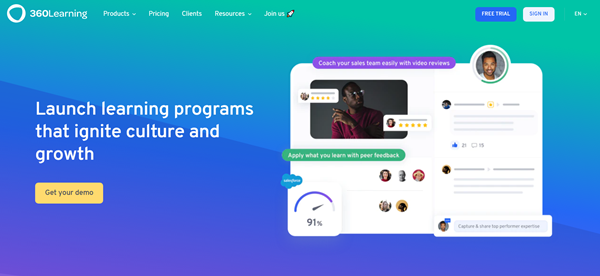 Key features:
Collaborative learning

Authoring suite

Content integration

Analytics dashboard

Discussion boards
Cost: Paid plans
LMS System #7 – CreateLMS
CreateLMS was designed to help you onboard your new organization members and train existing ones, all without the need to worry about burning a hole in your pocket. With its advanced course builder tool and skills assessment tool, you can create and manage elearning courses and assessments, webinars, and blended training with ease. To keep your team engaged, you can try combining different formats, such as instructor-led training and assessments together with self-paced courses. Or, you can also use a video and PPT with quizzes. To save yourself from the burden of building your training programs, feel free to grab some of their ready-made courses developed by their content partners and directly deploy them to your team.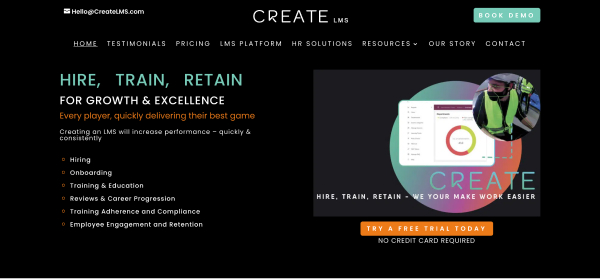 Key features:
Course builder

Skill assessment tool

Ready-made courses
Cost: $12 USD/user per year
LMS System #8 – Coassemble
With Coassemble, you can easily build and deploy interactive courses that address your teams' training needs, as well as foster a collaborative learning environment. Through its built-in authoring tool, you can choose from 40+ e learning templates, customize lessons, and publish your course materials, all within a few clicks. You can also incorporate learning assessments at the end of each course by choosing from a variety of pre-loaded quiz templates. Coassemble also gives trainers the option to create a shareable training hub where they can store their course material and playbooks, giving your teams access to everything they need. And if you're handling a large mobile workforce, you'll also be able to appreciate its mobile-responsive feature, enabling field employees to access their learning materials on the go.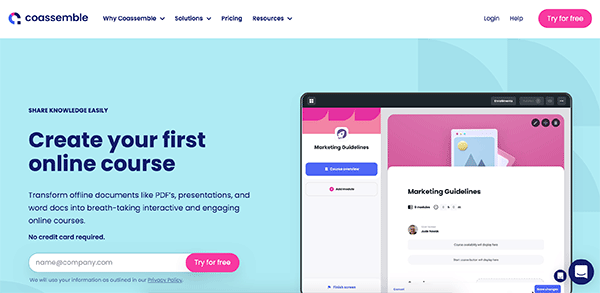 Key features:
Authoring tool

Customizable templates

Shareable training hub

Mobile-responsive
Cost: Starts at $49 USD per month
LMS System #9 – BrainCert
BrainCert is a mobile-friendly LMS and social learning platform that incorporates adaptive SCORM functionality and a modern user interface. This elearning platform boasts powerful features including a virtual classroom, course creation wizard, custom theme design, testing platform, shareable tests, and many other tools. These comprehensive features are designed to help you deliver courses, perform assessments, and conduct live online classes more efficiently. You can also use features like video streaming and chat to better communicate with your learners.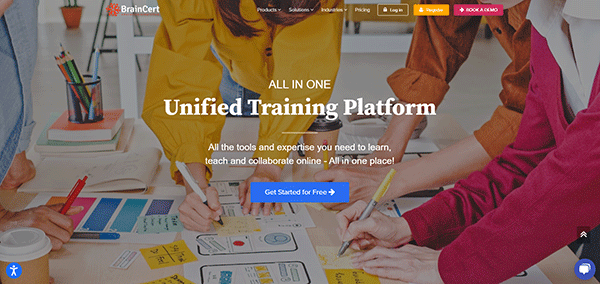 Key features:
Virtual classroom

Course creation wizard

Custom theme design

Shareable test
Cost: Free plan, Paid plans that start at $39 USD per month
LMS System #10 – Blackboard Learn
As a training platform, Blackboard Learn helps learning and development professionals create their training programs through a highly responsive, barrier-free LMS software. This software also takes pride in its all-in-one training solutions, including web conferencing and collaboration, reporting, custom web design, and content management. It also provides a built-in virtual classroom to help instructors and learners collaborate more effectively and communicate on any internet-accessible device. If learners need additional resources or further assistance, they'll also have access to personalized support through the Blackboard assist feature.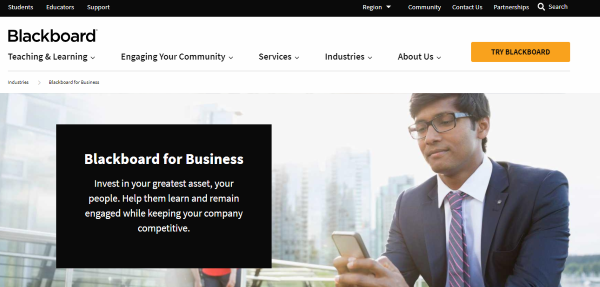 Key features:
Responsive LMS

Built-in course authoring tool

Custom web design

Content management

Virtual classroom

Blackboard assist
Cost: Price available upon request