Hunting for a good LMS to invest in? You first need to have a deep understanding of the must-have features that can live up to the needs and expectations of your learners. The research process usually takes a lot of time and energy, but worry no more. We've done the legwork for you and created an LMS requirements checklist that will help in your search for the best LMS on the market. Let's dive in!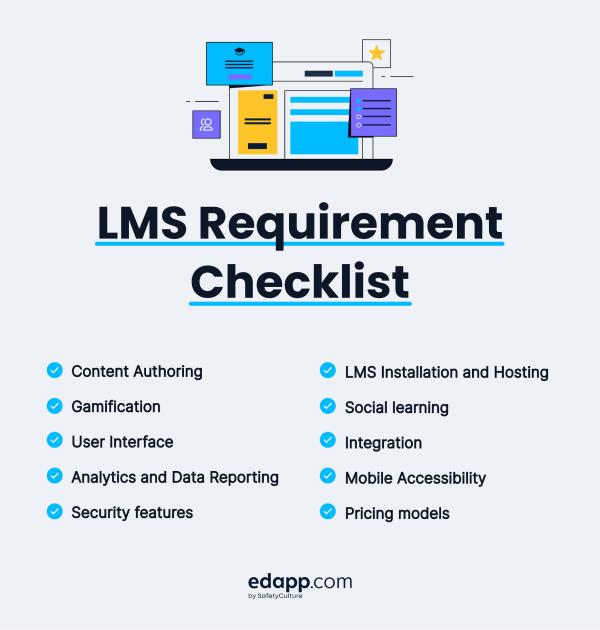 LMS Requirements Checklist #1 – Content authoring
First on this LMS requirements checklist – your elearning management system should be able to help you create your elearning content, customize and brand it, and distribute it to your learners without going through a complicated authoring process. 
If you're entirely new to the world of online learning, it would be highly beneficial to invest in an LMS with a built-in authoring tool that's simple and straightforward. Find an editor that follows a drag-and-drop function, and preferably with a WYSIWYG system, short for "What You See Is What You Get". These functionalities will allow you to experiment with the look and feel of your courses and make changes to the pages, all without the need to have in-depth technical or coding expertise. 
For quality purposes, you might also want to consider a flexible course builder that supports multimedia files such as images, audio, and videos. Combining these interactive elements and reinforcing them throughout your course material will help secure high participation and engagement from your learners. 
Luckily for you, the market is now saturated with LMS tools with course creation functionalities. Among the best ones is none other than EdApp, an award-winning LMS with an intuitive and user-friendly course builder tool that requires little to no coding or design knowledge. From the drag-and-drop functionality to the WYSIWYG system, this elearning authoring platform ticks all the boxes. It also supports multimedia content, plus, it follows a template approach, meaning, you will never have to start with a blank canvas.
Bringing your content is so easy that all you need to do is copy and paste it into your slides – easy peasy. Add your personal flair or aesthetics to showcase your creativity! 
But that's not all. EdApp's authoring tool is also free – forever – for everyone who needs personalized training programs that are sleek and beautiful. Whether you want to build soft skill courses like diversity and inclusion, anti-bullying, or empathy training courses, or hard skill training materials like writing, computer, and marketing courses, this tool can definitely lend a hand. It's ultimately risk-free, so that's something that you should never miss. 
Sign up for Free and Start Using The Best LMS Platform!
LMS Requirements Checklist #2 – Gamification
Another priority on this LMS requirement checklist is to look for a gamified learning management system that will allow you to incorporate games and gamification elements into your elearning courses. For context, gamification is a learning strategy that aims to directly involve trainees in their learning process. By adding game-based quizzes and activating points, badges, rewards, and leaderboards, they are far more likely to participate throughout your training program. It also fosters healthy competition, leading to positive and more effective learning experiences. 
EdApp is a good LMS that's jam-packed with a lot of gamification features. There's a library of game-based templates that can transform your traditional A-B-C quizzes into smartphone games. These templates include a Find a Word template, where learners will get to look for answers in a search grid. There's also a Swipe it Right template that turns your usual true or false quizzes into a dating app style game, and an Image Pair game that requires learners to connect words or phrases with images. With a lot of templates to choose from, you'll never run out of ideas to gamify your courses.
There's also a popular leaderboard feature that will show the top performers in your team, which is a good way to motivate your underperforming staff to step up their game. You can also turn on timers and scoring systems in your courses or even initiate rewards to unleash the competitive side of your learners and make them do their best in their learning journey.
LMS Requirements Checklist #3 – User interface
Not only should your LMS be convenient for admins, but also for your learners. Pick an intuitive LMS tool that requires no learning curve from an average user, and make sure that the system is easy to navigate and not alienating. It's also important that the most used features, such as the courses, activity progress, discussions, and leaderboards, are accessible and easy for everyone to follow. 
If you want to have complete control over the design of your interface, then you might want to consider looking for providers that are offering a white label LMS solution. This service lets you apply endless customization to your LMS, so it blends with your company's brand look and standards. There are also LMS products that will allow you to change the page templates and widgets so that they align with your learners' preferences. Just a quick heads up that these services usually charge an additional fee for such customization, so you might want to check your budget first before going all-in on this type of LMS. 
LMS Requirements Checklist #4 – Analytics and data reporting
Your online training can never be successful without analytics. Learning data gives you a holistic view of your team's learning progress and patterns, plus it helps you identify which courses and activities are working and what is not. These datasets around your learner's activity will help you build better training strategies and make data-driven decisions, which will take your training initiatives to success. 
But without an automated system in place, this process can be very tedious and time-consuming. What's great about having an LMS with a robust analytics suite is that it will automatically gather and analyze the data for you, saving you from the hassle of having to manually monitor your learners with Excel spreadsheets. An LMS should also have a pre-reporting capability, providing you with information such as the current skill level of your learners, training gaps, and course evaluations. 
If your company is mandated by law to maintain compliance with industry regulations, then it's also important to find an LMS with a compliance and certification report. Your team's knowledge and abilities will be kept current with the aid of this reporting function, and it will also help you identify those with certificates that are already set to expire.
LMS Requirements Checklist #5 – Security features
Cybercriminals can target any system, including your LMS. With this in mind, it's needless to say that your LMS must be equipped with robust security features. Since these systems will store your learners' data and your organization's knowledge base, it's important to know that they'll be able to keep all this information secure from unwanted access. 
One of the most important security features to look out for is data encryption, to make sure that your organization's data remains safe and secure, even when working with any third-party applications. Another thing is that they should have an advanced password protocol that will restrict your LMS access to authorized users. This will significantly prevent hackers from stealing personal information and causing unwanted changes to your database. You may also want to consider a system with good backup data storage that will allow you to save manually your learners' data and your course content. This way, they'll remain available and accessible in case of data corruption caused by viruses or malware. 
LMS Requirements Checklist #6 – LMS installation and hosting
In this LMS requirements checklist, deciding how an LMS will be installed and updated is another crucial factor to take into account. Some LMS accounts can be installed on-site, while others can be used as a Software-as-a-Service (SaaS). 
Hosted LMS, or those that are installed on-site, offers greater freedom to customization. But the downside is that it usually involves a lengthy installation process since it needs to function with your company's current network and software infrastructure. Meanwhile, Software-as-a-Service (SaaS) or cloud-based LMS platforms are hosted on the web, which makes it a more practical LMS option. Once you've paid for a subscription, you'll have immediate access to and use of their system.
List down the pros and cons of hosted and SAAS LMS first. From there, identify your needs and priorities, and then decide which type of LMS would be the best fit. Pro tip – pick the hosted LMS if you have a team of experts that can configure and customize your system. But if you're short on resources and you want an LMS that you can use right away, SAAS LMS is definitely the best option. This is mostly because your LMS vendor will already take care of all the complicated aspects of installation and maintenance, and all you'll need to do is pay for their subscription plan (unless they offer a freemium model). 
LMS Requirements Checklist #7 – Social learning and collaboration tools
Having an LMS platform with social and collaborative tools can help you incorporate social elements into your training courses. This will help engage your learners better and make sure that they're having fun while learning. After all, learning with peers makes the entire learning journey less of a chore and more of a fun activity.
LMS with social learning tools lets your team discuss the training topics through messaging, chats, and collaborative threads. Other systems also have share and like buttons and a comment section, empowering users to endorse the content or courses they find the most interesting. It's also worth exploring collaboration tools that will allow the entire team to collaborate on a project, share project files, and discuss their concerns freely. 
LMS Requirements Checklist #8 – Integration with other applications
Perhaps your organization is already working with other business applications? Then it just makes sense to look for an LMS that can integrate with these systems. Let's say you run online training and webinars through Zoom. Without integration, you will have to manually enroll your team in your LMS and then schedule a session in Zoom. But if you have these two systems connected, setting up a session in your LMS will automatically create a session in your Zoom account too. 
Basically, LMS integration cuts down the amount of time you'll spend switching between tools. You'll only need to input your data once, and your LMS will automatically communicate it with the rest of your systems – as simple as that. Syncing data between systems also improves workflow efficiency by reducing redundant input and human error. Plus, it helps maintain information consistency within your organization, giving you peace of mind knowing that no crucial data will ever get lost in the process.
LMS Requirements Checklist #9 – Mobile accessibility
We can't deny the fact that most people today are now glued to their smartphones, and they use them for practically everything, from ordering food and connecting with coworkers, to checking news and emails. With this in mind, it's not surprising that mobile learning is also seeing a rapid increase in popularity.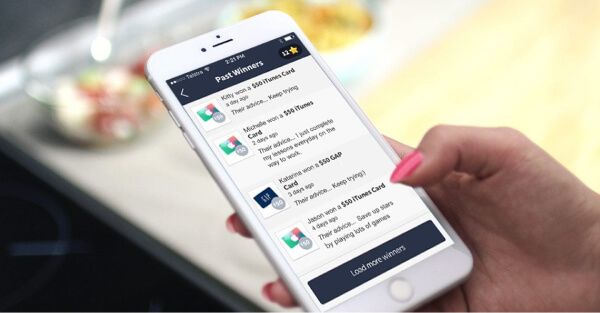 If you're planning to make the most of mobile phones and allow your team to use them to access their training and your organization's database, then you definitely need an LMS that's mobile responsive. It should work across different devices, including desktops and tablets, and it should automatically adjust to the screen sizes that your learners are using. 
Even better, look for an LMS with a mobile app. EdApp is a good example of an LMS that uses smartphone technology to deliver effective learning solutions. All training materials uploaded to this platform are downloaded straight to your learners' smartphone devices. It gives them the flexibility to decide when and where to access their training and do so at their own pace. The mobile app can even send push notifications to inform users of new lessons, updates, and deadlines. 
LMS Requirements Checklist #10 – Pricing models
Another important factor to consider when choosing an LMS for your organization is the cost. LMS pricing isn't exactly one-size-fits-all, so it's crucial that you know the different pricing models of the different vendors. There are products that offer a one-time license fee, while others charge a monthly subscription fee. Some LMS vendors also provide pay-per-user, pay-per-active-user, and pay-per-registered-user options, where your fee will be based on the number of users. 
If you have a limited budget or are still a little hesitant about spending a lot of money, there are budget-friendly options to choose from. One is an open-source LMS platform, which is typically free to use but usually requires in-depth programming and HTML expertise. There are also LMS platforms that you can access for free, like EdApp. Without breaking a hole in your pocket, you can still access a lot of helpful features, like its course-building tool, gamification features, analytics and reporting, and integration. That's pretty much everything you'll need from LMS software – even with its freemium cost.