LMS for Corporate Training #2 - Bridge LMS 
Bridge takes pride in its range of training features that you can use to support your employees' growth. What makes it a good LMS for corporate training is its native course authoring tool. It's incredibly user-friendly and intuitive, with drag-and-drop functionality and customization options that require no course design or coding knowledge. The only downside is that if you're looking for more extensive customization options, Bridge's capabilities might be a bit limiting for your needs.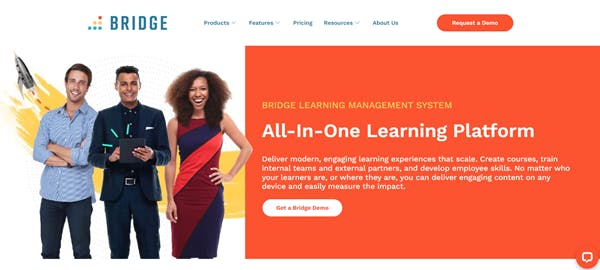 What's more, this LMS system offers analytics dashboards that give you invaluable insight into your employees' training progress. With this information at your fingertips, you can identify learning gaps and evaluate current knowledge levels of your team. 
Cost: Available upon request
Key features: 
Native authoring tool

Analytics dashboard
LMS for Corporate Training #3 - Open edX
Open edX offers a whole range of features that can improve your corporate training. One of its best features is the course maker tool, which makes creating engaging courses a breeze. And with the ability to build activities like assessments and quizzes, you can rest assured that your team is retaining the knowledge they need to succeed.

Another great thing about this LMS for companies is that it's fully open source, which means that you have complete control over the platform and can customize it to meet your corporate training needs. But on the flip side, it's worth noting that the platform can be quite complex, especially if you don't have a lot of technical expertise.
Cost: Free
Key features: 
Course maker tool

Assessments and quizzes

Open-source code
LMS for Corporate Training #4 - GnosisConnect
GnosisConnect is known for its cloud-based technology and mobile-ready platform, which are highly beneficial for both training managers and employees. Here, you can create various types of learning formats such as videos, simulations, web pages, and even podcasts and webinars with ease. As a cloud-based LMS, all your training materials will be securely stored in the platform, and learners can access their training anytime they want using their mobile devices.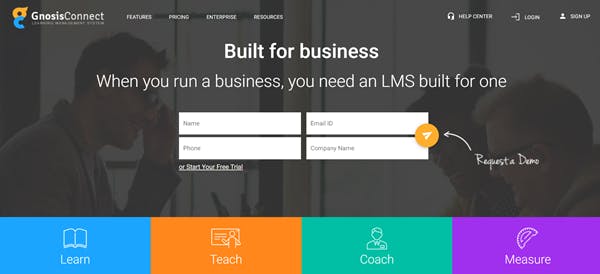 It's important to note, though, that the pricing structure of GnosisConnect can be confusing. Make sure to do your research first and understand all the costs involved before making any commitments.
Cost: Starts at 299 USD
Key features: 
Course creation

Cloud-based LMS

Mobile accessibility
LMS for Corporate Training #5 - Teachable
Teachable is a popular LMS choice for entrepreneurs who want to sell their courses, but it can also be a good option for corporate training. With its easy-to-use course builder, you can create different types of training courses in various formats, from self-paced courses to live coaching and cohort-based courses. You can also activate comments or add quizzes and other interactive features to boost your employees' learning outcomes.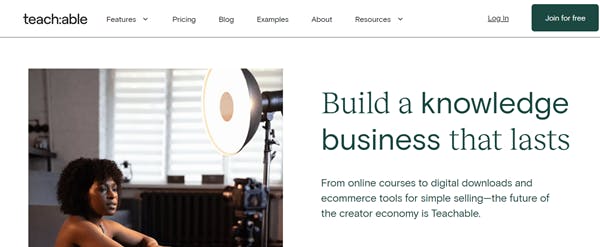 Another great thing about this LMS for corporate training is that you can sell your courses to a broader audience and monetize your training courses. Just take note that while Teachable is packed with useful features, it can also be overwhelming for beginners. If you're new to online learning platforms, it may take some time to get the hang of the interface.
Cost: Starts at 119 USD
Key features: 
LMS for Corporate Training #6 - Open LMS
Open LMS is a great LMS that gives you the power to create engaging training content and help your team level up their skills. This LMS for training lets you build content right within the platform using their native assessment tools, although you can also bring in your materials through its SCORM support. You can also track your learners' progress in real-time, so you can make sure they're getting the most out of their training.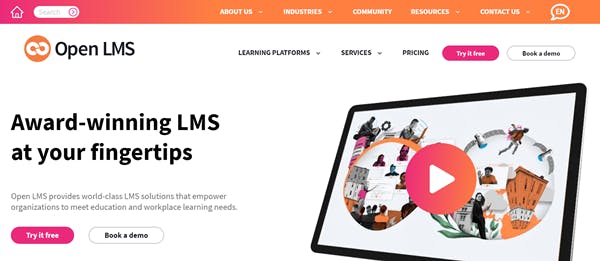 But what's even better is that this LMS is open source, which means you have the freedom to add new features, integrate with other systems, and adapt it to your unique requirements. The only catch is that this process can be a bit challenging if you don't have any expertise in the field.
Cost: Available upon request
Key features: 
Course creator tool

SCORM support

Learner tracker

Open source LMS
LMS for Corporate Training #7 - Looop
Looop LMS helps you create incredible learning experiences with ease. Its resource builder lets you build courses and resources fast, while its smart automation features handle the heavy lifting of delivery and management. Another standout feature is its pathway tool. Here, you can bring your content into guided journeys customized to your learners' needs. Learners get a structured path to follow at their own pace, while you maintain flexibility over their learning experience.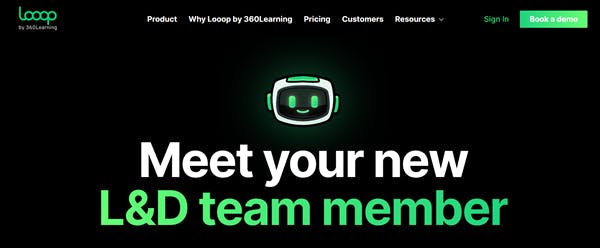 Cost: Available upon request
Key features: 
LMS for Corporate Training #8 - TopclassLMS
Whether you're looking to host live training sessions or provide on-demand learning that's accessible anytime, anywhere, TopClass LMS has you covered. Its virtual classroom supports video conferencing, screen sharing, and more, while its mobile-ready design makes sure that learners can join in from their smartphones or tablets.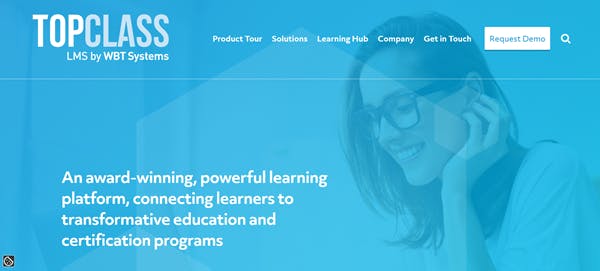 And when it comes to engagement, TopClass LMS also delivers. With discussion forums and interactive videos, learners can connect, share insights, and collaborate with their peers to boost their comprehension and retention of the material. 
As Topclass LMS doesn't disclose its pricing options, it's most likely more expensive than other corporate LMS choices on the market. The cost can be a significant factor if you have a tight budget for training. 
Cost: Available upon request
Key features: 
LMS for Corporate Training #9 -Skill Lake 
With Skill Lake, you can create diverse learning experiences that are tailored to your specific needs. Whether you prefer self-paced resources, live sessions, or a combination of both, this LMS for corporate training has got your back.

The best part? Skill Lake's content authoring tools are user-friendly, making it easy for you to create mashups, assessments, and more. And with the power of AI and machine learning, Skill Lake offers personalized content recommendations for each learner, making sure that they're receiving the correct training for their skill advancement. 
The only potential drawback of this tool is that its AI and machine learning rely on having enough data about learners and their behavior or performance. For a new LMS, it may take time to gather enough data to make the most out of its personalization features. 
Cost: Available upon request
Key features: 
Diverse learning experiences

Content authoring tools

AI and machine learning for personalized content recommendations
LMS for Corporate Training #10 - Gyrus
With Gyrus, you can easily create and manage a wide range of learning activities like online classes, webinars, file-based courses, and classes. And with the ability to create assessments, you can measure the learning progress of your team and make sure everyone is on track.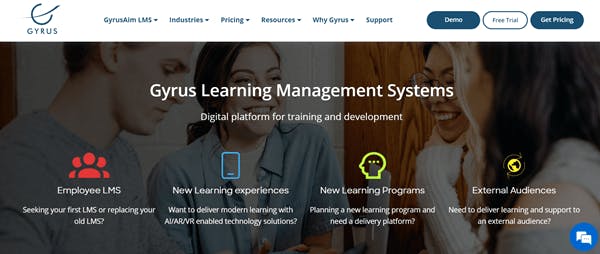 One of the best things about Gyrus is its range of integrations with other software applications. Whether you're using Zoom for virtual meetings, Slack for team communication, or Microsoft Teams for collaboration, Gyrus seamlessly integrates with your existing technology stack. 
Cost: Available upon request
Key features: 
Online classes and webinars

File-based courses and classes

Assessments

Integration capabilities