LMS Elearning Examples # 2 - DiscoverLink
DiscoverLink is a cloud-based LMS that specializes in the hospitality and restaurant industries. This all-in-one LMS promises to help you retain your staff as it offers tailored training and development programs for your team.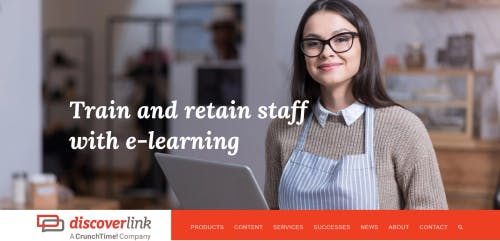 Hospitality industry experts designed DiscoverLink's training solutions to increase staff competence and improve store performance. With their tool, you can instantly designate course assignments and easily track your team's progress. DiscoverLink also advocates making learning fun for millennials with mobile-friendly interactive courses and videos.
Cost: Contact DiscoverLink
Key features:
Mobile Courses

Course Assignments

Completion Tracking
LMS Elearning Examples # 3 - Firmwater
Firmwater is another cloud-based LMS that specializes in delivering elearning content to your customers, partners, and team members. By using this LMS, your team can experience online training benefits like streamlined content and user management and reporting, all in one convenient location. Since this LMS elearning platform is fully customizable, you can also enjoy seamless branding and a consistent user experience.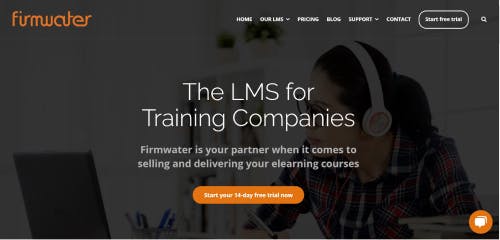 With this easy-to-use platform, you can create and manage different user groups, set user roles and permissions, and track user progress. Its robust reporting system also provides real-time data on user performance, engagement, and completion rates.
Cost: Starts at 495 USD/month
Key features:
Consistent Branding

User Roles

Powerful Reporting
LMS Elearning Examples # 4 - GoSkills
GoSkills is a great business training tool for a range of topics, from soft skills to technical business skills. Its user-friendly LMS platform can help you deliver effective training to your team with its customizable learning paths, progress tracking, automated reporting, and content library of over 1,000 courses.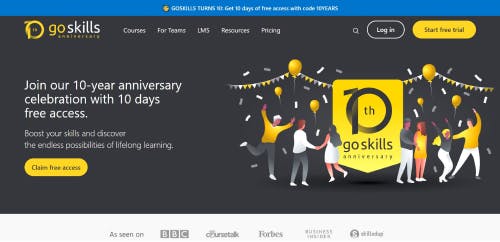 With this LMS, you can create personalized training experiences to make sure that your team receives the knowledge and skills they need to succeed. The platform also allows you to track your team's progress and generate detailed reports to give you insights into their training's effectiveness.
Cost: Starts at ₱750/month per user
Key features:
Off-the-Shelf Courses

Custom Content Design

Mobile Learning Solution
LMS Elearning Examples # 5 - Learn Amp
Learn Amp is an LMS platform that can help you drive employee development and engagement through personalized learning experiences. This feature-rich LMS is designed to have a user-friendly interface, customizable learning paths, and a comprehensive reporting system.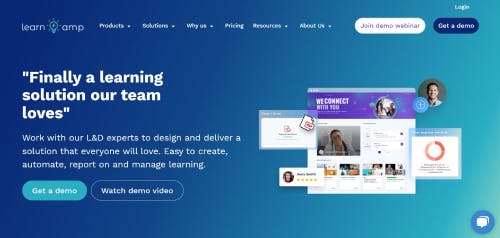 With Learn Amp, you can easily create and manage your courses, track employee progress, and generate detailed analytics reports. This LMS elearning tool is an excellent choice if you're looking to engage your team in meaningful ways. 
Cost: Contact Learn Amp
Key features:
Content Creation

Progress Tracking

Insight Reporting
LMS Elearning Examples # 6 - MindTickle
MindTickle is a corporate training platform that specializes in sales-readiness. Designed to help your sales team perform at their best, this platform includes sales enablement, sales coaching or training, and sales analytics.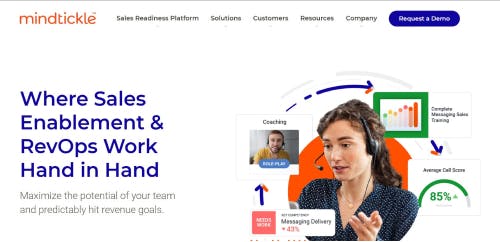 With MindTickle's sales enablement features, your team is equipped to effectively engage with prospects and close deals. The sales coaching features give personalized training based on your team members' strengths and weaknesses. Its sales analytics features let you track and analyze the performance of your sales team, identify areas for improvement, and make data-driven decisions.
Cost: Contact MindTickle
Key features:
Sales Enablement

Sales Coaching

Sales Analytics
LMS Elearning Examples # 7 - NovoEd
NovoEd is a next-generation social learning platform designed to transform the way people learn and work together. Its collaboration tools, social learning, and personalized feedback features make it stand out as an online learning platform.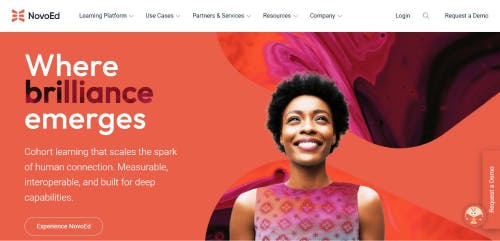 With its advanced analytics and reporting capabilities, this LMS elearning tool is also a convenient skills tracking software for viewing your team's progress and identifying areas for improvement. The platform also offers mobile optimization, allowing you to access course materials and assignments from anywhere, at any time.
Cost: Contact NovoEd
Key features:
Social Learning

Analytics and Reporting

Mobile Optimization
LMS Elearning Examples # 8 - Looop
Looop empowers organizations to create and deliver training programs in minutes. Its goal is to make training easier and more accessible for your team. With Looop, you can guide your team through curated resources and use quizzes to test and retain your team's knowledge.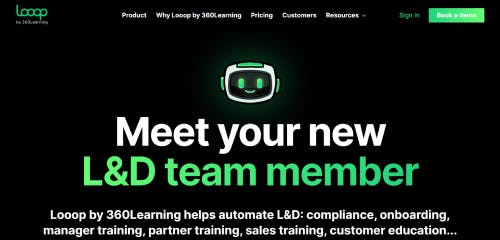 You can also give certificates to team members who complete courses to help you improve engagement. This makes Looop an effective LMS for compliance training. Finally, you can also have your team members demonstrate their skills on video, so that Looop can assess their performance.
Cost: Contact Paradigm Learning
Key features:
Customizable Dashboard

Mobile Compatibility

Flexible Course Creation
LMS Elearning Examples # 9 - Cognota's LearnOps®
Cognota's LearnOps® emphasizes improving the effectiveness of all learning and development (L&D) processes, allowing you to provide better training, faster. This approach integrates everything from planning and design to delivery and analysis.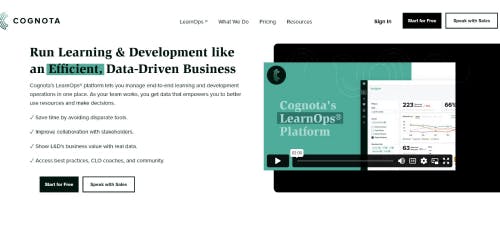 By combining strategic planning and efficient practices, your team will stay effective and agile with the help of LearnOps®. This LMS elearning platform also facilitates the use of data from L&D as well as other areas of the business to promote innovative learning. Additionally, this tool allows for technology integration and streamlining to give your team a more cohesive experience.
Cost: 1,499 USD/year per user
Key features:
LMS Elearning Examples # 10 - Wisetail
Wisetail is an integrated online platform that creates engaging and interactive learning experiences for businesses to train their teams. By bringing together key business metrics, reporting, and roles in one place, this platform makes it easy to gain insights from across your business ecosystem and accomplish big goals.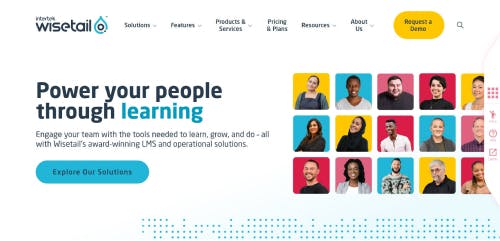 With this LMS elearning tool, you can design exceptional online learning experiences that keep your team engaged and growing as they wisely spend their time mastering your training materials. This way, you can rest assured that your team members are advancing their skills and knowledge for the overall success of your business.
Cost: Contact Wisetail
Key features: