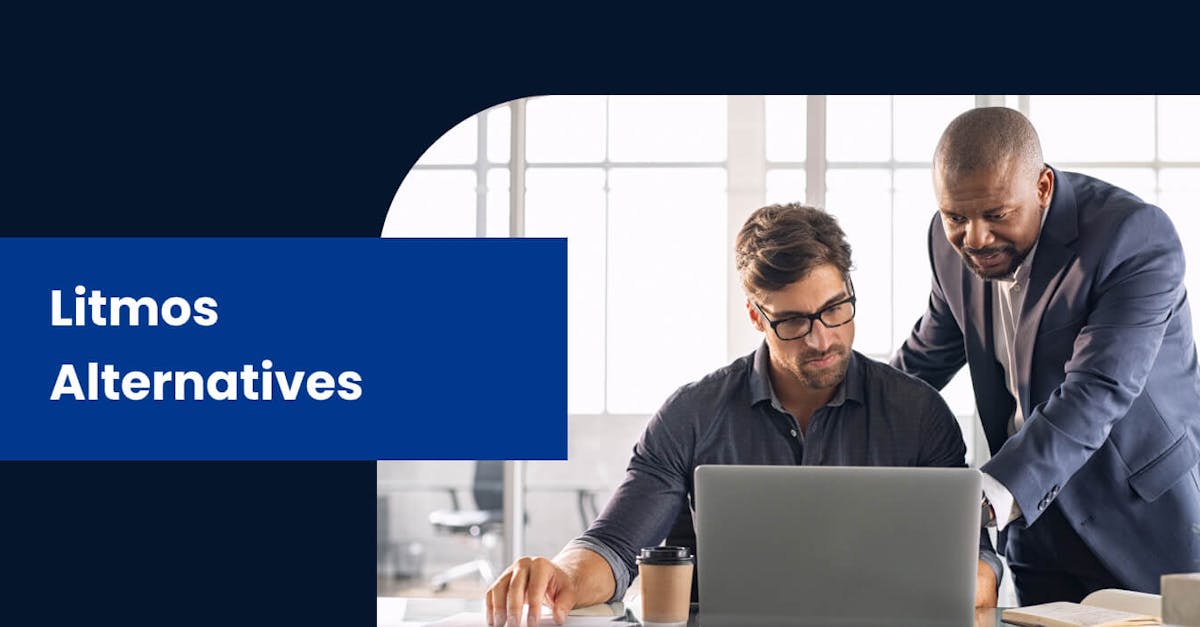 We've created a list of Litmos alternatives to help you create, manage, and deploy training more efficiently. These Litmos alternative training tools are great options to use as they're packed with robust features and some even include free features. Read on to learn more about these free Litmos alternatives to help you deliver training without breaking the bank.
1. EdApp 
EdApp is the best Litmos alternative for all your training needs. Its free content library contains hundreds of courses that you can deploy immediately or edit and customize as you wish. If you prefer to create courses from scratch, EdApp's course creator tool can help you create training content in minutes with over 80 e learning templates to choose from. If you have existing PowerPoint presentations, you can even convert them into beautiful microlessons in just a few clicks.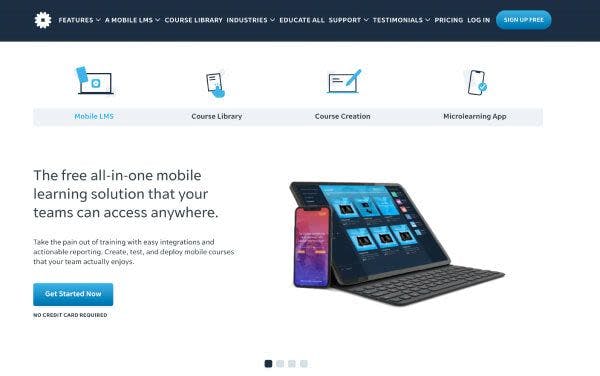 Since EdApp is mobile-first, accessibility isn't an issue as learners can access training right on their mobile devices anytime. To make sure learners don't miss out on any of their training, you can also set automated push notifications. The algorithm knows the perfect time to notify every learner – no matter their time zone, which is perfect for global teams.
If you're pressed for time or need bespoke courses for your training, worry not as EdApp's Course Creation services are available for you to use. Team up with their expert instructional designers to create beautiful microlessons that will surely engage your team with their training material.
Cost: Free
Key features:
Sign up for Free and Start Using the Best Litmos Alternative Now!
2. Brightspace LMS
Brightspace LMS is another Litmos alternative designed to create inspired learning experiences. Creating content with this LMS software is made possible through an HTML editor, which uses content templates, files that you can save in their learning repository, or content from other supported LMS  companies. To allow your learners to collaborate, you can take advantage of features such as web conferencing, whiteboards, and slide sharing. Motivating learners can also be achieved by making your own awards, certificates, and leaderboards. To further empower learners and improve their skills beyond the learning pathways provided, they can even search for courses and enroll themselves.
Cost: Available upon request
Key features:
HTML editor

Learning repository

Web conferencing

Whiteboards

Awards & certificates

Learning pathways
3. Edly
Edly is a mobile-friendly learning platform that prides itself on transferring the hard-won benefits of its years of pioneering work to your learners. With Edly, you can create learning content that you can brand as your own, and choose from their wide array of assessment templates and modes to check for learner understanding. You can also opt to create custom certificates to mark the completion of training done by your learners. Through its learner analytics, you can make data-driven decisions by looking into populated demographics to learner trends and determine where learners are finding challenges with.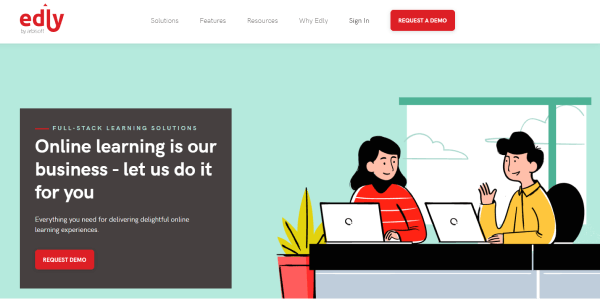 Cost: Available upon request
Key features:
4. Intellum
Intellum can easily pass off as a Litmos alternative, especially if you're looking to create, present, manage, track, and improve the kind of experiences that engage and educate your learners. With this platform, you can give your learners access to live and on-demand training content all in one place. It allows for rapid content authoring through its built-in Evolve authoring tool where you can create blog post-like pages of content, quizzes, surveys, and assessments. You can also host virtual training, webinars, conferences, and even in-person instruction when needed. To track learner progress, you can create custom reports that can be exported to third-party visualization tools for deeper insight and analysis. This platform works across multiple browsers and devices and also has dedicated iOS and Android learning apps.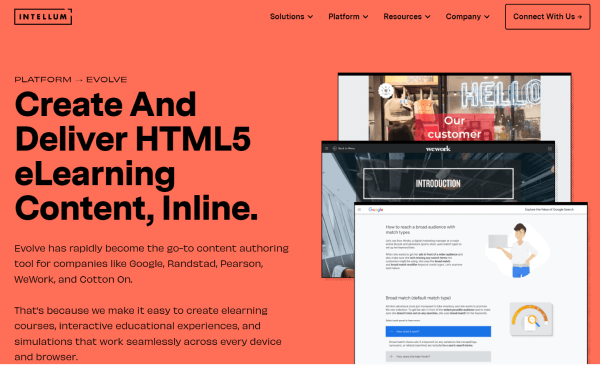 Cost: Available upon request
Key features:
5. Academy LMS
With Academy LMS company as your Litmos alternative, you can create simple yet well-designed online course modules, set up multiple online quizzes, and build lessons using different content formats like PDF, DOC, or image files. You can even communicate with learners and resolve course problems via interactive messaging which can be useful for blended learning. Another unique feature is the course portal, which allows learners to browse from a library of courses, save their favorites to a wishlist, and buy courses. They can even give a rating and post reviews for any of the courses they purchase. All they have to do is download the Academy LMS for compliance training to access their learning content anytime and anywhere. And what's awesome about this tool is that you only have to pay for it one time. No need for monthly or yearly recurring payments.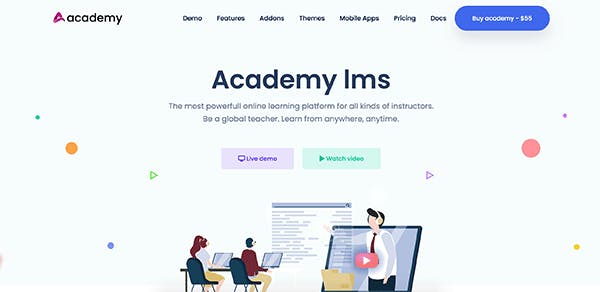 Cost: Starts at US 5
Key features:
Course builder

Quiz creator

Interactive messaging

Course portal
6. Ruzuku
Another great Litmos alternative to consider is Ruzuku. It's built with a powerful yet clean and user-friendly interface that allows you to create and run great elearning courses without overwhelming designing tools and options. Build HR compliance training courses for your HR team, cold calling courses for sales team, or handling conflicts for your customer service reps, it's all up to you. You can customize the design to fit your brand and incorporate content suited to your students' learning objectives. If needed, you can also add PDFs, Word, PPT, and other files to your course content and make them downloadable for self-paced learning. But it's not just limited to course creation and deployment. Ruzuku's course health feature also allows you to keep track of your team's learning progress, including activity completion and any queries or comments they may have about their courses. Any updates made by participants will be sent to you automatically via email.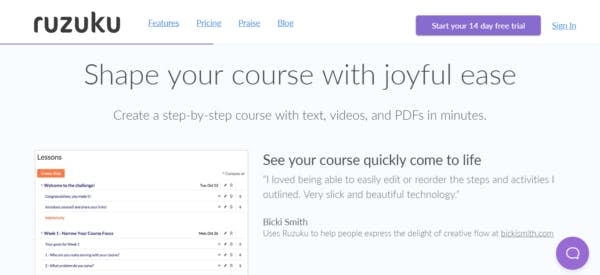 Cost: Starts at US 4.75/month
Key features:
7. znanja
znanja is a cloud-based learning content management system that you should consider as a Litmos alternative. Its intuitive editing tool has an intuitive and familiar interface that makes it easy to create learning content. Its Page Builder feature enables you to make lessons with ease with over 500 pre-built pages where you can drop all sorts of media and customize as you see fit. If you need inspiration, you can browse the public library which contains interactions created by other users. Checking for learner's understanding is made easy with its built-in online test maker that comes with automatic grading and an answer history which allows you to watch the process as your learner works through a question.
Cost: Available upon request
Key features:
8. Graphy
Graphy is another Litmos alternative that makes training content creation a breeze. With its drag-and-drop course builder, you can add your multimedia content along with quizzes, PDFs, live classes, and more. The courses you create can be made available on both mobile and web so you don't have to worry about the device your learners are using. With its all-in-one quiz builder, you can also test your learners by creating quizzes from scratch or importing them from an Excel or Word document. You can even sell the courses you create as Graphy also provides tools for you to market your creation.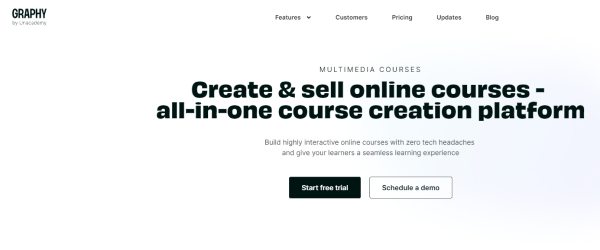 Cost: Starts at US 9/month
Key features:
9. CourseMill
CourseMill, a brainchild of eLearning Brothers, is another fantastic Litmos app alternative on this list. This learning management system capitalizes on its array of powerful tools and features that can help simplify your training process and improve your team's learning outcomes. For one, you can use its course management tools to easily create and publish elearning courses specific to your training needs. Fret not as they are designed for easy use, requiring no course expertise and coding experience to get started. Plus, they support SCORM, AICC, xAPI, and non-SCORM items such as PDFs, audio, slides, and video files, giving you a hassle-free integration of your existing training materials, if any.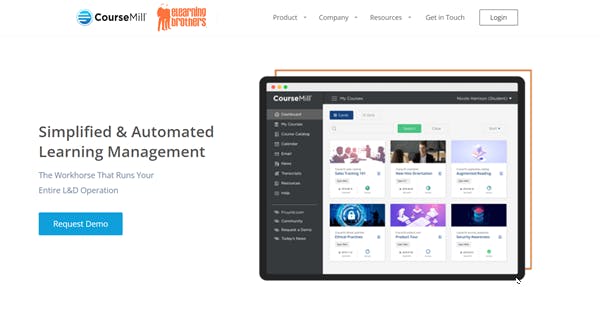 Cost: Available upon request
Key features:
Course management

Easy-to-use interface

Advanced reporting
10. Actimo
Actimo is a mobile-first Litmos alternative that allows you to build training programs in minutes. Lessons can include all sorts of media, including videos, images, and text, which can even be gamified. Actimo also offers pre-set training templates that you can deploy right away to your teams. With its learning paths feature, you can easily guide employees to learning content that's relevant to them. Real-time insights are provided so you can track your learners' progress and identify knowledge gaps.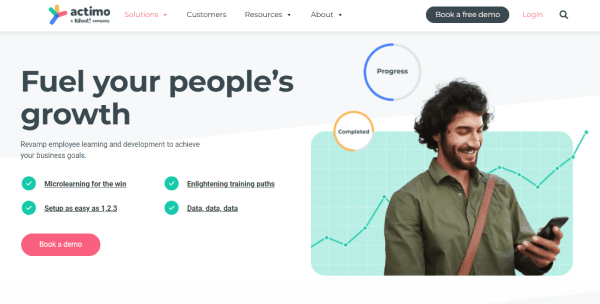 Cost: Available upon request
Key features:
Training templates

Learning paths

Actionable insights