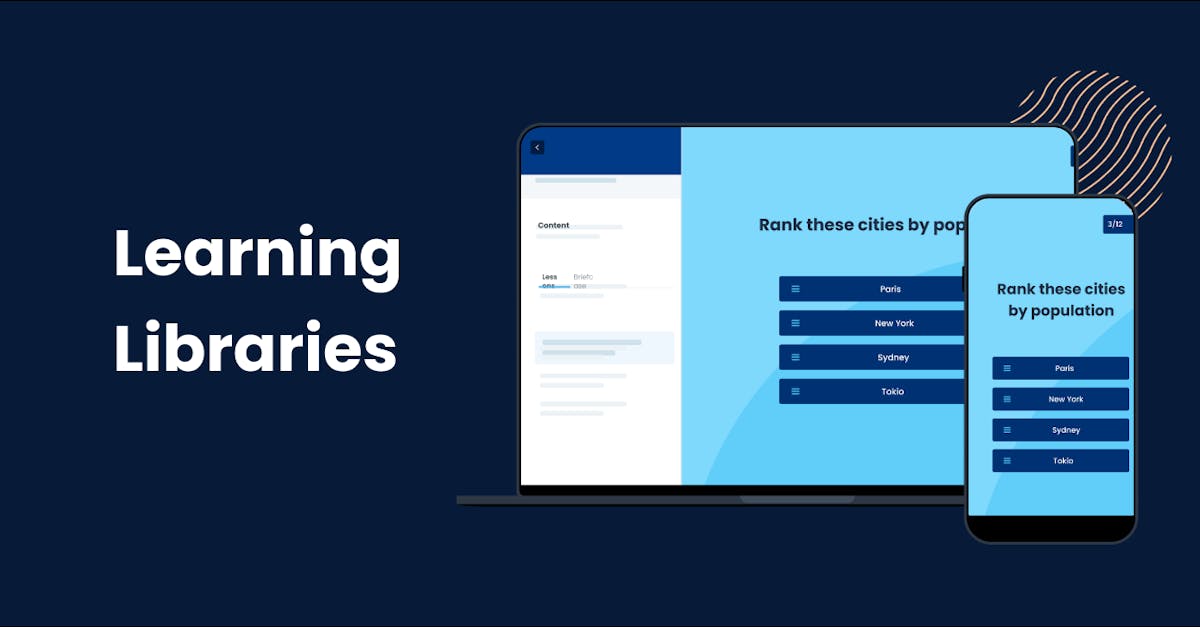 Following the upward trend in online learning over the past few years, more and more companies are increasingly relying on e learning and m learning libraries to find off-the-shelf online resources that they can use to digitally train their staff. With this in mind, we've taken the initiative and created a list of the best learning libraries where you can find high-quality courses and learning materials that you can share with your team.
1. EdApp
EdApp is an award-winning learning management system that's known for its powerful training solutions, like its course authoring tool, quiz generator, and gamification tool. But on top of these, they also take pride in their comprehensive elearning course library that's filled with over 1,000 beautiful, top-notch courses.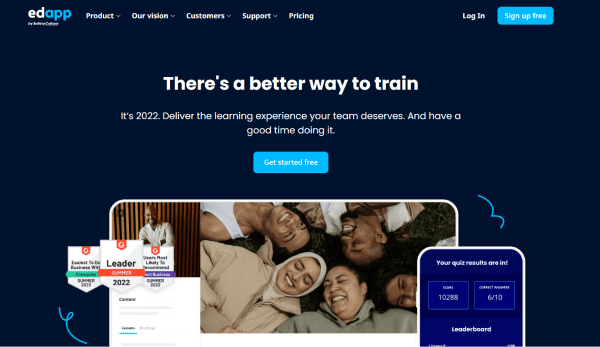 Regardless of which industry your business is in, you'll likely find a course in this learning library that will be useful to your team, including off the shelf elearning courses. There are heavy equipment safety training programs for construction workers, infection control for healthcare workers, and sales call management for your sales team. EdApp also houses quality courses that are built in collaboration with industry leaders like AXA Climate, Thai cave rescue diver John Volanthen, and culture expert Karamo Brown. With this in mind, rest assured that your team will be learning the newest techniques and industry best practices from the best in the business.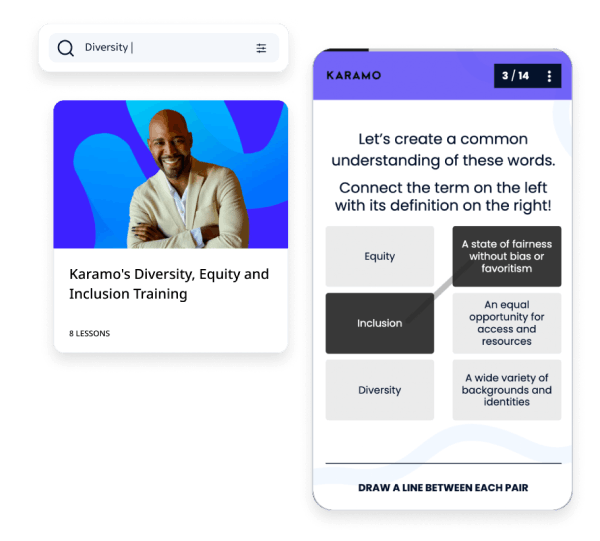 Not only are EdApp courses free, but most of them are also made fully editable. From adding your branding and logo to tweaking the content and including your own team strategy, these courses are yours to edit. Even better, you won't need to worry about finding courses that support your team's native language. Thanks to EdApp's AI translation tool, you can almost instantly translate into more than 100 languages – all in just a few clicks.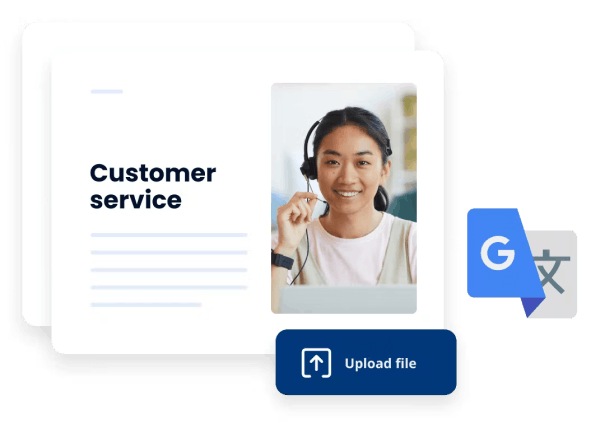 Cost: Free
Key features:
Editable learning library

1000+ free and editable courses 

Sponsored courses built in collaboration with expert leaders

AI translation tool
Start using the best learning library today! Join EdApp for free. 
2. Coursera
Coursera is a popular learning library for both employees and students around the world. Here, you and your team will find an array of courses that are authored by top universities like The Wharton School and Stanford University, as well as industry leaders like Google and IBM. They're delivered in a series of online video lectures that can be finished in weeks or months. Some courses also come with additional activities like quizzes and skill assessments to secure active participation from the learners.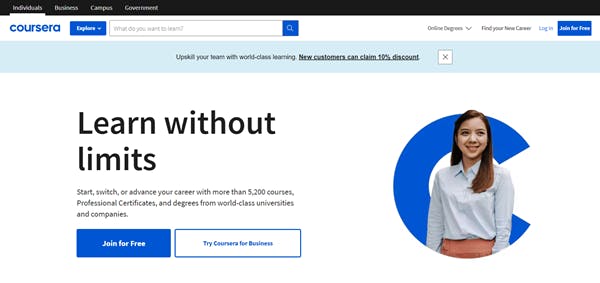 Coursera supports self-paced learning, and your team can also access its courses using its mobile application. While it's indeed one of the most recommended learning libraries out there, the subscription to Coursera is a little expensive. There are courses that can be accessed for free, but for a limited time only. 
Cost: Subscription starts at 399 USD per year
Key features:
Editable learning library

1000+ free and editable courses 

Sponsored courses built in collaboration with expert leaders

AI translation tool
3. FutureLearn
Professionals seeking to gain new knowledge or expand their skill sets can also go to FutureLearn to find unique courses and programs that will help fulfill their learning goals. This learning library has an active catalog of more than 1,000 elearning courses covering an array of topics ranging from leadership and management to IT and computer science. They're created in partnership with big universities and global companies, so you can be assured about the quality of learning they offer. 
FutureLearn follows asynchronous or self-paced learning, meaning, you don't have to worry about finding a schedule that works for everyone in your team. Your staff will also have the opportunity to engage in classes, discussions, exams, and practical activities on a schedule that suits them.
Cost: Subscription starts at 27.99 USD per month
Key features:
Editable learning library

1000+ free and editable courses 

Sponsored courses built in collaboration with expert leaders

AI translation tool
4. SkillShare
SkillShare is like a paradise for creative people and entrepreneurs as it's jam-packed with over 30,000 video courses on topics that will help them level up their skills. Some of these topics include photography, illustration, creative writing, as well as business analytics, leadership and management, and marketing. These pre-recorded video learning materials are hosted by self-acclaimed experts and professionals who will guide your staff throughout their learning journey. For premium subscribers, video courses can be downloaded for offline viewing.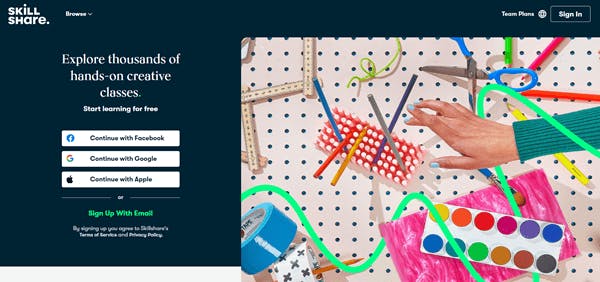 The only catch with this learning library is that the quality of their courses isn't fully guaranteed since they accept basically anyone as an instructor. 
Cost: Subscription starts at 32 USD per month
Key features:
30,000+ pre-recorded video courses

Creative and entrepreneurial course topics

Offline viewing option
5. edX
In the corporate world, edX is deemed as one of the best learning libraries because of its university-level courses that are designed and hosted by prestigious companies and institutions, like Harvard, MIT, and Microsoft, to name a few. This learning library has courses for all levels, from beginners to advanced. This means that regardless of how long your team has been with your organization, there's a good possibility that you'll find relevant learning materials for them in this learning library. 

It also offers verified certificates that can be added to professional portfolios, although they're only available for paid courses. Most programs also last for about 4-12 weeks, which can be a hassle if your team doesn't have a lot of time to spare for training.
Cost: Free with paid certificates
Key features:
6. Elearning Brothers
Elearning Brothers offers off-the-shelf courseware as part of their key training solutions and services. Here, your team will get to access hundreds of bite-sized modules that are accessible through any device, including desktops and smartphones. Their course offerings cover crucial topics such as workplace safety, risk management, and cyber security awareness, most of which are geared toward helping businesses meet industry compliance requirements. They're not only SCORM and xAPI compliant, but can also  be published and distributed using the LMS product you own.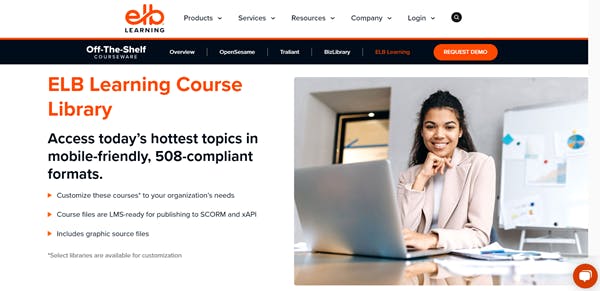 Just a quick heads up that this learning library is quite limited. But, the good news is that their learning library is constantly growing and expanding with more new courses being uploaded every now and then. 
Cost: 999 USD per year
Key features:
Off-the-shelf courseware

Mobile-friendly bite-sized modules

SCORM and xAPI compliance
7. University of Oxford
A globally-renowned and respected institution, the University of Oxford also offers a great e learning library where your team can get the pleasure of learning directly from their subject matter experts without the need to travel all the way to England. What's great about this platform is that learners have the option to join different types of online learning. They have flexible, short online courses with no live-time meetings, so they can study whenever it suits them. There are also live-time weekly classes and live-streamed lectures that are joined with a worldwide community of adult learners.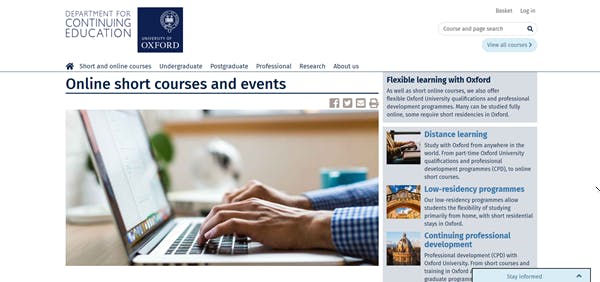 The only important thing to take note of is that most of their courses are more apt for professionals seeking to earn an additional degree and further accreditation, and not for upskilling current employees. 
Cost: Available upon request
Key features:
8. Open Learning
Another great learning library that you should definitely consider is none other than Open Learning. This learning library revolutionizes online learning to be a social and engaging experience. Learners will get to learn and expand their skills through activity-based courses and programs with group tasks and collaborative projects, securing optimal engagement and participation from them throughout their learning journey.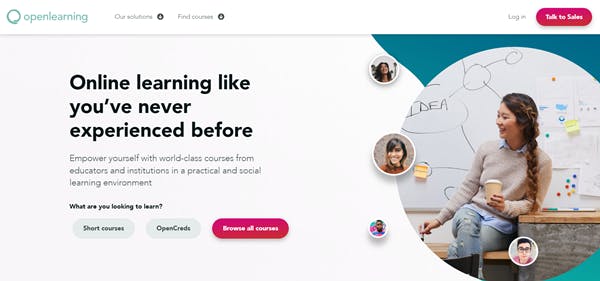 Your staff may opt to take public courses, although you can also create private courses exclusive for your team, and store them in this learning library. You can even add games and assessments to improve their retention and monitor their learning progress.
Cost: Subscription starts at 75 USD
Key features:
9. MasterClass
Not your typical learning library, MasterClass is a home of online classes taught by renowned experts and celebrities. Here, you have RuPaul teaching your team how to confidently express themselves, Marc Jacobs going over the basics of fashion design, and Gordon Ramsay guiding your workers on how to take their cooking to the next level. These courses come in a series of short class lessons that are only about 10-15 minutes long. Your team has the option to join classes and finish them at their own pace.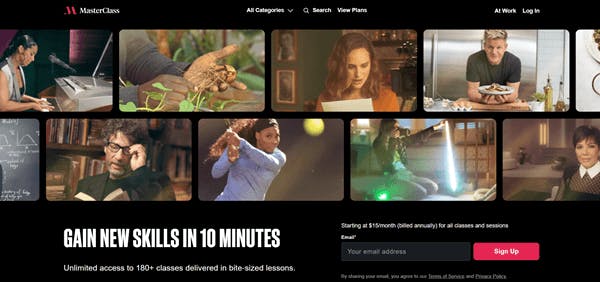 MasterClass also has this feature called "The Hub," where learners can interact with other participants as well as the MasterClass moderators. Unfortunately, there are no free courses in this learning library, and there's no certificate available either. 
Cost: Subscription starts at 180 USD
Key features:
Online classes taught by experts and celebrities

Self-paced learning environment

The Hub social feature
10. Harvard Business Publishing
Harvard Business Publishing is a not-for-profit leading provider of teaching resources like articles, books and chapters, real-world case studies, and online courses. They also offer highly engaging learning materials like podcasts explaining the topics through audio storytelling, and gamified business scenarios and simulations that will allow your team to apply everything they've learned into practice.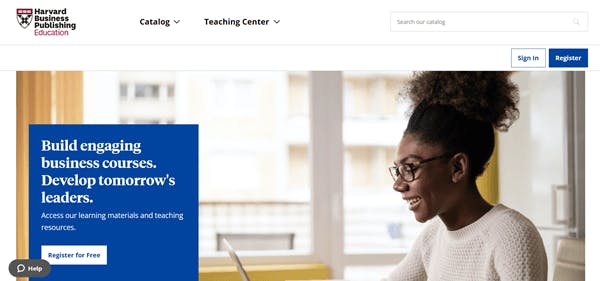 The only sad part about this learning library is that most of their resources are mostly geared toward improving business management practices. If your industry doesn't fall into this category, then you might want to scroll back up and consider other learning libraries from this list. 
Cost: Available upon request
Key features:
Not-for-profit teaching resources

Podcasts

Gamified business scenarios