The World Health Organization identified food safety and sanitation as one of the most prominent factors underlining the success of sustainable development goals set out by the United Nations. The right handling, working conditions, and preservation of food are crucial to ensuring the consumer's comfort and safety. In this article, we would like to present, how food-safe training is taught nowadays, especially with the help of the latest educational technologies.
Food safety training as a staple in the industry
Sustainable goal number 3, good health and wellbeing, is directly connected with access to quality, clean foodstuffs. In its 2008 report, WHO declared that foodborne-illnesses are unfortunately still a major public health issue in many areas, especially in the countries of the global South. Ingestion of contaminated food and beverages containing pollution of human and animal origin, as well as traces of heavy metals, is estimated to cause almost half a million deaths worldwide, a third of those among children up to 5 years old.[1] While in western countries, the threat of lethal food poisoning is substantially smaller, learning about food safety is one of the key elements of hospitality training.  
Food and beverage safety comes to the fore as one of the core elements of employee training in such industries as hospitality, tourism, and food production. We're going to focus on the first two, as safe food handling in bars, restaurants, or hotels directly and almost immediately impacts customer satisfaction and safety. What is more, it takes place in a substantially less controlled environment than in the factory, therefore training the staff properly in standards of hygiene and safety should come as utmost priority.  
The principles of food safety training
The five core principles of food safety are 1. Keep clean; 2. Separate raw and cooked; 3. Cook thoroughly; 4; keep food at safe temperatures; and 5. Use safe water and raw materials.[2] Let's have a closer look at those rules considering possible health hazards and methods of how to prevent them. The first rule, keep clean, refers mainly to the organization and sanitary conditions of the workplace, used for food prep. Keeping the kitchen clean and tidy, sanitizing and washing your hand, organizing regular disinfection and infestation checks, and separating dirty and clean materials should prevent the spreading of human or animal germs. Raw materials and food supply used in cooking should be fresh, thoroughly washed, and stored at appropriately low temperatures preventing bacteria from growing. Special attention should be paid to animal products — they should always be stored in sealable containers at low temperatures. There's also nothing more important than keeping the raw and cooked food separate, and the leftovers isolated from these products. Bacteria from raw meat or eggs can easily contaminate cooked and ready to eat foods, causing salmonella or E. coli poisoning.[3] Safe water and raw materials are usually less of an issue in western societies, which have unlimited access to clean tap water. However, the majority of the societies in the developing world in which clean water and well-stored raw materials are often inaccessible. There, cooking water and raw ingredients thoroughly is of utmost priority in preventing food-borne illnesses.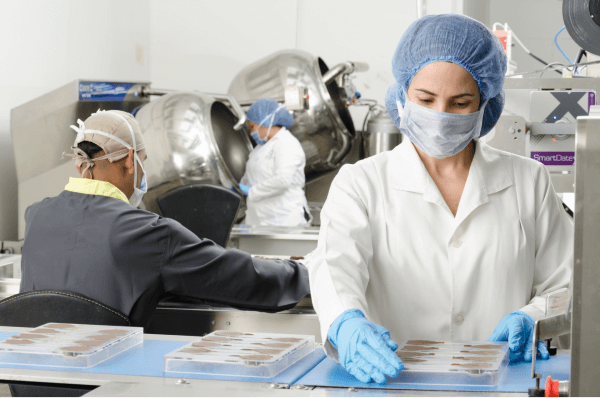 Teaching food safety training
Proper training is crucial when it comes to ensuring food safety in the hospitality and tourism industries. Good safety training should include foundations in both theoretical and practical knowledge of such subjects as microbiological hazards, cross-contamination hazards, safe handling and storage of food, personal hygiene, cleaning, and disinfection. Further, food handlers can expand their knowledge into risk assessment and control, pest control, delivery, and service hazards, and even hazard analysis and critical control points (HACCP). European countries are legally bound to train their staff involved in food preparation and handling in food safety and hygiene.  Additionally, hospitality food managers are obliged to familiarize themselves with country-specific legislation regarding the safety and food management in food-related industries.[4]  
Due to the abundance of subjects, the varied character of knowledge, and its practical aspect, learning food safety can appear daunting for those entering this branch of business. Usually, new employees must undergo a series of obligatory training before they are allowed into the kitchen, back, or front office, as their skills and knowledge must be proven accurate. Previously, such training required on-site presence, lengthy presentations, and passing theoretical and practical tests.
Using an LMS for food safety training
Today, food safety learning has become much more accessible thanks to online courses available on platforms such as EdApp. The extensive course library in EdApp allows employers to choose among a plethora of subjects related to their industry and useful for their employees. EdApp's Food & Hospitality courseware covers the most important topics for every new employee from food prep to food storage and handling.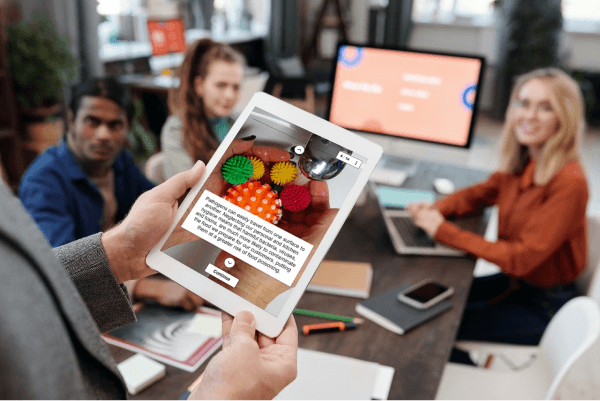 The benefits of online learning in the food industry are considerable. eLearning statistics show, that online learning makes information more accessible (students only need a mobile device with internet access) therefore providing employees with a chance of continuous learning. Moreover, online courses are constantly updated, unlike textbooks and physical learning materials. Upgraded databases with access to legislations, research, and best practices keep students informed about the latest updates in the field. Technological advancements make studying easier and more digestible. Learning management systems, such as EdApp, apply the latest, most efficient educational techniques such as microlearning, gamification examples, spaced repetition, and peer learning to improve the user experience as well knowledge retention among the course-takers. Both in the industrial and academic world, online learning in food safety, toxicology, and management have proven highly successful — enough for universities to start proposing online-exclusive degree programs in food management[5]. Such solutions provide great opportunities for leaders around the world, especially in communities at risk of foodborne disease outbreak, to bring change and eliminate immediate hazards with simple and powerful practices.  
Despite advancements in providing clean water and food around the globe, food safety and hygiene still prove a challenge in many communities. While in the western world, food safety is mostly related to customer care and safety in hospitality and tourism industries, in the countries of the global south, food hygiene and disease prevention is a matter of everyday life. With the help of an online training system, such as  EdApp, we can not only provide customer satisfaction and retention but instigate changes improving health and quality of life among the most vulnerable.  
[1] Vaz-Fernandes, P., Caeiro, S. "Students' perceptions of a food safety and quality e-learning course: a CASE study for a MSC in food consumption." Int J Educ Technol High Educ 16, 37 (2019).
[2] https://www.who.int/foodsafety/publications/consumer/manual_keys.pdf
[3] https://www.betterhealth.vic.gov.au/health/HealthyLiving/food-safety-and-storage
[4]
[5] Vaz-Fernandes, P., Caeiro, S. "Students' perceptions of a food safety and quality e-learning course: a CASE study for a MSC in food consumption." Int J Educ Technol High Educ 16, 37 (2019).