There are a lot of leadership training apps out there that make it easy for anyone to create interactive leadership courses without having to lift a finger. But these tools aren't all created equal. This can cause some confusion when trying to find the best one for your team leaders. Let's look at some of the best leadership training apps available today and how they differ from each other. 
Leadership Training App #1 – EdApp
Leadership training app EdApp is sure worthy of your attention because of the top-notch training tools and services it has built for seamlessly creating and organizing leadership training activities.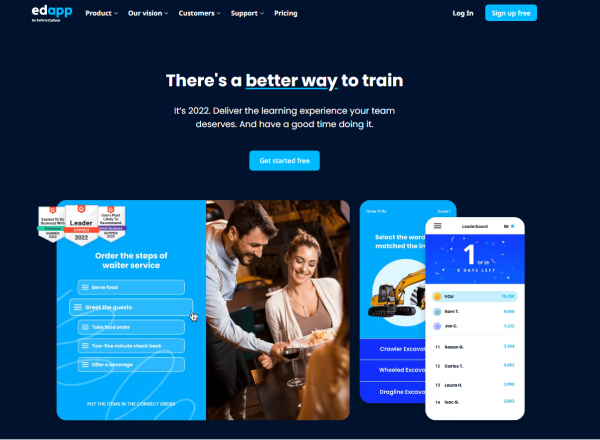 This app gained popularity across the L&D world for its course creator tool, which is incredibly easy to use. Heavily template–based, you can even create courses without starting with a blank page. It's also built-in with interactive elements like spaced repetition and gamification tools, which have been proven to improve retention rate to a whooping 70-90%.
Creating an account in this leadership app will also give your team leaders free access to its microlearning courses. They're short, concise, and specific, so your team can easily view them as many times as needed. 
One of the most recommended leadership training programs they offer is  Leading Under Pressure, created in partnership with none other than John Volanthen. In this course, he shares professional tips and strategies that would help struggling leaders successfully lead their teams, even under pressure.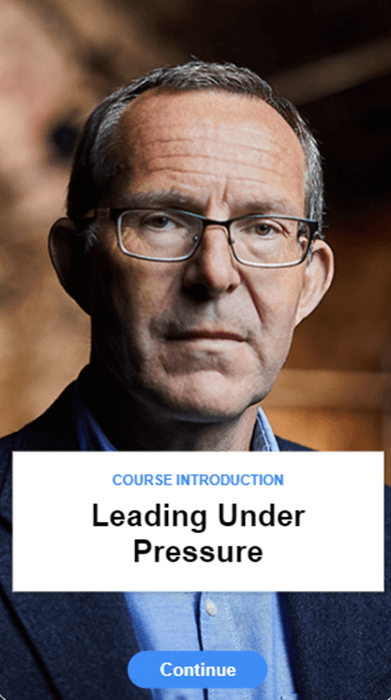 If you want to build a course that's specifically tailored for your team leaders, then its course creation service would be a lifesaver. The power of a developer, designer, and training expert is all at your fingertips. In a nutshell, you'll get to work with their expert instructional designers to create professional-looking bite-sized courses. They can even add your logo to it, so it looks and feels like you built it!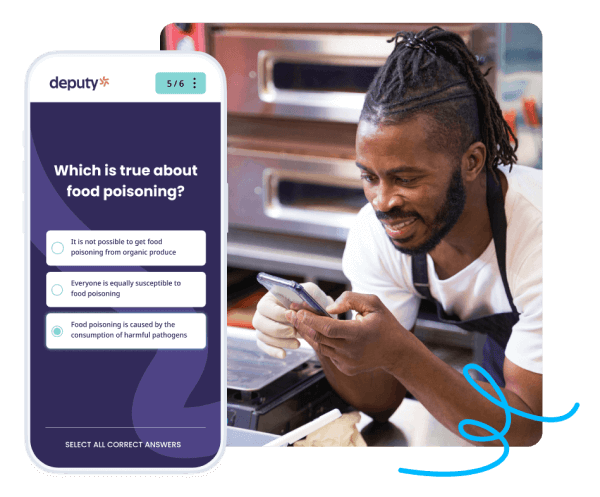 Cost: Free with paid features
Key features:
Course creator tool

Free course templates

Interactive elements

Free microlearning courses

Course creation service
Leadership Training App #2 – Global Leadership Network
The first thing to know about the Global Leadership Network is that it's built by and for leaders. It's jam-packed with short, high-impact leadership videos designed to help leaders gain all the skills and knowledge they need to successfully lead a team or organization. Navigating the app is also easy. To find a topic to learn, your leaders will only have to search and browse the videos by keyword, speaker, and category. They can even bookmark and save their favorite videos for future reference.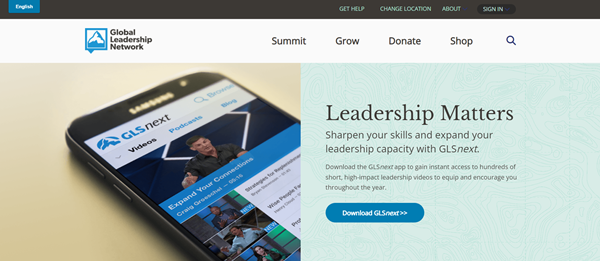 To get started, your team will need to download the GLSnext app to their smartphones. 
Cost: Free
Key features:
Leadership training videos

Video search and browse

Bookmarks and favorites
Leadership Training App #3 – Yomento
Yomento's focus is to give companies an easy solution to train their leaders on the job. It offers a variety of customized training programs that aim to give leaders advice on how to improve their leadership style and how to put what they've learned into practice. These programs can be completed at their own pace and in their own environment. 
This leadership training app is also data-driven. You'll get actionable data insights to track your leaders' progress and measure the effectiveness of your training. You can use the data to improve your training activities and your strategic roadmap in general. 
Cost: Starts at 65 EUR
Key features:
On-the-job training programs 

Actionable insights
Leadership Training App #4 – Bunch
Bunch differs from the other leadership apps on this list in that it uses artificial intelligence (AI) to coach leaders and help them become 1% better everyday. Some of the best things why this elearning development software is well-loved by most training managers is that it creates learning materials based on tips and experience from the most notable leaders in the world. Everything's presented in bite-sized chunks for easier retention. Additionally, Bunch tracks your leaders' everyday schedules and creates personalized tips based on their daily actions, leadership styles, and goals.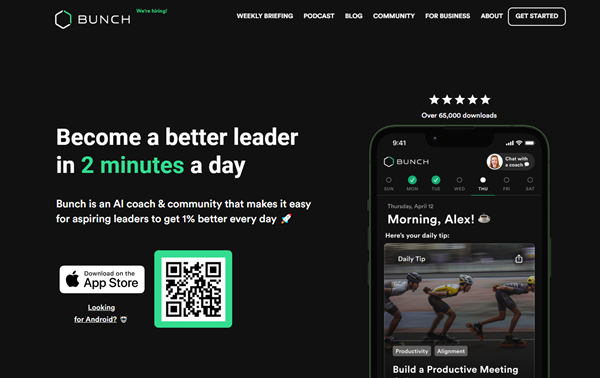 The biggest catch with this training app is that it's only downloadable on the Apple App Store and is not yet accessible for Android users.
Cost: Free
Key features:
AI coaching

Bite-sized learning materials

Personalized leadership training tips
Leadership Training App #5 – Kahoot!
Kahoot! is also a great leadership training software to consider. Here, you can practice your leaders' skills through a series of gamified quizzes and assessments,which is a great way to drive interest and engagement from them. These games can be answered individually. You can also set up a live meeting with them and present your question on a shared screen to keep your team connected. 

As a training manager, you'll benefit from this app's reporting and analytics feature. It automatically records your team's training behavior so you can easily spot knowledge gaps and improve your training content. 
Cost: Free with paid features
Key features:
Gamified quizzes and assessment

Shared screen for live sessions

Reporting and analytics
Leadership Training App #6 – Coursera
Coursera has made its name popular in the world of elearning because of its collection of online courses, certifications, and degrees. And the best part? They're made in collaboration with world-class universities and companies. This app offers more than 2,000 youth leadership training courses, many of which are geared toward developing the abilities of both aspiring and experienced managers and leaders. Upon completion, they'll gain an official certification, which they can add to their credentials.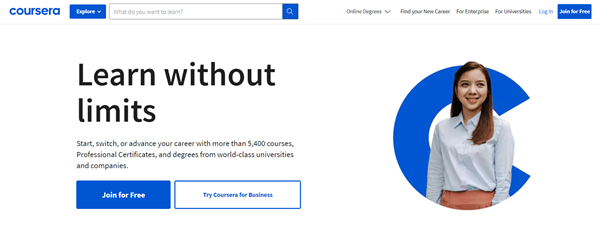 Coursera has an elearning mobile app version, allowing its learners to take the courses whenever and wherever it suits them. 
Cost: Free with paid features
Key features:
2,000+ leadership courses

Shareable certification

Mobile app version
Leadership Training App #7 – FutureLearn
Just like Coursera, FutureLearn also houses high-quality corporate leadership training courses in almost every subject area, including leadership and management. Enrolling in their courses gives your leaders access to a mix of bite-sized videos, articles, and practical activities that are proven to boost engagement and retention rates.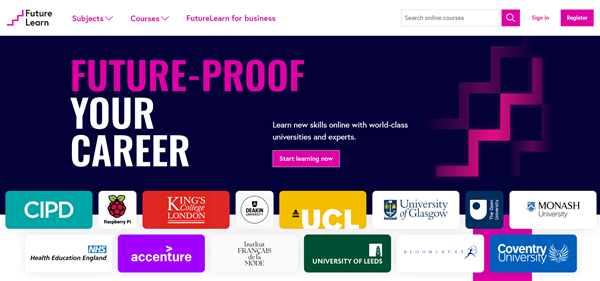 With Futurelearn, your team will also get to experience the power of social learning by connecting with other learners. They can like and comment on a post or even bookmark a conversation that they find interesting and relevant. After course completion, they'll be rewarded with a certificate as proof of their learning. 
Cost: Free with paid features
Key features:
High-quality leadership courses

Social learning

Course certificate
Leadership Training App #8 – MasterClass
With MasterClass, your leaders will be able to learn directly from industry experts and renowned celebrities around the world. One of the many leadership courses they offer is taught by none other than former US President Bill Clinton. In the course, he goes over some tips on how to manage diverse teams, handle criticism, and manage conflicts. They were also able to bring in media and fashion icon Anna Wintour, which teaches current and aspiring leaders how to make bold decisions and lead with impact.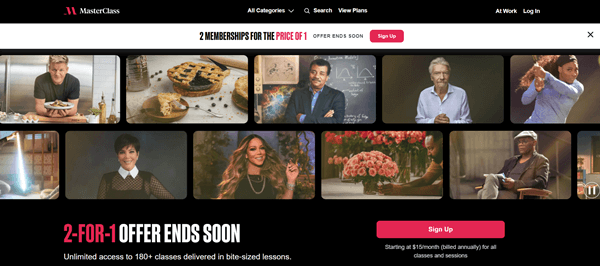 The content of these training programs is delivered in a series of 5-10 minute video clips. They can be watched on desktop, TV, or even smartphone devices. 
Cost: Starts at 15 USD per month
Key features:
Courses by industry experts and renowned celebrities

Video lessons

Mobile and TV accessibility
Leadership Training App #9 – OpenLearn
OpenLearn is a home of free learning resources that are available for online and offline viewing. Some of the leadership content that your team will find on the platform includes public leadership, leadership and followership, and collective leadership. Built with busy learners in mind, these courses are made available in bite-sized chunks to make sure that they'll fit easily into their daily schedule. They also come with articles, quizzes, and games for a better participation rate.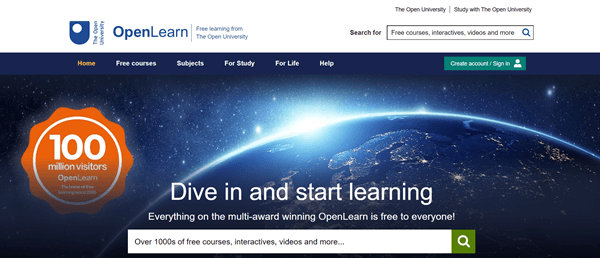 All OpenLearn learners will earn a digital badge or statement as proof of their learning. 
Cost: Free
Key features:
Free learning resources

Games and quizzes

Digital badge
Leadership Training App #10 – SkillPill
The microlearning-based leadership courses offered by SkillPill are known for helping leaders gain the skills they need to succeed in the modern workplace. They come with a video, quiz, and worksheets that aim to drive engagement and retention. Additionally, they can be mapped to match your team's competencies and skill level.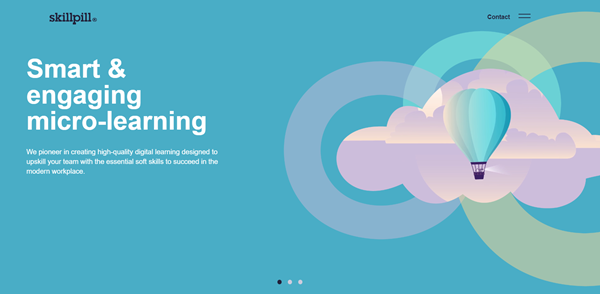 This leadership training app also takes pride in creating custom videos, which you can request to match your organization's brand and identity. This way, you no longer have to worry about giving your leaders a customized learning experience. 
Cost: Available upon request
Key features:
Microlearning-based leadership courses

Quiz and worksheets

Custom video creation service