Language training tools help individuals who don't have the time or budget to attend formal language classes and courses. These tools can be useful to teach your employees foreign languages that can help them with their roles or can simply be a resource for alternative learning.
Language Training Tool #1 – EdApp 
EdApp is an all-in-one learning solution that also serves as a language training tool. Its course library offers language training courses, such as English for Freelancers and Teach yourself Korean. Since EdApp is a learning management system, you can easily deliver these courses to your teams through the dedicated app or even through a browser. Courses are formatted for screens of any size so they're perfectly responsive to whatever device you use.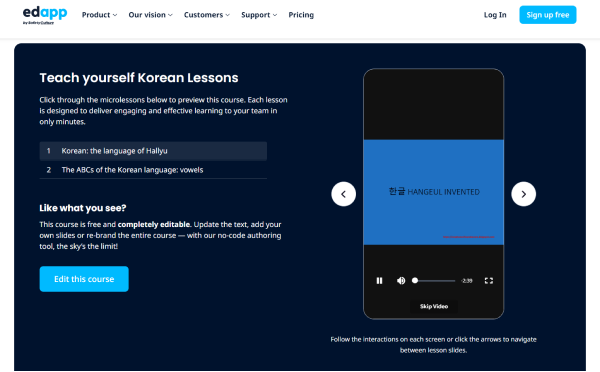 If the language course you're looking for isn't available yet, you don't have to worry as EdApp has got you covered. With EdApp's course creation services, you'll have the power of a developer, designer, and training expert – all at your fingertips. You'll work with our customer success team and expert instructional designers to create impactful bite-sized courses.
Additionally, EdApp's Virtual Classroom is a great way for your learners to practice and converse with each other without compromising face-to-face interaction. You can schedule recorded, in-app meetings and check-ins with your learners with video conferencing platforms, like Zoom and Microsoft teams, all in one place.
Cost: Free
Key features:
Course library

Virtual classroom

Course creation services
Sign up for Free and Start Using the Best Language Training Tool Today!
Language Training Tool #2 – Duolingo
Duolingo is a popular language learning tool perfect for those who want to learn different languages for free. It doesn't matter if you're just a beginner or looking to polish your skills, it will cater to your skill level to help you improve your reading, listening, and speaking skills. You'll only need 5 minutes a day to complete a lesson and they're presented in a gamified format to keep you engaged and motivated.
Duolingo has a mobile app both for Android and iOS devices so your teams can learn on the go. While using this platform is free of charge, there are ads in between lessons that can be distracting for some. If you're willing to shell out a bit, you can pay to remove them by signing up for a subscription.
Cost: Free
Key features:
Mobile app

Gamified lessons

Multiple languages
Language Training Tool #3 – Rosetta Stone
For almost 30 years, learners have relied on Rosetta Stone to gain skills and confidence when speaking a new language. To teach learners, it uses real-world scenarios, interactive activities, and audio from native speakers. There's also live coaching available with native speakers so learners can practice their new skills and have meaningful conversations. You can choose from 25 languages and there are even industry-specific lessons and vocabulary depending on your line of work.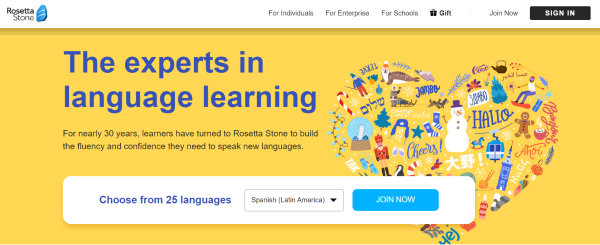 Cost: Request a quote
Key features:
25 languages

Live coaching

Interactive activities
Language Training Tool #4 – FluentU
FluentU capitalizes on entertaining but authentic video training content to help learners know a language best. It uses all kinds of videos, such as movie scenes, music videos, and more. Videos have captions that include translations and subtitles. Learners can also simply click on a word to get its definition in context and see applicable usage examples. This is what sets it apart from other language learning tools with subtitles as they're interactive and not just static. To test your learner's newly acquired skills, quizzes are also available for them to take.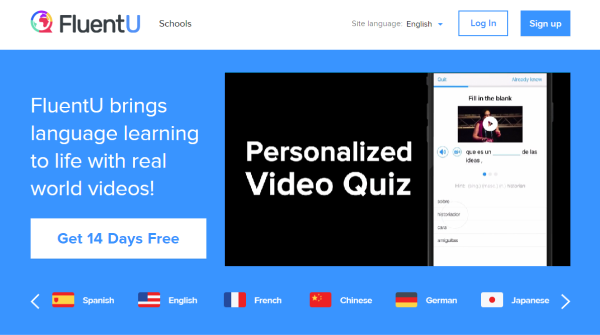 Cost: 29.99 USD/month
Key features:
Video content

Interactive subtitles

Vocabulary quizzes
Language Training Tool #5 – Babbel
Babbel is a language training tool with a wide array of language learning resources. Here, you'll not just find the usual lessons but there are also games, podcasts, and even live classes available. High-quality lessons are created by a team of expert language teachers who consider different expertise levels to cater to all learners.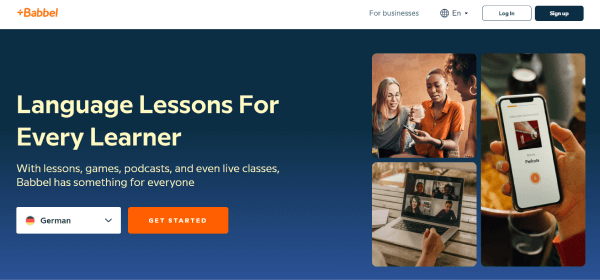 Babbel has two subscription options depending on your need: the Babbel App subscription and Babbel Live. The former gives learners access to unlimited online lessons while the latter is more focused on live virtual classes.
Cost: Starts at 13.95 USD for 1 month
Key features:
Live virtual classes

Games and podcasts

Subscription options
Language Training Tool #6 – Yabla
With Yabla, you'll learn from the best teachers – native speakers who really use the language in their everyday lives. This is one of the best language learning tools if you want to speed up your learning thanks to its smart subtitle technology. It's dual-language capable and includes interactive subtitles and playback controls. Videos consist of real-world content from TV shows, interviews, and documentaries. You can learn a language on the go since Yabla is available to download on iOS and Android.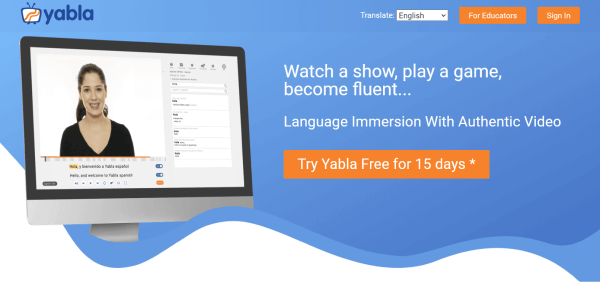 Cost: Get a quote
Key features:
Smart subtitle technology

Dedicated mobile apps

Dual-language vocabulary
Language Training Tool #7 – Pimsleur
Pimsleur promises learners to be conversational in just a short amount of time. Its 30-minute core lessons can be taken on the go through the Pimsleur app or even through the voice assistant Alexa. Learners will also have access to a voice coach who gives real-time feedback through voice recognition. For visual learners, there are digital flashcards that can be used to practice mastery of the written language. Pimsleur also has a reminder feature to prompt learners to achieve their daily goals and increase their learning streak.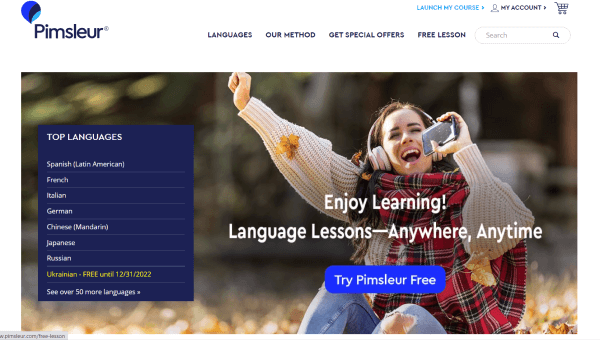 Cost: Get a quote
Key features:
Voice coach

Dedicated app

Digital flashcards
Language Training Tool #8 – 7Speaking
7Speaking uses the 70 20 10 learning model and delivers one-to-one lessons in five languages. Lessons are taught by native speakers using interactive tools, such as class spaces, whiteboards, and document sharing. Learners can also join different workshops on vocabulary, grammar, business skills, pronunciation, and TOEIC simulation which makes it an excellent English training tool. There are also news-based lessons so your learners are not just learning a new language, but are also informed about current events.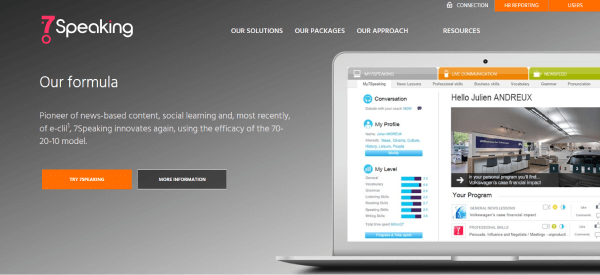 Cost: Available upon request
Key features:
Language workshops

News-based lessons

One-to-one lessons
Language Training Tool #9 – Lingvist
Lingvist promises to equip learners with the working knowledge and skills to learn a language in as little as 30 minutes per day. It teaches learners vocabulary that's used in 80% of everyday conversations and situations which they can apply right away.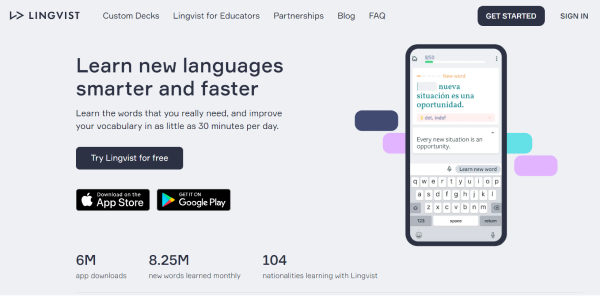 A unique feature of Lingvist is that you can create custom decks to turn them into your own mini-course. You can upload any text or even external sources such as news articles to create a course containing words you're not familiar with yet. The Expand your Course tool is also helpful for learning new words as it can add 20 semantically related words to your learning deck.
Cost: Get a quote
Key features:
Custom deck

Expand your course tool

Bite-sized lessons
Language Training Tool #10 – italki
italki boasts over 150 languages that you can learn on their platform. Here, you can take customizable 1-on-1 lessons from certified language teachers. Learners can also meet other language learners and practice for free thanks to italki's language community. They can also take assessments and quizzes to check their mastery level and put their knowledge into practice. italki also offers various language learning resources, such as podcasts, articles, and discussions.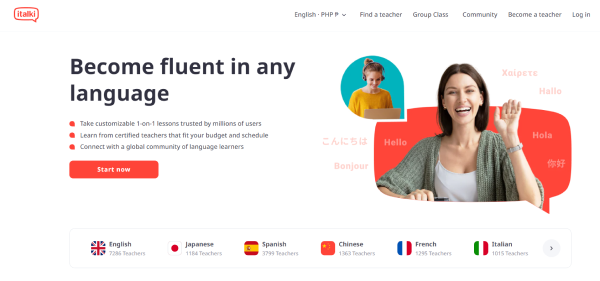 Cost: Starts at 5 USD/lesson
Key features:
150 languages

Customizable 1-on-1 lessons

Language community