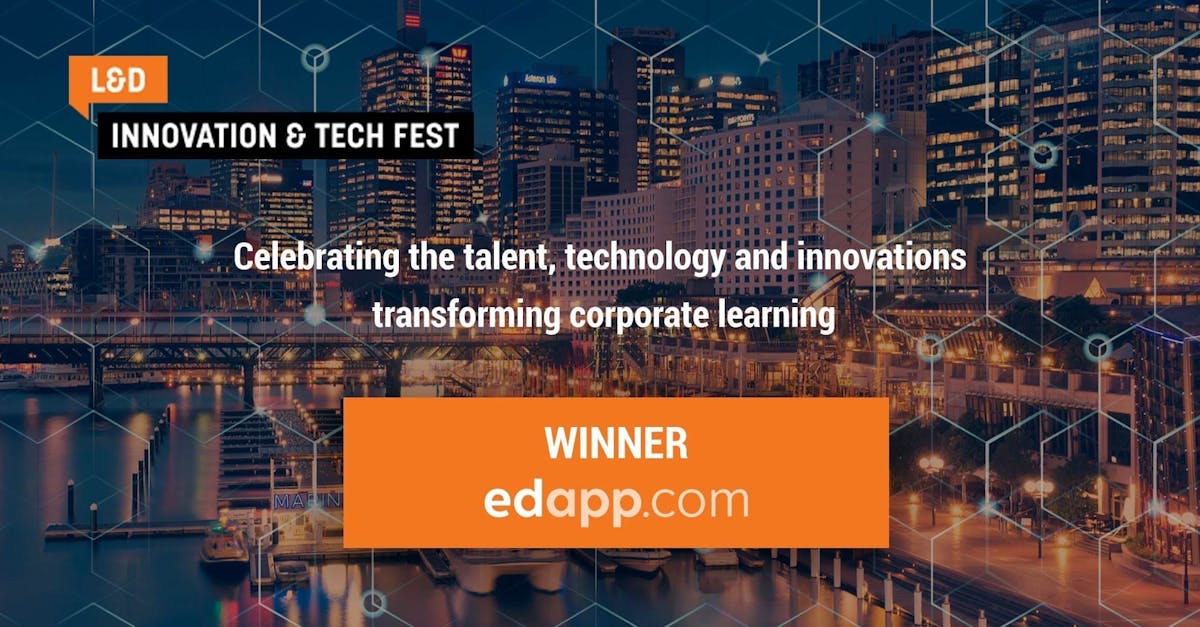 EdApp has won the award for Most Innovative HR Tech Platform at the prestigious L&D Innovation and Tech Fest. EdApp is a mobile-focused Learning Management System with integrated rapid authoring tool. It uses microlearning to enhance corporate training and make eLearning more engaging and effective.
Simon Yeowart, the Tech Fest's Program Director said, "The standard of entries in the Start-Up Showcase was extremely high. To be shortlisted and make the final three is a fantastic achievement in itself. Huge congratulations to Darren [CEO] and all the team at EdApp which was voted the most impressive technology on the day. With this win behind them, EdApp are sure to add to an already impressive list of clients continue their success story"
HR and Innovation Tech Fest
The HR and Innovation Tech Fest is the biggest and fastest growing HR event in Australia. The tech fest celebrates the potential of technology for the betterment of people, businesses, and the world. From hundreds of entries three finalists were invited to pitch during the two-day event. Finalists were limited to a 5-minute presentation on how their company was innovating the HR space with the audience voting for the winner and EdApp taking out first place over Colleago (a gig economy resource solution), and Skopes (HR platform evaluation tool) for the award.
CEO of Ed App, Darren Winterford, said he was honoured to receive the L&D tech award: "We've worked very hard to bring a mobile-first solution to the market and it's humbling to have our success publicly validated. We recognised that current methods of corporate education were outdated and saw an opportunity to provide companies with a better way of educating and training their employees. This will be highly relevant for companies dealing with a millennial and Gen Z workforce which is estimated to comprise of more than 50% of the global workforce by 2020."
Ed App's mobile-first microlearning platform allows companies to author its own educational and training tools to provide better learning outcomes for employees. Ed App uses spaced repetition, peer learning and gamification to motivate learners and increase knowledge retention.
The keynote presentation was given by Josh Bersin, HR thought leader and founder of Bersin by Deloitte. The event also featured speakers from eBay, Uber, AirBnB and Deloitte. It was attended by over 700 L&D Professionals from around the globe. The awards were co-sponsored by leading tech companies such as Slack, Deloitte, Oracle, Kronos, and IntelliHR.
You can see more about the L&D Innovation and Tech Fest at www.techfestconf.com. The sixth annual event takes place in 2019 and tickets are already on sale. You can find more about it on social media with the hashtag #LDTechFest.
If you'd like to find out more about EdApp's training platform, get in touch at enquiries@edapp.com. You can also try EdApp's Mobile LMS and authoring tool for free by signing up here or in the box below.
[wpipa id="815″]
Curated course examples