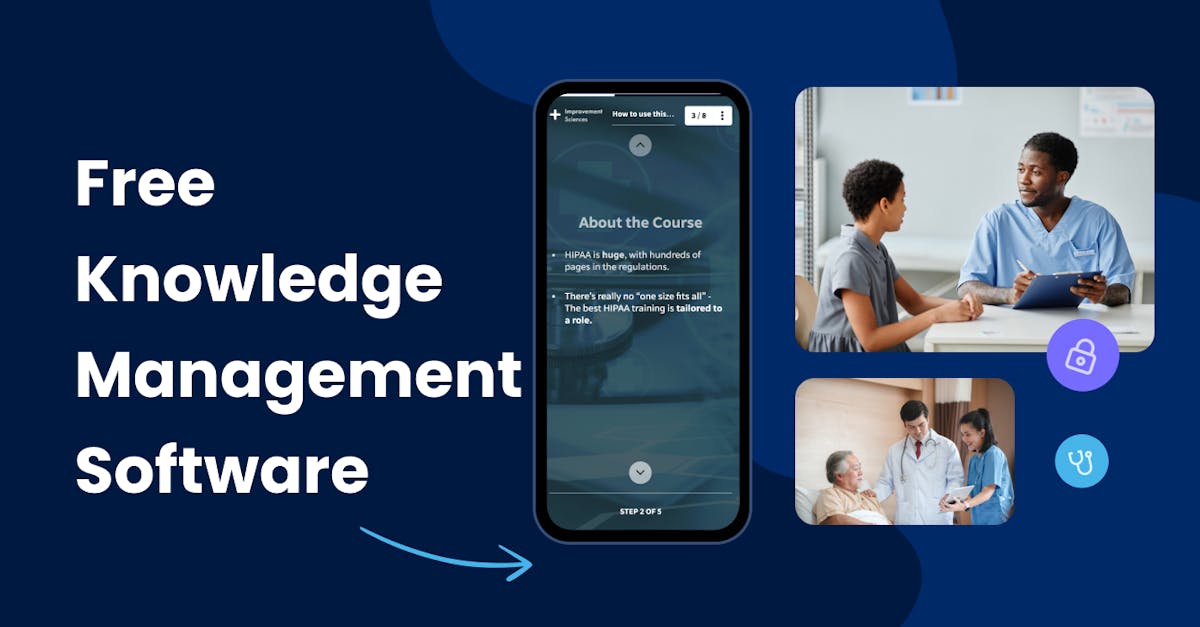 Managing your organization's data, projects, tasks, and content resources is now made easier through the use of web-based knowledge management software. Currently, there are hundreds of existing platforms to choose from. So, we've done the work for you and narrowed it down to a short list below.
1. EdApp
EdApp is a mobile-first knowledge management system software that gives you intuitive, customizable, and highly adaptive tools for easier information/data consolidation, project management, content creation, and online learning. 
One of its strongest features is its cloud-based SCORM LMS and authoring tool, which allows you to create, customize, and distribute high-quality courses from scratch. For those who would prefer something pre-designed, there are also over 50 quiz and elearning templates to choose from. All you have to do is drag and drop your content and then deploy them directly to your learners. You can add games, quizzes, and other types of learning content like sales training videos and personalized instructional audio guides.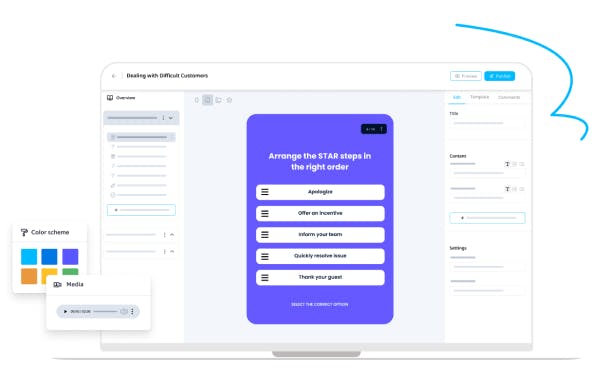 The elearning platform's course library also allows you to pull content from a centralized repository, making it easier to edit and customize training and compliance courses according to your organization's needs. Even better? EdApp has a team of experts who can lend a hand in developing custom courses so you can roll out your training as soon as needed.
On the other hand, its analytics dashboard gives you better insight into your employees' knowledge retention levels and overall training performance.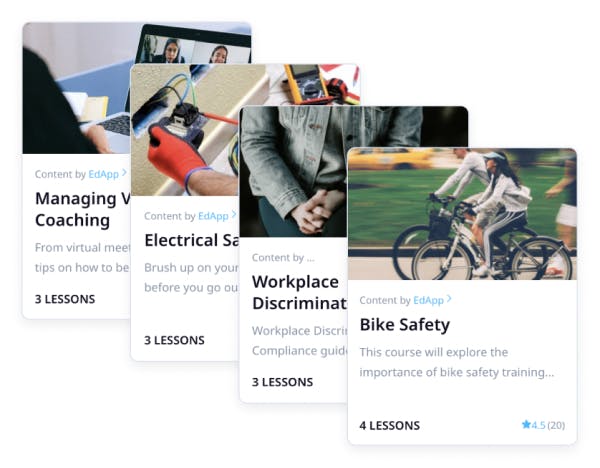 What's more, is that EdApp gives your team further knowledge management tool functionality through its social learning features, which include discussions and forums. With these tools, you can share knowledge among colleagues, provide feedback on lessons, and collaborate on different projects with ease.
Cost: Free

Highlights: Authoring tool, course library, forums, discussions, course creation service, analytics dashboard
Take advantage of EdApp's knowledge management features. Join EdApp for free today!
2. Nuclino
Nuclino is a versatile and intuitive knowledge management software that you can use to easily collaborate with teams, manage projects, and share internal company knowledge among employees. With this platform, you can visualize campaigns and delegate tasks more efficiently through kanban boards and mind maps. Multiple users can collaborate on a project and edit content in real-time through the platform's easy-to-use drag and drop tool. You can also integrate apps like Slack, Figma, Miro, Dropbox, and Loom for an easier workflow.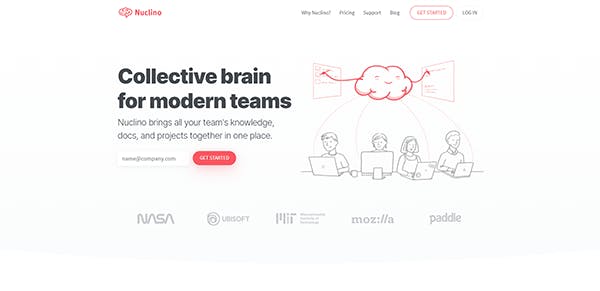 Nuclino's free version has a content limit so you might only be able to set up a small knowledge base. If you want additional features and unlimited content, you'll have to upgrade to their paid plan, which starts at USD per month per user.
Cost: Free, Paid plans start at USD per month

Highlights: Real-time editing, kanban board, mind maps, app integrations, drag and drop editor
3. Zoho Showtime
Zoho Showtime is a comprehensive training solution and knowledge management software that can help you run and manage your employee training programs more efficiently. Using this tool, you can provide your employees with self-paced courses and facilitate collaborative learning through peer interaction. It provides managers with an Admin Console, which can be used to track campaigns, customize forms, and assign courses. You can also upload content like videos and recordings so that employees can learn at their own convenience.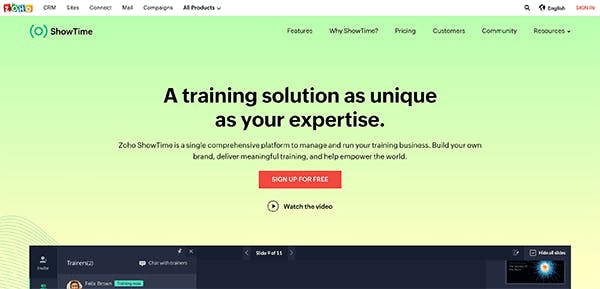 If you're planning to include synchronous online training sessions, one awesome feature of this platform that you can maximize is its virtual classroom. Within this feature, your employees can access additional tools like whiteboards, polls, and in-app messaging where they can discuss learning and share knowledge with fellow team members.
Cost: Free, Paid plans start at .33 USD per month per user

Highlights: Admin console, whiteboards, virtual classroom, in-app messaging, polls
4. Flowlu
Flowlu is an all-in-one knowledge management software and CRM platform that allows you to organize tasks, discuss projects, share information, and stay on top of customer communication processes. Through this tool, businesses can also create customer help centers so that their clients have easy access to the solutions for frequently asked questions. Their easy-to-navigate knowledge hub makes it easy for both technical and non-technical users to manage data. It's also perfect for team collaboration and project management, as it provides discussion and tools like feed and messenger, comments and mentions, instant notifications, and project chat. By combining all of these features, Flowlu enables businesses to create a streamlined work experience for their employees.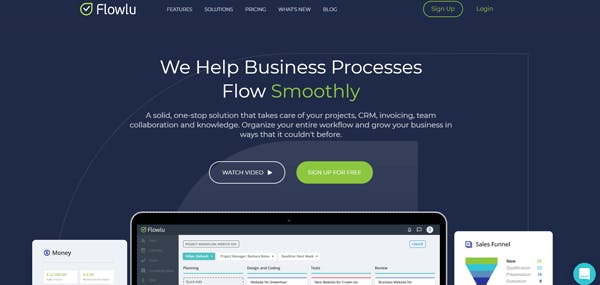 Cost: Free, Paid plans range from 9 to 99 USD per month

Highlights: Knowledge hub, customer help center, project chat, feed and messenger, kanban boards
5. Proprofs
With Proprofs' online learning management system, you can choose from over a hundred ready-made templates, add your own videos, images, or text, and customize learning materials according to your company's brand guidelines. For seamless collaboration and knowledge sharing among your learners, Proprofs also offers additional features like a learning community, Q&A forum, and centralized knowledge base for FAQs, and how-to manuals. The tool also features a report and analytics dashboard where you can track all your learners' responses and performance data. You don't have to worry about accessibility since quizzes are easily accessible through desktop and mobile devices, allowing your employees to take them anytime and anywhere.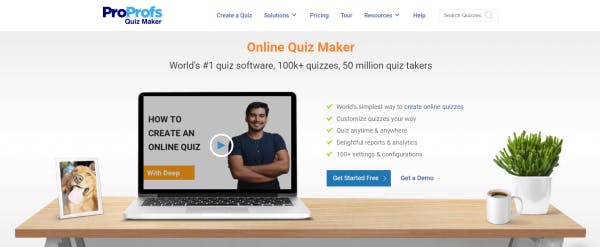 One big disadvantage of Proprofs is that the free basic plan only covers a maximum of 10 responses per month. If you need a higher number of responses, you can check out their paid plans, which start at 5 USD per month.
Cost: Free, Paid plans start at 5 USD per month

Highlights: Course templates, learning community, knowledge base, analytics dashboard
6. Tovuti LMS
Tovuti LMS is a knowledge management platform that you can use to streamline your employee training process. With its built-in course authoring suite, you can create, schedule, and deploy interactive courses of any topic, like cybersecurity, customer management, and confidentiality training courses among others, in just a few easy steps. You can also include gamification and leaderboard features to encourage them to complete their assigned learning tasks. If you want to integrate synchronous learning sessions into your training, Tovuti LMS's live virtual classroom allows you to meet with your team members virtually and discuss learning content through third-party online video conference platforms like Zoom and GoToMeeting. Learners also have access to a personalized portal that shows their badges, certificates, leaderboard rank, checklists, assigned courses, and upcoming training sessions.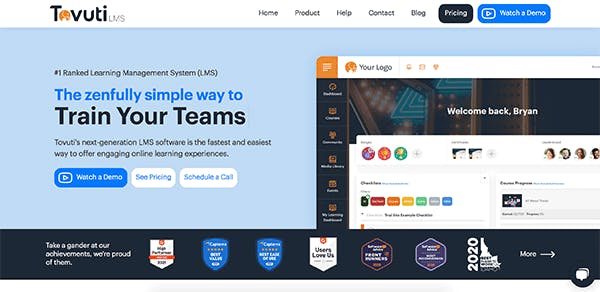 Highlights: Course authoring, notifications, leaderboards, virtual classroom, personalized learner portal
7. CoreAchieve
Through CoreAchieve's platform, you can streamline content creation, compliance monitoring, as well as audio/video employee training. Developing professional training materials and managing online courses like motivation training courses are two major purposes of this cloud-based LMS system. If you're looking for basic content, it can be easily tracked down by using filters, titles, categorization, tags, and descriptions. It also tries to make learning fun by awarding points and rewards to learners at the top of leaderboards.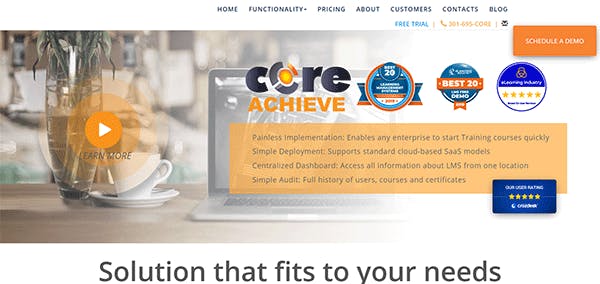 Although, unlike some of the other learning management systems on the market, Coreachieve isn't mobile-first, making accessibility to remote or retail workers more challenging. Another disadvantage of this platform is its limit on the number of users per month, which can be highly disadvantageous to large and/or growing organizations.
Cost: Starts at 99 USD per month

Highlights: Course management, content creation, rewards, leaderboard 
8. Looop
Looop helps you create online learning resources and automate training processes for your employees. With their simple yet visually appealing UX design, you can create engaging learning materials and access features like campaigns, which help you automate the delivery of training content through channels like Slack, Teams, and even SMS. Other features like user insights and analytics dashboards give you visibility on your teams' completion rates, learning gaps, and overall performance. Through these enhanced reporting features, you'll be able to gauge the effectiveness of your training and address your workers' learning challenges.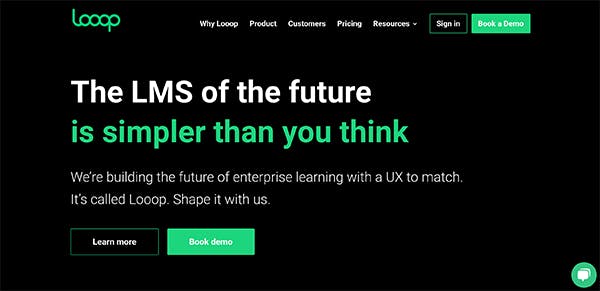 To access all of Looop's products, you can sign up for a monthly subscription that starts at 99 per month for a maximum of 50 users.
Cost: Starts at 99 per month

Highlights: Dashboards, user insights, campaigns, automated training delivery, app integrations
9. Coassemble
With Coassemble, you can easily create and deploy interactive motivation training courses to help keep employees engaged and productive. To foster a collaborative learning environment, you can also use this tool to build a shareable training hub where you can store your course materials and playbooks, giving your team easy access to everything they'll need. Coassemble's authoring tool also allows you to build courses from scratch, customize lessons, and publish your courses, all in just a few clicks. There are a number of preloaded quiz templates that you can use to incorporate learning assessments at the end of each course. Granular reports can also be downloaded to assess your team's performance and behavior.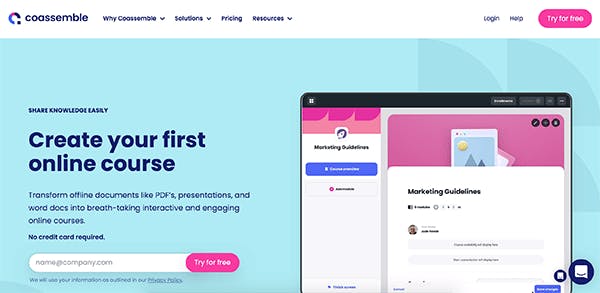 If you're a first-time user on the platform, you won't have to worry about customer service availability since Coassemble's support team is available 24/7.
Cost: to 99 USD per month

Highlights: Shareable training hub, content creation and storage, pre-built templates, granular reports, 24/7 support
10. Bitrix24
Bitrix24 is a powerful software that managers can use to track projects and keep in touch with the rest of their employees, including those that aren't based in a central office location. There are so many things that you can accomplish with this platform – you can host conferences, chat and discuss ideas with your team, track activities, set tasks and manage projects online, and more. While it definitely stands out as a tool when it comes to customer relationship management and lead management, Bitrix24 can be quite overwhelming to set up and configure due to its complexity. It may be best to book a demo first to fully understand how its services and applications work.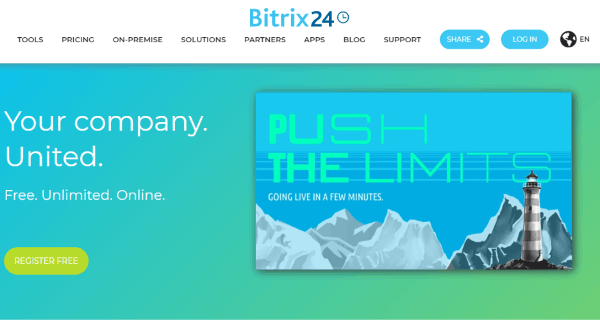 Cost: Free, Paid plans range from 9 to 59 USD

Highlights: Project management, work time tracking, conferences and HD video calls
You may also be interested in: