Creating, organizing, and managing company-related content like tutorials and FAQs is made easier with knowledge base software. With these web-based tools, you can ensure that your employees are able to access organizational knowledge from a central source. In this article, we'll take a look at the best knowledge base software available on the market today. 
Knowledge Base Software #1 – EdApp
EdApp is a leading mobile LMS and knowledge base software known for intuitive features that allow you to design training materials and consolidate your organizational content. From training material distribution to knowledge sharing and discussion, this platform has everything you need to help your workers comply with training and collaborate on projects.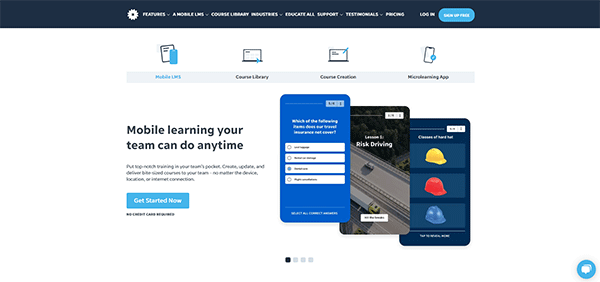 The elearning platform's briefcase feature allows you to house your company documents in one centralized location. Employees will be able to access policies, procedures, standard practices, how-tos videos, and FAQs anytime and anywhere. And, they can even download these additional resources directly to their devices.
Another cool feature is its cloud-based authoring tool, which allows anyone, regardless of design experience, to create and deploy high-quality courses. There are more than 80 elearning templates and over 50 quiz templates available. Simply choose one template, drag and drop your content, and then distribute them to your learners. The platform's course library also allows you to import courses for free, making it more convenient to develop training and compliance materials according to your organization's different training challenges. Some course examples you'll find in the library include construction training, retail training, hospitality training, HIPAA training, and HAZMAT training courses.
Offer expertly tailored professional growth that your workforce will like. Bring your learning requirements to EdApp's expert instructional design team, and they'll convert them into modern and captivating courses.
EdApp also provides your team with more knowledge-sharing capabilities through its social learning tools, which include discussions, forums, and assignments. With these features, your team can immediately provide feedback on projects or training sessions and they can also share knowledge and resources with each other. 
Cost:

Free

Highlights:

Briefcase, authoring tool, course library, discussions, forums, assignments
Sign up for Free and Start Using The Best Knowledge Base Software!
Knowledge Base Software #2 – Bloomfire
Bloomfire offers a number of quality tools that can help you create a central repository of company information and promote org-wide alignment. Some of these awesome features include Q&A features, AI-generated tags, personalized content feeds, and newsletters. The platform also enables you to get information faster through its AI-powered deep search feature. It also has a feedback loop that encourages users to give feedback about the content, spot gaps, and improve knowledge sharing. Altogether, these unique features make up an awesome product that democratizes information among workers and keeps teams on the same page.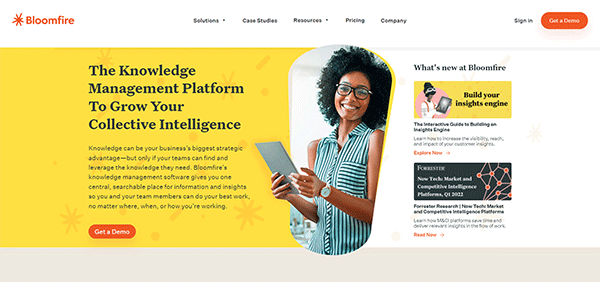 Cost:

Starts at $25 USD per month

Highlights:

Q&A features, AI-generated tags, personalized content feeds, newsletters, AI-powered deep search
Knowledge Base Software #3 – Nuclino
Nuclino is an easily adaptable knowledge base software that you can use to manage team projects and share internal company knowledge among employees. Through slick features like mind maps and kanban boards, this platform allows you to brainstorm campaigns and delegate tasks more efficiently. Teams can also collaborate on projects and edit content in real-time using the training software's simple drag and drop tool. The best part? You can even integrate apps like Slack, Dropbox, Figma, Loom, and Miro for a more flexible workflow. Albeit limited, Nuclino does offer a free version that allows you to set up a small knowledge base. If you're looking for unlimited content access and other additional features, you'll have to get their paid subscription plan instead.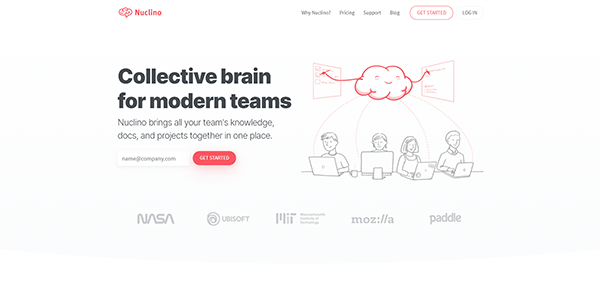 Cost:

Free version, Paid subscription plans start at $5 USD per month

Highlights:

Kanban board, mind maps, drag and drop editor, app integrations
Knowledge Base Software #4 – Proprofs
Proprofs' is an all-in-one knowledge base software and learning management system that allows you to customize and store elearning content with ease. For seamless social learning and coordination with your team, the platform also offers additional features like a Q&A forum, a learning community, and a streamlined knowledge base for how-to manuals and FAQs. You can also take advantage of the tool's report and analytics dashboard to track your team members' performance data. There's no need to worry about system accessibility since important organizational content can be retrieved on both desktop and mobile devices. A big downside of this platform is that you'll have to subscribe to their paid subscription to use their more advanced features.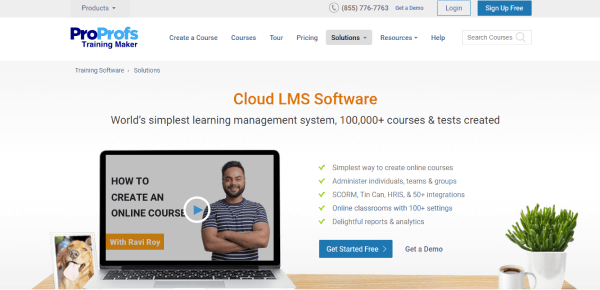 Cost:

Free, Paid plans start at $25 USD per month

Highlights:

A knowledge base for how-tos and FAQs, course templates, analytics dashboard
Knowledge Base Software #5 – Flowlu
With Flowlu, you can share knowledge, organize workflows, discuss projects, and stay aligned with customer communication processes. This knowledge base software allows businesses to create help centers so that their customers can quickly access answers to frequently asked questions together with other how-tos. The platform's well-designed interface makes it easy for both technical and non-technical users to navigate their knowledge hub and manage data. It's also a great tool for team collaboration and project management, as it offers discussion tools like project chat, comments, mentions, messenger, and instant notifications. Combined, all these features enable organizations to develop a smooth-running experience for both their employees and customers.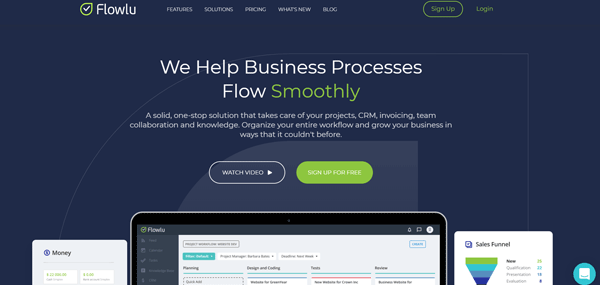 Cost:

Free, Paid plans range from $29 to $199 USD per month

Highlights:

Knowledge hub, customer help center, project chat, comments, mentions messenger, instant notifications
Knowledge Base Software #6 – HelpJuice
HelpJuice is a go-to knowledge base software for a lot of organizations because of its easy content authoring and formatting functionality. Through their powerful authoring tool, users can structure their company articles, publish multiple versions, and collaborate with other users directly on an article. If you're short on time, you can simply drag and drop text, images, videos, and other important content on your article. You can also choose from a wide range of themes and customize the content to your liking. The biggest advantage of using this platform is that you can quickly search for important company information using its instant Google-like search.
Cost:

Starts at $120 USD

Highlights:

Drag and drop content authoring tool, publishing multiple versions of articles, direct collaboration on an article, instant Google-like search
Knowledge Base Software #7 – Tovuti LMS
Another knowledge base software on this list is Tovuti LMS. It has many cool features like a virtual classroom, a built-in course authoring suite, and a personalized learner portal, all of which can help you streamline your employee onboarding and training processes. This elearning authoring software's media library is perfect for storing important resources such as employee handbooks, how-to videos, and technical documentation. On the other hand, the virtual classroom feature uses third-party video conference tools like GoToMeeting and Zoom to help you integrate synchronous learning sessions into your team's training. Your employees also have quick access to a personalized learner portal, where they can see their certifications, checklists, assigned courses, training sessions, badges, leaderboard rank, and other important resources.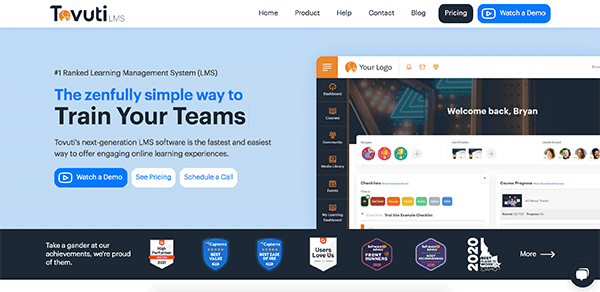 Cost:

Get a

quote

Highlights:

Media library, virtual classroom, personalized learner portal
Knowledge Base Software #8 – CoreAchieve
CoreAchieve is both a learning management system and knowledge base software that makes it easier for companies to simplify their content management, compliance monitoring, and employee training processes. It provides a comprehensive news blog that allows company administrators to share vital information like FAQs, safety information, new regulations, and other important organizational resources. Developing online courses has also never been easier. CoreAchieve's course builder is jam-packed with tools that can help anyone, regardless of design experience, create courses without hassle. Some of these features include lesson templates, assessment templates, gamification elements, and SCORM compliance support. Although, unlike other LMSs and knowledge base software, the platform isn't mobile-first. This puts remote workers at a huge disadvantage in terms of accessibility. 
Cost:

Starts at $299 USD per month

Highlights:

Content management, news blog, course builder, lesson and assessment templates 
Knowledge Base Software 9 – Bitrix24
Bitrix24 is a powerful knowledge base software that managers can use to communicate with their teams, host conferences, track projects, and manage their content. Unlike other educational platforms, this software also features a customer relationship management tool as well as a contact center, both of which make it easier for companies to support their clients. The best part? Bitrix24 is already available in 18 languages, giving global teams the flexibility to effectively roll out communications and training in different country offices. Do note, however, that this software is quite tricky to set up due to its complexity. The easiest course of action would be to book a demo with them so that you can understand how all their services and features work.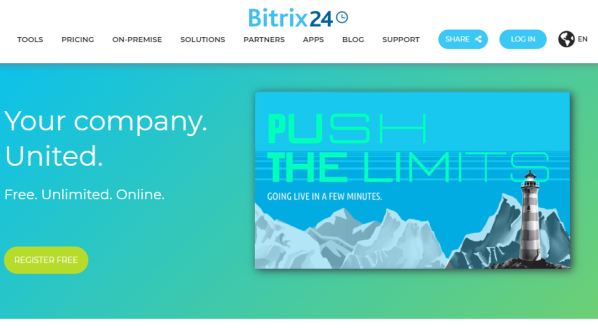 Cost:

Free, Paid plans range from $39 to $159 USD

Highlights:

Content management, project management, CRM tool, contact center, available in multiple languages
Knowledge Base Software #10 – Bridge
Bridge is the complete package when it comes to knowledge base management and course authoring. What's cool about it is that it comes with its own drag-and-drop course authoring tool, which simplifies the customization of important content and training materials. You can even store all company documents on their platform, allowing your workers to access needed information whenever and wherever. Apart from its authoring and content storage capabilities, Bridge also enables you to implement company-wide surveys and track your team's performance, all from one tool. Overall, you can easily use this tool to boost overall organizational growth and productivity while keeping your team connected to the company's vision and mission.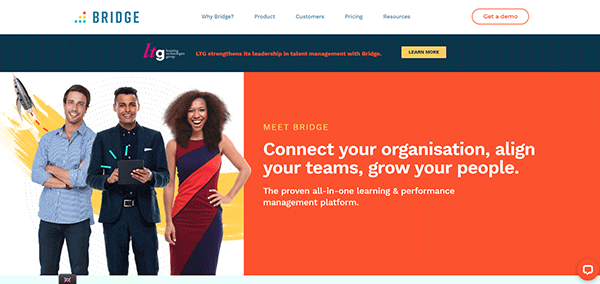 Cost:

$4 to $11 USD per month

Highlights: Drag and drop course authoring tool, content storage, surveys, performance tracking