Here, you'll discover 10 iSpring alternatives that provide comprehensive content management, learning management tools, and other unique training features. Check out these iSpring alternatives and see which platform best meets your learning style and needs. 
iSpring Alternative #1 – EdApp
EdApp is a highly recommended iSpring alternative that offers you tools and features for easier content creation and learning management. Its user-friendly authoring tool includes 80+ interactive microlearning templates. To save more time, you can even take advantage of EdApp's free, editable course library. You'll be able to create courses before you can even ask what is iSpring?
Here you'll find a variety of topics like cyber security, diversity and inclusion, free english classes, and so much more. Choose any course that's relevant to you, then customize or edit its existing content before deploying it to your teams. With Canva integration in its authoring tool, you can design visual content using a simple drag-and-drop tool. This means you can easily create any visual design using their fonts, stock images, illustrations, and other templates.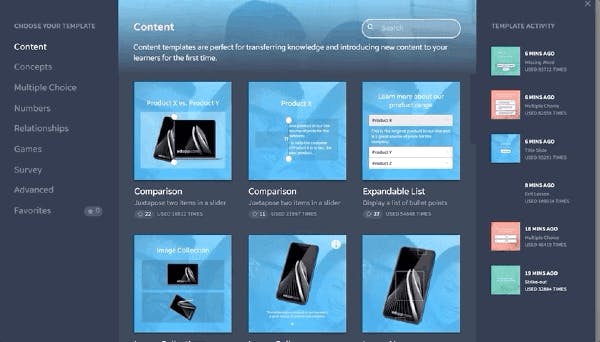 Aside from the easier process of creating training content, EdApp also ensures that your courses are designed for high retention and engagement by applying microlearning and gamification strategies. With microlearning, lengthy information is trimmed down into bite-sized lessons, only focusing on the key messages of a topic. Gamification is also applied to the learning experience of your employees so that learning becomes fun and engaging. To further simulate a game environment in the training, EdApp also gives your learners the opportunity to rank on the Leaderboards and earn real prizes/rewards through its Prizing Draws.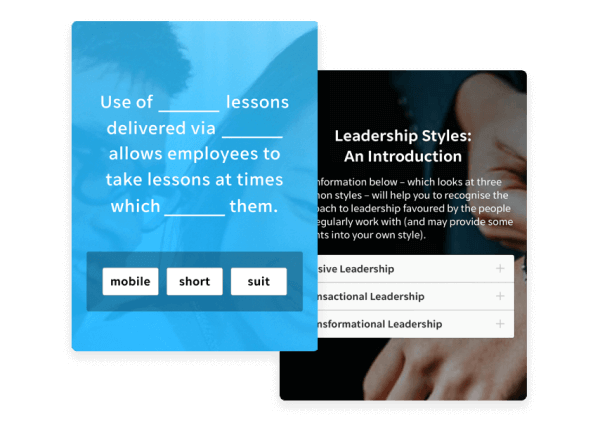 To track employee learning progress, EdApp provides an analytics dashboard with actionable reports. With this, you'll have a visual representation of different learning data such as completion rates, engagement duration, frequency of sessions, and more. You can track these data from different levels: courses, lessons, and slides. These reports are also made actionable so you can engage or communicate with your targeted learners.  
Key features:
Authoring tool

Interactive templates

Course library

Microlearning

Gamification

Leaderboards

Real prizing

Analytics dashboard

Actionable reports
Cost: Free
Sign Up for Free and use EdApp as your iSpring Alternative for free–forever!
iSpring Alternative #2 – Zoho Showtime
Zoho Showtime is another iSpring alternative that can help you run and manage your employee training programs more efficiently. Using this interactive elearning tool, you can provide your employees with self-paced courses and facilitate collaborative learning through peer interaction. It provides managers with an Admin Console, which can be used to track campaigns, customize forms, and assign courses. You can also upload content like videos and recordings so that employees can learn at their own convenience. For synchronous online training sessions, you can maximize its virtual classroom. Within this feature, your employees can access additional tools like whiteboards, polls, and in-app messaging where they can discuss their learnings and share their knowledge with fellow team members.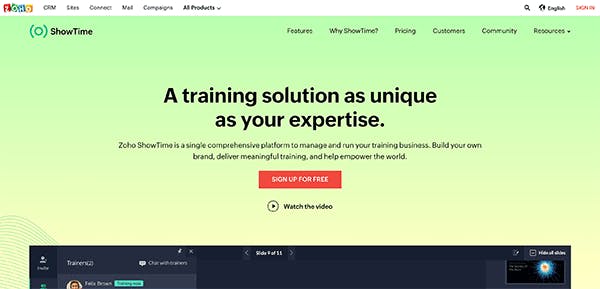 Key features:
Admin console

Whiteboards

Virtual classroom

In-app messaging

Polls
Cost: Free, Paid plans start at .33 USD per month per user
iSpring Alternative #3 – Brainshark
Brainshark is an iSpring alternative that's focused on helping organizations develop sales training courses, tackle their employees' performance issues, and address any training challenges from the get-go. Through the platform's content creation tool, you can design and deploy courses in just a few clicks. To track each worker's course completion rates, assessment scores, and sales training applications, you can use the platform's readiness scorecard feature. You can also utilize Brainshark's virtual coaching tool to communicate directly with your workers, demonstrate their sales skills through scenario training, and get instant feedback. Other cool features include on-demand learning paths and dynamic courses, which both ensure that your employees have the flexibility to learn at their best convenience.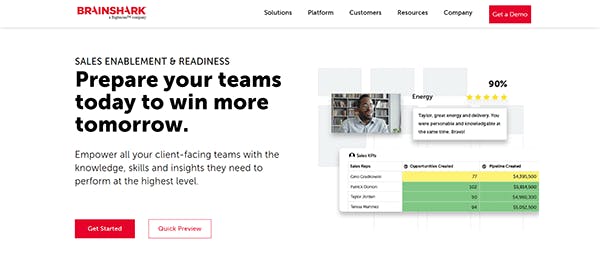 Key features:
Cost: Price available upon request
iSpring Alternative #4 – 7taps
7taps is a browser-based tool that allows you to deliver mobile-first microlearning experiences in just 7 taps. On this platform, you can simply create courses using templates. You can also add GIFs, soundbites, and quizzes to improve engagement. Then, you can readily share courses through a link, SMS, QR-code, or email. Learners don't even have to download any app or sign up to get started on their training. Even without these steps, you can still track and analyze the learning progress of your employees. While this tool isn't exactly a microlearning app, courses are optimized for mobile devices while also being adaptive to a desktop environment.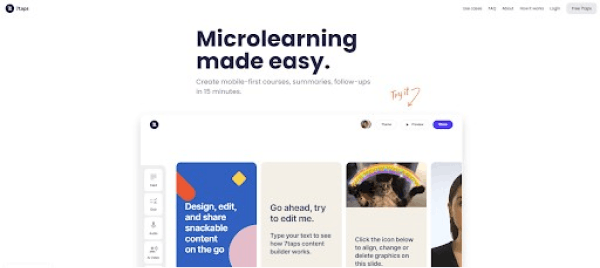 Key features:
Cost: Free
iSpring Alternative #5 – uQualio
Offering highly flexible training management features, uQualio is another highly recommended iSpring alternative on this list. Using their course builder tool, you can create a variety of learning materials, including webinars, compliance courses, product training materials, and fully-packaged corporate training programs. The tool also gives you the capability to upload pre-recorded videos, transform screen recordings into elearning videos, and add supporting documents, photos, and Youtube and Vimeo links to your courses. To help you gain insight into each employee's learning patterns, knowledge gaps, and overall training progress, you can access its advanced reporting feature.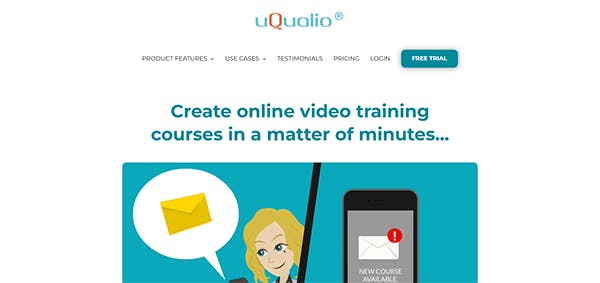 Key features:
Cost: Free trial, Paid plans start at 9 USD per month
iSpring Alternative #6 – Animaker
Animaker prides itself on being the future of video making, primarily because of its advanced, flexible, and user-friendly video editing tools that cater to both professional and non-professional instructional designers. Here, you can build visually engaging animation videos that are almost on par with iSpring in terms of quality and interactivity. There's an array of templates and assets that you can use for easier creation. But what makes this platform unique is that it allows you to create your own animated character and add it to your videos. Voiceovers can also be activated, so it looks like your animated character is narrating your training material.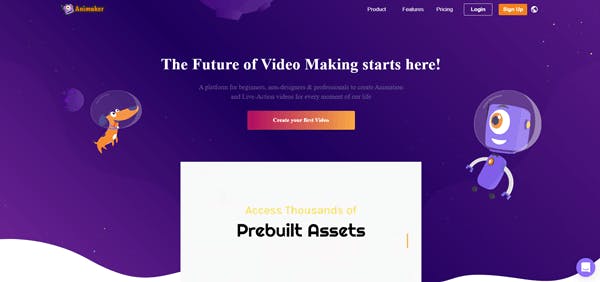 Key features:
Video editing 

Templates

Pre-built assets

Animated character
Cost: Free
iSpring Alternative #7 – Genially
Genially performs well as an iSpring alternative because of its free tools that allow you to build interactive presentations, infographics, gamified quizzes, videos, and other visually engaging learning materials without a fuss. Its easy-to-use editor requires no technical skills and enables anyone to create next-level graphics in just a few minutes. You don't have to download additional tools as it already provides advanced resources like free templates, illustrations, GIFs, and the like. You can even apply your company logo, colors, and fonts so your online training materials are aligned with your branding guidelines. Other useful features include metrics, which allow you to measure how well your materials are being received. It also takes pride in its achievement certificates that you can customize in just a few clicks.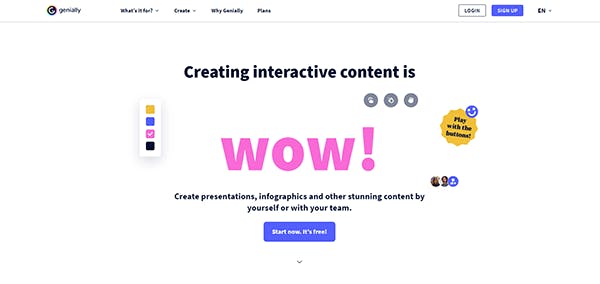 Key features:
Genially editor

Free templates

Company branding,

Metrics

Achievement certificates
Cost: Free plan, Paid plans start at .49 USD per month
iSpring Alternative #8 – SAP Litmos
SAP Litmos is highly regarded for its two key products: its streamlined learning management system, and its robust library of off-the-shelf learning content. As for its LMS, it contains course maker tools that can help you personalize courses and content on any subject, including diversity and inclusion, harassment and bullying prevention courses, and even free OSHA 10 hour certification training. 
and even roll out games and quizzes for maximum engagement and retention. It can also automate tedious and repetitive tasks, like course enrollment and activity assignments, giving you more time to focus on more important things, like authoring your training materials. Using SAP Litmos' custom reports, you can observe your learners' progress and performance.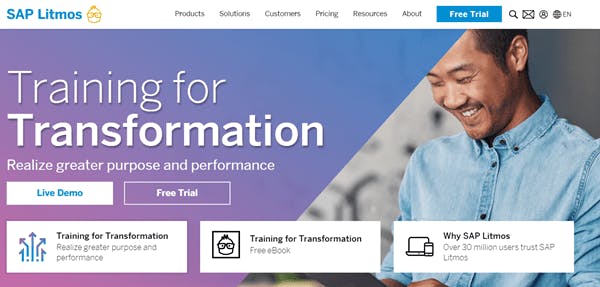 Key features:
Cost: Available upon request
iSpring Alternative #9 – Axonify
Axonify's training solutions are geared toward helping employees perform their best at work every day. Here, you can build your own custom content with the help of their learning experts, making sure that your team is getting the right training that will help them confidently perform in their field. Axonify also houses a number of ready-to-go content materials covering a range of topics, from workplace etiquette to time management, ensuring that the skills and knowledge of your team are updated and consistently aligned with your business goals. 
Key features:
Cost: Price available upon request
iSpring Alternative #10 – Arlo
Arlo is an LMS specifically for training providers that focus on delivering a learning journey to empower learners through self-paced learning, live online learning, and blended learning. This LMS provides a blended learning solution through live and interactive webinars, eLearning modules discussion forums, recorded videos, assignments, and quizzes. Its innovative training management system design streamlines processes and simplifies tasks enabling training providers to save time while still effectively increasing course registrations.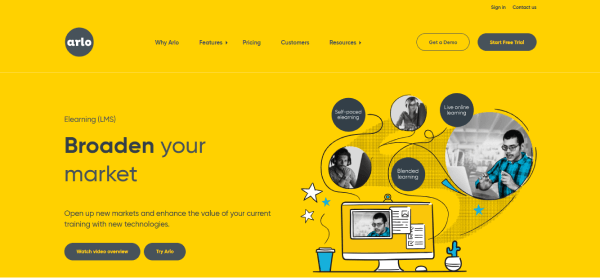 Key features:
Website integration

eLearning with self-paced modules, classroom sessions, discussions, assignments, and quizzes

Live online sessions such as web conferences and webinars
Cost: Price available upon request