If you're looking for iPad learning tools for you or your team, you've come to the right place. We've made it easy to find the best studying tools that create a more engaging, effective, and convenient learning experience, all while using iPads or learning tablets. 
iPad Learning Tool #1 – EdApp
EdApp is an all-around learning tool that delivers a fun and effective learning experience right onto any device, making it perfect for teaching with iPads.
This iPad learning tool has a free course library where you'll find a variety of courses that can help you or your team develop new skills or improve existing ones. This gives learners the utmost freedom in choosing the topics they want to learn since it's so easy to import this course into the learner portal.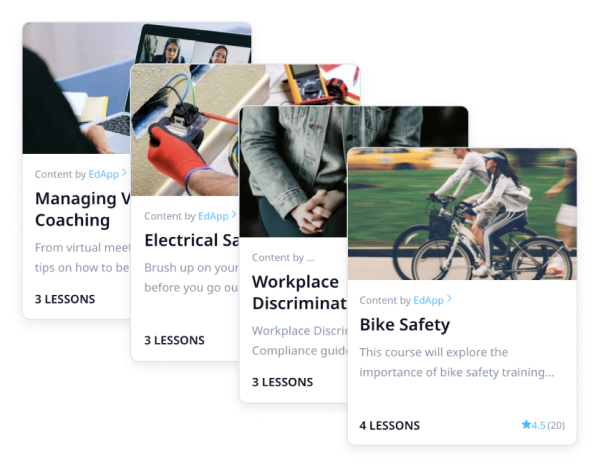 If you want to create custom courses for your team, Edapp gives you a user-friendly creator tool to help you create short-form lessons. It includes interactive templates where you can simply input straightforward learning content and visual elements without having to design everything from scratch. From there, you can easily share the course with your team using a link or QR code.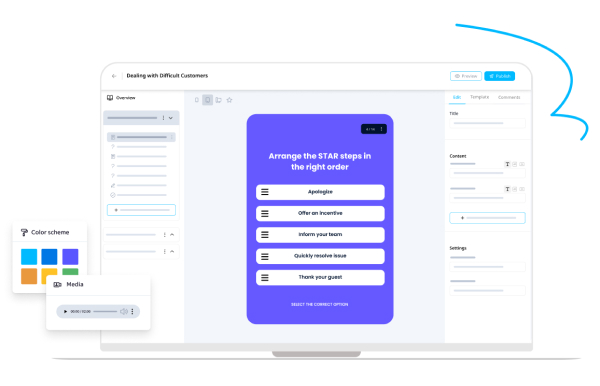 But, if you need personalized courses for your own and don't have time to make everything from scratch, EdApp can also do the work for you. That's all thanks to its Course Creation Services, you'll get to work with expert instructional designers who'll build courses for your team that are timely and relevant.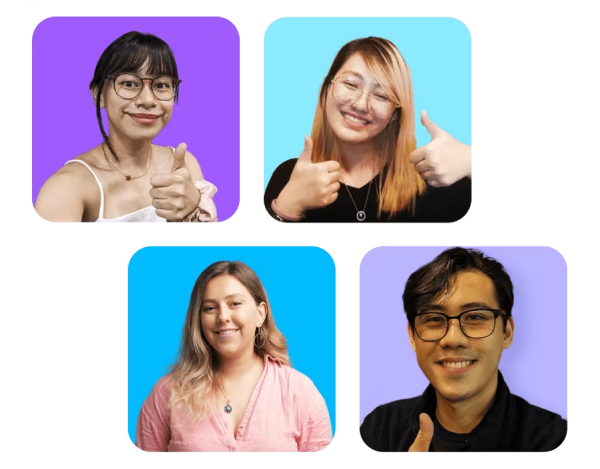 Key features:
Mobile learning 

Free course library

Creator tool

Course Creation Services
Cost: Free
Access the most engaging learning materials on EdApp, the best Pad learning tool. Join EdApp for free now!
iPad Learning Tool #2 – Kitaboo Insight
Kitaboo Insight is another iPad learning tool where you can develop, publish, and deliver courses compatible with both iPad and Android learning tablets. Using its pre-built templates, you can quickly create or customize your training content and quizzes. Once training materials have been safely uploaded, your team can access your content even when they're offline.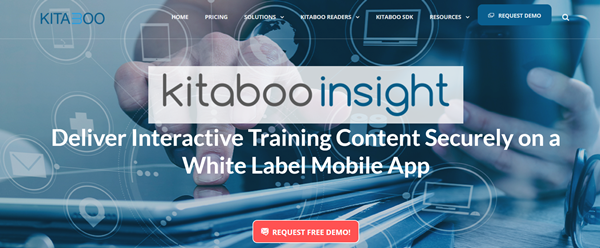 This elearning development software also allows you to turn static PDF, PowerPoint, and text files into interactive learning materials. This is ideal for learners who prefer shorter materials and have short attention spans.
Key features: 
Mobile-friendly courses

Pre-built templates

Offline content accessibility

Static file conversion
Cost: Price available through a quote request
iPad Learning Tool #3 – Violet LMS
With Violet LMS' learning app that is downloadable on iPads and learning tablets, your team can easily access their onboarding, employee training, and compliance training materials. Here, knowledge and skills are honed through interactive courses, which you can quickly and easily make using its course maker tools. Collaboration is also encouraged through virtual classrooms that have been modified for a mobile learning environment. 
Key features:
Course management system

Interactive courses

Virtual classrooms

Blended learning
Cost: Price available through a quote request
iPad Learning Tool #4 – EduMe
Your staff no longer needs to go through lengthy training materials thanks to EduMe. Your team can easily access their course materials using the EduMe mobile app, which can be downloaded on any device, including iPads. Its courses use a microlearning structure for rapid onboarding and simple desk-less workforce training. You can easily create courses with its user-friendly and SCORM-compliant course authoring tool.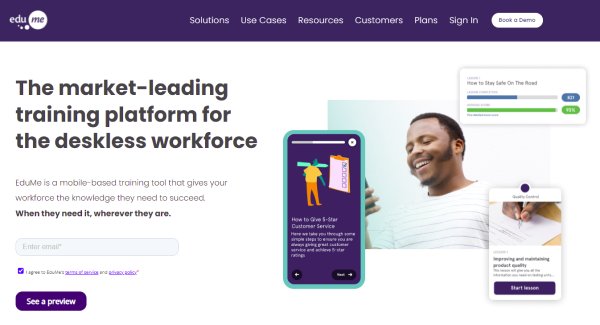 Key features:
Standalone mobile app 

Easy-to-use creation tool

Professional content creation 

Easy-to-use creation tool 
Cost: Price available through a quote request
iPad Learning Tool #5 – Axonify
Is your team engaged in frontline work? If your team is always on the go, Axonify is an iPad learning tool that you can consider for your team. No need for in-person classroom training sessions. Instead, this learning platform gives your team learning materials that are simple and quick to complete. It also offers incredible features like surveys, certifications, and blended learning choices.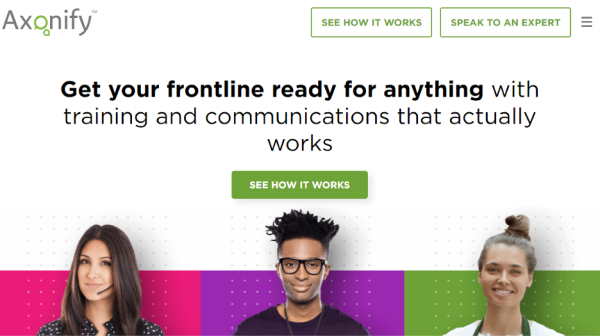 Key features:
Mobile-friendly elearning materials

Certifications

Surveys
Cost: Available through a quote request
iPad Learning Tool #6 – SoloLearn
Look no further than SoloLearn if you're seeking for a specialized iPad learning tool to upgrade the skills of your IT team. Even while this mobile training software doesn't precisely target a wider audience, it does show positive training results for its intended users, which is why it made our list. Python code, Java, JavaScript, HTML, and responsive web design are just a few of the courses it gives that are accessible via the SoloLearn mobile training app. Here, your IT team will learn more easily thanks to the interactive modules and other fun learning activities.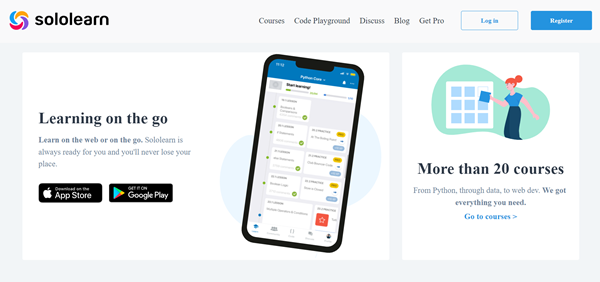 Key features: 
Mobile-friendly coding courses

Interactive lessons and fun activities
Cost: Free
iPad Learning Tool #7 – Bridge
Bridge is a comprehensive employee training solution with powerful features. You can use it to create mobile-friendly courses that are perfect for learning using an iPad. Its native course authoring tool uses the power of simplicity, which uses a drag-and-drop feature. You can also store all of your company's documentation and educational resources on this platform, which your employees can easily access via the Bridge mobile training app.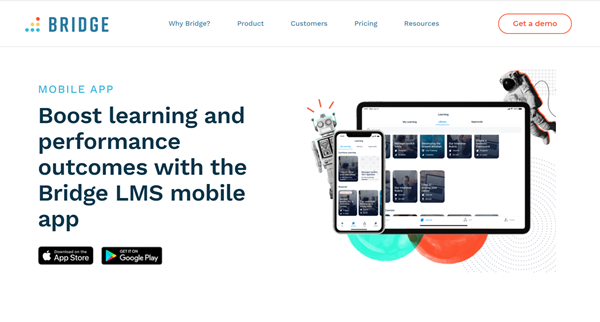 Key features:
Mobile-friendly courses

Native course authoring tool

Course storage

Course access via Bridge app
Cost: $3 to $12 USD per month
iPad Learning Tool #8 – edX
edX is a great iPad learning tool for finding top-notch online courses that will inspire your team to perform at an exceptionally high level. You'll have access to more than 3,000 courses created and hosted by some of the top universities in the world, including Harvard, MIT, Oxford, the University of Tokyo, Google, IBM, and Microsoft. Courses are in video format and can be completed at their own pace. There's also a download option for offline learning.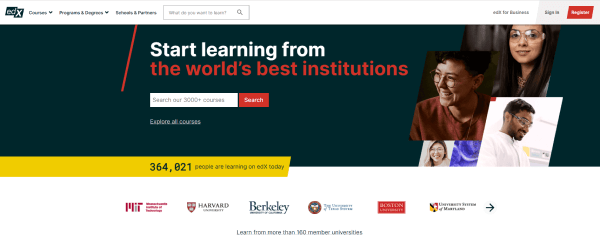 Key features:
Educational-oriented online courses

Self-paced learning

Offline streaming 
Cost: Free
iPad Learning Tool #9 – Qstream
Qstream is devoted to giving learning materials that help learners better retain knowledge and fight the forgetting curve. It has a mobile app where your team can reinforce knowledge, develops skills, and boost productivity. Through its feature called Content Hub, you'll have access to a template library and a set of sample questions to help you get started. An analytics dashboard and proficiency heatmaps are also available for monitoring learning progress.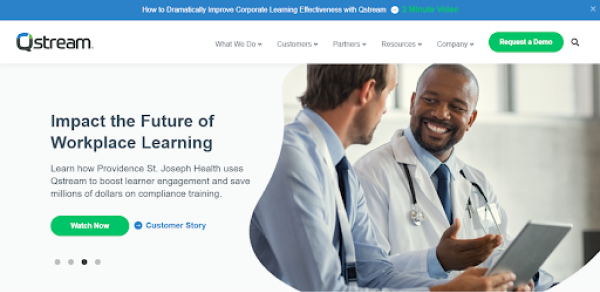 Key features:
Mobile learning

Microlearning

Content hub

Analytics dashboard
Cost: Price available through a quote request
iPad Learning Tool #10 – WizIQ
WizIQ is an iPad learning tool that makes learning stress-free and accessible. It's loaded with a wide range of LMS capabilities and gives an online classroom experience. The platform offers straightforward course creation tools that make it possible to create flexible, effective courses. You can create, administer, and score exams and assessments for your teams using the WizIQ online test builder. It also includes an analytical tool that helps you to track and evaluate training results and learning progress.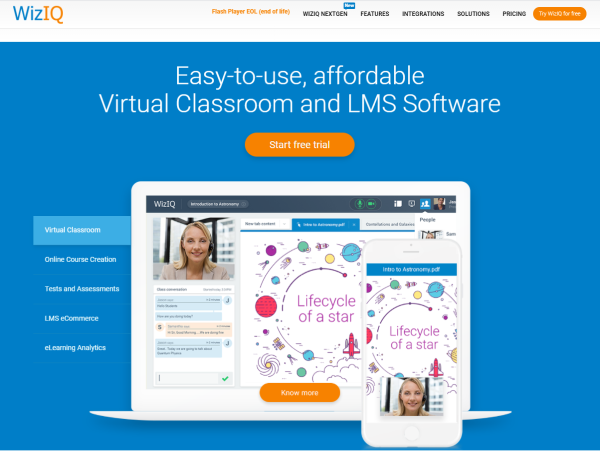 Key features:
Mobile app

Virtual classroom

Customizable learning portal
Cost: Starts at 25 USD/month