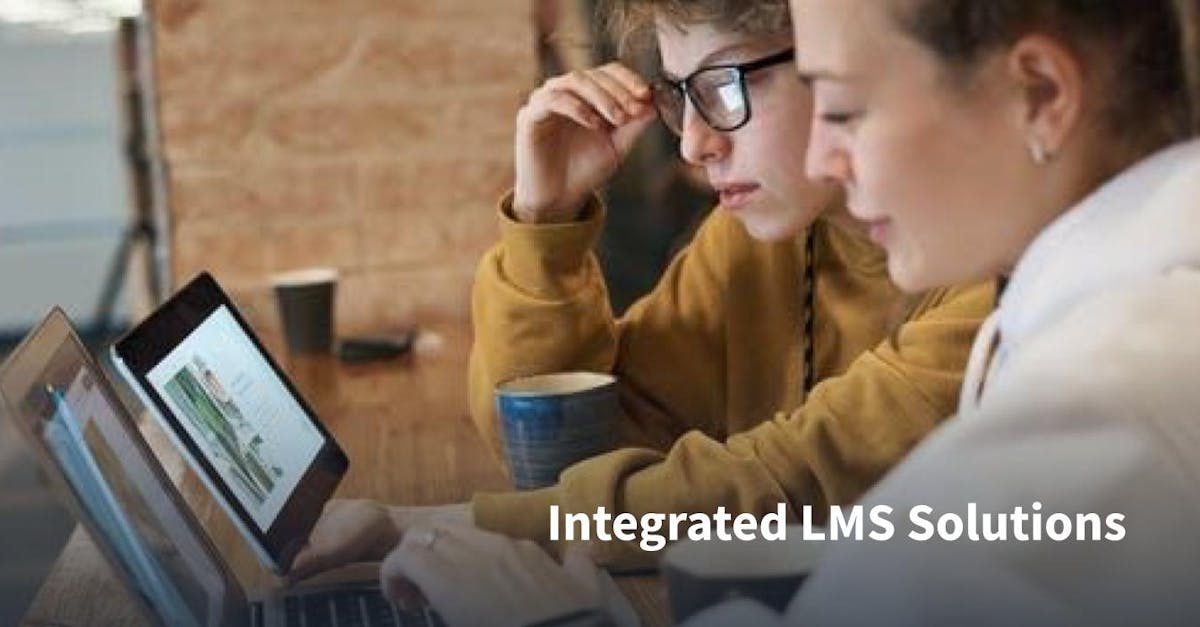 Integrated LMS solutions are designed to help training managers and instructional designers streamline and simplify training processes all in one platform. This enables them to keep up with the growing learning demands of your employees by delivering timely and relevant training programs that you can do with the help of an LMS. It's important to not use just any LMS, but choose the right integrated LMS solutions which provide features that best address your training objectives to ensure high-impact learning for your employees. 
To assist you in your search for these training tools, we've listed 10 integrated LMS solutions to help you assess their modern features like authoring tools, engagement elements, and dashboards, and many more that best fit your employees' learning needs.
1. EdApp
EdApp is an integrated LMS solution with a built-in administration suite that provides managers with flexible, customizable, and adaptive tools for easier management. You don't even have to start from scratch with its free editable course library, where you can access hundreds of courses that you can edit and customize, or simply deploy to your employees.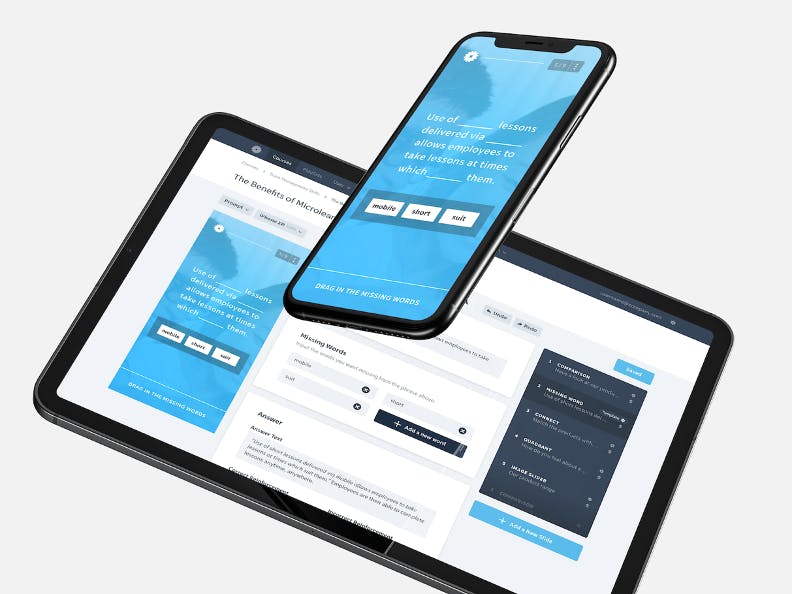 But if you're creating your own courses, EdApp makes content management easy with its intuitive authoring tool that contains ready-to-use interactive templates. Thanks to its integration with Canva, a drag-and-drop designing platform, you can design visually engaging content – even with little to no knowledge or experience of graphic design. You can build courses covering almost any topics, from marketing to facility management training courses to construction training materials, it's all up to you. It also provides an AI translation tool that allows you to deploy courses in multiple languages at scale, in just a few clicks.
While helping training managers streamline tasks, it also ensures that your training programs are effective and engaging by incorporating various learning strategies and engagement elements in their features. Microlearning is one of EdApp's core strategies which delivers training information into bite-sized modules that focus only on key elements of a topic, allowing your learners to complete courses in just a couple of minutes. This strategy is combined with gamification elements that make microlessons not only effective but also fun and interactive, resulting in 90% (or higher) completion rates compared to typical eLearning courses.
To further ensure that information is well-understood and remembered, EdApp takes advantage of spaced repetition strategy with its system-automated feature called Brain Boost. It's designed to pull questions from your lessons to create personalized quizzes for each learner and test which information they've retained at regular intervals. With this LMS, you can ensure that your learning materials are strategically implemented and reinforced.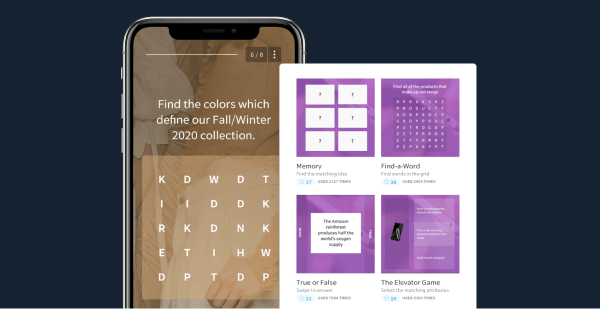 Through EdApp's analytics dashboard, actionable reports, and push notification features, you can also have full control over user and course management and get a comprehensive overview of the learning progress and outcomes of your training. You can also recognize employee learning progress with EdApp's Achievements feature which allows you to congratulate, motivate, and inspire learners with customizable banners and badges for every learning milestone.
Price: Free
Key features: Course library, authoring tool, Canva integration, AI translation, microlearning, gamification, spaced repetition, analytics dashboard, Achievements, LMS intranet integration
Use EdApp for free–forever!
2. ExpertusONE LMS
ExpertusONE LMS is another integrated LMS solution that offers a simple user interface making digital training across your corporation a breeze. Their invisible learning delivery eliminates the need to manually search for training courses. Innovative tools such as shareable links and embeddable widgets are already placed in areas that are frequently visited by your employees, which gives seamless access to learning. All learning materials stored in this LMS can also be viewed using mobile devices, allowing the ultimate convenience for learning to take place anytime and anywhere, whether online or offline. Training monitoring is also made easy and simple with ExpertusONE's sophisticated LMS reporting system.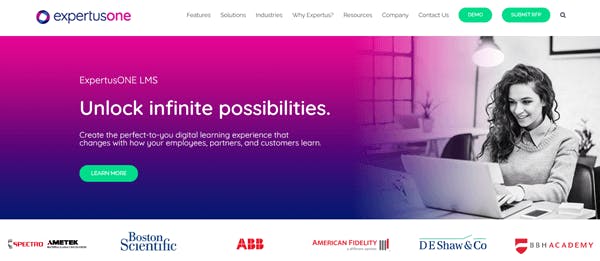 Price: Paid plans
Key features: Invisible learning delivery, shareable links and embeddable widgets, mobile accessibility, LMS reporting
3. ProProfs
With Proprofs' online learning management system, you can choose from over a hundred ready-made templates, add your own videos, images, or text, and customize learning materials according to your company's brand guidelines. For seamless collaboration and knowledge sharing among your learners, this integrated LMS solution also offers additional features like a learning community, Q&A forum, centralized knowledge base for FAQs, and how-to manuals. The tool also features a report and analytics dashboard where you can track all your learners' responses and performance data. Its quizzes are also easily accessible through desktop and mobile devices, allowing your employees to take them anytime and anywhere.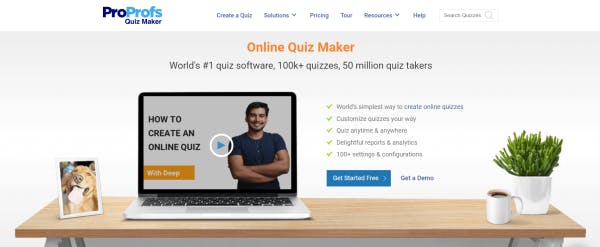 Price: Free, Paid plans start at 5 USD per month
Key features: Course templates, learning community, knowledge base, analytics dashboard
4. Continu
Continu prides itself as a learning platform built for today's modern workforce. With its powerful course authoring tools, you can build courses from any topic, including healthcare, cybersecurity, critical thinking courses, and more. You can also create training and development tracks to suit each learner's needs, or tailor learning experiences through its Smart Segmentation feature, which allows you to filter by geography, department, or by using custom variables.
This LMS comes with custom reporting so you can fine-tune reports to gain insights on the performance of your employees. On the other hand, learners will have access to their unique dashboard so they can stay on top of their training and progress.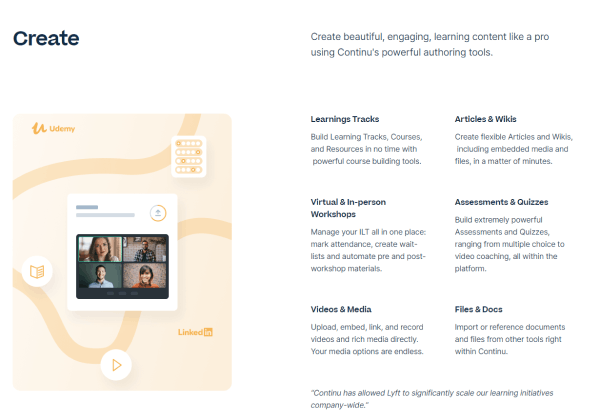 Price: Cost available upon request
Key features: Personalized learning tracks, Smart segmentation, custom reporting, learner dashboard
5. Zoho Showtime
Zoho Showtime is a comprehensive training software that can help you run and manage your employee training programs more efficiently. Using this tool, you can provide your employees with self-paced courses and facilitate collaborative learning through peer interaction. It provides managers with an Admin Console, which can be used to track campaigns, customize forms, and assign courses. You can also upload content like videos and recordings so that employees can learn at their own convenience. For synchronous online training sessions, you can maximize its virtual classroom. Within this feature, your employees can access additional tools like whiteboards, polls, and in-app messaging where they can discuss their learnings and share their knowledge with fellow team members.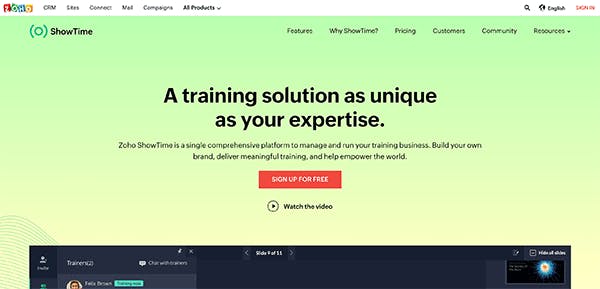 Price: Free, Paid plans start at .33 USD per month per user
Key features: Admin console, whiteboards, virtual classroom, in-app messaging, polls
6. CoreAchieve
CoreAchieve is a web hr software that allows you to streamline content creation, compliance monitoring, as well as audio/video employee training. Developing professional training materials and managing online courses are two major purposes of this cloud-based LMS system. If you're looking for basic content, it can be easily tracked down by using filters, titles, categorization, tags, and descriptions. It also tries to make learning fun by awarding points and rewards to learners at the top of leaderboards. While this is a training platform with fantastic features, it's not optimized for mobile accessibility, and the number of users are only limited per month.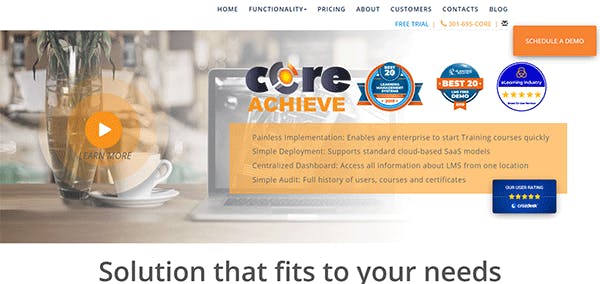 Price: Starts at 99 USD per month
Key features: Course management, content creation, rewards, leaderboard 
7. Whatfix
Whatfix makes it easy for learners to digest training material no matter what learning style they have. With this training software, you can create interactive training materials with its straightforward, no-code authoring tool. To further personalize the learning experience, you can create condition-based walkthroughs that fit a learner's role, competence, and location. It's SCORM-compliant so you can easily construct training programs at scale. Whatfix also provides advanced real-time analytics as well so you can measure the effectiveness of your training program.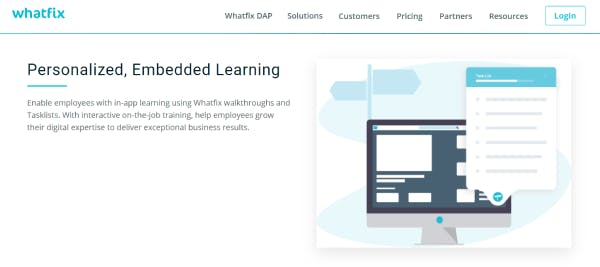 Price: Cost available upon request
Key features: No code authoring tool, smart user targeting, SCORM-compliant, real-time analytics
8. Forma LMS
Forma LMS is an LMS that can easily integrate with your existing intranet software. Apart from this, it also offers a modern and responsive layout, designed for an easy and engaging user experience—no learning curve! Plus, you can use this LMS to create engaging courses in different formats: SCORM multimedia, HTML pages, videos, and powerful assessments. This LMS also supports a range of configuration and automation options for users, courses management, and edit actions, saving you an incredible amount of administration work. They even produce custom reports, helping you quickly spot skill and knowledge gaps within your team.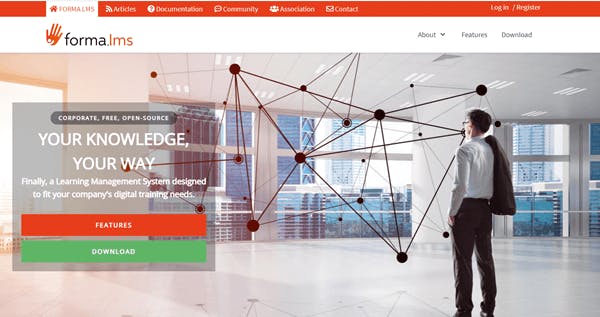 Price: Free and paid plans
Key features: Intranet integration, modern and responsive layout, different eLearning formats, configuration, and automation options
9. WorkRamp
WorkRamp is a personalized learning platform that serves as an all-in-one corporate learning platform for your personnel, especially those in sales, support, retail, marketing, and HR. This centralized LMS gives you a streamlined process in creating customized learning pathways for your personnel based on their role, teams, skills, or seniority. It provides a specialized onboarding process, advanced corporate training content creation, and learning progress tracking through dashboards and analytics. It also gives a blended learning experience with support for virtual instructor-led sessions.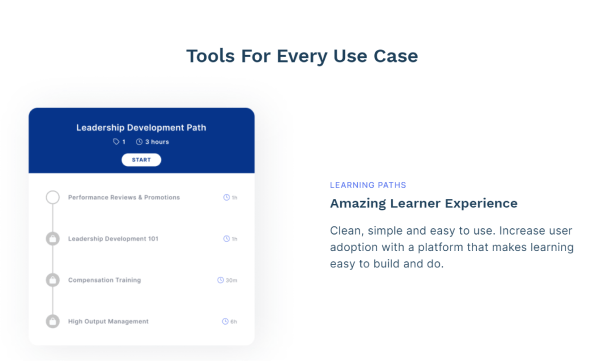 Price: Cost available upon request
Key features: Streamlined onboarding, learning pathways, analytics
10. 360 Learning
360Learning is a learning management system that helps L&D professionals manage the workforce. It's widely known for its collaborative training tools, which feature an authoring suite, a content integration system, and an analytics dashboard. As managers and team leaders, you can develop and deploy content to your employees without having to meet in person and all the tools require no technical skills to use, enabling you to create courses in just a few minutes. You can also include learning resources like videos, images, blog articles, and research into your course to keep training content up-to-date and engaging. With 360Learning, workers also have access to collaborative learning features like discussion boards and group pages that allow them to participate in meetings with both managers and their fellow employees.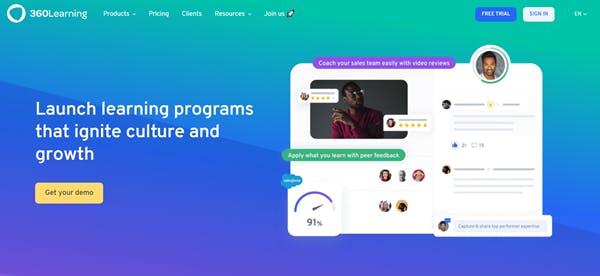 Price: Paid plans
Key features: Collaborative learning, authoring suite, content integration, analytics dashboard, discussion boards