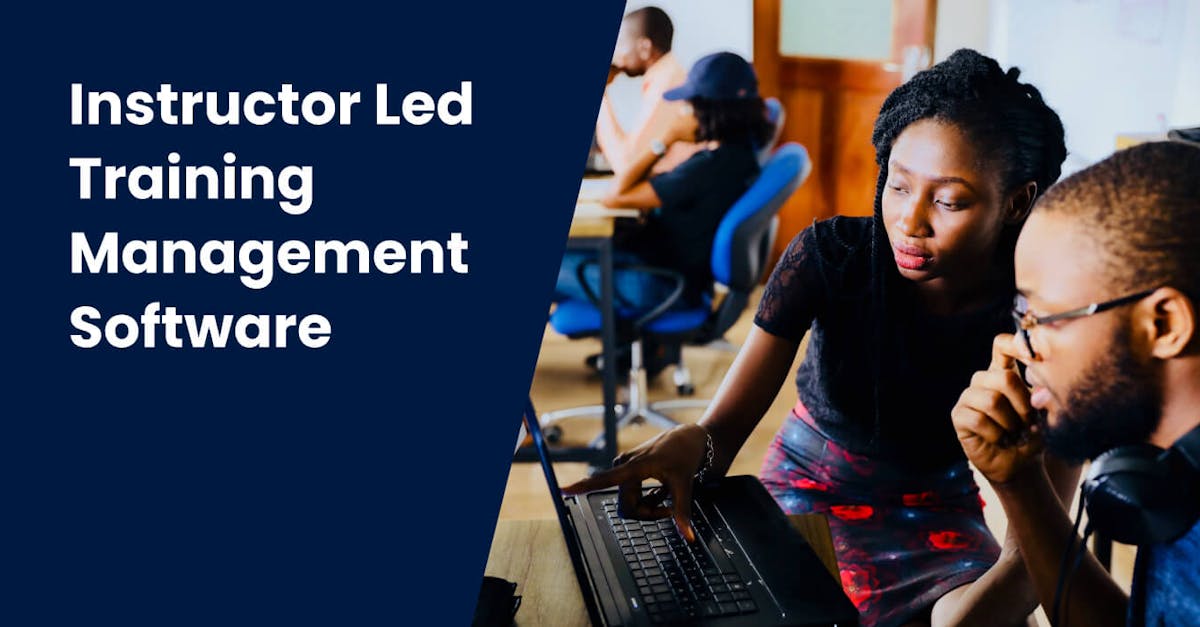 Instructor led training can help learners study and communicate with each other and the instructor in real-time. This can improve learning retention and increase completion course rates. In this list, we'll be looking at some of the top instructor led training management software to help you effectively deliver instructor-led training. 
1. EdApp
The best instructor led training management software allows you to train virtually and in person, and EdApp does exactly that and more. As an instructor, you can create your own courses with their built-in course creator tool and template library – no design experience is needed. Create beautiful and engaging content from construction to data analyst training courses in minutes. Additionally, EdApp offers material handling courses which can be incorporated into your training program. Just drag and drop elements like images and text, choose your colors and font, and share your courses through a single sign-on portal, invite link,  or QR code.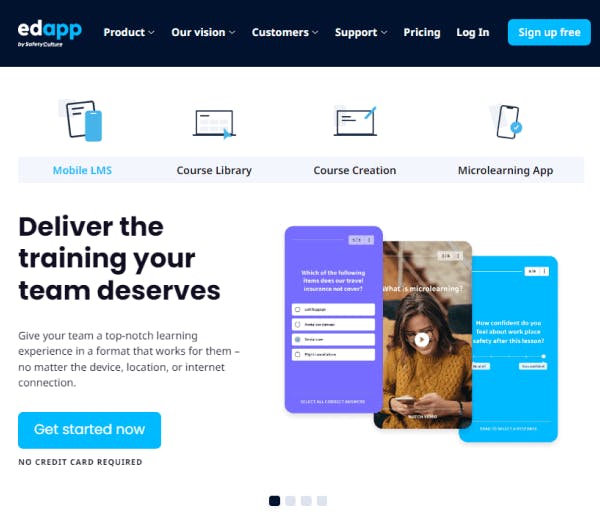 This top instructional design tool lets you deliver training virtually by integrating itself with video conferencing platforms. You can schedule recorded, in-app meetings and check-ins with your learners on apps like Zoom and Microsoft teams, through EdApp's Virtual Classrooms feature. This way, you can incorporate blended learning and give your learners a choice between self-paced instructor-less learning or scheduled instructor led training.  
If you would like to deliver your training, assess your learners' skills, and track their progress in person, then EdApp does just that with its Practical Assessments and Group Training features. With these tools, there's no more need for paper checklists or spreadsheets. Just scan your learner's QR code and asses their performance from your smartphone. Their attendance and progress are automatically tracked in the admin portal, along with your other EdApp training analytics. 
Cost: Free
Features:
Course creator tool and template library

Invite links and single sign-ons

Virtual Classrooms

Practical Assessments and Group Training

Analytics
Join EdApp for Free and have everything you need in one place with this instructor led training management software
2. WizIQ
It's possible for WizIQ to play a crucial role in practically every business training program. With this software, your employees have the choice of self-paced training, instructor led, or live real-time training that they can access at any time. Large corporations, freelancers, administrators, small businesses, and others are just a few of the diverse types of clients WizIQ serves thanks to its easy and hassle-free course creator. Build training materials covering topics crucial to your business, from marketing to crowd management training courses to cybersecurity, it's all up to you. Furthermore, WizIQ offers material handling courses that can help your employees stay safe while working.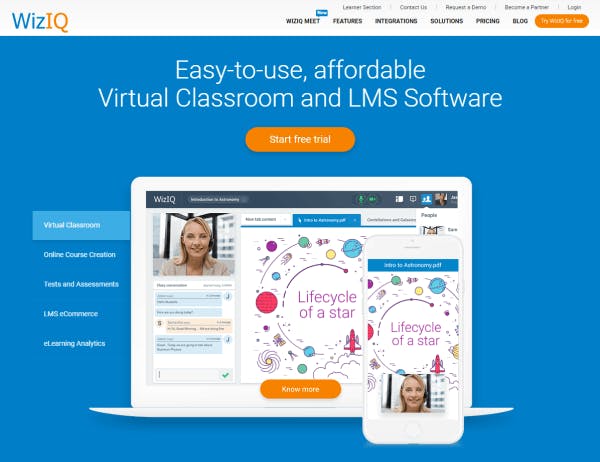 Training can be delivered in a variety of methods, including desktop apps, mobile applications, SAAS, and self-hosted cloud-based software. You can integrate WizIQ's virtual classroom with existing websites and other learning management systems in your learning stack. Receive instant feedback from your learnings using features like chat boxes and polls. 
Cost: Request for a quote
Features:
3. WorkRamp
WorkRamp is a corporate learning platform that's particularly used to train employees in the sales, support, retail, marketing, and HR industries. As an instructor led training management software, you can deliver and manage virtual events to create more immersive learning experiences. Track attendance, manage waiting lists, and tie event completion metrics back to performance all on one platform. Similarly, you can also easily schedule events with calendar integrations.

You can quickly create content (like data analyst training courses) and learning paths for your learners depending on different factors like their roles, teams, abilities, or seniority.  There's even an onboarding procedure, allowing you to conduct instructor-led training at all stages. As a result of carrying out regular blended training sessions, your employees will be able to carry out their tasks and provide the best results for your organization. 
Cost: Request a quote
Features:
Attendance tracking

Scheduling events

Learning paths

Content creation

Analytics and metrics
4. Vedamo
Vedamo offers trainers a virtual classroom that is interactive and provides common learning management system features like course management tools and internal messaging. With Vedamo's virtual classrooms, you can easily share your screen, online whiteboards, and videos with your learners. There's also the breakout room feature that lets you group up learners to do tasks together.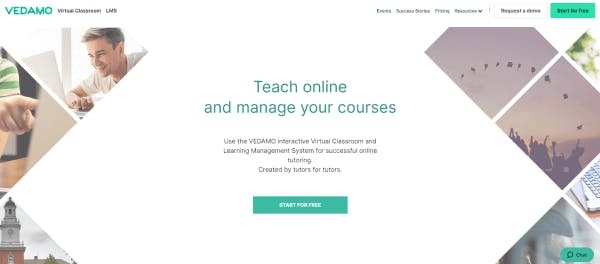 Additionally, Vedamo makes it simple to manage learners, courses, and content. This tool is a wonderful option for freelancers or businesses because of its versatility in instructor-led training.

Cost: Paid plans start at 25 USD
Features:
5. Arlo
Arlo is an instructor led training management system made for training providers who want to expand their companies through elearning, live online webinars, and classroom-based training. Combining and contrasting these learning styles can result in blended and self-paced learning, which allows you to meet the various learning demands of your learners.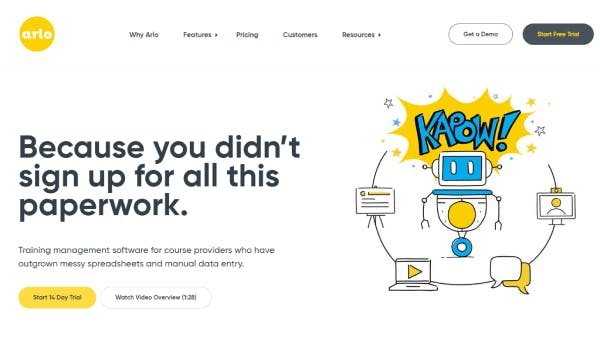 Arlo has automated course and event management as well, making training easier and speeding up course delivery. Similarly, their real-time reporting and business intelligence tool allows you to quickly access data and insights. You and your learners can access all of these training and learning resources and features on any computer or mobile device. 
Cost: Paid plans start at 94 USD per month
Features:
Classroom-based training and webinars

Automated course and event management

Real-time reports 

Business intelligence tool 
6. DelphianLogic
As an instructor led training management software, DelphianLogic offers educational tools that assist course instructors and presenters in tailoring their lectures to the needs of their intended audiences. Their readily available content has been carefully chosen with an eye toward flow, organization, relevancy, and context. 

This software, like other instructor-led platforms, includes a visual design template library that is useful to content creators. It's also supported by an effective authoring tool that enables dependable content maintenance. And with facilitator guides and participant guides, training becomes easier for both the instructor and learner. 
Cost: Request for quote
Features:
Readily available content

Template library 

Authoring tool

Facilitator and participant guides
7. Thinkific
Thinkific offers an elearning platform for coaches, experts, and managers alike to create and distribute their lessons. This top instructor led training management software has everything you need to easily set up, launch, and scale your training. You can either create your own course material or enroll your employees in an already existing course.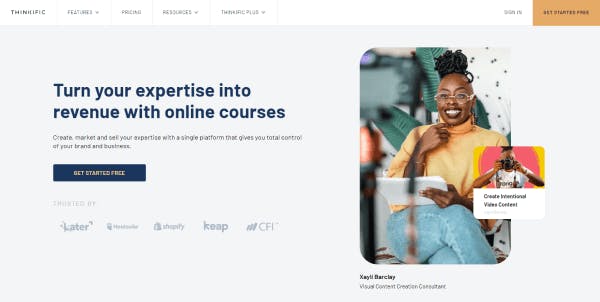 If you're going to create your own material, Thinkific makes it easy with their drag-and-drop editor, video and content hosting, imports and embeds, and language support. You can even assess your learners' progress by giving out quizzes and surveys. 
Cost: Free and paid plans
Features: 
8. Cloudshare
With the help of Cloudshare's software, you can quickly create labs and useful virtual learning environments that greatly aid your learning and development goals as an instructor. Its template collection can be used to make creating courses easier. The program is already set up on the platform, so instructors and course designers don't need to worry about the technical aspects.

Cloudshare gives instructors access to cutting-edge features like analytics and over-the-shoulder surveillance. Learners, on the other hand, can access elearning materials like case studies, eBooks, White Papers, Blogs, Webinars, and more. 
Cost: Request a quote
Features:
Virtual labs

Course creator

Training resources
9. Coassemble
Coassemble is a course creation tool that lets you create excellent learning experiences that improve the bottom line of your business. It was developed for enterprises with growing teams looking for their first online training platforms. By taking into account each stage of the employee training process, you can use this tool to create online instructor-led training that actually has an impact on its learners.

Create stunning and captivating courses out of static documents like Word documents and PDF files. With their course builder, you can select from 30 lesson screen templates and add interactive features like images and text to your content to make it more interesting. Coassemble also offers advanced branding and workstation customization so that your training materials will support brand awareness and consistency.
Cost: Paid plans start at 50 USD per month
Features:
Course creation tool

Word document and PDF converter

Interactive features 

Advanced branding 

Workstation customization
10. Learnworlds
The last instructor led training management software on this list is LearnWorlds. This software is designed to make video learning more interactive and interesting. With the help of this tool, you can easily create your training materials and use the platform's attractive themes and styles to deliver visually appealing online courses.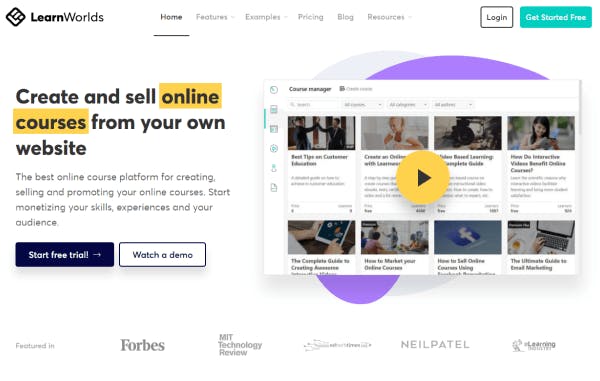 To increase learner confidence and improve learning retention, you can also incorporate assignments, formal assessments, and self-improvement quizzes into your sessions. You can also easily schedule the delivery of these training resources and develop a course player if necessary. This platform also allows casual reading of materials with note-taking and highlighting features.
Cost: Paid plans start at 24 USD per month
Features:
Create training materials

Themes and styles

Assignments, assessments, quizzes

Course player

Note-taking and highlighting features