Learning and development is not easy–whether memorizing an alphabet, analyzing the theory of integrals, or creating a dress pattern, most of us need support. We start receiving organized instructions and hints already at home. Our parents help us get through the daily activities such as dressing, playing, or eating, by giving us oral instructions, guiding our hands, or showing examples of the logical order of tasks. The same system of instructions (albeit more advanced) continues through the official school education and later in our professional lives. Our teachers and leaders facilitate our learning processes, learning experience, and learning environment with the right combination of hints, tasks based on existing knowledge, and challenges, to help us hone our skills. In this article, we would like to take a closer look at the nuts and bolts of the learning support, namely–instructional scaffolding.
What is instructional scaffolding?
Instructional scaffolding is a well-organized and individually tailored learning assistance given by the teacher to the student. The scaffolding uses a variety of tools and theories of learning to facilitate the growth of knowledge and skills in students, at their pace, based on their existing knowledge. Instructional scaffolding provides support in the process of introducing new ideas, concepts, and skills to the students. Scaffolding employs a range of methods and materials, including templates, games, guides, and coaching. Comprehensive and tailored learning support, researchers found, not only facilitates but also accelerates the learning process, while empowering students by affirming their capabilities. Proper scaffolding can turn a grinding, unpleasant and confusing process into a rewarding pedagogical journey.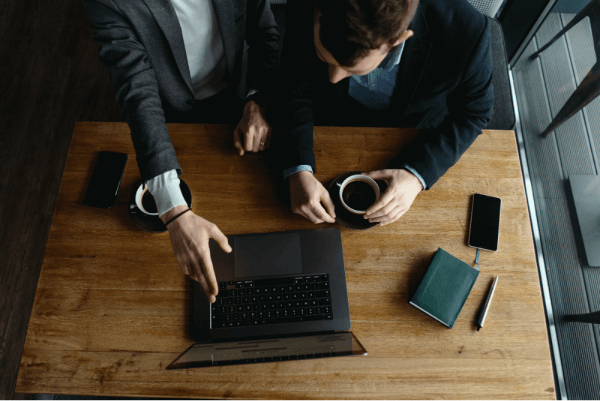 The theory behind instructional scaffolding
The theory of instructional scaffolding has been developed by cognitive psychologist Jerome Bruner in the 1950s (Ninio, Bruner, 1978). He and his student analyzed picture books designed for joined reading for children and parents and determined, how parental instruction help to develop general cognition and cognitive skills in children. By active participation in the picture book reading, children made faster connections between words and their representations than when the book was only read to them by the parent. Bruner's adult learning theory proved to be quite seminal for the educational and developmental sciences, and it help to create more student-oriented teaching methods.
The zone of proximal development
One of the cornerstones of this type of instructional strategies is the zone of proximal development (ZPD) developed by Vygotsky (Ellis, Worthington 1994) through the sociocultural learning theory. To put it simply, ZPD is a field between what the student can do on their own and what they can achieve with the support of proper instruction. ZPD stems from a conviction, that intellectual development takes place where students' exiting knowledge provides the footing for the introduction of the new subject but needs monitoring and assistance in proceeding to the next stage. Learners obtain new skills through the expansion of the existing ones – much like in a snowball effect.  A simple example of using ZPD would be, that to learn addition, children must first get to know the numbers, then their incremental character.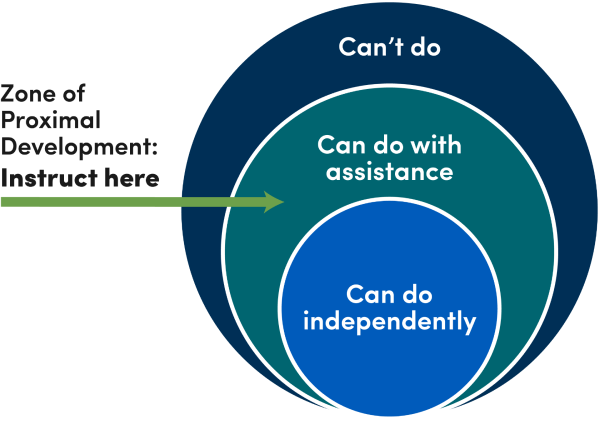 From theory to practice
Researchers found that the efficiency of the scaffolding method is based on a few factors. First, the right selection of the learning task: the task should be based around the skills that need to be developed, but more importantly, it should be geared towards the recipient. Naturally, different tasks will prove useful among kindergartners and professional adults with highly developed cognitive skills. The tasks should be appealing, interesting, and adjusted to the level of the learner. Second, the teacher must anticipate the errors made by the students and prepare ways to correct them. Thirdly, the application of the problem based learning tasks must be thought through. Even the right type of task might prove unfruitful when learners won't understand what is expected of them, or how certain methods work. Lastly, even the best facilitator sometimes cannot take the edge of the learning process and learning materials – it's hard! The teacher must take the affective aspect of theory and practice learning into consideration and prepare ways of handling the emotional response of the students (irritation, discouragement, anger).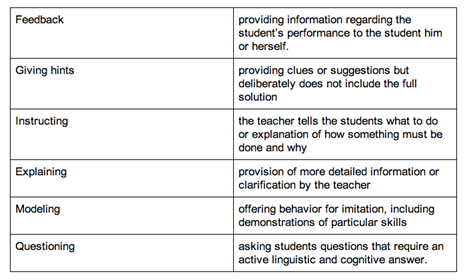 Instructional scaffolding in corporate learning
The theory of instructional scaffolding has been pivotal for the development of online learning programs and discovery learning. Mostly used in the corporate business environment, they employ the principles of supported student-oriented learning. Here, mostly hard type of scaffolding is being implemented. In contrast to its counterpart, soft scaffolding, hard scaffolding does not respond to the contingent classroom situation but is rather a study plan prepared in advance (Saye, Brush 2002).
Online learning platforms such as EdApp, facilitate creating comprehensive supported study plans, that cover a variety of topics, with the use of state-of-the-art learning tools. EdApp, a top free online learning platform, provides unique possibilities in all-in-one learning solutions tailored to corporate environments. Unlike other learning management systems, EdApp is available on mobile devices without compromising any of its features. As such, it provides flexible and student-oriented access to knowledge anytime, anywhere. EdApp also features an extensive ready-to-use course library geared towards several industries, including retail, hospitality, transport, or NGO. You are also free to create your courses from scratch – a collaboration with Canva gives you access to hundreds of customizable templates, which will turn your old static presentations into creative game-based courses.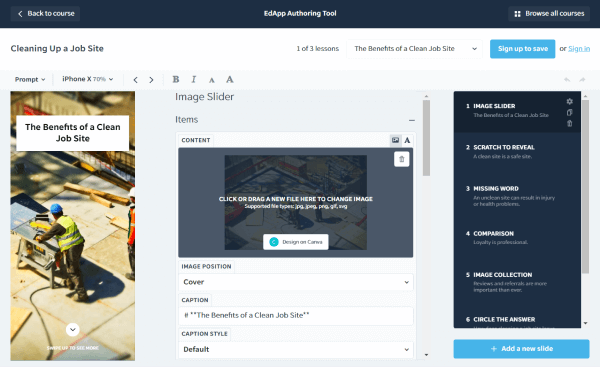 At EdApp, practice is solidly founded in theory and the majority of methods and tools used at EdApp are inspired by the concept of microlearning. Based on that, extensive learning support, aka instructional scaffolding, can be built. Several features come to the fore as main contributors, for instance, gamification, where knowledge is taken apart into small nuggets and organized into curiosity-inducing tests and games. Rapid Refresh is an easy-to-apply tool, that has been designed to boost the knowledge retention rates among learners through quizzes and games. Similarly, Brain Boost applies the concept of spaced repetition, an evidence-based learning technique, by creating quizzes based on previously learned information, which improves memory retention. Peer support is one of the key ingredients of instructional scaffolding – research proves, that learning in a group, where individuals can benefit from the skills and expertise of their colleagues, improves the learning performance. EdApp facilitates communication, collaborative learning, and friendly competition through peer learning features, such as chats, point charts, badges, and much more.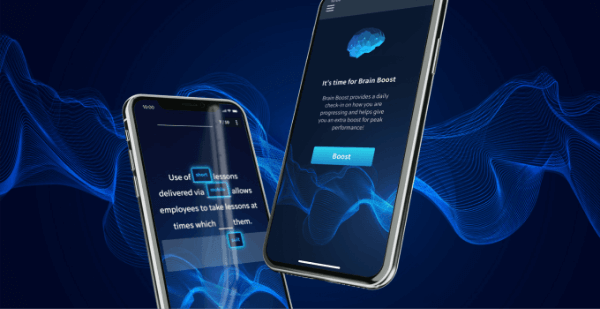 EdApp delivers only the best learning experiences built on a constructivist approach and a solid theoretical ground. By supporting your team's learning efforts, you create a better working environment, job satisfaction, and the development of careers. Knowledge is, after all, a key to success.