Effective application of knowledge is what is transfer of learning all about. So, we've prepared 10 ideas to improve the transfer of learning to help you make sure that all important information really sticks to your team. 
Idea to Improve the Transfer of Learning with Your LMS #1 – Deliver short-form lessons
Topping our list of transfer of learning examples emphasizes on making learning materials short and concise. This is to make your learners easily understand and follow through their lessons. This is important so you don't lose the attention of learners during the learning process. The key here is to make sure that your LMS supports a microlearning strategy. It's a method of delivering training materials in short form to prevent overwhelming learners with lengthy texts and too much information all at once. This won't only make the learning process quicker but also increase knowledge retention.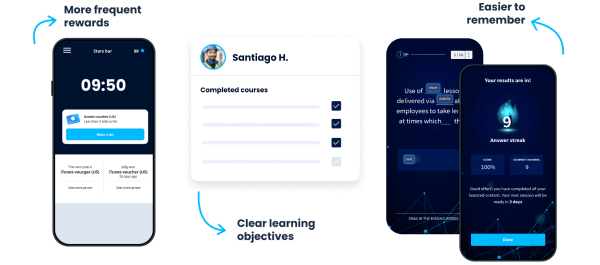 EdApp has a course library that gives you free microlearning courses that you can readily share with your team. This learning platform even let you edit your chosen courses–whether you want to edit some slides with a different design or some company-specific information.
But if you don't have time for all that, EdApp has a Course Creation Services in which you'll get to work with expert instructional designers who'll develop and design training courses for your team. 
Improve the transfer of learning with various training solutions with EdApp. Join EdApp for free today!
Idea to Improve the Transfer of Learning with Your LMS #2 – Make learning materials more accessible
Another idea to improve the transfer of learning with your LMS is making sure that learning is accessible on any device. This means that the learning content should be adaptable to any screen size so that everything still looks neat no matter what device is used for viewing. This is particularly true for workersin retail, food service, hospitality, and other industries—who don't immediately have access to PCs or laptops. When it's easy to access courses anytime and anywhere, completing training becomes even more convenient.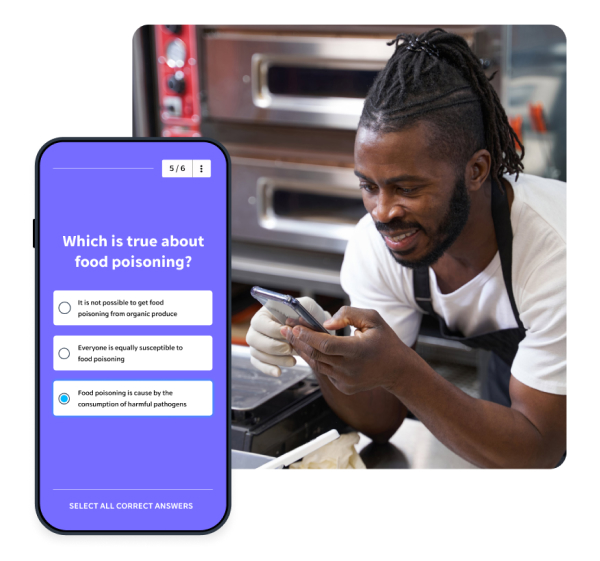 EdApp is a mobile training solutions that does more than just make courses accessible on any device. It also incorporates smartphone features like push notifications into the learning process of your staff. Plus, your learners can download courses for offline learning.
Idea to Improve the Transfer of Learning with Your LMS #3 – Use a variety of learning content
To boost the transfer of learning, consider using a range of content while developing your online courses. There are several learning preferences and techniques, so make sure that your LMS supports various types of media and content like text, audio, or video. This way, you'll have more freedom to be creative and be able to explore more ways of making learning materials more engaging for your learners.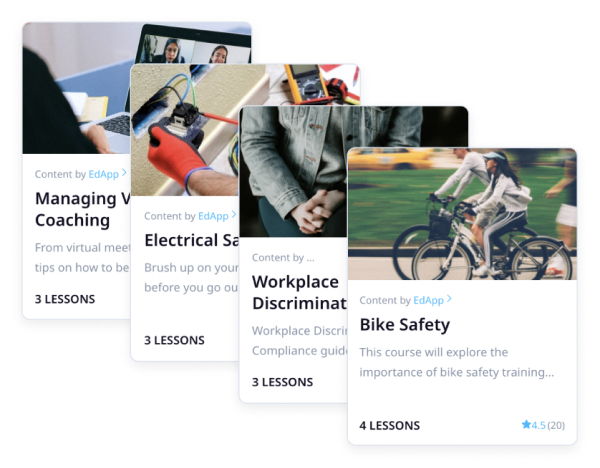 With EdApp, you can upload images, videos, and external links onto your courses. There are also slide features like clicking to expand lists, sliding a comparison bar, scratching to reveal content, and more. This makes learning more interactive and fun.
Idea to Improve the Transfer of Learning with Your LMS #4 – Add game elements in training
If your LMS doesn't have tools to keep your learners interested, training may seem like a tedious chore. No matter how great it is at streamlining operations, if your learners are still unmotivated to complete their course, it won't matter. That's why making your training enjoyable for them is another great idea to improve the transfer of learning.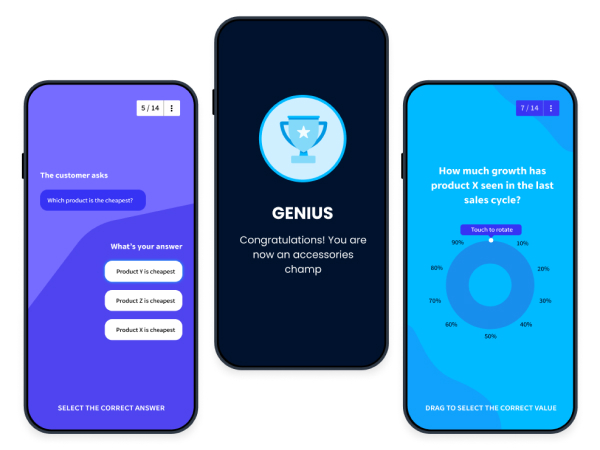 So, It's important to keep an eye out for gamification features in an LMS. Gamification is a learning strategy where game elements are incorporated into the whole learning process. You can use leaderboards to establish friendly competition. This can encourage underachievers to work harder and encourage top performers to keep up their good learning performance.
Idea to Improve the Transfer of Learning with Your LMS #5 – Reinforce learning through quizzes
Learners are more likely to remember information if it's by repeating it until it's fully embedded in their memory. One way to do this is by incorporating assessments or quizzes into your training. Throughout the course, you can regularly test your learners using formative assessments or summative assessments to evaluate them solely at the end.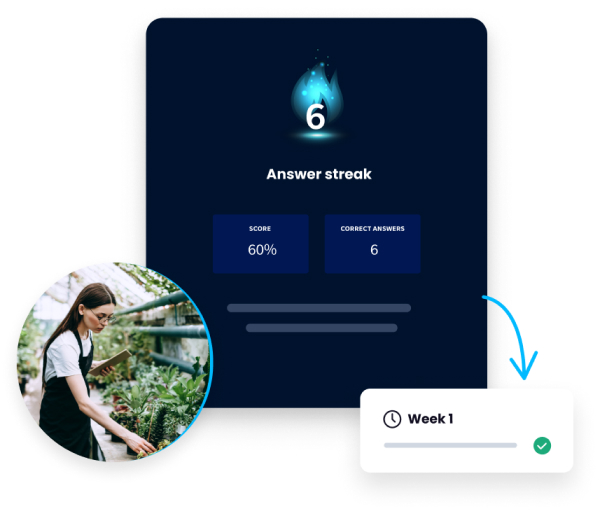 EdApp has a Brain Boost feature that automatically creates personalized quizzes for your learners. No need to manually create them to reinforce important concepts!
Idea to Improve the Transfer of Learning with Your LMS #6 – Take advantage of visual learning
Along with staying away from long, dull texts, it's important to boost the understanding of your learners through the use of photos, drawings, and diagrams. It's a proven and tested way of making concepts easier to grasp. For example, use graphics to introduce information or arrows to show how a step-by-step procedure flows. But if you don't have adequate expertise in graphic design, it could be difficult.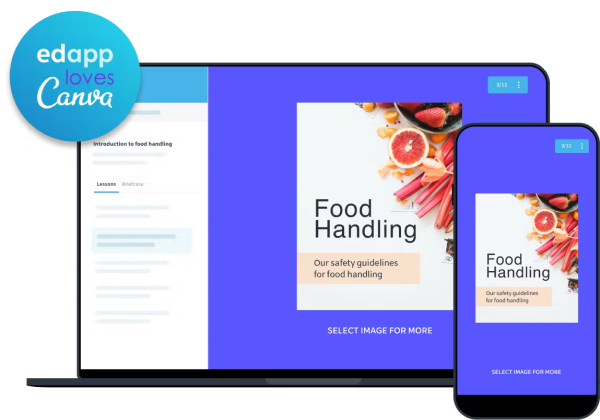 Thankfully, you can use drag-and-drop design software like Canva, which is already integrated into EdApp. With this integration, you'll be able to design visual content to spice up your lessons without breaking a sweat.
Idea to Improve the Transfer of Learning with Your LMS #7 – Allow learners to discuss lessons
This list of ideas to improve the transfer of learning won't be complete without having your learners share their ideas, information, and experience. This can be done by allowing them to discuss their training lessons as part of the learning experience. It can be through online forums or community chats. You can also invite coaches or outstanding employees to contribute some important thoughts and insights. This strategy can help them relate to the content better because it's based on the experiences of their coworkers. Similarly, it can also help boost retention.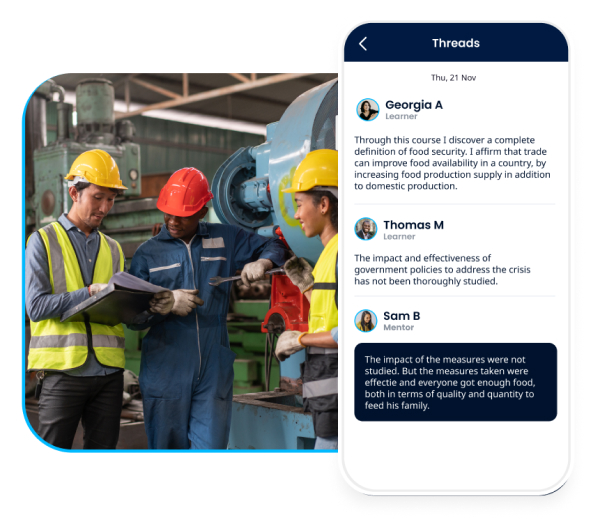 Idea to Improve the Transfer of Learning with Your LMS #8 – Adopt blended learning
Another tip for you to improve the transfer of learning is by adopting blended learning approach. This means that you can conduct in-person training sessions, so you can demonstrate certain work processes and concepts to them. Then, you can further reinforce their learning through online courses. Or you can do it another way around. You can have your learners go through their courses, then asses their knowledge and skills in person. This is best for helping employees transition into new jobs or onboarding new hires.
Does your LMS support this? Well, EdApp does. It has a Practical Assessments feature that allows you to assess your team on the job using a QR code. You can even it add as a part of your course.
Idea to Improve the Transfer of Learning with Your LMS #9 – Improve learning with assignments
Assign homework to your learners to check your learner's grasp of important information. Through this, you can reinforce concepts, spot knowledge gaps, and gauge how well your team has absorbed the course material. It can also help you give them timely feedback, which can emphasize their strengths or areas for development.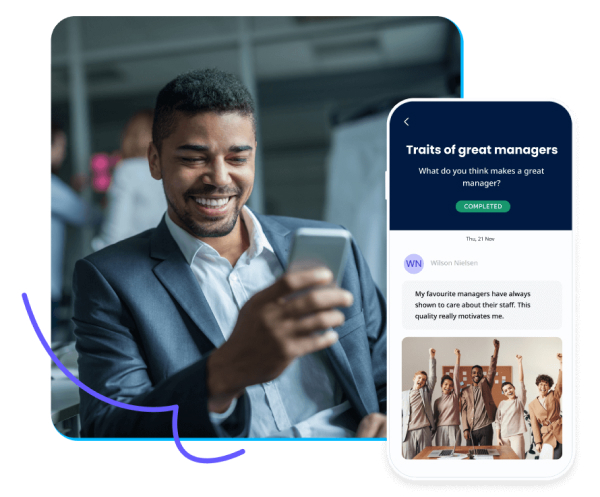 Edapp has a tool for that called the Assignments tool, which is a question-and-answer feature. Here, your learners can submit long-form text, long-form images, or long-form videos as responses to your specific queries. This makes it simple for administrators and instructors to analyze and assess submitted responses.
Idea to Improve the Transfer of Learning with Your LMS #10 – Gather feedback
And lastly, what better way to improve the transfer of learning than to get direct feedback from learners? Did your learners think the training was beneficial for their job? Did it help them operate more effectively and apply it to their tasks? Did they enjoy the course? The answers to these questions will show you how well your training is working from the viewpoint of your learners. Getting their insights is crucial for determining the kind of training you should offer your team going forward.