HVAC training apps are useful for aspiring technicians, newbies, and even those who want to improve their current skill set. Using these apps helps your technicians become better at their job, grow their skills, and make sure that they're performing the right procedures all the time. In this article, let's look at 10 HVAC training apps that are essential to have on their devices.
HVAC Training App #1 – EdApp 
If you want to supercharge your team's knowledge and guarantee their success as HVAC technicians, EdApp is the best HVAC training app for you to use. Creating learning content can be done in just a few minutes thanks to its easy-to-use authoring tool, where no coding background or design expertise is required. Just choose from over 80 microlearning templates, populate your content, and deliver your courses.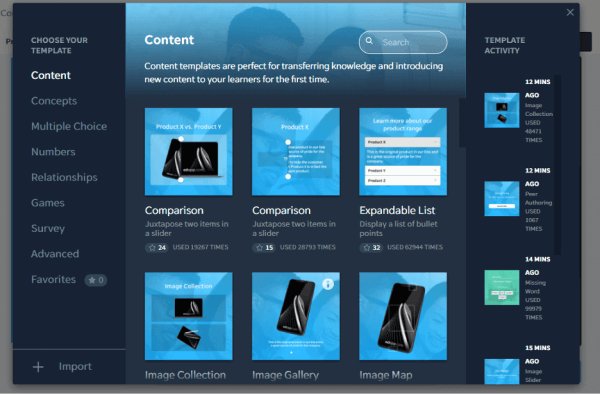 EdApp also has different tools to test your workers' knowledge and boost their retention of what they've learned. For example, EdApp's Brain Boost is a handy tool that uses spaced repetition, which is one of the best ways to improve retention rate. It's a dynamic quiz delivered to your technicians that asks different questions to establish what they remember. The more they get right, the less they'll need to be tested.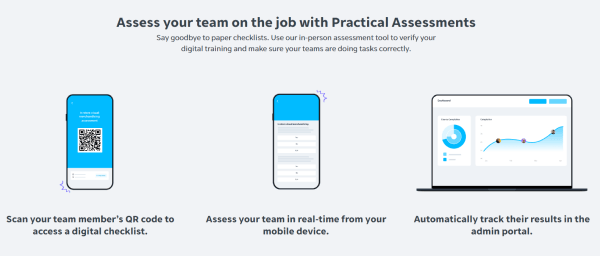 Another tool that you'll love is EdApp's Practical Assessments. It's a custom checklist-style form where admins or facilitators can start in-person assessments to demonstrate knowledge of practical tasks and capture the learner's performance. It features a drag-and-drop form builder to create your assessment form with multiple fields and data to choose from.
EdApp is available for use on all types of devices, such as computers, tablets, and smartphones. This is beneficial for busy workers as they can continue learning at their convenience despite their hectic schedules.
Cost: Free
Key features:
Course creation authoring tool

Brain Boost

Practical Assessments
Sign up for free and start using the most efficient HVAC training app today!
HVAC Training App #2 – HVACR Check & Charge
Emerson's HVACR Check & Charge is a mobile app designed to provide HVAC technicians with the information they need right at their fingertips. It functions as an onsite refrigerant charge calculator for air conditioning applications so that your technicians can easily determine the ​correct system refrigerant charges.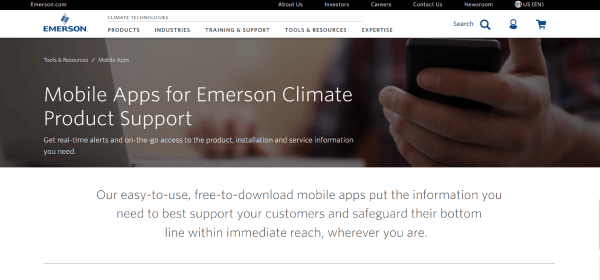 It's a great training app, especially for newbies who have yet to understand the basics of superheating and subcooling. Not to mention, they'll be able to see the science behind it in the field in real-time. This app is available for download on Android and iOS devices.
Cost: Free
Key features:
Superheat calculator

Subcooling calculator

Imperial and metric support
HVAC Training App #3 – HVAC School
Tech for Techs built the HVAC School app to help aspiring technicians gain the knowledge they need while also reinforcing information to seasoned workers. Here, your workers can find tech tips, podcasts, and tools that they can use to increase their HVAC knowledge and service performance.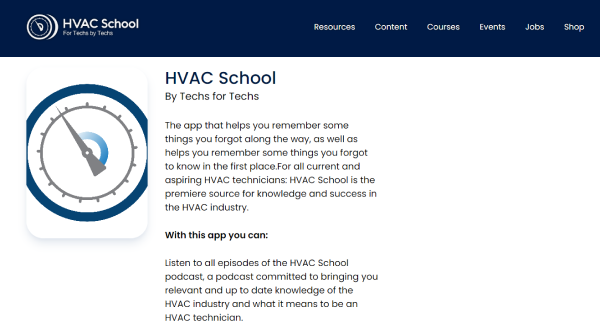 HVAC School's podcast is an informative series dedicated to bringing the latest in HVAC knowledge to its listeners. On the other hand, the HVAC tech tip articles written by industry professionals help your workers learn more about various topics, including HVAC theory. Workers can also use the in-app calculators that employ common HVAC equations to help them understand important HVAC mathematics.
Cost: Free
Key features:
Podcast series

Tech tip articles

HVAC tools
HVAC Training App #4 – HVAC Buddy
HVAC Buddy has two tools that your HVAC technicians will find very useful in their training: the charging & diagnostic feature and the pressure temperature feature. The former helps begin diagnosis and determines the proper refrigerant charge by calculating superheat, subcooling, and airflow targets. It also provides a pressure temperature chart for reference.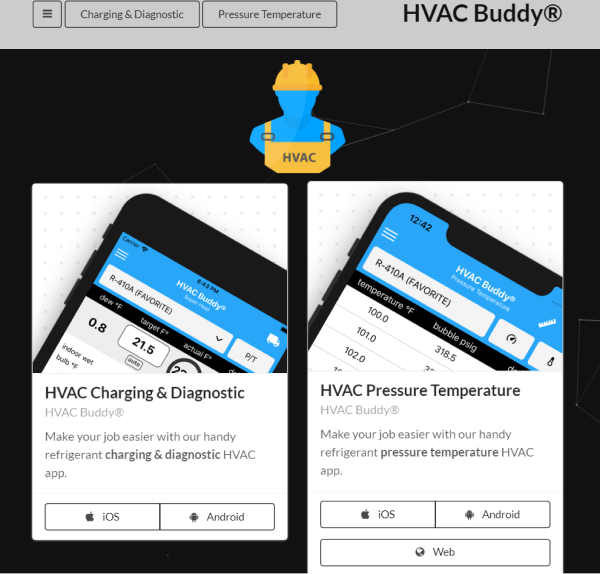 The pressure temperature feature then provides the most comprehensive list of refrigerant properties available. It shows information about the chemical name, boiling point, critical pressure, and critical temperature through a quick-jump top and bottom list for easy viewing.
Cost: 9.99 USD
Key features:
Refrigerant charge calculator

List of refrigerant properties

Pressure temperature chart
HVAC Training App #5 – iAuditor
iAuditor by SafetyCulture is a customizable mobile inspection app primarily used to improve and maintain safety and quality, but it can also be used for practical training purposes. It offers pre-made HVAC Maintenance Checklists to efficiently inspect HVAC units and conduct maintenance. Through the inspection process, your workers will be able to see how inspections are done and identify areas for improvement.
Aside from its ready-made templates, iAuditor also allows admin and manager users to create custom checklists in just a few clicks. You can even convert your company's current paper checklists or Excel spreadsheets into smart inspection forms in minutes. Like most applications, iAuditor can be downloaded on both iOS and Android devices.
Cost: Free
Key features:
Ready-made checklists

Template builder

Template conversion
HVAC Training App #6 – HyTools
If you need to simplify and improve complex hydronic systems, HyTools is an HVAC training app that your teams should have. It has hydronic calculation tools along with expert hydronic data to make complex calculations easier. This user-friendly app helps HVAC technicians learn all about achieving the ideal system balancing, optimal pressurization, and energy-efficient thermostatic control.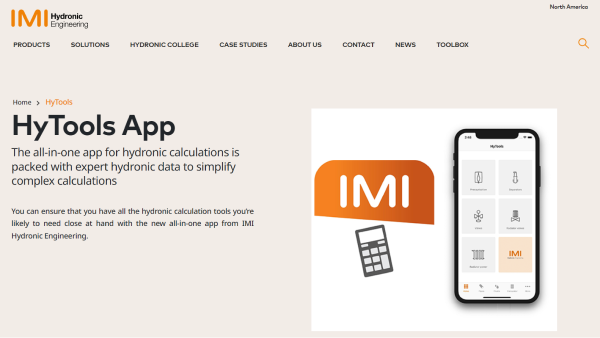 HyTools is available in 16 languages and can be downloaded on iOS and Android devices. For iOS devices, though, it requires the iOS 7.1 version or later.
Cost: Free
Key features:
Hydronic calculator

System balancing

Thermostatic control
HVAC Training App #7 – Ref Tools
Ref Tools is an all-in-one mobile app that gives your HVAC technicians the help, guidance, and support needed to get the job done. Aside from its calculation tools, its troubleshooter feature will come in handy to help diagnose situations, identify symptoms, and look for recommended solutions to air conditioning problems. Ref Tools also has an in-app podcast feature where your workers can get useful tips, tricks, and best practices for everything HVAC.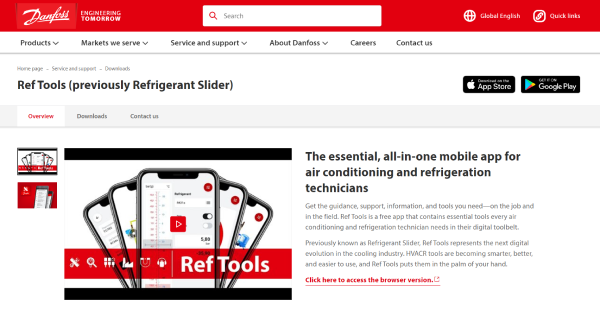 Aside from its availability on both Android and iOS devices, Ref Tools also has a web version if you or your workers prefer to access it on a browser.
Cost: Free
Key features:
Troubleshooter

Podcast

HVAC calculator
HVAC Training App #8 – HVAC Practice Test
HVAC Practice Test is perfect for those who want to test workers' knowledge of HVAC Basics. It features practice tests and flashcards with over 2000 questions created by expert tutors, where learners can take a quiz on hundreds of topics. This app also includes analytics so your team members can track their performance and identify areas of improvement. They can also create a study plan, set daily goals, and even connect with other team members.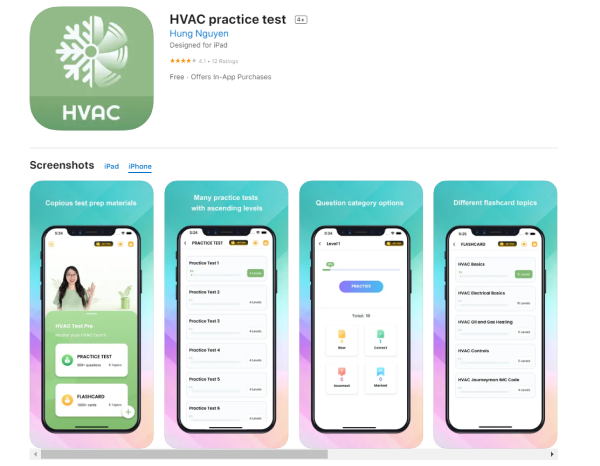 Cost: Free
Key features:
Practice tests and flashcards

In-app analytics

Study plan
HVAC Training App #9 – Skillcat
Skillcat promotes itself as the #1 free online HVAC trade school. It contains a wide selection of free courses, from refrigeration theory and airflow systems to advanced electrical troubleshooting. Through simulations, it teaches your workers how to perform different tasks and procedures that are being done in the field.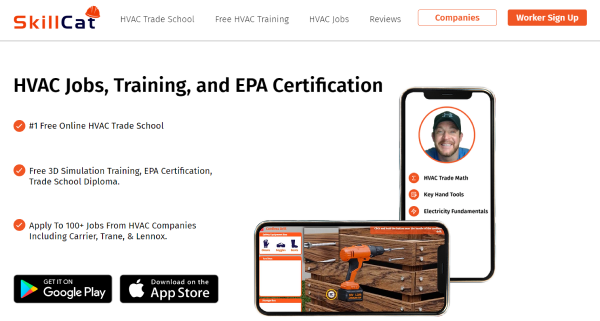 Enrolling in their degree program also allows your workers to get training equivalent to going to a trade school, but it's all done online. After completing the course, workers can then take an EPA 608 Certification. Aside from learning at no cost, Skillcat's 99.2% pass rate is also a great indicator of how well their training programs can help your team members succeed.
Cost: Free
Key features:
Course library

Certification

Simulations
HVAC Training App #10 – HVAC Flashcards
HVAC Flashcards is an HVAC training app to help your workers master HVAC concepts and knowledge through different practice questions. It contains 1000 premade flashcards divided into five categories that cover all aspects of heating, ventilation, and air conditioning. HVAC Flashcards also has multiple learning modes: Study, Slide show, Matching, Memorize, and Quiz, all of which use gamification elements to provide a more interactive training experience.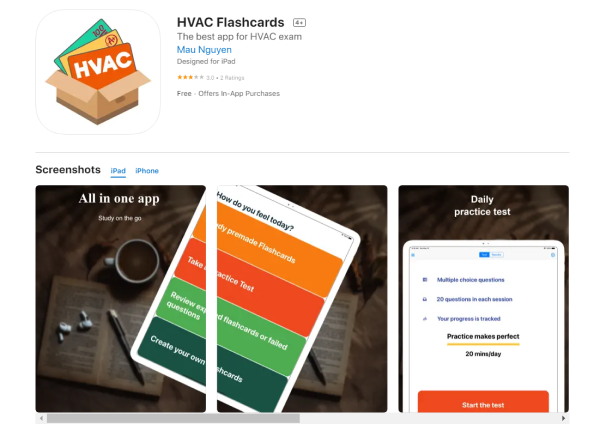 Cost: Free
Key features:
Flashcard quizzes

Gamification

Learning modes