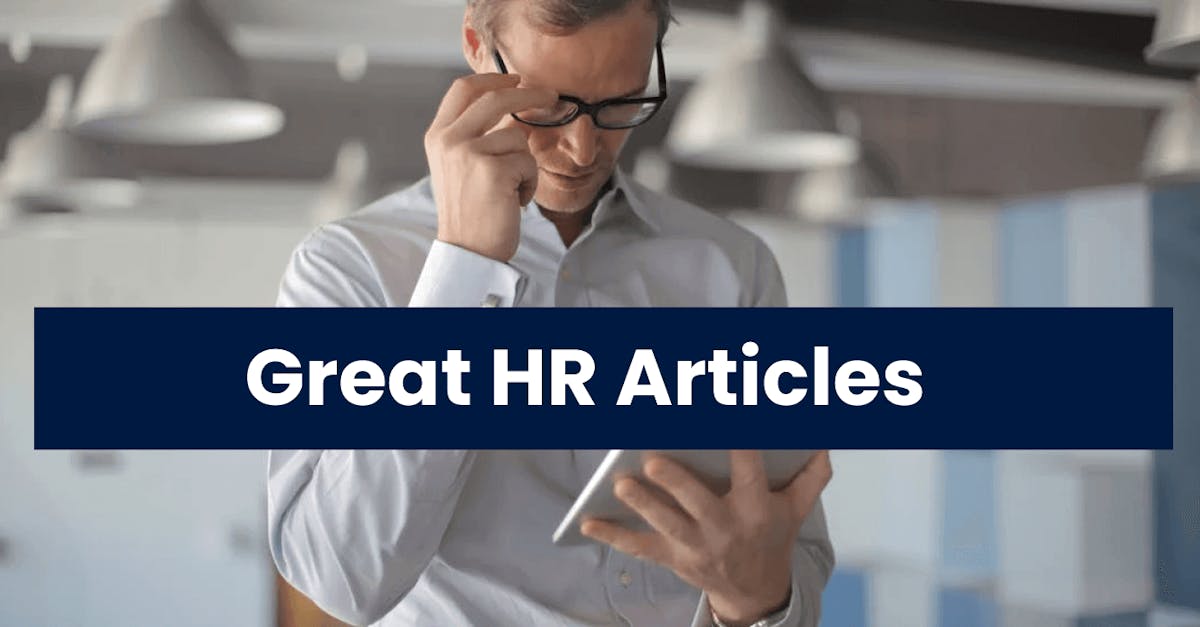 Looking for some great HR articles to build your reading list and expand your knowledge in this area? Then you're exactly where you need to be! In this article, we've rounded up some of the best HR articles that we think will be extremely informative and useful to you at every stage of your HR journey.
Great HR Article #1 – HR Training Topics 
HR professionals play a very important role in every business, no matter how big or small it is. Their job goes beyond just monitoring the attendance of their employees, but they're also in charge of training and supporting them to ensure their peak productivity. And with such vital functions, it's essential that they have what it takes to lead and manage their organizations. This is where the need for HR training comes into the picture.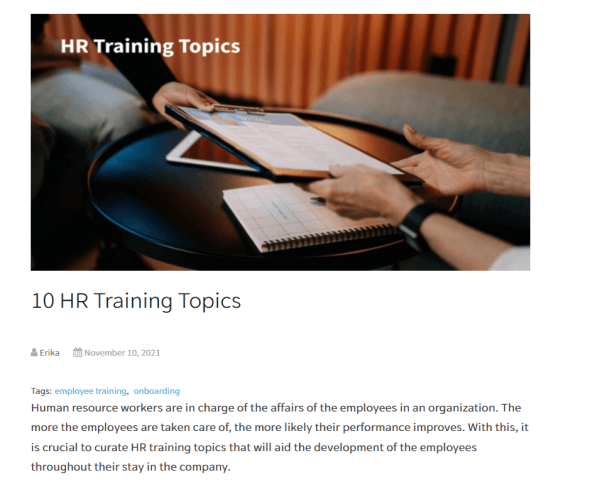 But with so many different things to learn in the field of human resources, you might be wondering where and how to start. EdApp's article about HR Training Topics will give you an overview of the most vital HR training topics to prioritize in your training journey. These topics include employee onboarding, which is one of the most important responsibilities of the HR department. This list also included teamwork seminars, company culture, corporate training programs,  and work ethics, all of which are vital to building a positive and engaging work environment. 
What's great about this HR article is that you can also use it as a guide in case you're organizing a training session for your department. You can always turn to this article to find the most relevant topic that should be discussed among your team. 
In fact, EdApp can also lend you a hand in putting together great HR training. This LMS system has a course creator tool that you can use to build training courses from scratch. It's incredibly easy to use and you don't even need any graphic or coding experience to design your lessons. 
internal audit training course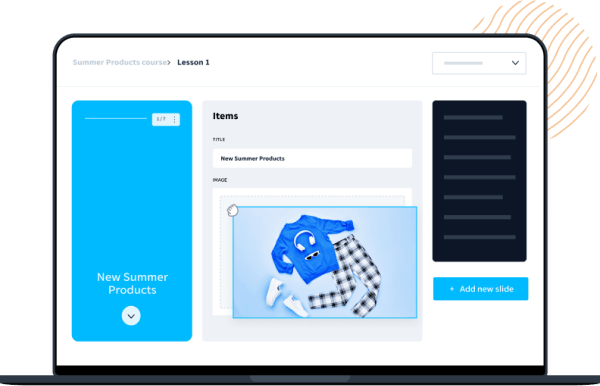 This course creator tool also comes with an array of interactive templates that are designed to respond perfectly to any desktop or smartphone. This feature makes sure that learners have complete control over whether they want to view their courses on a larger screen or from the convenience of their handheld devices.
Topics covered:
HR training topics

Onboarding

Teamwork seminars

Company culture

Work ethics
Sign up for free and start using the best HR platform today! 
Great HR Article #2 – HR Training and Development by EdApp
EdApp's HR Training and Development article talks about the importance of HR training and how organizations all around the world are starting to reevaluate their HR training and development plans. Then, it goes over the most important training topics that every HR professional should know, such as diversity and inclusion, employee well-being, remote working and remote learning challenges, and more. Learning about these topics can help you manage and handle your employees better, and support them to maintain a more positive workplace culture.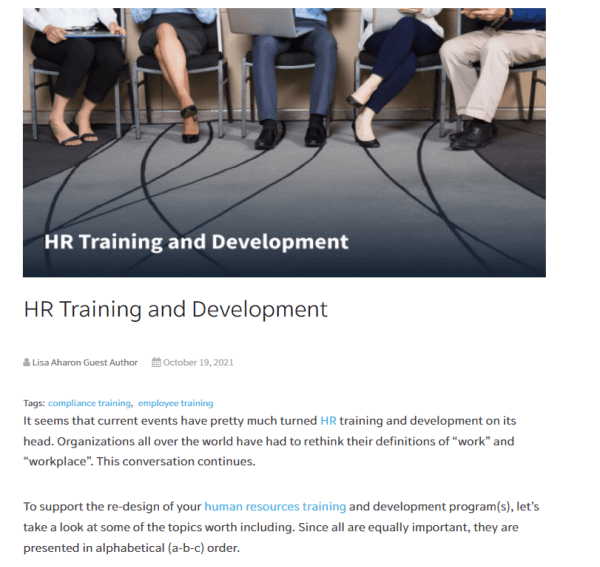 There's also a section in this article that discusses the basics of gamification. For context, gamification is a training method that uses the elements of games to make an otherwise boring training experience into something fun and more engaging. As an HR professional, you can use this training strategy to spice up future training initiatives for your team.
If gamification is something you'd be very interested in, EdApp is actually a good place to get started. This LMS powerhouse has an array of game-based templates that can help turn your training materials into a game format, like Jeopardy, Swipe it Right, Image Pair, Memory, and more. To foster healthy competition among your employees, there are various gamification elements that can be activated too, like leaderboards, scoring, and reward systems.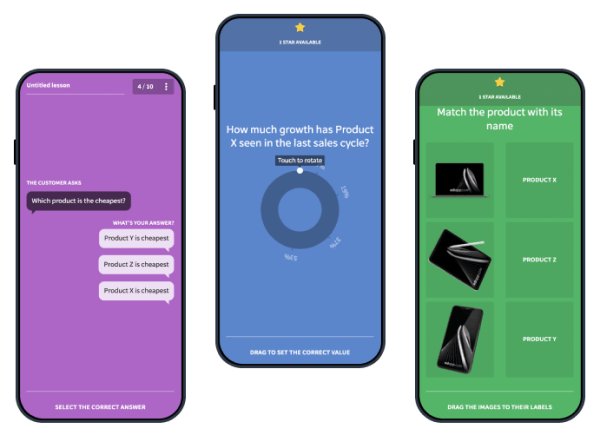 Topics covered:
Great HR Article #3 – The Role of HR Leaders in Promoting Employee Wellbeing in the Workplace by HR HelpBoard
HR HelpBoard's The Role of HR Leaders in Promoting Employee Wellbeing is also a great HR article to visit. It elaborates on the idea of employee well-being and how it motivates employees to perform better at work. Learning this topic is vital, especially for HR professionals who are deemed as the stewards of employee well-being.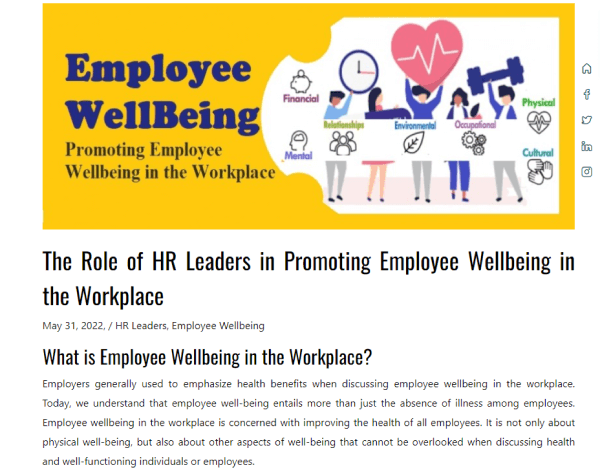 This article gives a quick rundown of the benefits of having a team that's constantly happy and healthy, which includes better employee participation, better reputation, and reduced absenteeism. But the highlight of this article is its list of five strategies that every HR professional should focus on to maintain the physical and mental wellness of their employees. You'll know the ways of creating a communication culture, building pleasant working conditions, providing healthcare services, and initiating an employee volunteer program.
Topics covered:
In-depth definition of employee wellbeing

Benefits of employee wellbeing in the workplace

Five strategies to improve employee wellbeing
Great HR Article #4 – How Fair Is Your Workplace? By Harvard Business Review
Harvard Business Review, in their article "How Fair Is Your Workplace?" takes a deep dive into equality and equity in the workplace. It discusses the perception of fairness by most workers, which expands beyond just race, age, and ethnicity. According to their research, employees relate workplace fairness more to their day-to-day experience.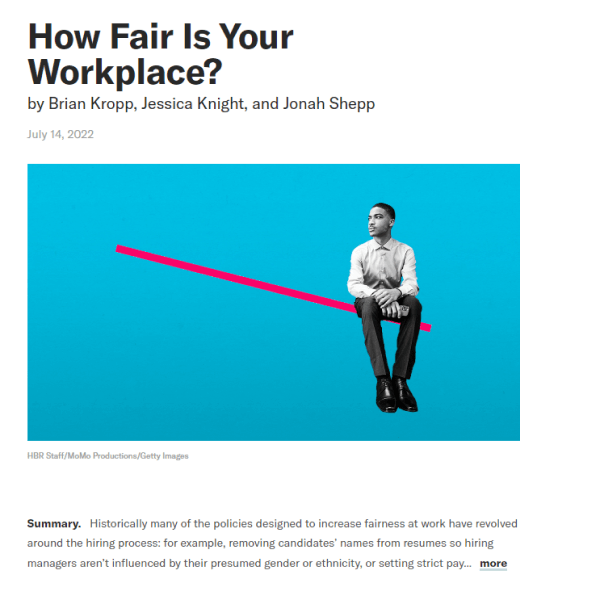 To help you see this topic in a more familiar context, this article outlines the key questions you can ask yourself to determine whether or not you're providing a fair environment and equal opportunity for your employees. Are your employees informed? Are your employees supported? Do all employees get a fair chance at internal opportunities? Knowing how fair your workplace is will help you develop a better people strategy that gives everyone in your company a high-fairness employee experience.
Topics covered:
Employees' perceptions of workplace fairness

Key questions to determine a fair workplace experience
Great HR Article #5 – HR Software Solutions by EdApp 
Training people is a core responsibility of HR teams. But let's face it, this process can be very draining. From creating the training materials to planning a training session, you might probably feel already worn out just thinking about it. 
It doesn't have to be that way, though. What if we told you that there's a way to speed things up? EdApp's article on HR Software Solutions explores some of the best HR tools that can help automate every step of your training process. With the help of these technologies, you'll spend less time planning and managing your training and more time working on other HR-related tasks.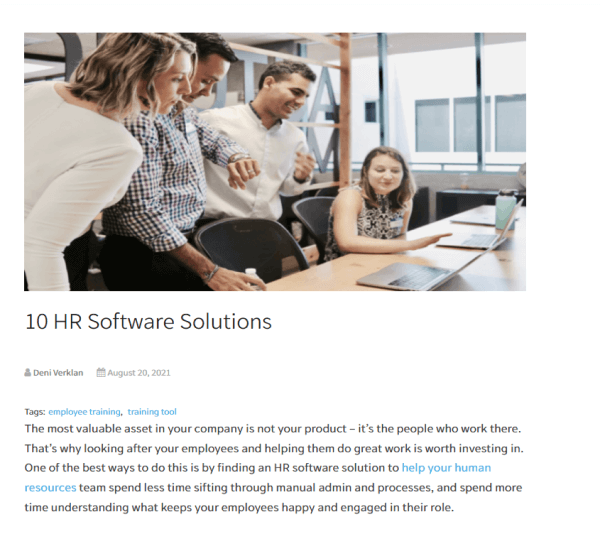 Obviously, EdApp is at the top of this list. Now it sounds a little biased here, but this platform is truly one of the best HR software on the market today. EdApp is known for its powerful automation capabilities. It can automatically assign your employees to the right training, schedule deployment, and even send a push notification to notify your learners about their training. Even better, you can easily repeat these processes each time there's a new hire. 
In addition to EdApp, Bamboo HR is also mentioned in this HR article as a good HR software option, particularly for small and medium-sized organizations. Here, you can onboard, track your employees' attendance, manage their payroll and even leave requests, and view their training, all in a centralized place. This list also includes popular HR platforms such as HR Cloud, OrangeHRM, Web HR, Synchroteam, and more. 
Topics covered:
Top HR Software Solutions

EdApp's automation capabilities
Great HR Article #6 – The HRM Function and its Role in Organizational Processes by Management Study Guide (MSG)
Perhaps you're feeling a little lost with the changing role of human resources. Then this guide by Management Study Guide (MSG) is your ultimate lifesaver. 
The HRM Function and its Role in Organizational Processes article delves into the importance of the HRM roles and how they contribute to the success and harmony of an organization. It also emphasizes how the functions of HR professionals have significantly changed over time. This is in the aspect that they're no longer just reactive to complaints, but have now grown to be proactive.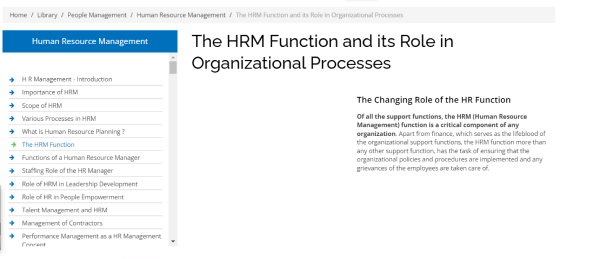 For example, HR departments now have a detailed plan for anticipating and preventing a crisis to occur. Say for workplace bullying or sexual harassment. In most companies, anti-bullying or anti-sexual harassment policies are already in place. This is very unlikely in the old HR roles, where they'll only attend to a complaint once it's already there. 
Topics covered:
The importance of the HR function

The changing role of HR professionals

Change in conception from reactive to proactive
Great HR Article #7 – HR Training Courses by EdApp
Looking for a list of HR training courses you can take or share with your colleagues? Then you might want to check this great HR article from EdApp – HR Training Courses. It's a collection of the most recommended online HR training courses that are made to equip you with the skills and knowledge needed to successfully carry out your HR duties.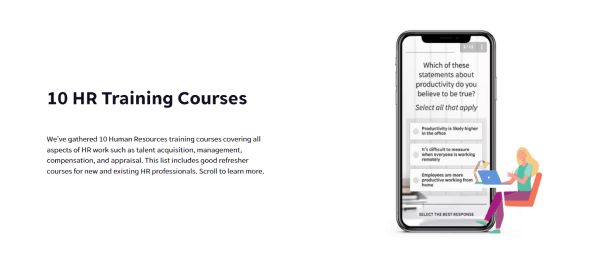 Among the HR courses listed here include EdApp's Interviewing Talent for Startups, which discusses techniques for talent profiling and creating a good interview process. There's also a course on Managing Remote Employees that details the steps on how to effectively connect with remote teams, and a lesson about Mental Health in the Workplace that explores the most common mental health issues and signs of burnt-out employees. All of these EdApp courses are offered for free, so there's no excuse not to check them out. 
Other courses in this list include Certificate Program For HR Generalists by TrainUp, Leading: Human Resource Management and Leadership Specialization by Coursera, and Recruiting, Interviewing, and Selecting Employees by AMA. These courses are offered 100% online, giving you the flexibility to take and complete them anytime and anywhere you prefer.
Topics covered:
HR Training courses

EdApp's HR courses such as Interviewing Talent for Startups, Managing Remote Employees, and Mental Health in the Workplace

Other HR courses from Coursera, TrainUp, AMA, etc. 
Great HR Article #8 – HR Guide to Generations in the Workplace by HR Exchange Network 
We've also added the article HR Guide to Generations in the Workplace by HR Exchange Network to this list because it contains a helpful guide on how to handle different generations in the workplace. This article is particularly handy if you're managing a diverse team with people that came from various age groups.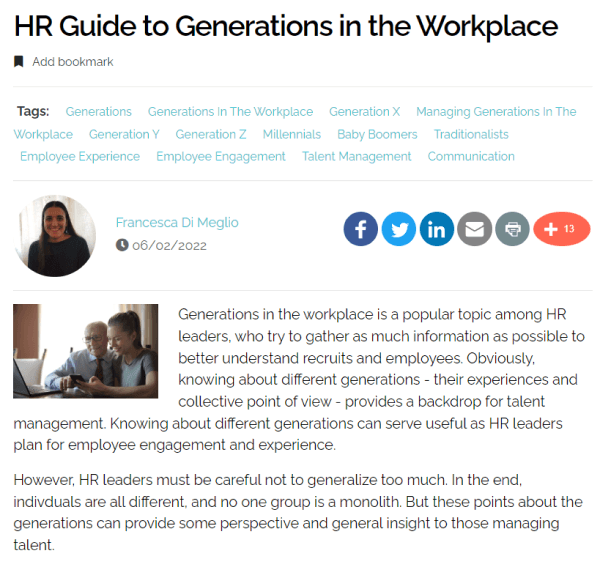 What's noteworthy about this great HR article is that it breaks down the most common characteristics of each generation in the workplace. For example, most Baby Boomers are reluctant to change and prefer the old classic way of reporting to the office. As for people that are part of Gen X, they mostly have balanced expertise in both traditional and digital tools. And the generation that's been receiving quite a lot of attention, Millennials are known for their casual attitudes and their pursuit of a work-life balance culture. 
This article isn't meant to generalize these generations and put people in a stereotype. The goal is to highlight the most common characteristics of different generations, so you can have a better perspective on how to effectively manage your organization as a whole. 
Topics covered:
Characteristics of different generations

Guide to handling different generations in the office
Great HR Article #9 – 7 keys to improve your hiring process by Human Resources Today
Human Resources Today has written a great article "7 keys to improve your hiring process", which, as the title implies, goes over seven key strategies that you can adopt to improve your hiring method. The most useful strategy discussed in this article is the importance of having confidence when responding to the questions from your potential candidates. Other key strategies discussed include extending a job offer, running a background check, and taking advantage of employee referrals. 
Topics covered:
Key strategies for improving the hiring process

Importance of confidence when answering questions from top talents
Great HR Article #10 – Microlearning in HR by EdApp
EdApp's Microlearning in HR sheds light on the importance of applying microlearning in and how this learning strategy can help hone your skills without exerting too much time and effort. Microlearning involves the idea of breaking down information into short, digestible chunks, so they're easier to comprehend. In the world of elearning, this learning method has been proven to yield greater learning retention than most traditional of its traditional counterparts.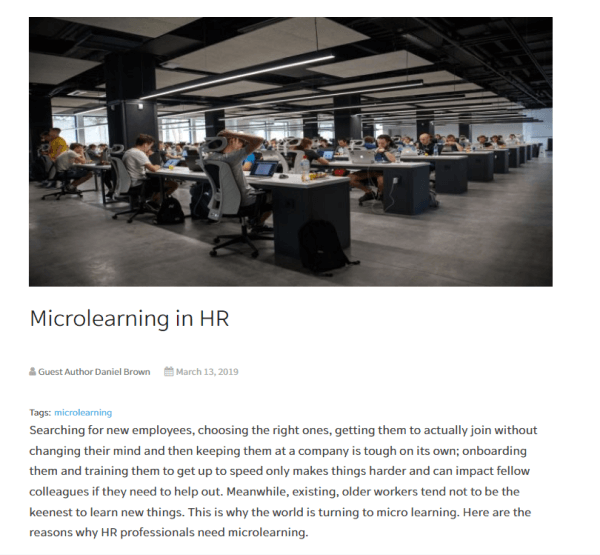 In this HR article, you'll learn the four key reasons why HR professionals need microlearning. You'll be able to get a clearer understanding of how the micro learning model works, how it's made perfectly for mobile learning, and how it simplifies your training journey. This article is significantly short, just like the concept of microlearning, and it won't even take too much of your time to finish reading it. 
Topics covered:
Importance of microlearning in HR

How microlearning works

Mobile microlearning strategy