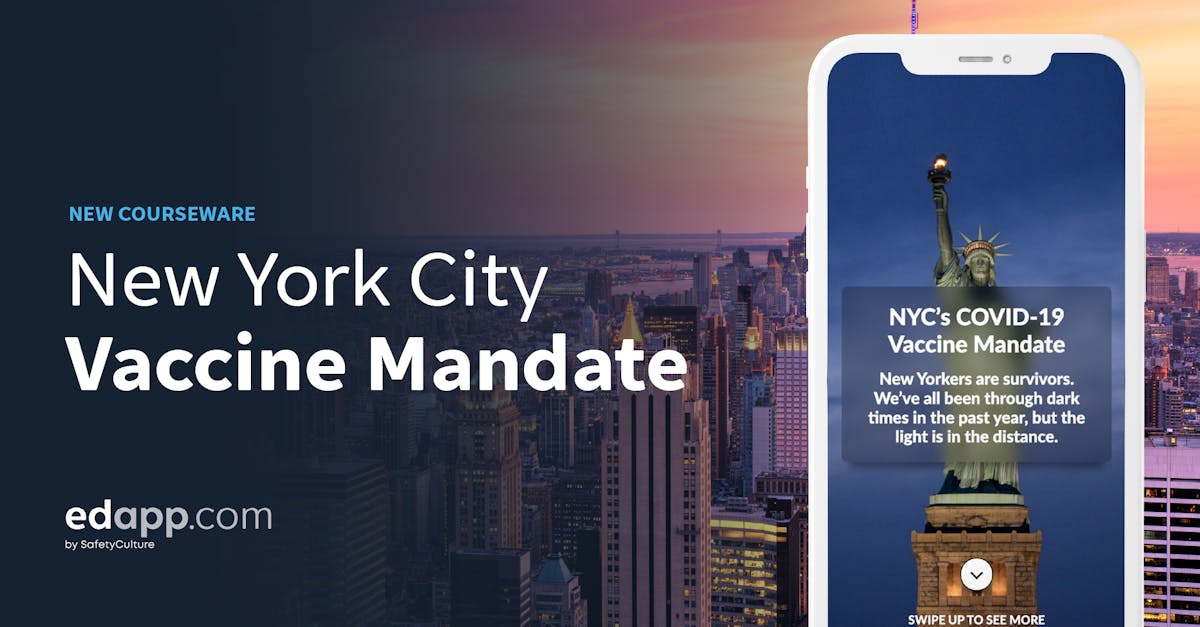 Last week, New York City became the first U.S. city to announce that all restaurant employees and patrons must have at least their first dose of the COVID-19 vaccine to dine indoors. Although the New York vaccine mandate is now in effect, businesses have until September 13 to train their front-of-house staff on the mandate and how to effectively check a New York vaccine passport before the ,000 fine becomes enforceable. 
To ensure that your front-of-house staff is up to speed, we've put together free training that covers everything from what is a valid proof of vaccination to how to deal with difficult customers. Read on to learn what's included in the fully editable training module and how to send it to your team's smartphones in minutes.
Why was this NYC COVID-19 vaccine mandate course created?
As a manager at a small-to-medium business, we recognize that you simply may not have the time to create training material when you're busy hiring and managing your staff – particularly in this tight labor market. When you're already understaffed, it's unfair to expect you to find time to create essential training – let alone try to schedule everyone in for training!
That's why we created our free Enforcing NYC's COVID-19 Vaccine Mandate training course that can be easily edited and sent to your front-of-house staff's smartphones. As the newest addition to EdApp's collection of free editable hospitality courses, you're able to easily rebrand and update the course to develop more in-depth training. This allows your management team to quickly share important training and knowledge with your staff in a few minutes, rather than in haphazard meetings.
EdApp is a free mobile training platform that is on a mission to democratize learning. Most of the time training platforms are not accessible to small-to-medium hospitality businesses because they're too expensive, time-consuming, and inconvenient for staff to complete their training on.
That's why we feel passionately that EdApp will be completely free – forever – for teams of any size to use. This means no trial period. No restriction of features that would make the platform impossible to use over the long term. No limit on lessons deployed, lessons taken, or the number of users. Businesses can access EdApp's unlimited course creation tool, our entire editable content library, mobile app, analytics suite, and live chat support – all for free. This decision has since led to millions of lesson completions for teams around the world – regardless of budget.
What do front-of-house workers learn in this course?
Your front of house workers will learn the key information they need to be compliant with this new mandate, such as:
Why they must ask for proof of vaccination

The 3 valid forms of a New York city passports

COVID-19 Vaccination Record Card

The Excelsior Pass

New York City COVID Safe app

Who must be vaccinated:

All members of the party, including children ages 12+

What constitutes valid ID for adults and children

How to de-escalate situations with difficult patrons.
Unlike other learning platforms, your workers will be able to access the course directly from their smartphones. Whether it's on their commute, in between tasks, or on a break, your team can easily complete this easy-to-follow course in less than 5 minutes. EdApp uses native mobile features like swipes, drag and drop, and match, so training feels more like a game, not work. And the best part is – getting started has never been easier.
Send it to your teams in minutes
Simply access the Enforcing NYC's COVID-19 Vaccine Mandate in EdApp's free course library, and click 'Deploy to my team.' There, you can easily create an account – no credit card required – and add your own branding to align it to your business' look and feel. Then, you can quickly invite your team to access the course via email or invite code.
As EdApp is a mobile-first platform, your workers will receive automatic push notifications to their smartphone devices reminding them to complete their course – saving you from chasing team members to complete their training. The in-built analytics suite also allows you to track what workers have completed the training, and the ability to send manual push notifications or reminder emails to your team.
Then, sit back and watch course completions climb! 
To get started quickly, click here for a step-by-step guide on how to import a course and send it to your team.