Health training software helps you create, manage, and deliver health training so your employees can perform their jobs up to standard. This article explores some of the top health training software to help you with your healthcare training programs.
Health Training Software #1 – EdApp 
EdApp is an all-in-one learning solution, which makes it an excellent health training software. Its vast course library contains hundreds of courses that include healthcare training programs. 
Here, you'll find helpful health training courses, such as The Basics of First Aid, Bloodborne Pathogens, HIPAA Compliance Training, and many more. These health and safety courses can be edited and customized with EdApp's drag-and-drop authoring tool. You'll also have access to over 80 intuitively-designed microlearning templates which you can use to create your own lessons from scratch. There's no need for any design background or even coding knowledge to get you started.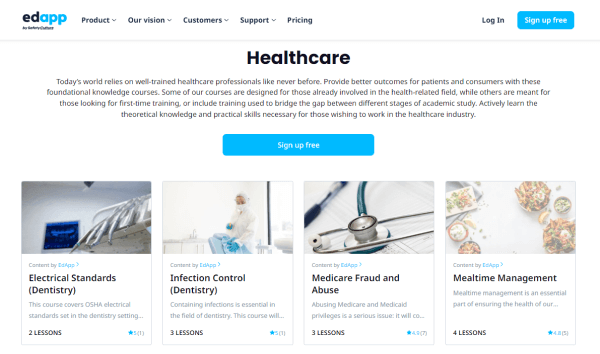 If you have no time to create or even edit courses, you'll be glad to know that EdApp has an army of expert instructional designers that you can team up with. Through EdApp's Course Creation Services, you'll have the power of a developer, designer, and training expert – all at your fingertips. You can let them worry about creating impactful and beautiful lessons so you can focus more on your content.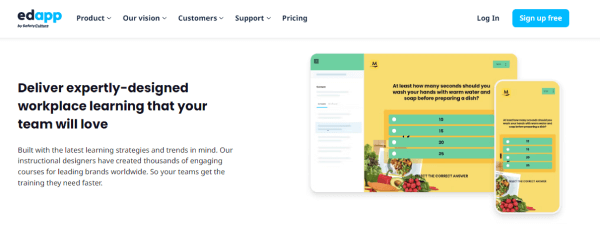 With EdApp, there's no need to chase your employees to take their courses as push notifications and email reminders are embedded into the user management feature. Additionally, having a mobile-first platform helps you reach and train various groups of employees at scale to keep them aligned in driving success for the company. 
Cost: Free
Key features:
Course library

Authoring tool

Course creation services

Mobile-friendly
Sign up for Free and Start Using the Top Health Training Software Today!
Health Training Software #2 – Intuto
With Intuto, you'll have an industry-leading LMS at your disposal to train your healthcare personnel. With this health training software, you can trade out costly in-person seminars for online training, thanks to their free course library. These courses are editable so you can add more content such as quizzes, forms, and interactions.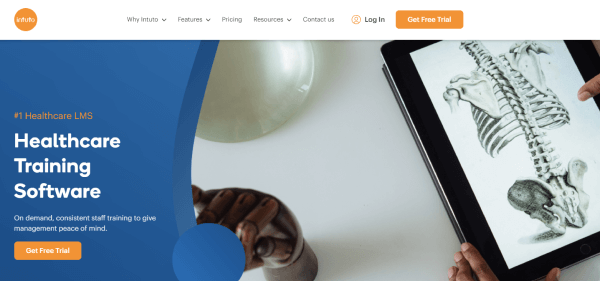 You can also build courses using your existing training content with Word docs, PDFs, PowerPoints, images, videos, audio, and more. Intuto also has a powerful certificate engine so you can turn your courses into healthcare certification programs.
Cost: 250 USD/month
Key features:
Course library

In-built course authoring/editing

Course certification
Health Training Software #3 – HealthStream
With HealthStream's dependable education and training solutions, you can improve competency and prepare your employees for great performance. They partner with different healthcare organizations to create engaging training videos. You can also make video training of your own with their dedicated video platform.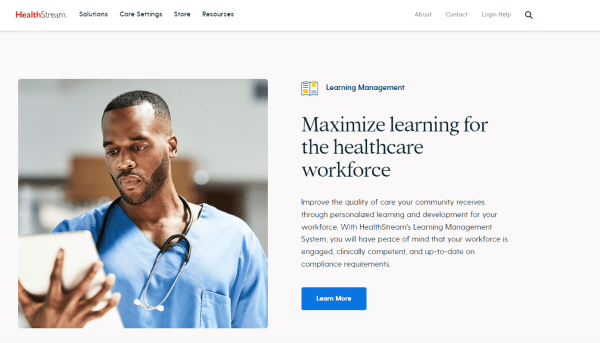 HealthStream also has a simple course builder, which includes an asset library. Here, you can find high-resolution medical illustrations and animations that you can use in your presentations and quizzes.
Cost: Request a demo
Key features:
Asset library

Video creator

Course builder
Health Training Software #4 – EthosCE
EthosCE claims to be the leading medical learning management system in the market. It offers assessment tools so you can create online quizzes and surveys for knowledge checking.. You can also create rich multimedia courses to use for your training and import existing ones since its course creation wizard supports SCORM and Tin Can. If you're looking to present your courses over a live webinar, you can employ EthosCE's webcasting team to take care of recording your lectures.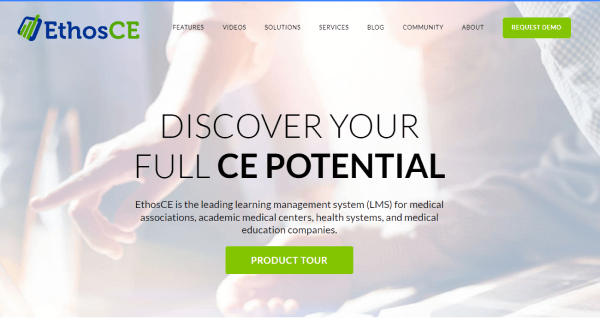 Cost: Request a demo
Key features:
Assessment tools

Course creation wizard

Webcasting services
Health Training Software #5 – Medbridge
Medbridge is a health training software that can be used on the go, thanks to its mobile app. It comes with a library of accredited, evidence-based courses taught by industry-leading instructors. It includes learning assessments and practice sessions to test your employees' knowledge and skills. Through live learning, your teams can also join other learners and participate in discussion sessions. Medbridge's app can be downloaded on both iOS and Android devices.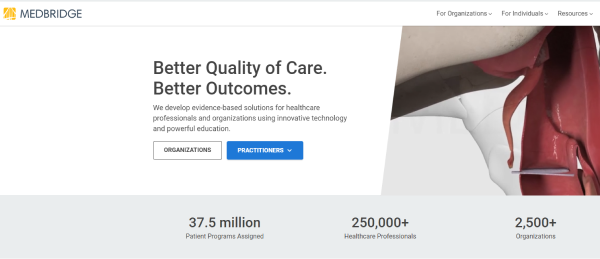 Cost:  Starts at 275 USD/user/year
Key features:
Mobile app

Course library

Live learning
Health Training Software #6 – Medialab
MediaLab is a cloud-based health training software that has a continuing education library filled with compliance courses to make sure that your teams meet compliance requirements. With this LMS for compliance training, you can create your own custom online courses while keeping track and documenting all training activities with their easy-to-use online system. Your learners will also find MediaLab's exam simulator and case simulator helpful to prepare them for certification exams and improve their laboratory skills.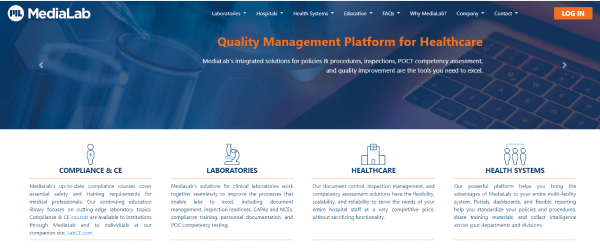 Cost: Request a quote online
Key features:
Course library

Custom course creation

Exam and case simulator
Health Training Software #7 – Tovuti LMS
Tovuti LMS is a health training software that serves as an effective learning environment for both managers and healthcare staff. It has a course management system that allows you to create and distribute interactive health courses and monitor employee engagement with your course materials.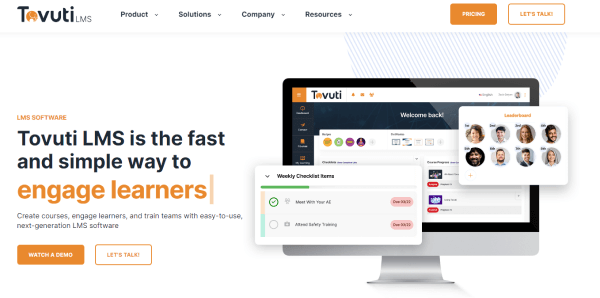 By giving you tools for creating, managing, and issuing certificates for learners, it also functions as certification management software. Your employees will have access to a personal portal that displays their leaderboard position, checklists, badges, certifications, allocated courses, and the next training sessions.
Cost: Starts at 775 USD/month
Key features:
Course authoring tool

Personalized learner portal

Certification management 

Analytics tool
Health Training Software #8 – Trainual
Trainual is another health training software that allows you to customize your learning materials by selecting from over 150 free templates. Here, you can embed images, videos, and multiple-choice questions. It also has an SOP maker which you can find useful to make SOP checklists to make sure that employees are compliant and accountable.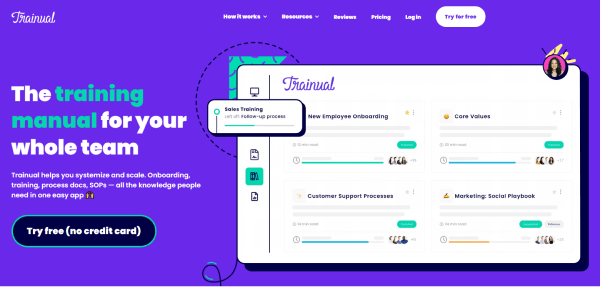 As Trainual focuses on documentation processes, you'll have the ability to create a wiki or handbook for your core processes for consistent and repeatable scalability.
Cost: Starts at 99 USD/month
Key features:
Course templates

SOP maker

Handbook creator
Health Training Software #9 – Auzmor Learn
Auzmor Learn is a health training software where you can easily create courses, distribute learning materials, and keep track of employee performance—all without having any coding or technical design expertise. You can create your own health training materials with its user-friendly course builder or edit existing courses using templates from its course library.
Your employees can complete the required learning materials on any device as they automatically adapt to any screen size. On the other hand, Auzmor Learn's real-time reporting dashboard and tailored analytics features can assist you in monitoring course completion rates, tracking overall employee training progress, identifying learning trends, and filling in knowledge gaps. 
Cost: Request a demo
Key features:
Course builder

Lesson library

Mobile learning

Reporting dashboard

Customized analytics
Health Training Software #10 – Administrate
You can plan, organize, deliver, and scale training initiatives with the help of Administrate. It has features like integrations, learner analytics, event management, and course templates. It also has a special function called vILT Rapid Implementation that allows you to transform an onsite health training program into an online instructor-led training session in just five business days.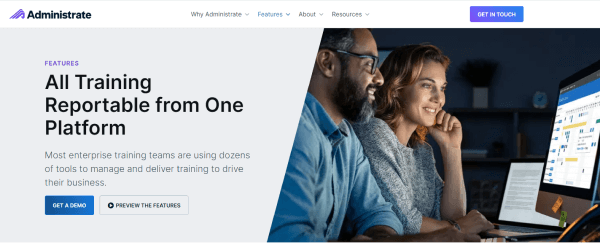 First-time users may initially find the user interface intimidating, so you may need to fiddle around to familiarize yourself with the features.
Cost: Request an estimate
Key features:
Training course builder

Integrations

vILT Rapid Implementation,

Customizable reporting engine