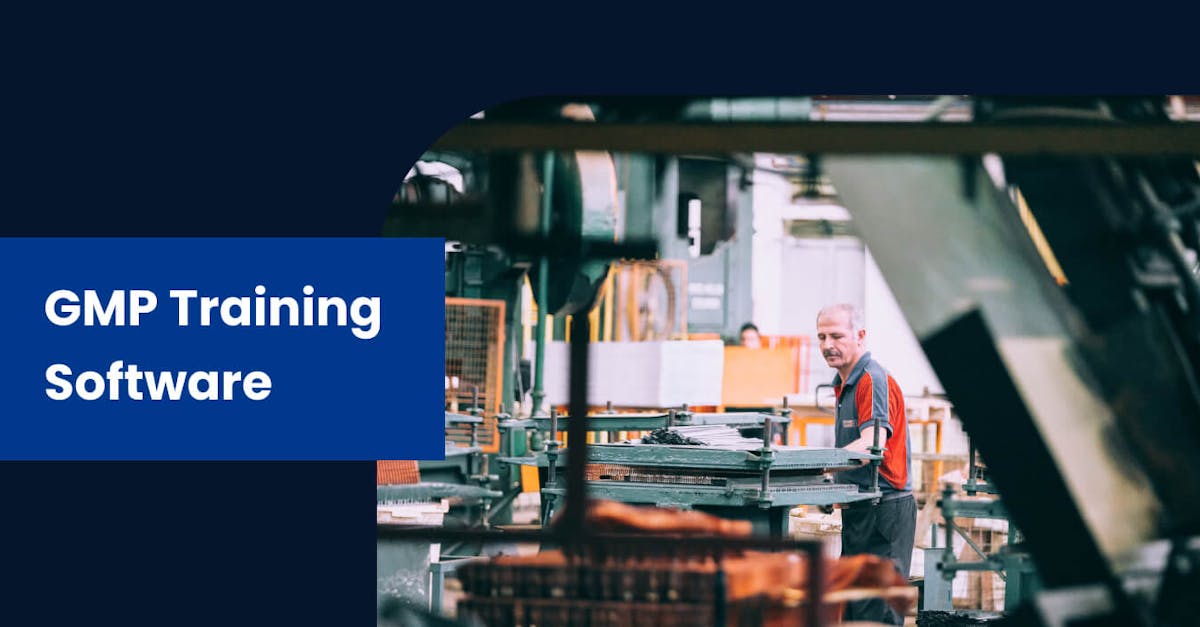 Good Manufacturing Practice (GMP) ensures that products are produced consistently according to quality standards. The right GMP training software will help you improve and maintain quality standards, while positively affecting your bottom line.
GMP Training Software- #1 EdApp
The EdApp platform is uniquely positioned to fit all your organization's GMP training needs. With this software, you can easily create and deliver engaging, tailored GMP micro-lessons to your teams where ever around the globe they may be. Here, you get access to all the tools necessary to boost your team's manufacturing skills.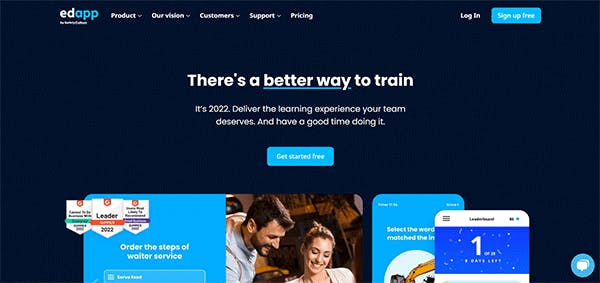 As a manager or course developer, you'll have access to learner statistics through the reporting and analytics dashboards. This lets you know how each learner is doing, what they need improvement on, and what their compliance rates are. You can even re-engage low performers with in-built notifications that remind them of any missed lessons or assessments.
Using the admin portal and creator tool, you can design GMP training courses and deploy them directly to your team's accounts in just a few clicks. If you don't have enough time or resources to create a course from scratch, you can make use of EdApp's course library to import and customize pre-made courses.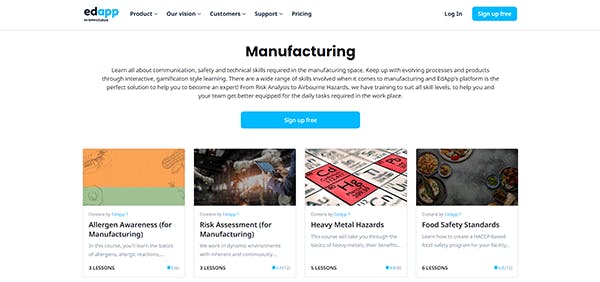 Your employees can take their assigned courses and complete lessons at their own convenience through the learner portal, which can be accessed on any device. Once they've completed their lessons, they can then download a certificate of completion as proof of learning.

Cost: Free
Features: 
Certifications

Micro-lessons

Mobile-friendly
Join EdApp for free and train your manufacturing workers with one of the best GMP training software!
GMP Training Software- #2 ComplianceQuest
CQ's GMP training software allows leaders to create and manage GMP training programs and sort content based on the job functions an employee may be assigned. These GMP training programs are developed and updated by in-house experts based on changes in the industry.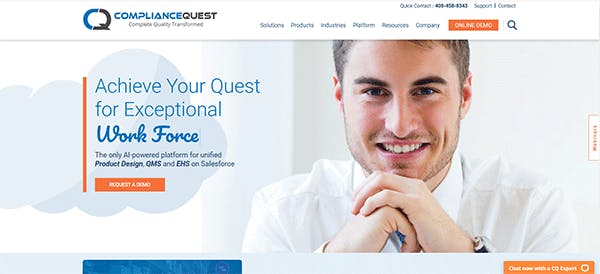 Some of the key features of the platform include compelling and engaging courses and automatic grading. These courses are delivered in manageable sections to your employees and are continually adjusted as regulations change.

Cost: Contact for pricing
Features: 
Interactive

Automatic scoring

Updated materials
GMP Training Software- #3 SafetyCulture
Manufacturers can conduct GMP audits with SafetyCulture. Using this software will empower your employees to consistently audit the facility's production techniques, and streamline the production processes. With the use of this powerful platform, you can deploy, inspect, and continuously improve your company's GMP.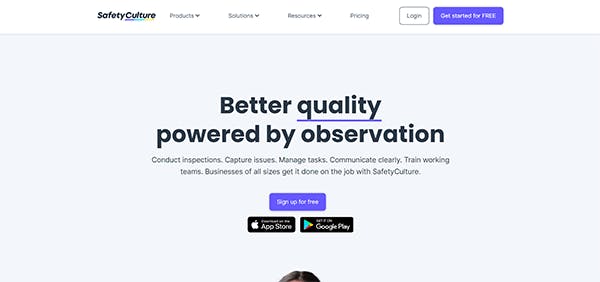 A SafetyCulture account provides access to thousands of free checklists and templates. The checklist library can be used to filter industry type, relevance, by most downloaded, and recently uploaded.
Cost: Contact for Pricing
Features: 
Filter searches

Auditing

Easy deployment
GMP Training Software- #4  InspiredPharma
InspiredPharma is a GMP training software that offers live online interactive courseware. This enables you to attend GMP training courses remotely and be heard and seen throughout, just as you would be if you were in a room with an instructor. Most of the materials on the platform go through the need for and history of Pharmaceutical GMP, and also the key GMP requirements that need to be met at a pharmaceutical manufacturing site.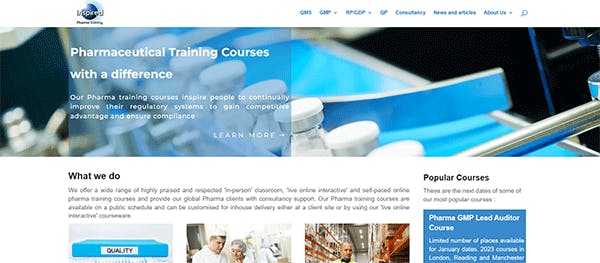 Key features of this training tracking software include certification with the RSC Approved Training logo, a Data Integrity course RSC logo, and events with teachers and delegates.
Cost: Contact for Pricing
Features: 
Certification

Mobile

Live events
GMP Training Software- #5 BizLibrary
Employers may train a scattered staff using Bizlibrary. The software will help you to decrease training time and expenses by providing a simple-to-use solution that guarantees training uniformity. Do you spend a lot of time making sure compliance training is finished just to discover that it isn't even being followed properly? Online micro-videos from Bizlibrary make it simpler to monitor compliance and increase staff engagement and absorption. 
Modern learning content on the platform can also assist managers in better engaging their teams and preparing employees for future leadership roles. 
Cost: Contact for pricing
Features: 
GMP Training Software- #6 CITI
Through CITI's platform, your team will have quick access to courses, where they'll learn about the current U.S. FDA rules and GMP for pharmaceuticals. A brief history of GMP rules and manufacturing regulations 21 CFR 210 and 21 CFR 211 are reviewed through the offered courses on the platform. Some of them also touch on the legal specifications for the quality management system, machinery, batch data, verification, packaging, branding, storage, delivery, and inspections.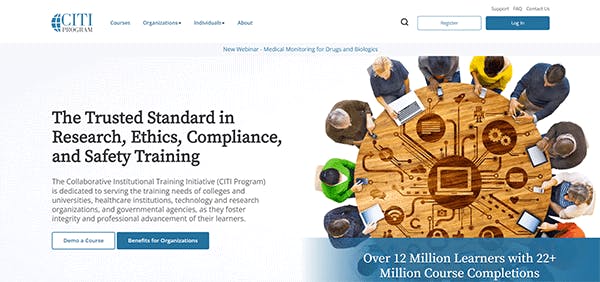 What sets this software apart from other course hosting platforms is that it offers a wide variety of GMP training courses that provide teams with an overview of Good Manufacturing Practices. A lot of the training programs also discuss requirements that your quality system needs to meet, equipment calibration, maintenance, and more. 
Cost: Contact for pricing
Features: 
GMP Training Software- #7 TGI Enterprise 21
TGI Enterprise 21 is a web resource planning system that is available for a wide variety of industries. It conveniently provides a GMP-ready software package which is particularly useful if you're still undecided about the GMP needs of your company. TGI Enterprise 21's GMP training software is very customizable and they provide customer support/resources.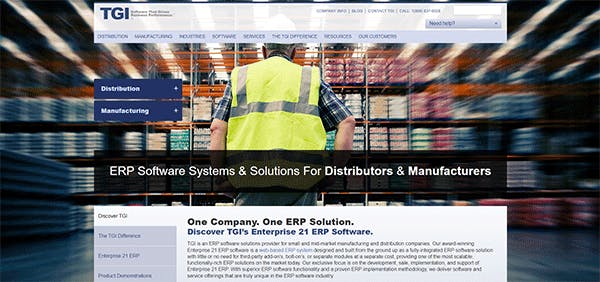 Some of its best features include audit controls, electronic signatures, and serial number tracking. Pricing plans can only be acquired by contacting them through their website.

Cost: Contact for pricing
Features: 
Audit controls

Electronic signatures

Serial number tracking
GMP Training Software- #8 Orcanos
Orcanos offers digital GMP compliance solutions for design control and the manufacturing industry. The programs accessible from their website are organized by feature but can be combined or customized based on the needs of your team. The team at Orcanos assures GMP compliance when you integrate their products. If your team needs a centralized platform for design control, manufacturing, and regulatory compliance in one system, Orcanos is a good option.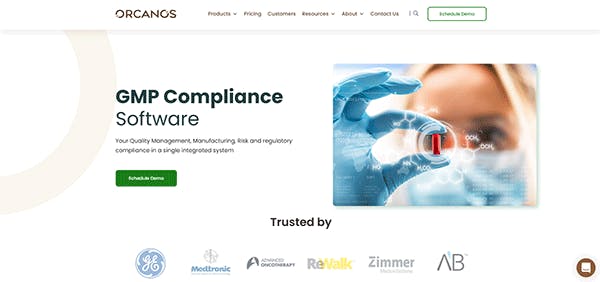 Some of the best features offered on this platform include document control, risk management, and audit management. 
Cost: Contact for pricing
Features: 
Customizable

Document control

Risk Management
GMP Training Software- #9 InstantGMP
InstantGMP is a platform dedicated to GMP compliance. Features are offered individually and can also be combined together depending on the needs of your team and company. It is notable that this GMP training software provides a Cannabis track and trace program, which is very rare since only a few areas have legalized this substance.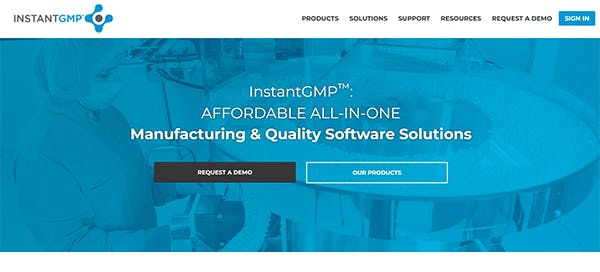 Every software license has standard operating procedures and GMP workflows included in its document management system. This feature-packed platform also provides electronic batch records, Inventory management, an LMS, and more.
Cost: Contact for pricing
Features: 
Electronic batch records

Inventory management

LMS
GMP Training Software- #10 MasterControl
MasterControl provides software for various purposes and industries. Their SaaS follows industry best practices and their platform offers digital production records. This niche service connects manufacturing operations and quality management. Using this app to train your team will help prevent errors and increase production times.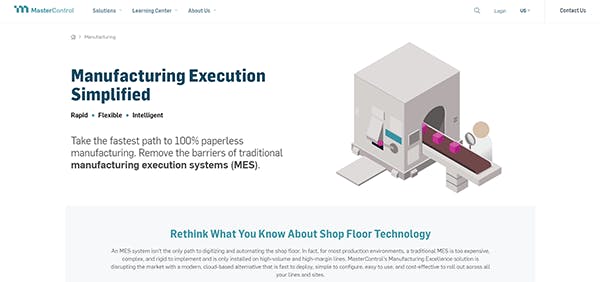 With each plan, you get data analytics, equipment calibration and maintenance, and variant management. The service needs a dedicated customer support team to improve customer relations. 
Cost: Contact for pricing
Features: 
Data analytics

Equipment calibration

Digital records