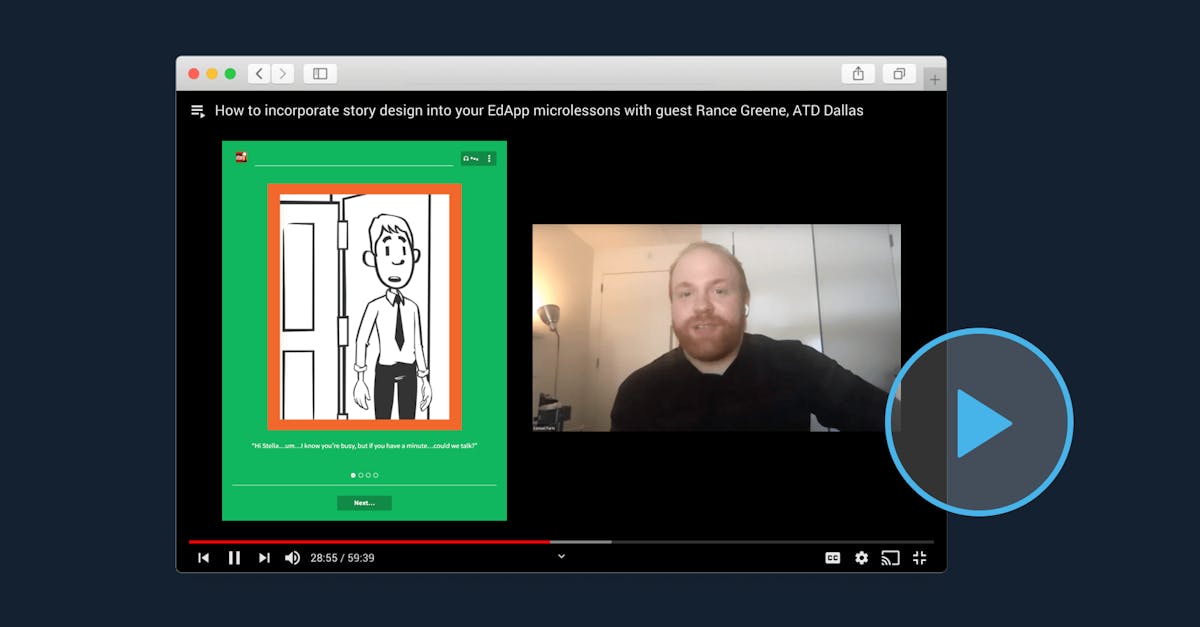 There are few feelings as satisfying as learning something new and understanding a concept you've been struggling with. With the advent of digital tools and the spread of technology, we are in an age where information is the most available it's ever been, to anyone with a computer or a smartphone. Free educational applications abound, and entire courses can be found online. Suddenly, every little question you've ever had has an answer on the internet.
Here's a quick list of 20 free webinars that every lifelong learner should check out.
1. Building Savings: Ready for the Road Ahead
Without savings to cushion the blow, an unexpected expense can wreak havoc on a budget. This Building Savings free webinar will motivate participants to save and give them the tools they need to create and grow an emergency savings account, as well as develop a plan to meet their personal financial goals.
2. How to Manage Money and Credit in Order to Save
Creating a savings plan takes dedication and smart money management. In this free money management webinar, you'll learn how to set priorities, establish a spending plan, improve your credit history, and create a lasting savings habit.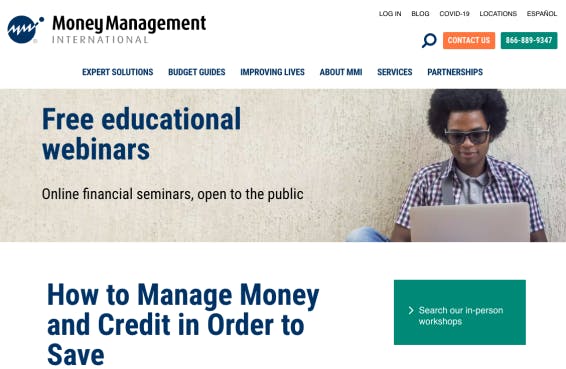 3. HR talent hack: Recruit, retain and digitize
Hire and digitize to deal with labor challenges. Join the BDC Advisory Services as they share strategies and tactics to maintain employee loyalty, choose the best external candidates, and secure the full engagement of your team.
4. Productivity matters: 3 essential projects to boost your business productivity
In this productivity free webinar, you'll discover 3 projects you can start right away to improve your business's productivity, operational efficiency, and profits. These 3 essential projects can be applied to businesses in the manufacturing, distribution, and services industries to provide quick wins that will set the stage for sustained, long-term benefits to your business goals.
5. Product Listing Optimization
As an ecommerce business, it is no longer acceptable just to be on the many selling channels, like Amazon and Google Shopping. Your products need to be ranked on the first page of a search-engine or they might as well not be there at all. Plytix PIM has an amazing six-part webinar series that equips you to rank your products higher and optimize for lead-generation. This includes best practices and tips from the industry's top-performing companies and experts.
6. How to succeed with e-commerce
Discover how to boost your sales with e-commerce. Learn the steps you need to get your business ready for online sales. Find out how to create your e-commerce store and measure its performance. Discover proven strategies to attract traffic to your site and convert visitors into customers.
7. Leadership and Big Data Innovation
Every organization is scrambling to realize the value-creation potential of innovation driven by analytics, machine learning, and the Internet of Things (IoT). As they do so, organizations are confronting critical questions. This Leadership and Big Data Innovation webinar examines these questions and others at the intersection of leadership and big data innovation and will discuss the implications for organizations, and talk about frameworks for leaders who are helping organizations chart a new course.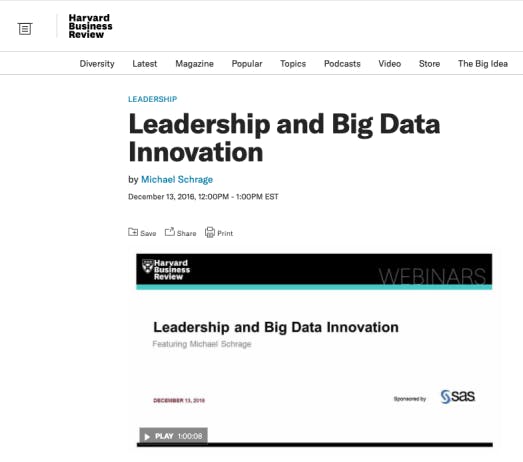 8. The New Science of Building Great Teams
Managers have long believed that building high-performance teams is an art, not a science. But new research from MIT's Human Performance Dynamics Laboratory has identified the factors that characterize high-performing teams. These factors are observable, quantifiable, and measurable.
In this building great teams webinar, Alex "Sandy" Pentland, the Director of MIT's Human Performance Dynamics Laboratory, describes how patterns of communication are the key to great teams and how specific elements of communication can be changed to enhance team performance.
9. How to Use Customer Data to Actually Help Customers
To date, companies have often used customer data to help the company for purposes such as targeting, segmentation, or pricing. But imagine if companies actually used their customer data to help customers and provide them with even greater value. This customer data free webinar will explain how organizations can use data they already have to benefit customers and even potential customers, think about the whole target audience, across the whole life cycle and prepare to refocus operations.
10. Creating a Data-Driven Culture
Companies and organizations around the world have spent trillions on hardware, software, and data science talent in order to advance analytics and AI. Yet a substantial number of firms still lack strong capabilities in these areas. The primary culprit is the absence of a culture that emphasizes data, analytics, and evidence-based decision-making. But a few companies are now embarking on initiatives specifically designed to create and optimize data-driven cultures.
In this free data driven webinar, Tom Davenport will describe the problem, the implications, and the solutions to the data-driven culture issue, and will present detailed examples of the firms making definite progress toward that goal.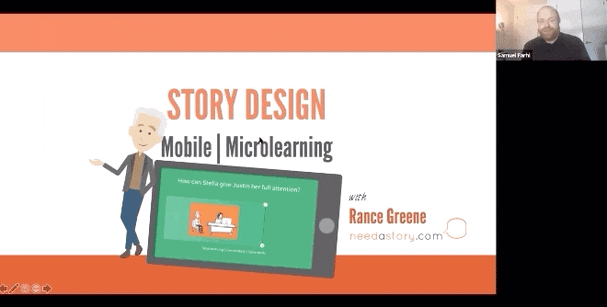 11. How to incorporate story design into your EdApp microlessons with guest Rance Greene, ATD Dallas
This story design incorporation webinar explores story design and how it fits into a microlearning structure. Gain insight into the benefits of storytelling and learn how to successfully incorporate it into your microlearning with EdApp including valuable principles such as ideal structure and length.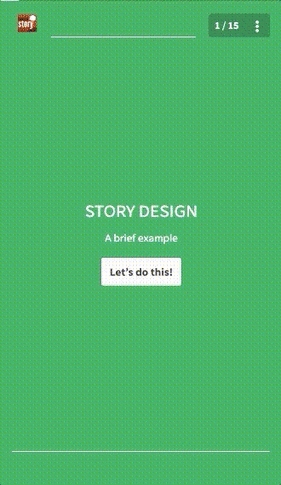 12. Introducing our newest video conferencing feature: Virtual Classroom
This virtual classroom webinar will focus on EdApp's highly anticipated Virtual Classroom feature. Based on extensive learning design and research, discover how Virtual Classrooms will transform the way you reach and train your teams by hosting conferences on your favorite third-party platforms like Zoom and Microsoft Teams.

Learn how to seamlessly schedule and announce video conferencing to your audience, all within the EdApp platform. Be a pro at enhancing your social learning and bring even the most dispersed teams together with the closest simulation to face-to-face training.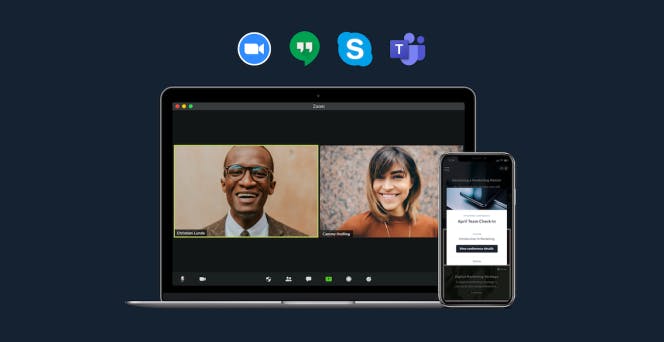 13. 10 Steps to Make Your Social Media Marketing Strategy Rock
Social media's been a key piece of your marketing campaigns and overall content marketing strategy for a while, but do you truly have all of the elements in place to make your social media strategy and messaging not just hum but rock? Join Marketo social media marketing rock stars Lisa Marcyes and Scott Minor to hear about all the latest advancements in social media marketing and how you can leverage these marketing channels to rock with your audience (and fans!). Attend for the latest tips on leveraging social media to drive engagement with your audience, incorporating social media and digital-marketing into every stage of the buyer's journey, and effectively measuring social media and content-marketing to determine real business ROI.
14. Republishing: How to Earn Greater Value from the Content You Create
You're publishing great content. But are you getting all the value you can out of that content? There are so many ways you can rethink your content like making case-studies, social media posts, and so much more. In this hyper-tactical Mozinar, Moz founder Rand Fishkin "will show marketers which channels and processes may be useful depending on the types of content they create and are re-purposing."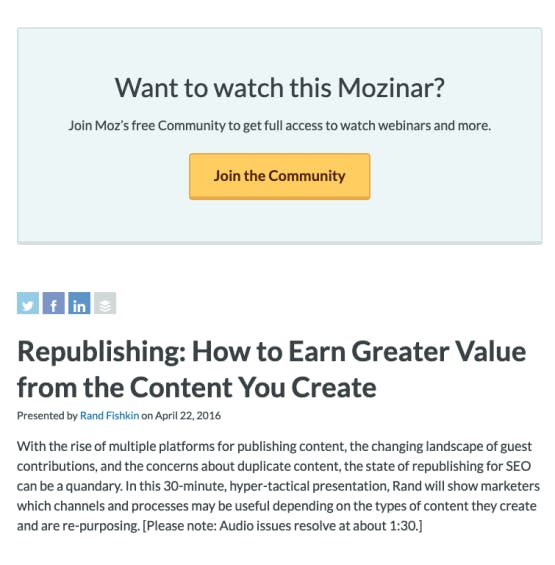 15. HOW TO LEARN TO CODE ONLINE AND GET HIRED
For one reason or another, many of us WANT to launch a career in tech but don't have the opportunity to uproot our lives, shell out tens of thousands of dollars, and spend 12 weeks fully immersed in a coding bootcamp to get the skills we need. Luckily, that's not the only path to success as a beginner in tech.
In this free webinar, Skillcrush and Course Report talk about just that: How to Learn to Code Online and Get Hired. In the webinar, you'll find out how to decide if an online coding program is right for you, and exactly what to do during your online class if you want to get hired in tech.
16. Demystifying JavaScript Libraries and Frameworks
Bootstrap, jQuery, Angular, React, Vue. There are so many libraries and frameworks that are used to develop modern web applications. Each has its strength, but it can seem like a daunting task to choose which library or framework for your next web application project. This JavaScript Libraries and Frameworks free webinar explores the different libraries and frameworks that are currently available and in use to develop rich, modern web applications, and let us help you demystify which ones may be best suited for your development effort.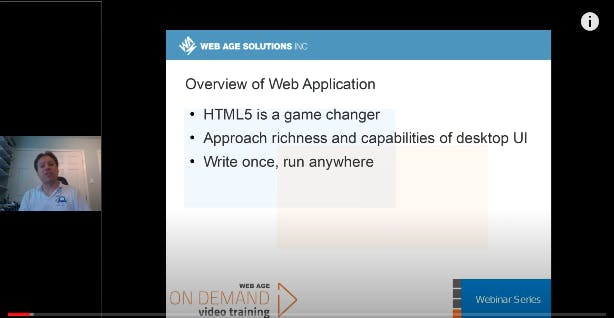 17. Microservices-Load Balancing, Monitoring and Tracing
A service mesh is a network of Microservices that make up applications and the interactions between them. Load balancing, monitoring, and tracing are some of the important requirements for a service mesh. Come and join for a free webinar where they'll discuss how Kubernetes helps in adding load balancing and failure recovery. They will also discuss how to monitor Microservices by using Prometheus and implement tracing by using Jaegar.
18. Creating a Workplace Mental Health Strategy: From start to impact'
Want to create a workplace mental health strategy but don't know where to start? Wondering how to make the case with your senior management on what difference it will make? Then this workplace mental health webinar is for you! Developing a plan to improve employee mental well-being signals how much an employer values its people, helps reduce stigma, and creates a culture of support – all of which have proven benefits for employees and the organization.

It can be as straightforward as planning for information-sharing, training, regular employee check-ins, and reviewing your benefits plan. During the free webinar, you'll hear a small and medium-sized employer share their approaches, impact and insights into creating and implementing their mental health strategies.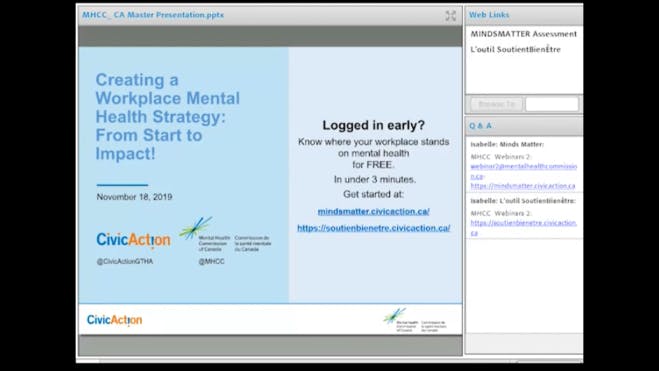 19.  Stress, the Brain & Mental Health Hygiene
This mental health webinar presentation, delivered in English, will enable participants to understand the different types of stress, our brain's response to stress, as well as how to adopt positive mental health hygiene practices. At the end of the presentation, participants will be better positioned to understand the steps they can take and habits that can be adopted in order to maintain strong mental health hygiene.
20. Doing more with micro: Capitalizing on tech to deliver greater efficiency in your L&D team
The demand for learning to meet the ever-advancing skills needs has never been higher. Learn how your L&D strategy can become more efficient by leveraging our unique features designed to maximize productivity.
Are you interested in learning more about EdApp? EdApp's completely free, multi-award-winning mobile app is the new standard in eLearning and offers support for microlearning, mobile learning, spaced repetition, and gamification. Create your unlimited, free account to train your teams!