Whether you're learning a new language or studying advanced concepts, you can simplify your learning process with free flashcard software. These versatile online platforms can be used to transform complicated topics into bite-sized pieces, which can help learners digest information more effectively in their corporate training and other learning activities.
1. EdApp
EdApp is a free flashcard software and mobile-first microlearning platform acclaimed for its many powerful features. It allows anyone, even those with no design skills or programming experience, to expertly create and deploy highly interactive elearning content like interactive courses, quizzes, and flashcards in just a matter of minutes through an easy-to-use, scorm compliant authoring tool.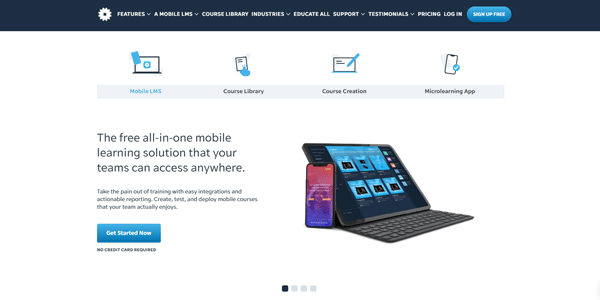 If you don't have a lot of spare time to prepare your learning materials, feel free to choose from over a hundred premade courses from EdApp's course library. These courses focus on a range of topics including retail, construction, hospitality, healthcare, education, and more, perfect for learners in different industries. Through EdApp's cloud-based authoring tool, you can rebrand and edit the lessons, add content, incorporate pictures, exercises, even games, and quizzes within each course material. You can even use EdApp's responsive design templates to transform existing PowerPoint training content into mobile-friendly microlessons in just a few clicks.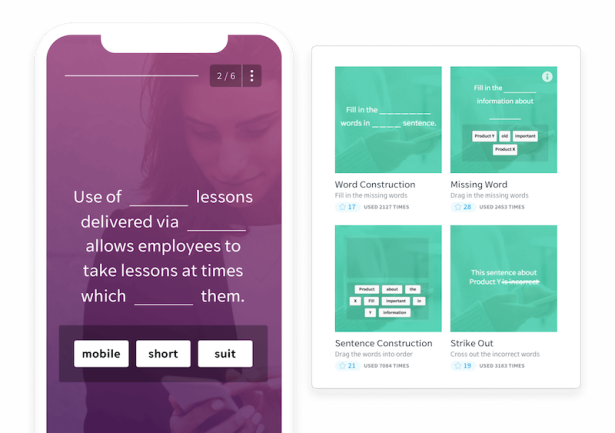 Through the tool's eLearning gamification feature, you can design gamified eLearning content that motivates your employees to complete their training courses while also having fun. Rapid Refresh, EdApp's very own online quiz maker, is another amazing tool that allows you to reinforce concepts and increase learning retention by delivering quizzes in bite-sized segments at scheduled intervals. You can also enable the spaced repetition feature called Brain Boost to fully embed training concepts in your learners' long-term memory.
Cost:

Free

Highlights:

Mobile learning, template library, course library, authoring tool, PowerPoint conversion, elearning gamification, Rapid Refresh, Brain Boost
2. Brainscape
Brainscape is a user-friendly and free flashcard software that allows you to author content, collaborate with editors, and deploy learning materials to your learners quickly and efficiently.  Aside from being a simple flashcard maker app, it also offers certified classes and user-generated learning materials. You can choose from a vast library of flashcards spanning different subjects, some of which include language, geography, medicine, humanities, psychology, finance, and technology. One of the best advantages of this tool is its spaced repetition feature, which reinforces concepts that learners generally have a harder time with within spaced intervals. Information is usually repeated until they can actively recall and retain the information.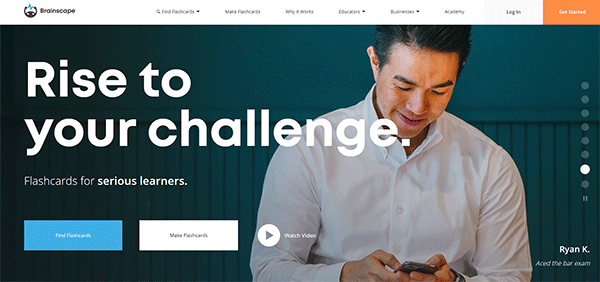 Overall, Brainscape's free version allows you to find and create flashcards, incorporate spaced repetition, track your progress, sync between desktop and mobile devices, and collaborate with editors. If you want additional features like unlimited cards and images, bookmark capabilities, or student statistics, you'll have to upgrade to their pro plan, which starts at $5 USD per month per user.
Cost:

Free, Paid plan at $5 USD per month

Highlights:

Content authoring, certified classes, user-generated flashcards, spaced repetition, progress tracking, mobile and desktop device sync, editor collaboration
3. StudyStack
Designed as a free flashcard software, StudyStack utilizes gamification elements like crossword puzzles, matching games, hangman, unscramble, or snake to help you create fun and engaging online flashcards for your learners. If you're a teacher or learning and development professional, you can create your own flashcards or deploy flashcards from StudyStack's content library, which are suited to your teaching needs. Learners even have the option to quiz themselves after a lesson to see if they've retained any of the new knowledge. They offer lessons on different subjects, including history, geography, language, math, science, and even standardized tests.
You can access these on any desktop or mobile device but if your learners prefer a more analog learning approach, they can also export and print out the flashcard sets to study offline.
Cost:

Free

Highlights:

Gamification elements, content library, mobile access, export and print flashcards, self-quiz
4. Cram
Cram is another free flashcard software that offers a wide selection of flashcards for learners to memorize and test themselves on. Through this adaptive learning solution, you can learn a new language, prepare for medical exams, learn complicated technological concepts, or practice customer service scripts. It all depends on your learning needs. For elearning development professionals, the tool makes it really easy to create flashcard decks on any subject. All you have to do is name your deck, provide a quick description, and choose between private or public access. Once that's done, you can then use Cram's flashcard editor to add text, images, or other formatting options on both the front and back of your cards.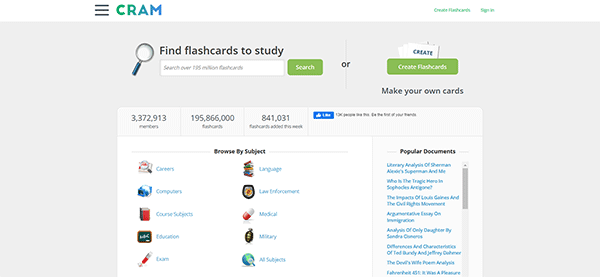 Cram also allows learners to choose between memorize mode or study mode. In memorize mode, the user can go through each flashcard one time until they get to the end of the deck. On the other hand, cram mode allows them to go through each flashcard until they've gotten every single question correctly.
Cost:

Free

Highlights:

Flashcard library, flashcard editor, memorize mode, cram mode
5. AnkiApp
AnkiApp is a free flashcard software packed with reliable features that you can use to create and share digital flashcards. Teachers or trainers can choose from a collection of public flashcard decks and pre-made flashcards to share with their learners. The learning experience platform's content creation tool also allows them to design flashcards from scratch by providing text, image, and sound options and even HTML and CSS customization capabilities. AnkiApp's advanced algorithm learns how well each learner retains information and prioritizes repetition of concepts that they don't know.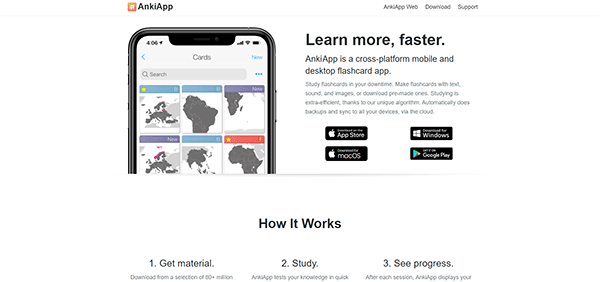 This online learning solution is available in 155 countries around the world and it also supports English, French, German, Traditional and Simplified Chinese, Portuguese, and Romanian languages. Also, teachers and learners won't need to worry about device compatibility as the platform can be accessed on Windows, Mac, iOS, and Android devices. Lessons are also seamlessly synchronized to the cloud, so you can move from one device to another with ease.
Cost:

Free, Paid plans start at $9.99 USD per year

Highlights:

Pre-made flashcards, public flashcard decks, content creation, customization, multiple language support, desktop and mobile accessibility, cloud synchronization
6. MemoStack
MemoStack is an online flashcard maker that uses spaced repetition methods to help you explain new learning concepts. As a free flashcard software, it allows you to create your own digital flashcards, enable spaced repetition, and track learning progress and knowledge retention with intuitive graphs. The simple and easy-to-navigate platform makes it easy for both technical and non-technical users to design customer elearning materials from scratch with text, images, and sound. One unique feature to note is its text-to-speech system, which directly voices out what is written on a flashcard. Currently, some of the languages supported include English, Arabic, Chinese, French, Dutch, Japanese, Korean, Spanish, and Russian. This browser-based app is also available on both desktop and mobile devices so your learners can study anytime and anywhere.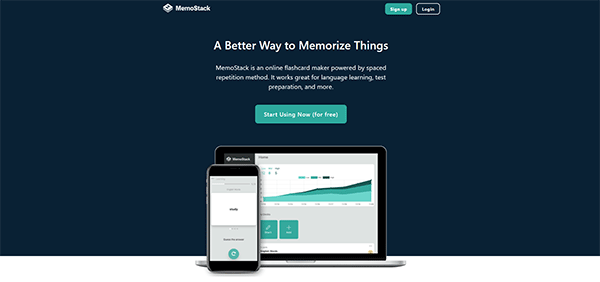 Cost:

Free

Highlights:

Spaced repetition, flashcard creation, progress tracking graphs, text-to-speech, desktop and mobile accessibility
7. iDoRecall
iDoRecall is a free flashcard software that you can use to create, discover, and share online flashcards with the help of its spaced repetition algorithm. Aside from content creation and scheduled implementation, this interactive elearning tool also has a ton of other features that allow users to practice learning concept retrieval, track knowledge growth, and upload learning materials like PDFs, images, and Word files. Learners can even create classes and study groups to share learning content and flashcard recalls, track their learning progress on a leaderboard, and clone study materials into their personal accounts. A huge disadvantage of iDoRecall's free plan is its10 MB storage limitation. To get unlimited storage access, you'll have to shell out at least $8 USD per month per user.
Cost:

Free, Paid plans start at $8 USD per month

Highlights:

Spaced repetition algorithm, iDoRecall library, concept retrieval, knowledge growth tracking, file uploads, classes, study groups, leaderboards, content cloning
8. Kahoot!
Kahoot! is another free flashcard software that you can use to spice up your online training sessions. It is a game-based learning platform that allows you to create training content with gamification examples, such as interactive games, quizzes, and flashcards to drive interest and engagement regardless of location. With Kahoot!, you can deliver training, meetings, demonstrations, and events remotely, which can be presented on the employees' own devices. Learners can also study in their own time using Kahoot!'s different Study Modes, which include flashcards, practice, test yourself, and challenge friends. Another way to keep your teams connected and up to date is by hosting live Kahoots! over the video conferencing platform of your choice to combat learner isolation. Kahoot! Also provides reporting and analytics so that knowledge gaps can be spotted and feedback can be provided for a more holistic training experience.

Cost:

Free, Paid plans start at $17 USD per month

Highlights:

Study modes, interactive game-based format, live Kahoots!, reporting & analytics
9. Quizlet
Quizlet is a learning software that is well known for its signature flashcard format. While it's mostly used in schools, this tool can also be used in the workplace to test employees' understanding and retention of training concepts. It gives you access to a vast library of pre-made flashcard stacks across different topics for easier quiz creation. This free flashcard software is especially beneficial for visual learners as most information and key concepts are shown through images, resulting in better comprehension and easier recall.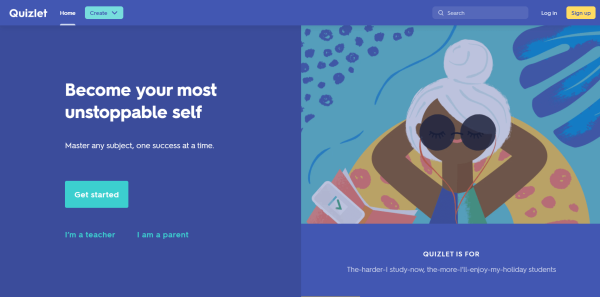 Aside from its customizable flashcards, Quizlet also allows you to set up game-show style contests to foster healthy competition among your workers. Some of its other notable features include timed games, adaptive questions, and practice tests. This e learning platform is available for free but you can unlock additional features like analytics and customization through their paid subscription.
Cost:

Free, Paid plans

Highlights:

Pre-made flashcard stacks, customizable flashcards, timed games, adaptive questions, practice tests
10. ProProfs
With ProProfs' flashcard maker, you can get access to over 100,000 ready-to-use flashcard templates that you can deploy instantly or customize according to your organization's content and branding requirements. You can also customize the fonts, colors, images, and text of each flashcard. The tool also features a report and analytics dashboard where you can track all your learners' performance data. Overall, learners can use the tool to learn a skill, memorize new information and processes, and take tests. You don't have to worry about accessibility since all the learning materials are available online through desktop and mobile devices, allowing your learners to access them anytime and anywhere. This free flashcard software is also highly intuitive and requires no HTML knowledge to use, making flashcards easy to set up and deploy to learners.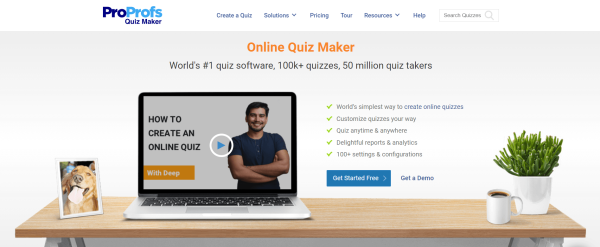 Cost:

Free, Paid plans start at $25 USD per month

Highlights:

100,000 flashcard templates, customization options, report and analytics dashboard, mobile and desktop accessibility
You may also be interested in: