For organizations looking to improve the skills and knowledge of their employees, free elearning software are highly valuable. Apart from being cost-efficient, adaptable, and customizable, these tools also allow companies to train their teams anytime and anywhere. In this article, we'll cover 10 free elearning software that can help you build a high-performing team.
Best Elearning Software – EdApp
As one of the best free elearning software on the market, EdApp comes complete with a SCORM-compliant creator tool, a course library, analytics and tracking, course creation services, and so much more.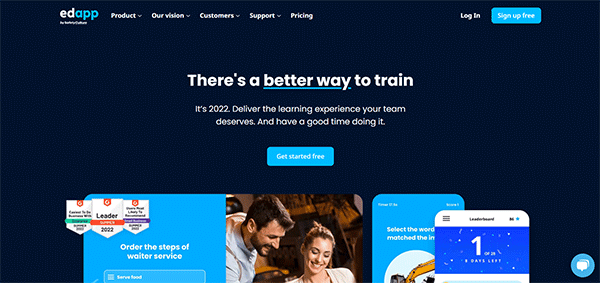 With the platform's drag-and-drop creator tool and user-friendly interface, you can easily build visually appealing courses in no time. Aside from adding your elearning content, it allows you to incorporate multimedia elements such as images, videos, audio recordings, and interactive quizzes to enhance the learning experience for your employees. And because the creator tool is responsive, your courses will look great on any device, whether they're on desktop or mobile.
The platform also offers additional features such as discussion forums and video conferencing to promote social learning. But the benefits of EdApp don't stop there. The platform also offers robust analytics and tracking features, so you can get insights into your team's training progress and engagement.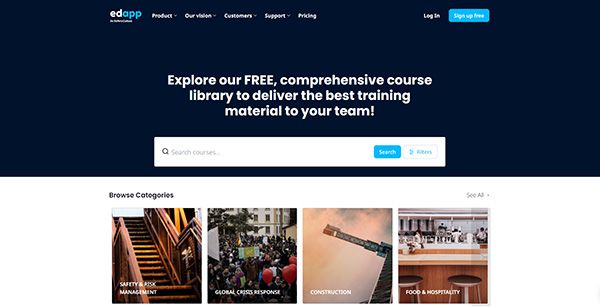 EdApp's fully customizable courseware collection, which is full of top-notch content, is another one of its strongest features. There are more than 30 distinct categories in this free library of training courses, so no matter what sector you work in—hospitality, construction, education, healthcare, government, mining, agriculture, or everything in between—EdApp's got everything you need!
Join EdApp for free and start using one of the best elearning software on the market!
1. Raven360
One piece of eLearning software is Raven360. This is a corporate LMS that delivers personalized training experiences and has been around since 2011.
It allows companies to build their own courses using its learning authoring tools, so if they already have training materials, they can upload their materials to convert them into a dynamic eLearning environment. It supports blended learning, video conferencing, and gamification. One thing it is lacking, though, is built-in course authoring.
2. Inquisiq
Another open-source eLearning LMS is Inquisiq. This online-learning software is quick and easy to set up, has been around for over 15 years, and has been used by millions of trainers.
Inquisiq uses a variety of teaching methods to accommodate all sorts of learning styles. It has a lot of different options so you can implement your learning plan in any way you choose, although having too many options may be intimidating for some.
3. isEazy
Another free computer learning software package is isEazy. This is a cloud-based tool that lets you author interactive e-Learning courses.
It offers many interactive components including quizzes, templates, gamification, and videos. One thing it lacks is PowerPoint conversion, which means if you already have training materials stored in PowerPoint files, you will have to manually recreate the content in this platform.
4. Lectora
Some more free eLearning software is Lectora. This software lets you import PowerPoint slides, add video recordings, and publish a course to HTML5.
Lectora works well with third-party applications like Camtasia. Additionally, it is a good choice for making eLearning that needs 508 compliance for accessibility. One common complaint about this software, though, is a lack of customer support.
5. Chamilo
Another great free eLearning software program is the open-source Chamilo. This LMS platform is a popular choice both with companies as well as public schools.
Chamilo is an open-source project, so anyone is free to contribute to its growth. It has most of the features you need for an LMS. Some complaints are about random bugs in the software, which can take some time to fix.
6. Open edX
Open edX is another good eLearning software solution. It is the open-source platform that also runs courses in edX, the popular eLearning site for university courses.
Open edX is unique because course authors can build their own tools to extend the platform. This lets anyone make fully customized courses. It also has a big community that supports it, so it is easy to find answers to questions.
7. Totara Learn
Another open-source eLearning software solution is Totara Learn. Although it is open-source, it is capable of supporting over one million users through Totara Learn Enterprise.
It is full of all the standard LMS features including built-in course authoring, mobile learning, gamification, and SCORM compliance. One thing it is missing is video conferencing, however.
8. ATutor
ATutor is geared towards education that gives teachers the ability to create and distribute eLearning content. It also includes assistive technology for learners with disabilities and ATutor also provides built-in features like messaging, social networking, and communication tools. The platform is free but is limited when it comes to creating beautiful and interactive lessons, so it's suitable if you're looking for a more basic platform.
9. Forma LMS
One last free eLearning software is Forma LMS. This platform is also open-source, so anyone can contribute to it.
This platform focuses on corporate training, so it has many features relevant to businesses, such as video conferencing, flexible user management, a certificate system, and a detailed reporting system.
In this article, we've taken a look at ten different examples of eLearning software. While many of them offer most of the standard features of an LMS or course authoring tool, they are each unique in their own ways. For example, Open edX has its own niche as an open-source tool with a big support community, while EdApp has its own position as a full-featured LMS with an easy-to-use course authoring system.
Advantages of eLearning
While there are numerous reasons to incorporate eLearning in your enterprise, a few of them include:
Saving company money – Using eLearning means fewer in-person instructional hours and lets educators focus on teaching higher-order thinking skills rather than presenting content
Improved retention of learning material – Spaced repetition allows for learning to be reinforced at ideal times so the learners won't forget material from previous lessons, and eLearning is ideal for this because of its use of AI.
Flexible learning times – Busy learners can benefit from the opportunity to learn on their own time because employees often have many responsibilities to handle during the day
With more and more people switching to eLearning, which platform do you think you would like to use in your own eLearning project for the best learning experience?
Sign up to EdApp for free today!