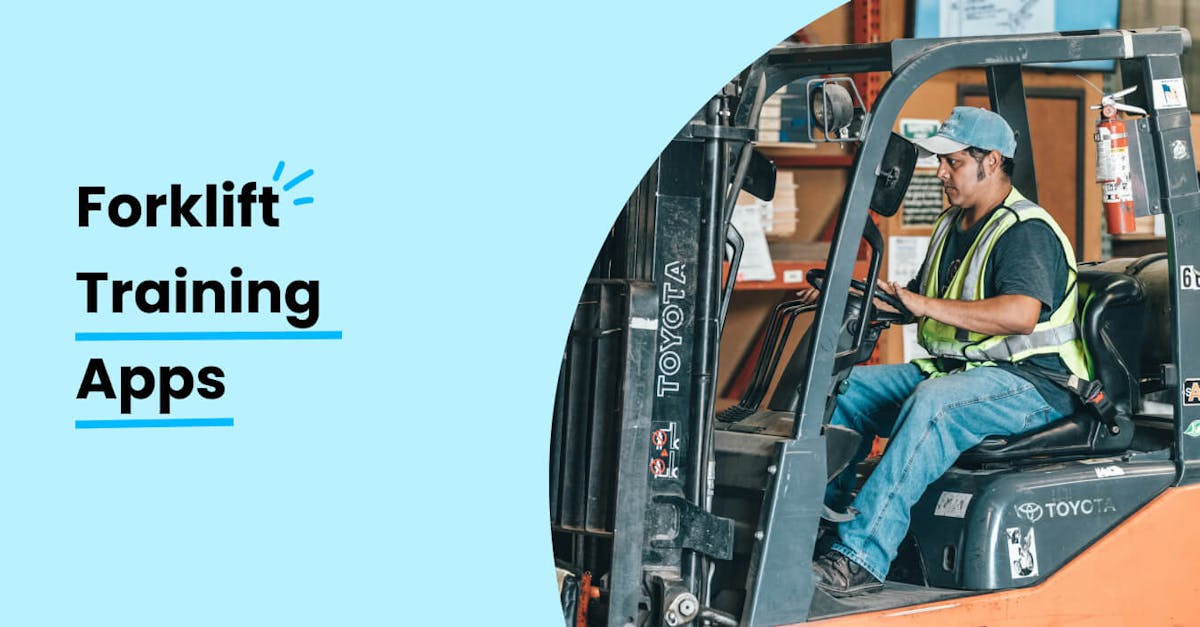 It's important to train your forklift operators to make sure of their safety and the security of your business operations. Here, you'll find different forklift training apps that can help lessen training administration time, improve the knowledge and skills of your workers, and comply with different regional regulations and standards. 
1. EdApp
It can be challenging to roll out safety training because of the time and effort it takes to prepare and deliver. But, training can become simple and easy with the top-notch blended training solution, EdApp. This cross-platform training tool can work as your forklift training app with its user management and reporting and analytics features.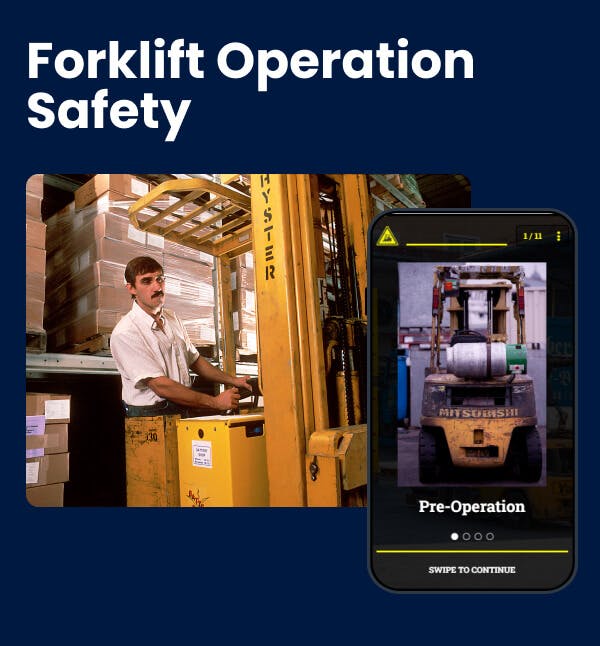 The best part, you can start delivering your forklift training instantly with EdApp's Forklift Operation Safety micro course. In this course, your workers will learn how to safely operate a forklift from pre-operative checks to maneuvering and load handling. The three-part course covers all of the essentials for appropriate and safe use of forklifts, so you don't need to look any further for your training.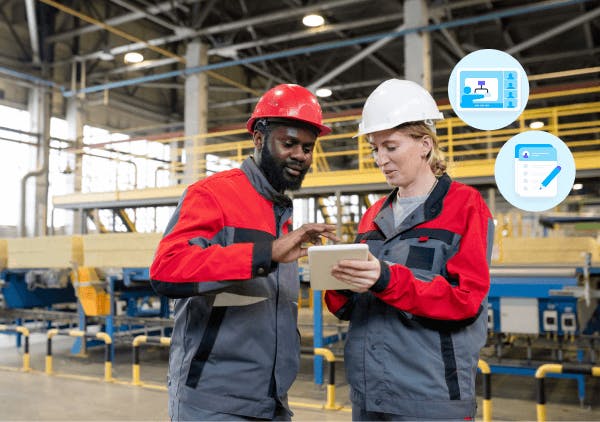 While workers can take this course from the convenience of their smartphones or computers, you can also conduct in-person training with EdApp to further enhance their training experience. With Group Training, you can automatically track in-person attendance, removing the need to keep physical checklists or spreadsheets. You can also assess your workers' skills on site with EdApp's Practical Assessments feature. Track and deliver their online and on-site training progress all in one place. it also has a course library where you'll find forklift training courses, merchandising training programs, and more. 
Cost: Free
Features: 
Check out EdApp for free and start using this blended forklift training app today!
2. Forklift-Simulator
If you want to use virtual reality (VR) as a part of your training program, then consider using Forklift-Simulator, the global leader in VR forklift simulation. VR simulations allow your new forklift operators to train in a controlled environment, leaving you with no liabilities to damages to worry about. The simulations mirror real fieldwork experiences that your operators can be ready for.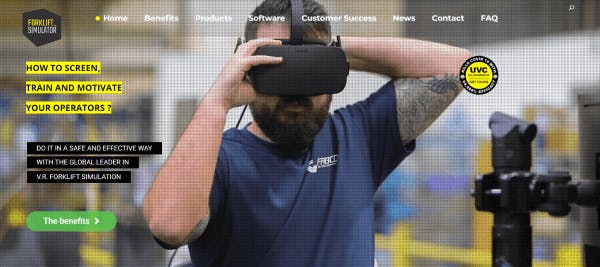 Have access to two types of counterbalanced forklift simulators and easily replicate real-world scenarios with various attachments and forklift controls. Forklift-Simulator also gives you access to data so that your trainers can take actionable steps to further improve the performance of your workers. 
Cost: Request a quote
Features: 
3. CertifyMe.net
Another VR forklift training experience you can consider comes from CertifyMe.net. Their forklift training app can be downloaded through the Google Play and Apple App store. To encourage more operators to enroll in their quality training courses, they give out free VR glasses to participants upon request. Inside the app, your workers will be met with a VR forklift micro supervisor to guide them through their forklift program.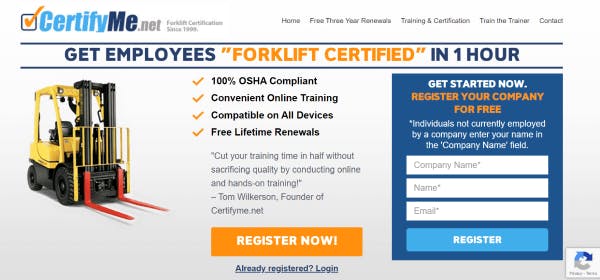 Let your workers virtually receive the same on-site training experience from their homes by giving them a 360-degree visual experience through VR. 360-degree visual training through VR can also be used for cnc training courses, supplementing safety compliance training. In this forklift training app, they can learn how to operate a forklift, as well as virtually experience scenarios they can encounter while working as a forklift operator. Supplement your safety compliance training with this interactive training method to equip your employees with the necessary skills and knowledge needed in their job. 
Cost: Free
Features:
360-degree visual experience

Downloadable from app stores

In-game forklift supervisor

Free VR glasses
4. HSI LMS
HSI LMS is an adaptive learning platform that offers forklift training from their course library, as well as, classroom management, and reporting and analytics. Additionally, it offers a unique built-in tool called HSI Advisor that recommends training based on assessment results, essentially creating learning paths for your workers.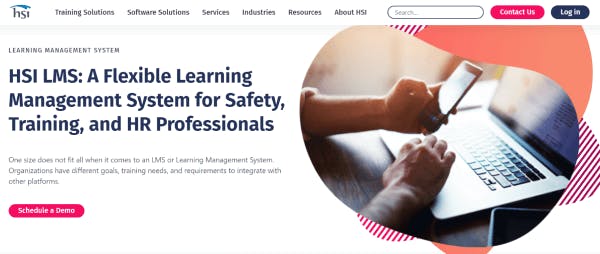 As for their forklift training course, workers can learn about the fundamentals of forklift safety and operation, inspection, and maintenance in just 90 minutes. The course is presented in a video format and is available in both English and Spanish. This forklift training app is more suited for enterprise-sized companies, so if you're a smaller-sized business, you could consider checking out free or cheaper LMS alternatives. 
Cost: Free
Features: 
Forklift Operator course

Classroom management 

Reporting and analytics

Recommended training

Learning paths 
5. J D Training Forklift Theory Skill
If you want to assess your workers' forklift theory knowledge, then you can use J & D Training's forklift training app and trivia quiz, Forklift Theory Skill. With this app, your workers will receive the same set of questions and facts used by accrediting bodies. These bodies are the Road Transport Industry Training Board (RTITB) and the Independent Training Standards Scheme and Register (ITSSAR).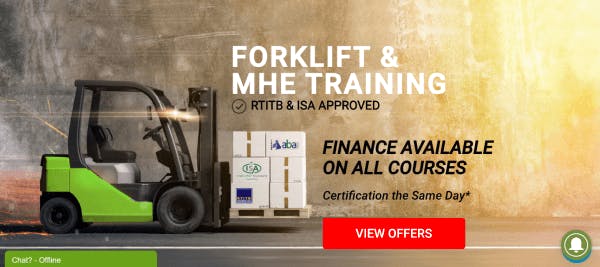 This software can be run on different virtual assistant technologies such as Google Assistant, Google Home, and Alexa. This can be used to greatly improve your workers' forklift theory skills and knowledge, possibly improving forklift operation and safety at work. All they need to do is say "Google/Alexa, ask J & D Training for a fact" and they can instantly have access to refresher information. 
Cost: Contact for price
Features:
Trivia quiz

RTITB and ITSSAR accredited

 Works on Google and Alexa
6. BIStrainer Learning Management System
BIStrainer Learning Management System is an enterprise-level safety learning management system (LMS) equipped with various tools to help automate your training processes. With its integrated Training Matrix, you can automatically assign and track required and optional training to your team, including forklift-related training. Automating this process frees up time for your team leaders to complete other important tasks.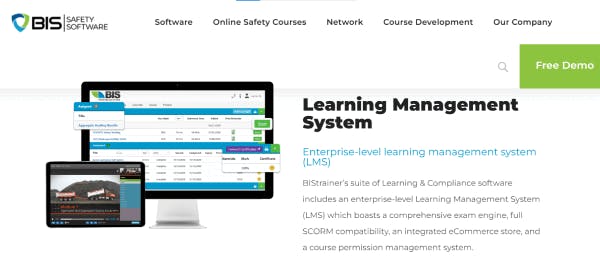 With BIStrainer LMS, you can deliver courses from BIS Safety's course library. They have several forklift training courses, covering topics such as non-operator safety, hazard perception, equipment inspections, operations, and more. Certificates are also given upon successful completion of their courses. Use BIStrainer's learning ecosystem as your forklift training app, and simplify your training. 
Cost: Request a quote
Features:
Training Matrix

Reporting and Analytics

Course library 

Certificate 
7. Raymond's Virtual Reality Simulator
Teach and reinforce best practices in forklift operations with Raymond's Virtual Reality Simulator. Your workers can have access to over 250 lessons, covering beginner to advanced skill sets. Additionally, the virtual reality simulator allows for flexibility, giving your teams the option to train on a VR buck, an actual truck, or both. 

The setup is so easy. Just park your VR buck or truck in your selected teaching area, hook up the system, put on the VR goggles, and start the lesson. Immerse your workers in engaging virtual experiences, develop their skills, and build their confidence in a safe and controlled environment. All of these conditions will serve as ways to improve the learning retention rate of your workers, embedding key information into their long-term memory. 
Cost: Request a quote
Features:
VR buck and actual trucks

Over 250 lessons, beginner to advanced levels

Controlled virtual environments
8. Flint Systems
Flint Systems offers an easy-to-use, safe, and efficient forklift training app in the form of a VR simulator. Their VR tool is made up of both hardware and software. If you choose to use this VR simulator, your workers will have access to a motion platform, VR goggles, a computer, a steering wheel, and pedals. 

Their software accurately reproduces the physical features of real forklifts, making it easy to dive into a fully immersive virtual training environment. Workers can be guided through their training by an instructor as well. They can either go through ready-made scenarios or experience a custom-made scenario made with the built-in scenario drag-and-drop creator. 
Cost: Request a quote
Features:
Access to hardware and software

Built-in scenario drag-and-drop creator

Ready-made training scenarios

Immersive virtual training experience
9. MyRTITB TrainingFriend
Administer paperless training and assessment with MyRTITB TrainingFriend. This forklift training app was developed by the RTITB to help reduce training administration time. It also aims to improve both operator testing standards and training record compliance.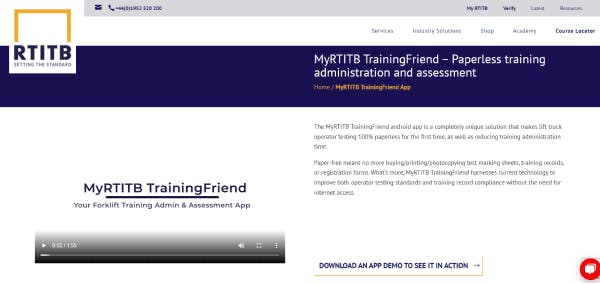 Your trainers don't need to create or update theory test papers anymore as TrainingFriend gives you access to a minimum of two theory papers every course – all readily available. Your supervisors can save time scoring tests since the app auto-marks questions and totals up scores automatically. They'll even get reminders as they deliver training to your workers to make sure they don't miss out on teaching key information. 
Cost: Request a quote
Features:
Reduce training administration time

Record compliance

Automatically scores tests

Course library and theory papers

Reminders 
10. SkillCat
The last forklift training app on this list is SkillCat. For their forklift certificate curriculum, your workers can learn the basics. From types of forklifts to forklift operations, inspections, and maintenance, feel assured that they'll learn the necessary key information. They'll also discuss forklift hazards, regulations, and other resources they can access to become more knowledgeable on the subject. By completing this course, they can receive OSHA certificate, similar to the certificates others can get from OSHA training online courses.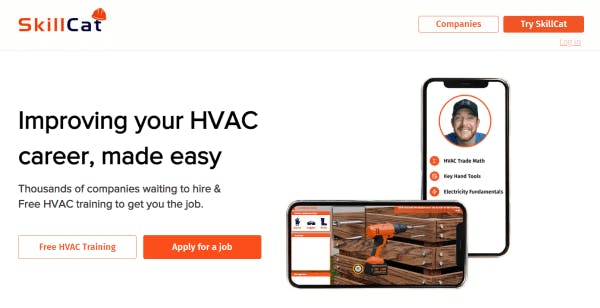 With their free and mobile-friendly online courses, your workers can learn at their own pace, anywhere they go. Let them experience hands-on learning with interactive 3D simulations with no special gear needed. 
Cost: Free
Features: 
Mobile-friendly courses

Interactive 3D simulations

Forklift certificate course