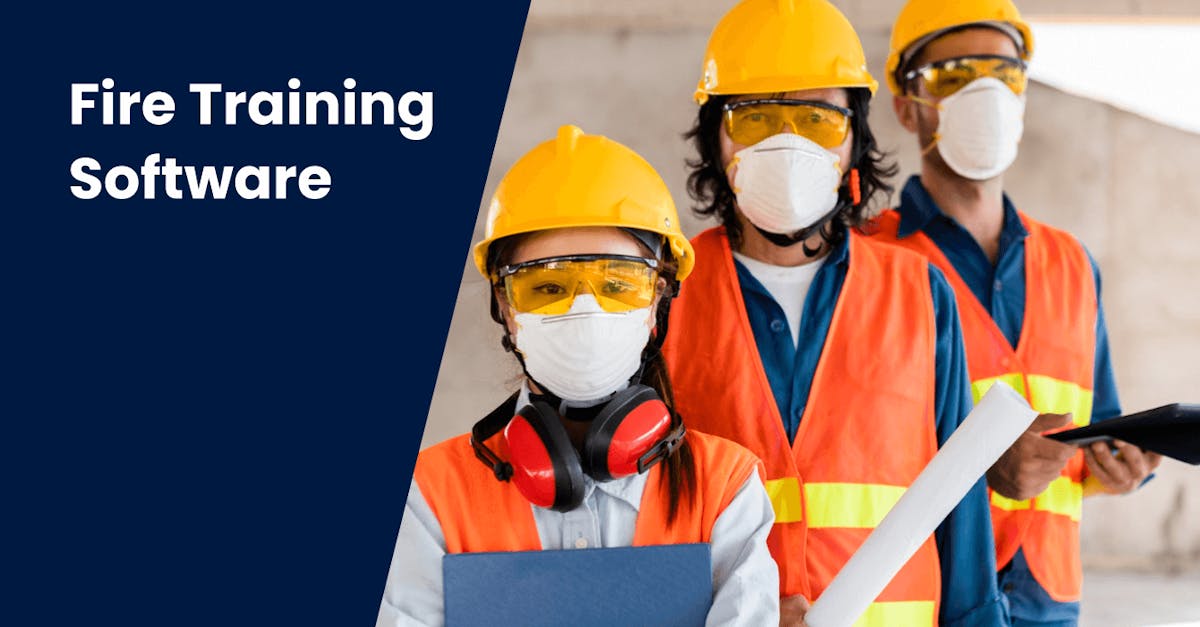 Fire training software are great tools to invest in to train firefighters on extinguishing fires and saving lives and properties. In this article, let's look into some fire training software that you can use to educate your teams with firefighting know-how.
1. EdApp
EdApp is an all-in-one learning solution that's perfect as a fire training software. Its extensive course library contains fire training courses, such as Fire Safety and Fire Prevention, that you can edit and customize as you see fit. The Fire Safety course can be used by training managers who want to teach the fundamentals to their teams, such as how fires start, workplace safety, and fire extinguisher operations. On the other hand, the Fire Prevention course is specifically for preventing kitchen fire hazards in commercial settings.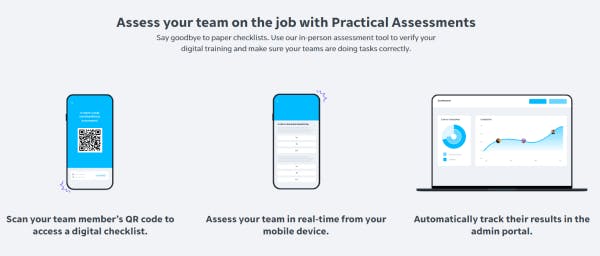 To assess if learners are able to perform tasks correctly, just use EdApp's Practical Assessments to verify digital training. All you need to do is scan a team member's QR code to access their digital checklist. Results can then be tracked on the admin portal. Additionally, grading can be done in real-time even through mobile devices which can be convenient for training managers.
Cost: Free
Key features:
Course library

Practical Assessments

Analytics
Sign up for Free and Start Using the Best Fire Training Software Today!
2. FAAC Commercial
FAAC Commercial is a fire training software that can simulate different scenarios, from driving fire trucks and operating pump engines to actual fighting fires. FAAC Commercial partners with fire departments and their training teams to make sure that information is accurate and reliable. Through this fire training simulator, scenarios can be created through virtual reality which allows trainees to perform tasks without risks in a safe and controlled environment.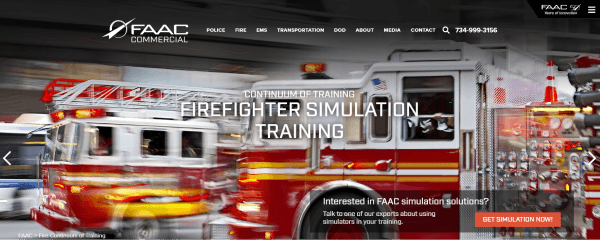 Cost: Available upon request
Key features:
Driving simulator

Pump operation simulator

Firefighting simulator
3. Structurus
Structurus is another fire training software that provides specialized fire firefighting training, security, and rescue operations. Creating fire safety training environments is simple, just choose an environment and select virtual objects and interactive effects to put. You can even add custom models if you want to simulate a specific environment such as your workplace. It also has a wide range of training courses created for fire and rescue service professionals. Structurus also offers courses to fix a toxic work environment, which can be very beneficial to businesses. Lessons in these courses include tabletop exercises and a fire training simulator that uses virtual reality for a more immersive experience.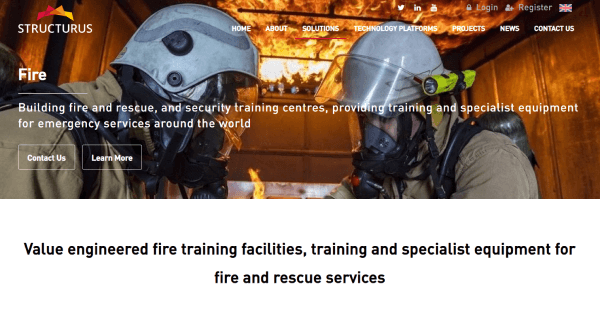 Cost: Get a quote
Key features:
4. Trainual
Trainual is a training platform that you can use as a fire training software. You can create playbooks that document your policies, processes, and standard operating procedures (SOP) here. It includes pre-built templates where you can add content such as images, videos, and quizzes if you don't want to start from scratch. If there are urgent updates or changes to your policies, updates can be pushed immediately to your team's devices so they won't miss a beat.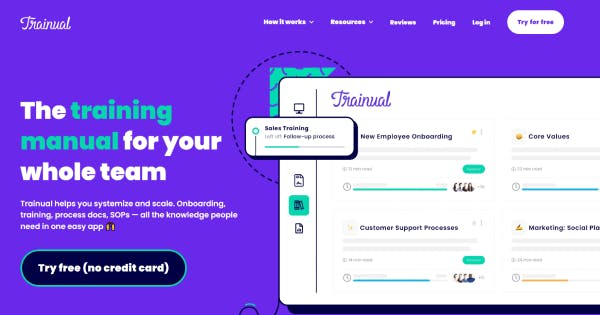 Cost: Starts at 99 USD/month
Key features:
150+ pre-built templates

30+ SOP templates

Push updates
5. Rescue Hub
Rescue Hub is a complete fire training software for training, tracking, and managing employees. You can create online courses and add different file formats, such as PDF, PowerPoint, videos, and more on the platform. Quizzes can be also developed and attached to lessons to check if your learners understood the training. Additionally, you can include training requirements to comply with certain department policy, industry standard, or legislation.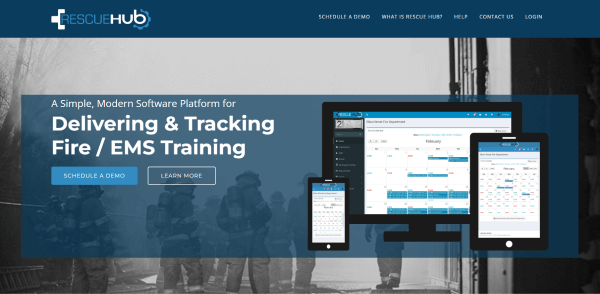 Cost: Schedule a demo
Key features:
Online course creation

Quizzes

Training requirements
6. SimsUshare
SimsUshare claims to be the leading fire simulation and training software. Its easy-to-use interface allows you to create personalized simulations and interactive walkthroughs with a few clicks of a button. Here, you can add your own images to simulate your response area and promote familiarity with your workers. There's also a built-in checklist feature where you can document important SOPs that your teams can access and refer to when needed. To make sure your training material is secure, there's cloud storage available on the platform but the limit depends on which plan you get.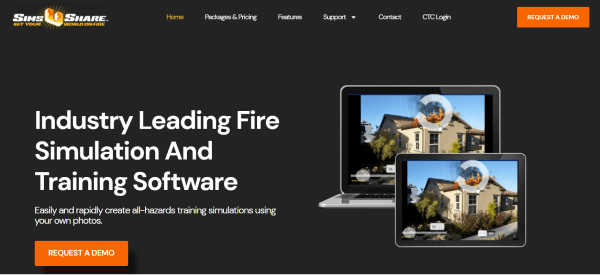 Cost: Starts at 49 USD/month
Key features:
Simulation creator

Checklist functionality

Cloud storage
7. National Fire Protection Association
The National Fire Protection Association (NFPA) is one of the educational platforms that's also the leading provider of knowledge and resources about fire protection and safety. It has a course library offering NFPA® online training courses developed by industry experts who help write fire safety codes and standards. Customized learning paths can also be set up to help learners meet their professional goals. Digital badges are also given out to those who are able to complete the course as proof of their accomplishment. 
Cost: 175 USD/membership
Key features:
Course library

Digital badges

Learning paths
8. Flaim
With Flaim's VR learning solution, you'll learn how to fight fires in virtual environments that are safe, realistic, and dynamic. Here, you can create immersive virtual environments and train your teams without the risks associated with fires. It has a library of over 40 realistic environments that mimic real-life behavior. Flaim has two programs: Flaim Trainer and Flaim Extinguisher. Flaim Trainer is targeted at firefighters while Flaim Extinguisher is ideal for initial responders and the general public. The Flaim system comes with a one-year full hardware warranty and software license and can be renewed and extended.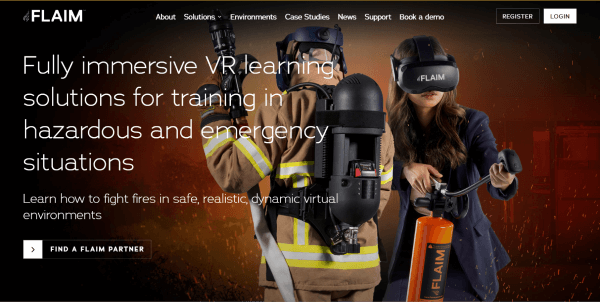 Cost: Contact Flaim
Key features:
Fire simulation creator

Virtual environment library

Flaim Trainer and Flaim Extinguisher
9. BIS Safety Software
BIS Safety Software is a learning management system that offers training content and features that will help with your fire training. It has over 1700 interactive safety courses that you can deliver to your teams with lessons containing videos, games, animations, and more. If you're pressed for time to create courses, they also offer custom elearning course development. A unique feature they offer is the option to supervise exams and assess the integrity of course completions using the virtual proctoring feature which uses facial detection and recognition.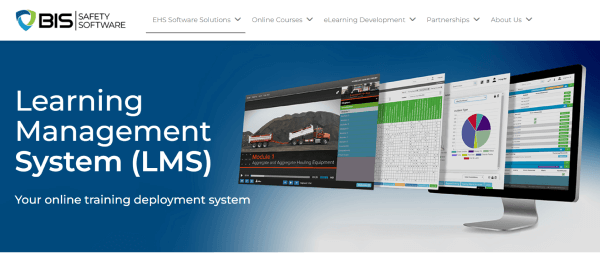 Cost: Contact BIS Safety Software
Key features:
10. FiredUp
If you want to make sure that the training software you'll use is up to standard, FiredUp is a great option. This tool was developed and made for and by firefighters with the goal of helping them pass their promotional exams. Here, practice tests can be found on procedural knowledge for learners to take. There's also a dashboard to easily keep track of learning content and progress. FiredUp is mobile-friendly so learners can take their exams anywhere and anytime.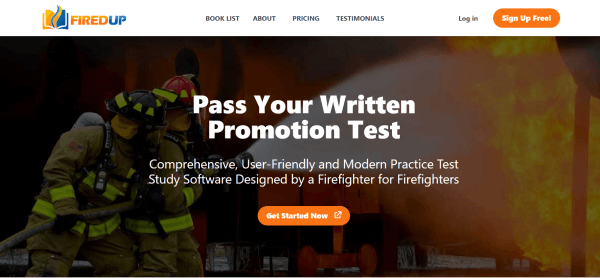 Cost: 39.99 USD
Key features:
Practice tests

Learner dashboard

Mobile-friendly
11. PowerDMS
PowerDMS is another useful tool designed to support fire departments in attracting and retaining top recruits and building a high-performing team. With this fire training software, you can bring all your training resources together in one convenient cloud-based location that's accessible from any device at any time.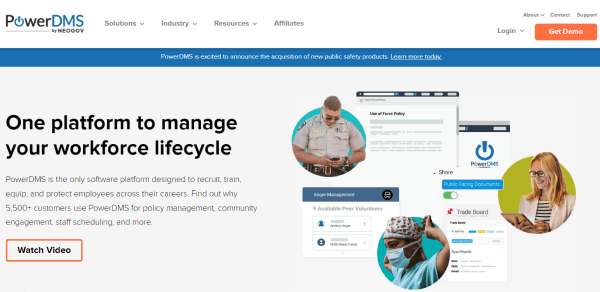 It also allows you to build onboarding programs for fire recruit training and advancement training. You can use the platform's employee training management system to access up-to-date data and reports about your trainees' progress and performance.
Cost: Contact PowerDMS
Key features:
12. Vector Solutions
Whether it's for academy training or recertification, Vector Solutions' fire training software has you covered. Here, you'll find a wide range of training resources that can help you improve your training programs. It offers 450 hours of training based on NFPA standards and 250 hours of accredited CAPCE training.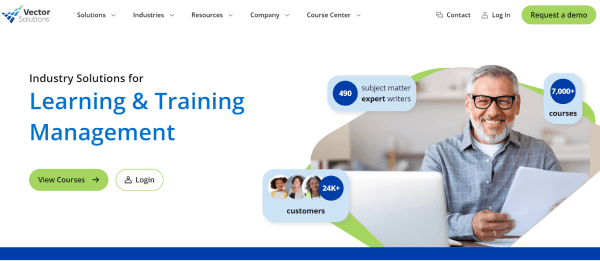 The training courses are interactive and scenario-based, covering important topics like NFPA codes and standards and protective equipment. Vector Solutions also includes other features for assigning and tracking training, as well as assessing your crew's competencies and job performance.
Cost: Contact Vector Solutions
Key features:
ISO training tracker

Online fire and EMS training

Training management system

Skill evaluations