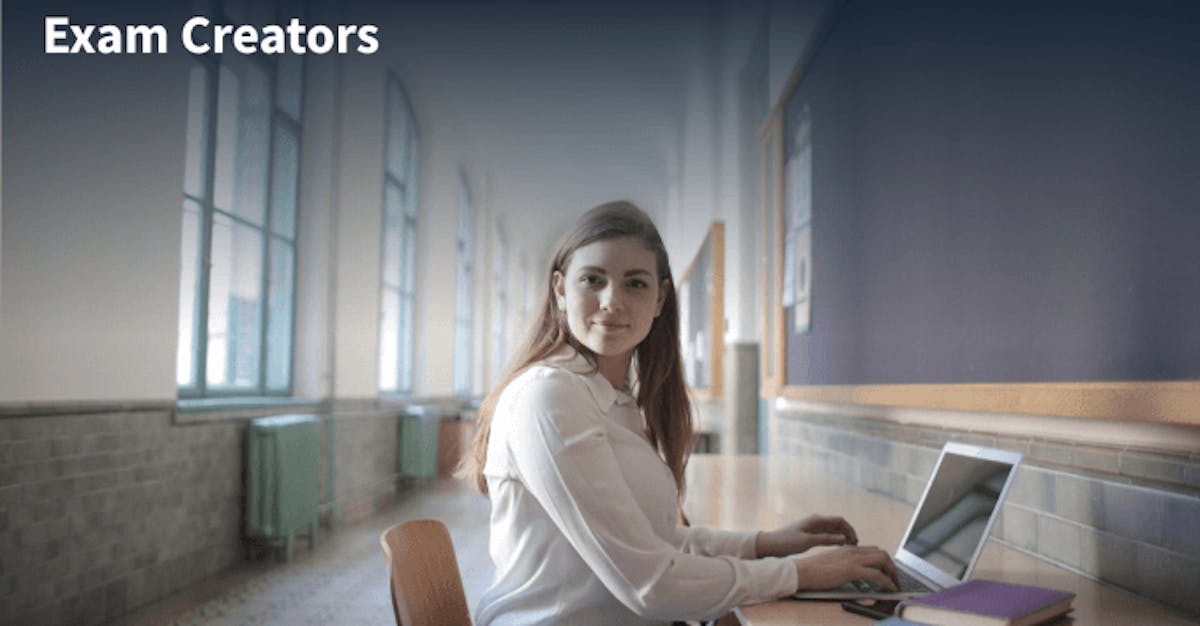 An exam creator is a useful platform or software that allows users to create a variety of exams that can be used to test for knowledge retention, do pre-employment assessments, and more. Online exam creators are wonderful because of the convenience they afford instructors and employers when it comes to assessing their students and employees. Here is a list of the top 10 exam creators available online today.
Exam Creator #1 – EdApp
Rapid Refresh from EdApp is a simple, yet elegant and sophisticated spreadsheet-based exam creator. First of all, EdApp is not just a quiz-making platform but is a complete LMS software that fully supports the Rapid Refresh exam creator by also allowing you to create and manage every aspect of your course before even getting to the exam stage. This exam creator is designed to check the understanding of your team and also reinforce the content that was delivered.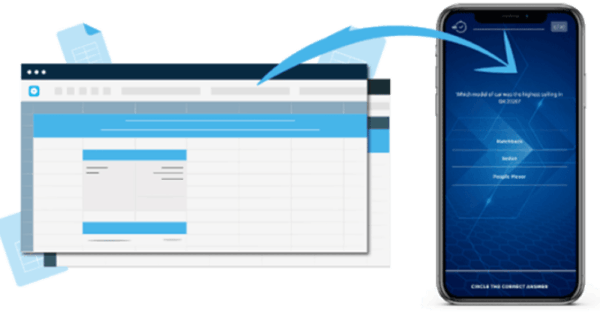 This unique tool delivers quizzes at regular intervals which means your learners can check their understanding and continuously learn while being tested. Exams can be easily set up through an easy-to-complete spreadsheet. You don't need any existing content on the platform to get started. You only need to fill in the spreadsheet and with only a click of a button, you can deploy the exam to your learners.
One very important key feature of this exam creator is the way it delivers exams that can be scheduled for delivery either daily or weekly. If you wish to, you can also deliver an entire exam in one single burst. After they're completed, you will get analytical reports to help you understand the needs of individual learners and get an overall look at your team's performance.
Price: Free
Features: LCMS, schedule delivery, Reports
Exam Creator #2 – ClassMarker
ClassMarker is an online platform that can be quite useful for exam creation. This exam creator can be utilized by both teachers and business teams alike. In addition to exams, ClassMarker can be used for enterprise and business training tests, pre-employment assessments, online recruitment, health and safety quizzes, lead generation, certificate and compliance exams that are online-based, and many other types of tests and exams. This web-based training tool allows for the easy creation of secure exams and assessments that can be both public or privately accessed.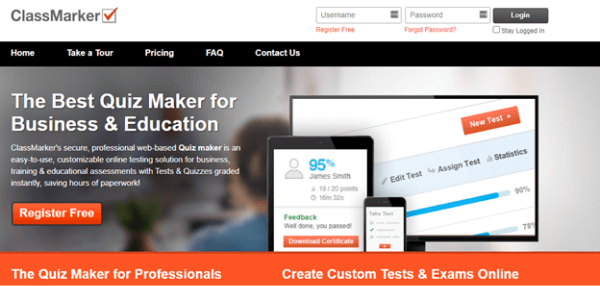 You have the option to randomize your questions, and instantly provide feedback to employees and students. Your exams can be done for short answers, matching, video and audio input, multiple-choice, and other question types. In addition to all the features mentioned for ClassMarker, users have the option to embed their completed exams into WordPress and Google sites.
The final thing about this platform that we have to mention is the number of simultaneous users that you can test with ClassMarker. You can test thousands of people with this tool, so scaling won't be an issue. In addition to building quizzes, if you had the option to host your courses on ClassMarker, it would be a flawless home run.
Price: Custom pricing
Features: Lead generation, certificates, customized feedback
Exam Creator #3 – EasyTestMaker
The EasyTestMaker platform allows for the easy creation of exams and basic tests. The software offers three plans: a free package, a plus package, and a premium package. With this exam creator, you can make a question bank and publish it to test takers who will get a random set of questions. You can choose to present as few or as many questions as you would like. This exam creator provides analysis reports on questions so you can analyze how your test takers have done on each question.

The software is not too hard to use because you don't have to worry about formatting your exam. All you need to do is add your questions where you need them and the software will do the heavy lifting for you. You have a range of question types that you can use with EasyTestMaker, you can add multiple choice questions, multiple select type questions, true or false, matching, short answers, or fill in the blank type questions.
After testing has been completed, users will have a range of publishing options to present the results to their students and are also able to print, review or give partial credit to any test given. In addition to printing the results, you have the option to download the tests and the answer sheets for electronic use. It would be great if EasyTestMaker had an option for you to add your own branding to the exams to spruce them up a bit.
Price: USD /bin/sh-79.95/yr
Features:  Question bank, Multiple question types, Reporting
Exam Creator #4 – Respondus
Respondus is an assessment tool that can be coupled with various learning systems and is suitable for creating exams for K-12 and higher educational facilities. This platform provides a range of solutions for testing including the lockdown browser, the Respondus monitor, StudyMate campus, and a test bank network.
Respondus 4.0 helps exam creators to easily create and manage exams that can be distributed on paper, or published to Canvas, Brightspace, and other learning systems. If you feel more comfortable using a familiar Windows software, you can create your exams offline and then upload them to the Respondus 4.0 software.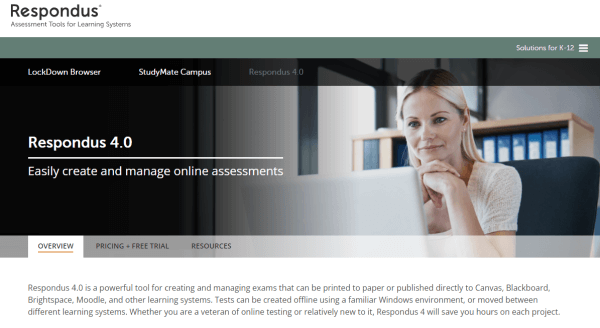 The Lockdown Browser is a custom browser that provides a testing environment within a learning management system. It is a great solution for securing online exams in classrooms and other environments. It does this by prohibiting student computers from accessing external resources to prevent cheating.
Respondus Monitor is an addition to the lockdown browser but works remotely. This proctoring software is fully automated and utilizes the student's webcam to flags any suspicious actions. It is worth noting that this proctoring software is auto-launched from any browser and will guide students through a pre-exam sequence that includes a webcam check.
The platform was designed to serve educational institutions so it may be a bit difficult to adapt for business use.
Price: Contact for pricing
Features: Export function, Exam proctoring, Anti-cheating
Exam Creator #5 – Exam Testing
Exam Testing is a wonderful comprehensive online exam creator that allows you to create high-quality tests, quizzes, and mock exams. You also have the option to receive detailed cumulative performance reports that include scores, names, completed or pending tests, and other information. If you wish to, you can also make your exams in Excel and then upload them to this software. This is a good feature because you can utilize your localized question banks and candidate details. On the flip side, you can export data from the platform into useful formats such as Excel documents. With this software, you can design your exams to be mobile accessed along with other traditional means such as PCs.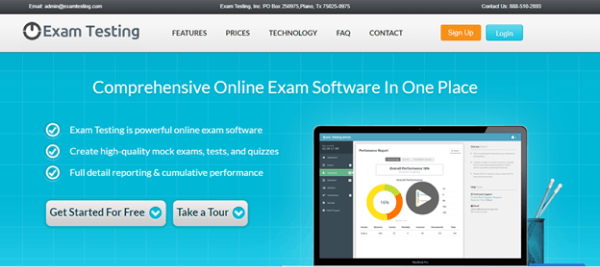 The platform is white-labeled so company branding is enabled. Along with its top features, Exam Testing is proud of its security that essentially prevents unauthorized access to all your exams and also limits cheating by preventing test takers from doing screen grabs or copying and pasting while logged in to an exam. Speaking of test-takers, students can sign up to take their exams quite easily. The platform gives students the option to analyze their performances by viewing completion time, scores and also investigate trends amongst other students or exams. Certificates can also be awarded through Exam Testing. You can design and create customized certificates with logos and signatures.
If the platform allowed users to routinely deliver quizzes to its learners, it would be able to facilitate better retention.
Price: USD 1-83/month
Features: Export, Import, Anti-cheating
Exam Creator #6 – Cambridge International
Test Maker from Cambridge International is an online exam creator that allows the creation of customized, high-quality tests for learners using Cambridge questions. The service is available for six of the most popular Cambridge IGCSE syllabuses. These include Biology Chemistry, Business Studies, Mathematics, Physics, and Additional Mathematics. The service which was previously available only via subscription is now currently free of charge and has a lot of useful features.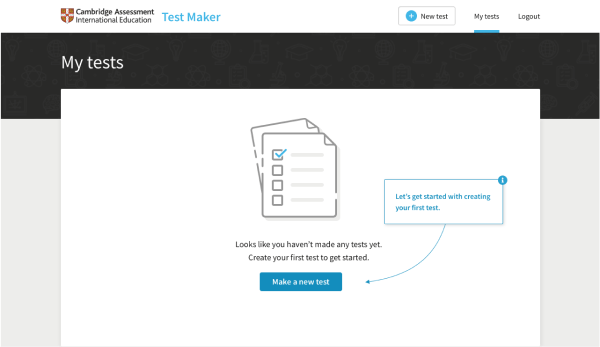 The clear design and layout of the Test Maker software allow teachers to choose from over 500 past paper questions for each syllabus and create their tests fairly easily. Questions can be searched by topic to test for specific areas of the syllabus content. You will have the option to either design a test for your entire class or create tailored individual tests for each learner. This exam creator also produces a customized marking scheme for each exam you create so you can save time on your marking. Because the platform is designed to create exams for only Cambridge syllabuses, it is extremely niche and limited to what it can be used for.
Price: free
Features: Customized marking, Cambridge past questions, 3000 available questions
Exam Creator #7 – ProfExam
ProfExam is one that is a bit different from most of the exam creators on our list. This is because the software provides both an exam simulator and an exam builder. The exam builder is a very simple and convenient tool that will allow you to create and edit exams or import your existing exams from PDF, RTF, and TXT files. Another unique feature of this software is the very intuitive rich media editor. The media editor is similar to a text editor used on Windows Office documents so it is easy to adapt to.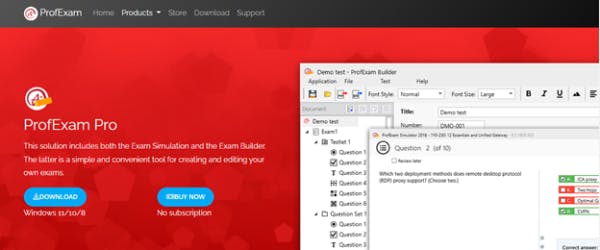 The ProfExam software has a very interactive question editor as well. Some of the types of questions include point and shoot, hot area, and drag and drop. Users have an option to configure their required exam parameters before distributing each exam. These parameters include the time each student will have to complete the exam, the score each student will need to attain for a passing grade, and also the exam version and date. In addition to those options, you can also assign a title and a serial number to each exam, and label your authorship.
Even though the software does not charge via a subscription model, it does require you to buy a license so you may need to consider your budget before choosing this option.
Price: USD 9.99
Features: Import, media editor, drag and drop
Exam Creator #8 – Evalbox
The Evalbox exam creator software is great for making and managing both online and paper exams. It can be utilized in a range of industries such as education, training, recruitment, assessment, and certificate. This 24-hour testing service has advanced automatic grading tools that are utilized by thousands of professionals worldwide. It is a good choice for professionals to create their exams because it has a random quiz maker that chooses questions from a question bank or users can manually select the questions that best fit their needs.

The software also helps users to monitor or proctor online exams in real-time. The software utilizes advanced fraud detection and cheat prevention algorithms that will warn you if a student is behaving strangely. With Evalbox, you can conduct your training and assessments without installing or integrating any software into your devices or other platforms. All you need to do is enter the names and email addresses of your students to create your class,  create your exams, and then schedule, monitor, and analyze how your students perform.
Other useful features that the platform provides include sharing that allows users to share quizzes at multiple levels, auto-archiving, a feature that automatically archives the exams you create, and self-training mode. This mode allows your students or trainees to access quizzes in their own time to bolster their knowledge of the training material. Evalbox is a great quiz software, but it could use a feature to deliver content at increasing levels.
Price: Eur €0-250/month
Features: No installation, auto-archiving, randomization
Exam Creator #9 – OnlineExamMaker
OnlineExamMaker is an exam creator software that is easy to use. The software helps users to create online exams and offers anti-cheating, statistical, and other features. The software can be used to generate multiple types of tests such as questionnaires, mock exams, quizzes, and training exams. These features are backed by a professional exam service, registration system that allows users to charge per candidate, a question system that helps you to pull questions from your question bank, and a mobile phone answering system that makes it possible for exam takers and makers to utilize their mobile phones to create, conduct and take tests.

This platform allows for the importation of questions from external sources, supports over 10,000 simultaneous test-takers, and has a statistical analysis report system. The anti-cheating function that we mentioned earlier uses a combination of face recognition, the prevention of screen switching, and webcam invigilation to make exams safer and harder to cheat on.
Another feature worth noting about the OnlineExamMaker software is the option to personalize your background theme and your company's name and logo. Wonderful platform for exam creation, what a pity not all features are available for free.
Price: Up to USD 5/month
Features: customizable, import, 10,000 simultaneous test-takers
Exam Creator #10 – Exam Professor
Exam Professor is a nice exam creator platform that allows users to publish exams online. It is a web-based tool that you can use to build, embed your own exams, quizzes or tests in a quick and easy manner. It supports a wide range of users from businesses to individual professors. The sign-up process is relatively easy and each plan comes with a 14-day trial. The software is mobile compatible so are both exam creators and students can work from their mobile devices.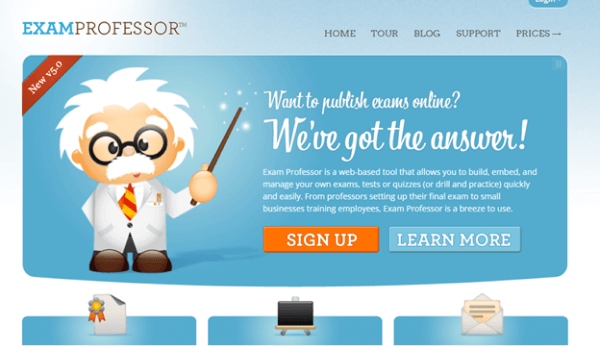 This exam creator utilizes a powerful HTML question editor and supports the exportation of tests after you create them. You can generate detailed reports on question statistics and also get custom feedback from test-takers. The student dashboard allows for self-enrollment and supports multiple currencies. You have the option of importing student information from external sources as well.
After exams are created you can sell access to them to earn additional money. All the exams on Exam Professor are fully customizable including the option to time each one, and you can provide certificates after the exams are completed. This software offers multiple question types such as multiple-choice, true or false, and much more.
Price: USD 2-99/month
Features: HTML editor, reports, customizable
Exam Creator #11 – Testmoz
Testmoz takes pride in being easy to use while producing thorough results. You'll have all the tools you need to handle questions and quizzes, as well as generate reports for your next online exam. You can alter the look and feel of your tests using the drag-and-drop feature. Additionally, you can decide whether to display each question individually or all of them at once. You can easily change scores manually and have access to summary data for scores. Even with a sluggish internet connection, Testmoz may be used on any device and is mobile-friendly.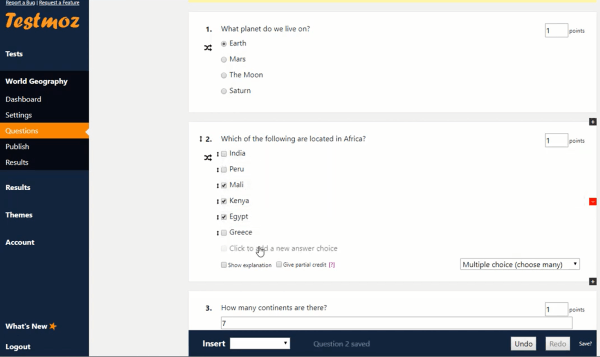 Cost: Free and paid plans
Key features: Question pool, mobile-friendly, drag & drop tool
Exam Creator #12 – SpeedExam
SpeedExam is a unique online testing software geared towards assisting learners with self-study. It offers different types of questions to provide diverse types of challenges to your learners. Your training team can create a question bank and tests can be created by learners from your pool of questions. You can also create tests that can be taken at the same time, either in the same location or even in different regions, perfect for organizations that operate globally. You can even monitor your learners while they take their tests with SpeedExams' exam monitor. With its free version, you'll get 25 exam attempts per month with up to 5000 questions.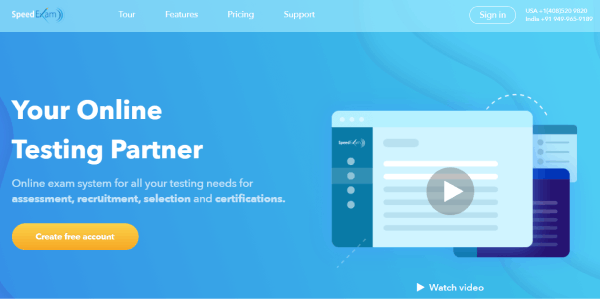 Price: Free and paid plans
Features: Question bank, concurrent tests, automated proctoring
Exam Creator #13 – ProProfs Quiz Maker
ProProfs Quiz Maker is one of the simplest yet most versatile exam platforms out there. You can use this online tool to conduct highly secure and cheating-free exams for educational assessment or business functions, such as candidate assessment and training assessment. ProProfs lets you ask questions in 15+ different ways, including multiple-choice, checkbox, hotspot, video-response, and more. You can add images to questions and answer options to ask better questions and make your exams more engaging. You can also conduct video-based exams.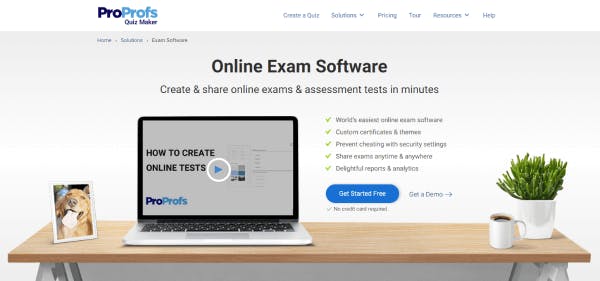 ProProfs lets you set up several anti-cheating measures in your exams. You can enable proctoring, shuffle questions and answer options, randomize question selection with question pooling, prevent tab switching and copying/printing of exam content, and add IP-based security. The proctoring functionality is especially effective in cheating prevention since it lets you monitor quiz takers via multiple channels, such as screen sharing, webcam, and microphone. You get video recordings of both the exam taker and their screen to check for suspicious activities. This exam maker also lets you add password protection to your exams and set up a secure login portal for your learners
ProProfs has an advanced reporting and analytics system using which you can easily and accurately compare candidates with each other and quickly identify the learners who are lagging behind and the topics that most learners are finding problematic. You can also connect your quizzes to a Tin Can/SCORM-compliant learning record store and analyze learner interactions. Lastly, ProProfs also lets you create an automated certificate system for your exams. You can award custom-branded certificates and set passing scores and recertificate schedules.