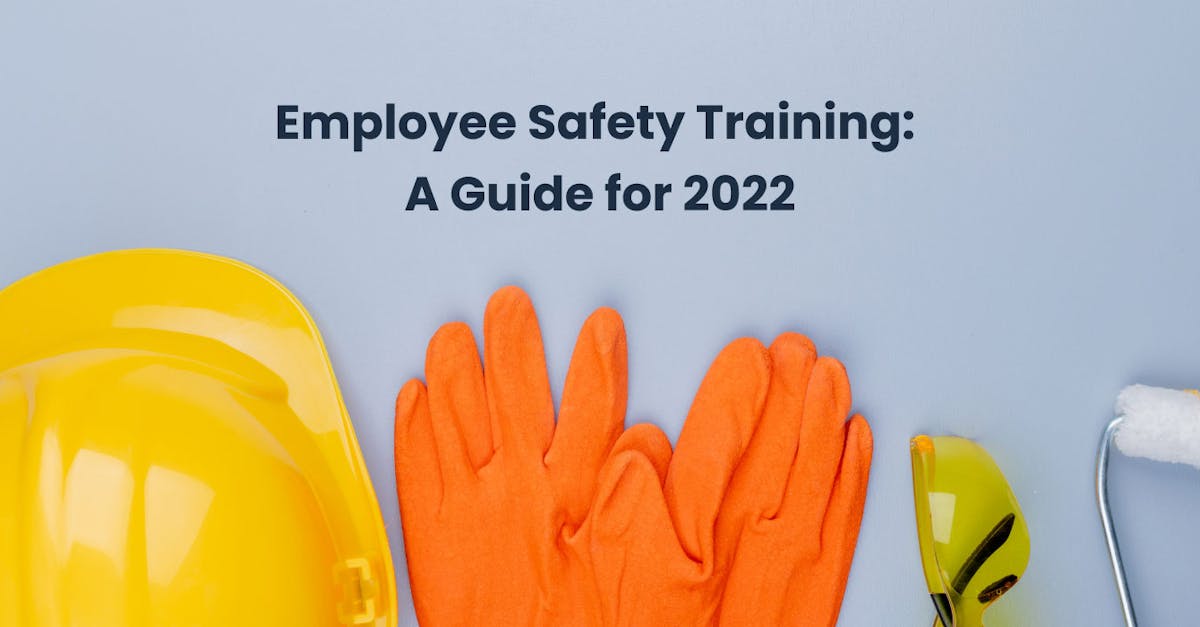 Investing in employee safety training is crucial for every type of work environment, especially in high-risk, hazardous workplaces. Statistics show that worldwide, there are around 340 million occupational accidents and 160 million victims of work-related injuries and illnesses every year. This could lead to work interruptions, compensation costs, and even lawsuits. 
With that being the case, the need for comprehensive safety and health training programs is a no-brainer. EdApp has put together everything you need to know about employee safety training for 2022.
What is Employee Safety Training
An employee safety training is a program designed to provide workers with skills and knowledge, to perform their tasks safely. When equipped with the proper know-how, your team would be able to not only keep themselves safe but also the people around them.
This type of training program also includes specific instructions and guidelines to help them identify, report, and manage workplace hazards and incidents – as well as deal with injuries should they still happen.
Additionally, employee safety training is an integral part of the employee onboarding process but is also required by Occupational Safety and Health Administration (OSHA) for regular "refresher" courses for compliance and knowledge retention. People tend to become lax in their day-to-day tasks when it feels natural to them already. They fail to catch the tiny mistakes they're making.
With employee alertness going down over time, safety protocols need to change to keep up with changes in equipment, materials, roles within the business, and even scientific findings.
Why do organizations need employee safety training?
Creating a safe working environment is a key part of an employer's responsibilities. You must do everything that you can in order to protect and look out for your workers' overall health & safety in the workplace. This can reduce turnover and improve productivity and morale. 
Additionally, a workplace injury can become a threat to employers. When somebody gets injured in the workplace, it might negatively influence other workers' perspectives and encourage people to keep away from an unsafe environment. Not to mention that you could be held liable for treatment costs and legal fees if an accident were to happen.
Employees can also pose a danger to their fellow team members. When equipment is mishandled and hazards aren't taken care of, they can injure a teammate or cause other workplace accidents. This can cost the company more money to pay in insurance premiums, medical bills, and equipment replacement.
If push comes to shove and incidents are repeated, your staff may feel the need to escalate the matter outside the company. This can create increased tensions within the organization – that is why everyone wants to avoid being involved in cases that fixate on workplace negligence. Not only does it hurt your rapport with your team, but damages the company image as well.
Steps for an Effective Employee Safety Training Program
1. Identify pain points for employers and employees
Before anything else, you need to start by identifying your organization's training requirements, particularly on workplace health and safety. What equipment are your teams handling in their day-to-day tasks? Where do common workplace injuries occur? What knowledge and skills do your employees need to have in order to accomplish their tasks?
After answering these questions, you need to identify your employee training needs. Are there gaps between their skills and the job requirements? Are there new skills and technical knowledge that they're not equipped with? Is there an aspect of their behavior that needs to be changed? Is there internal data that you can use to identify more gaps?
Once pain points are identified, it'll become easier to determine the goals and objectives of your training program
2. Determine goals and objectives
When making your employee safety programs, you need to decide on what you want to achieve from them. What would your workers get out of it? How does your company benefit from this? Determining your goals and objectives will also help you later assess whether the training was successful or not. 
Objectives need to be well thought out and specific to the current needs for the training to be successful. They should be clear, concise, and measurable. Below are 4 elements to consider when developing your objectives:
Audience – identify who specifically is going to receive the training. Is this training relevant to them?

Behavior – what changes can you expect in the team during the evaluation?

Condition – under what circumstances will the desired action be performed? What materials and equipment will be used?

Degree/Standard – how well must a task be accomplished? What score must be achieved?
After determining these, consider how these objectives will help in the overall goals of the training. For example, if the goal is to receive a certificate of compliance afterward, the objectives must center around being able to pass the assessment and knowledge retention. 
3. Develop training content and activities
Once you're done identifying objectives and goals, the next question you need to ask is: how will you do that? 
Different people have different learning needs. Some people learn better with more images and videos. Others would prefer reading materials to digest information. A good way to address the different learning needs is by providing different types of activities to engage each learner. Incorporating presentations, physical activities, gamification, and reading materials all in one training is how your program can become more holistic.
You can also choose to get microlearning lessons from learning management systems in case you don't want to invest in seminar-type training. Microlearning lessons are quicker to finish and can usually be taken (or retaken) at any time you want. Learners won't have to force themselves to digest a ton of information all in one go. Ideas and terms are given to you in bite-sized details to ensure maximum learning engagement. In case your team forgets some concepts or practices, they can always go back to these microlearning lessons anytime they want. 
If you want to develop content yourself, you can ask for advice from team leads of your organization for how to best go about the training program. You could also ask a training and development consultant for input regarding your content.
4. Conduct and observe the training program
When plans are already polished and placed, all you need to do is execute them. Your starting point is to schedule everyone necessary for the training program. Ideally, the scheduling takes place months before the actual training so people can blot out the date early to concentrate on the program.
When the program properly starts, you need to onboard your workers with the objectives and goals of the training program. What do you want them to get out of this? This is to help align everyone and make sure that people see the value in conducting your new employee safety training program.
Once done, you can begin conducting the training. If you're not a facilitator or if the training is happening on another platform, be a vigilant observer. Encourage questions and discussions during the training. Ask how they're doing and if they have any current feedback. Help out when you see them struggling. Assisting them throughout the process can help with the success of the overall program.
5. Create an effective evaluation assessment
Once the training is complete, don't forget to conduct a post-training assessment afterward. Evaluations are important to check whether the program was effective or not. They also serve as a benchmark for things to consider for the next training session. Assessments could be in the form of an examination or demonstration or a forum with the team.
Here are some questions you may want to consider during the assessment process: How did the team feel about the training? What areas or aspects of the program could have been better? How much of the knowledge and skills did your workers actually retain?
When enough time has passed, you can circle back to the team leads or your HR/legal team to ask them if the training they did weeks or months back has actually reduced workplace injuries and accidents. If the answer is yes, you won't have to immediately do another training round.
If not, go back to the feedback from the employees and review certain aspects of the training program – which you personally think could have been done better. Check the discussion minutes during the post-training assessment forum. What are the common complaints from the team? What are their suggestions to improve on the current program? What do they want you to do in the future?
You may want to reinforce your team's training or conduct a different series of learning for next time.
Ideas for Employee Safety Training Courses
If you're looking for some ideas, EdApp has a comprehensive list of workplace safety training topics. We've also outlined a number here for you to think about:
New Hire Safety Orientation
Available for free in EdApp's editable course library, New Hire Safety Orientations is a course created by Risk Management Inc. that aims to seamlessly integrate office safety training into onboarding programs for new employees. This 15-part course provides your employees with a strong foundation for workplace safety. It also provides an action plan for emergency situations and dives into different forms of staff safety training for certain situations (such as using Personal Protective Equipment (PPE), electrical safety, and many more).
In EdApp, courses are delivered through a microlearning approach that breaks down overwhelming information into bite-sized lessons. Since microlessons are focused specifically on key information, they are proven to improve knowledge retention and increase the course completion rate among learners. This course also adds gamification features that make learning more engaging and improve knowledge retention. 
Safe Use of Machinery
This Safe Use of Machinery course is designed to arm you and your teams with employee safety for using machinery, especially on construction safety. But every industry has its own unique situations that present hazards and this course covers the most used machinery tools to help minimize risk and fatalities.
You will learn about what protective wear you should be wearing, things to do prior to operating machinery, and how to operate different machines. EdApp's short, bite-sized course is filled with interactive elements while remaining highly informative to enhance your learning experience.
Managing Risk
Contributed by Riskfacilitator in EdApp's editable course library, Managing Risk provides vital information about the risk management process. The lesson highlights the power of implementing safety regulations and how to properly integrate these practices into your day-to-day. Simply edit, brand, and personalize this course to fit your organization's needs then deploy it to your teams within minutes.
Cyber Security
With technological advancements come digital threats. Criminals have become more adept at finding multiple ways to interrupt an organization's operations and even steal valuable information from their victims through cyber attacks. EdApp's Cyber Security course provides the information you need to know about the different kinds of cyber attacks and the safety precautions that you can take to avoid them.
This course covers:
Understanding the importance of cybersecurity

Safety precautions and best practices in protecting the company's data from unauthorized software and other cyber attacks

Proper usage of emails and safe protection of passwords

Effective document management strategy to mitigate the risk of losing data
This course is delivered in microlessons, which helps in increased knowledge retention and better learner engagement. With EdApp's mobile learning feature, your employees can also complete the lessons anytime and anywhere.
Some other employee safety training courses that you'll be able to find on EdApp's course library include HAZCOM training, fire safety, PPE training, and HAZMAT training courses.
LMS for Employee Safety Training
EdApp is a mobile learning management system designed for today's digital habits, delivering more engaging and effective microlearning directly to learners anytime and anywhere. One of the key hallmarks of EdApp is its comprehensive course library, which is filled with beautiful and engaging safety training courses that can help you establish a culture of safety first.
Sign up for these employee safety training courses