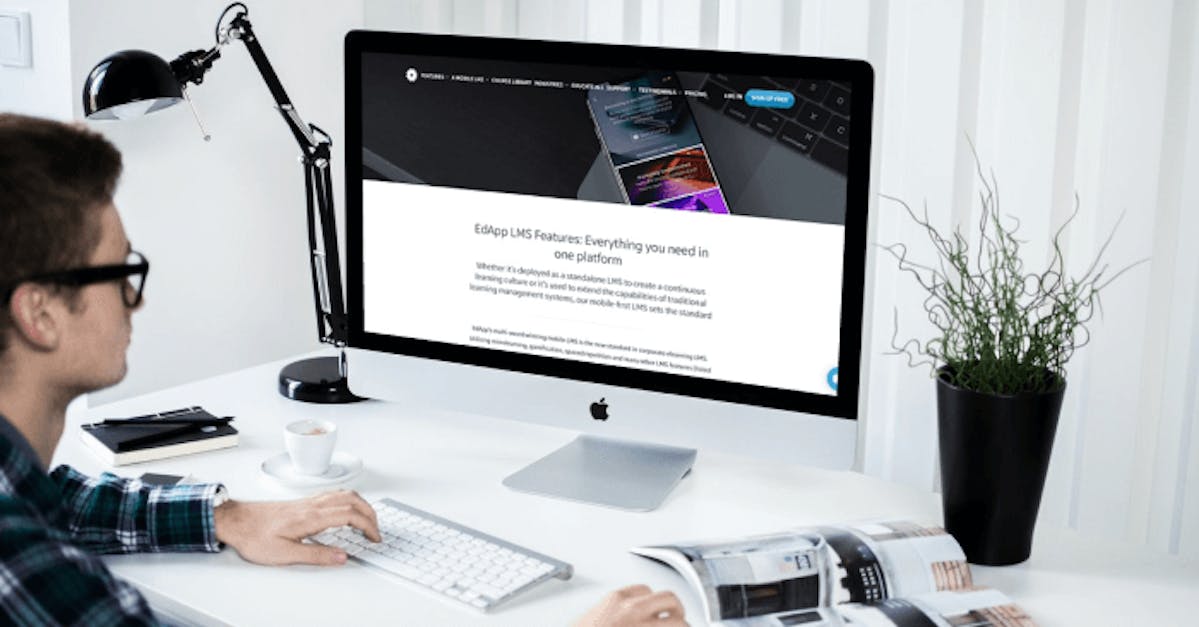 Employee training, whether for onboarding training or continuous learning, is essential for equipping employees with essential knowledge and honing their skills to do their jobs effectively. It gets everyone on board with your vision and makes employees feel valued knowing that you're investing in them to help you reach your goals. Using employee development software is advantageous as it standardizes the training process and saves time & costs as all resources (like conflict resolution online courses) can be accessed in one place. It also allows your training and L&D teams to use different methods and techniques to improve training effectiveness with the various features that these learning platforms have to offer.
There's no need to worry about which one to use as we've done the research for you and compiled a list of 10 employee development software. All these were designed to help you provide the best digital learning experience for your organization.
1. EdApp
EdApp is the leading employee development software that allows you to create and deploy training content anytime, anywhere. With the help of its free, editable course library, you can choose almost any course and tailor it to your organization's needs. Courses can also be built from the ground up with its intuitive drag-and-drop SCORM compliant authoring tool. This is especially helpful in creating relatable content since your organization is the expert when it comes to your processes, services, and products. EdApp also has its own course library, which you can use to directly import courses like construction training courses, hospitality training courses, HIPAA training courses, preventative maintenance training courses, safety training programs, personnel development programs, and more.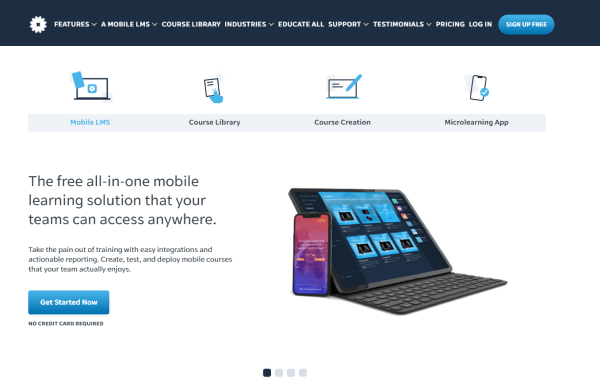 To ensure that the effectiveness of training isn't compromised in a blended-learning setting, the Virtual Classroom feature was designed to boost social interaction and ensure success in an online learning environment. Video meetings can be linked directly to a course for discussion to foster collaboration through the exchange of ideas, knowledge, and experiences. Conferences are a breeze to set up and can be hosted on your favorite third-party platforms such as Zoom, Google Meet, and Microsoft Teams. As a mobile learning solution, EdApp allows your learners to receive training through their smartphones, increasing course progress and completion rates.
Cost: Free
Key features: Virtual classroom, mobile-first environment, editable course library
2. GoBrunch
If you'd like your learners to feel as if they're in a real seminar room receiving training, GoBrunch is the employee development software that's right for you. You can set the ambiance by choosing your room's layout and including your logo. Learners can then upload their photos and even choose their seats in your virtual room giving them a more realistic experience. Unlike other video conferencing platforms, there's no time limit in their free version and you can host webinars for as long as you'd like, up to 409 attendees. To share the courses with your learners, you can easily provide them with a unique link to a course catalog where they can also access their classes and other learning resources.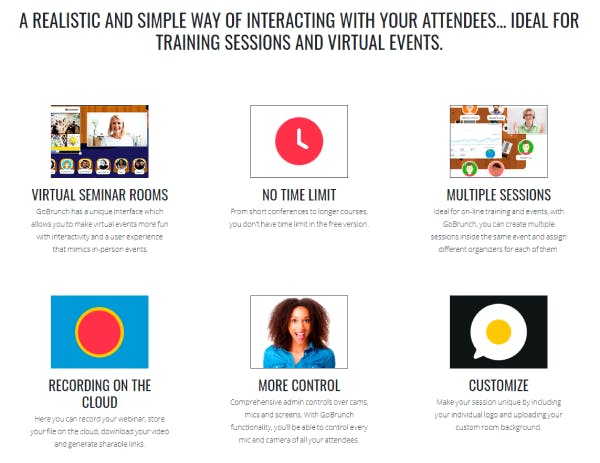 Cost: Free and paid plans
Key features: Virtual seminar rooms, unlimited webinars, course catalog
3. WorkRamp
Designed as an all-in-one employee development software, WorkRamp can be customized for different types of employee training, more specifically for sales, support, retail, marketing, and HR. This learning management software can even be used to train your clients on product adoption, increase customer engagement, or drive more revenue to the business. Some of the eLearning software's notable features include a specialized onboarding process, custom report dashboards, virtual instructor-led training events, and compliance training. By combining all of these tools, WorkRamp enables you to create a streamlined training experience for your employees.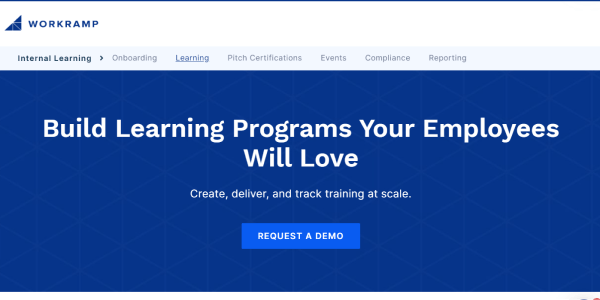 Cost: Contact WorkRamp for pricing
Key features: Sales learning platform, support training, customer training, virtual events, compliance training
4. Looop
As an advanced learning management system, Looop helps you create online learning resources and automate employee training processes. With their simple yet visually appealing UX design, you can create engaging learning materials and access features like campaigns, and even automate the delivery of online training content through channels like Slack, Teams, and even SMS. Other features like user insights and analytics dashboards give you visibility on your teams' completion rates, learning gaps, and overall performance. Through these enhanced reporting features, you'll be able to gauge the effectiveness of your training and address your employees' learning challenges. Looop isn't free to use, but you can book a demo to check out all their features.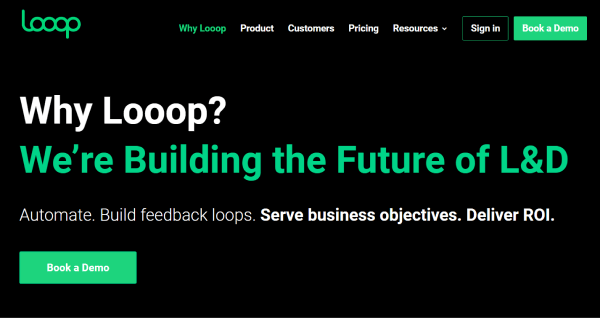 Cost: Starts at US 99/month
Key features: User insights & analytics, cross-app integrations, user campaigns
5. Arist
We send and receive text messages day in and out. But, wouldn't it be great if we could not only communicate through them but also learn from those messages? This is certainly possible with Arist which is an innovative employee development software that uses text-based learning to deploy training. Creating a text course in Arist is as simple as composing a text message as you normally would. Text message courses are usually made up of an image, a 1,200-character explanation of a key concept, and an interactive assessment that is sent out daily for several weeks. While this is a great idea to combat learning barriers, especially for those who don't have stable access to the internet, it can be quite limiting as it only has a maximum allowable number of characters per text message and lacks formatting options to deliver visually aesthetic and engaging content.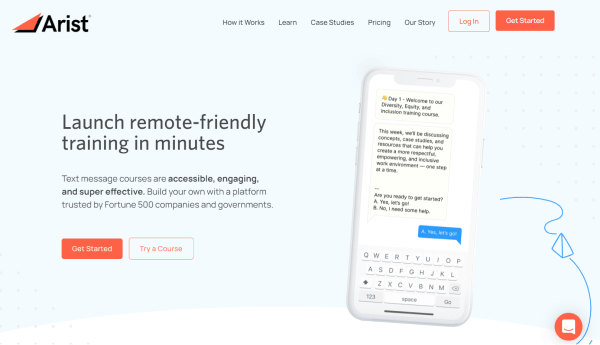 Cost: Free and paid plans
Key features: Easy-to-use course builder, course conversion, mobile-friendly
6. Raptivity
Raptivity is a cloud-based employee training software that's all about delivering learning through visually stimulating content. It incorporates gamification in the workplace by including games in the training material, such as bowling and dart game quizzes. It also has an interactive template library suited for different learning styles that you can customize with various themes and colors. Courses can run on different devices, including mobile, so you can focus more on your content as you're sure that it will seamlessly display regardless of what platform is used. You can get Raptivity and its basic features free for 14 days but you'll have to get the paid plan after.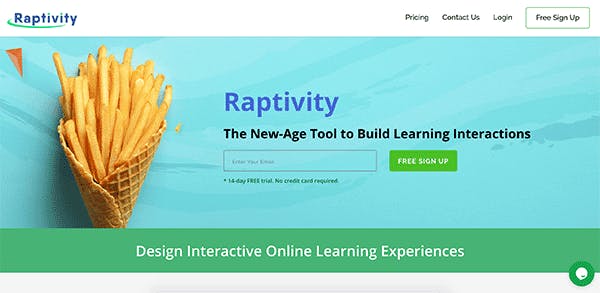 Cost: Free and paid plans
Key features: Interactive template library, mobile-friendly, gamification
7. Connecteam
Connecteam is a go-to employee development software that focuses on effectively training your dispersed workforce. They have a user-friendly mobile app that houses a knowledge hub for all training resources where employees can also track the courses they have to take and their progress. Through the app, employees can easily pick up from where they left off anytime and need not worry about missing out on their training. With Connecteam, you can build courses from scratch or use your existing training materials, such as PDF files and other media. You can even include content from your company website or external web sources like YouTube, Dropbox, and Google Drive.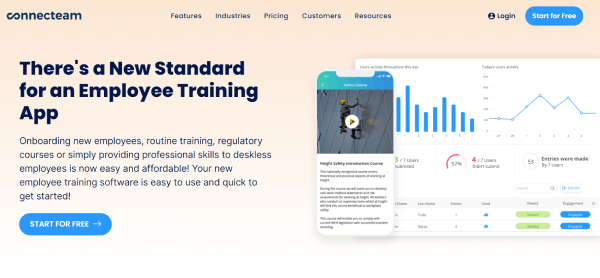 Cost: Starts at US 9 for the first 50 users/month
Key features: Mobile-friendly, 
8. Skyllful
If your organization's product is a mobile app or project, Skyllful is the perfect employee development software to keep all team members informed and up to date. Skyllful's simulator teaches employees how to navigate your company's mobile apps so they can effectively teach clients and customers how to use them. This includes step-by-step tutorials, walkthroughs, and practice modes to equip them with all the information they need before new features or updates are rolled out. It's designed to run seamlessly on mobile devices so that information is always on hand whenever needed.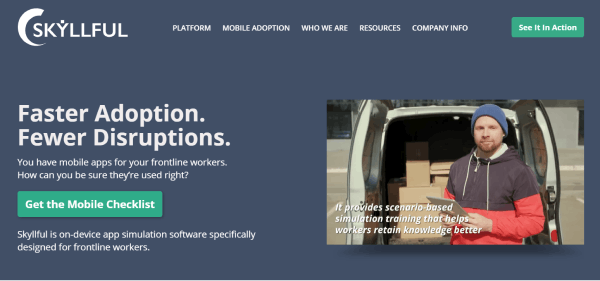 Cost: Contact Skyllful for pricing
Key features: Simulations, walkthroughs, mobile-friendly interface
9. GoSkills
GoSkills is an employee training software designed to manage all your training needs in one place. Trainers can create new courses on the platform or import existing ones. It also promotes gamification through coins, daily streak goals, and status tiers, which you can customize based on your preferences. GoSkills also includes easy-to-understand reports and course tracking to check on your learners' progress. While it is free to use, you'll need to pay for upgrades to have access to more features, such as importing courses (which might be a dealbreaker if you want to bring in previous courses you've created).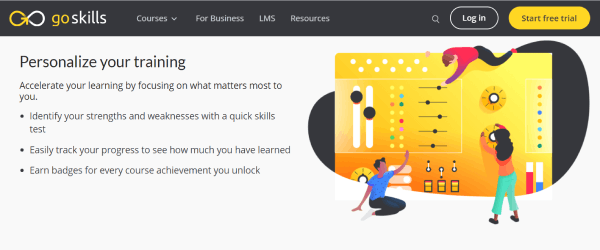 Cost: Free
Key features: Course library, gamification, reporting & tracking
10. Schoox
Schoox is a cloud-based employee training software that focuses on learning and talent development. It has a course library that includes a wide range of topics, such as safety, security, human resources, and many more. With Schoox, you can create courses in any format with its drag and drop authoring tool. To test your team's knowledge retention, you can automate assessments to be sent out to employees based on their performance. It also has a feature called Impact Factor which considers aspects like the employee's job responsibilities, their skills performance, and skills strength, to better assign personalized courses.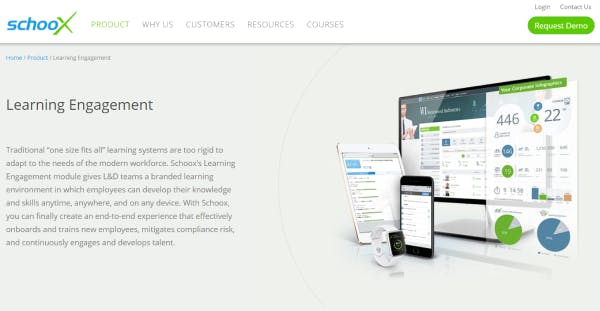 Cost: Contact Schoox for pricing
Key features: Course library, drag & drop content authoring, personalized course assignment