We've rounded up 10 Elucidat alternatives that you can use for an improved experience when creating and deploying online learning materials. In Elucidat reviews, you'll find that Elucidat LMS promises a better online learning experience for your employees, one common drawback is that it's not as user-friendly and intuitive as other platforms. In this article, find out more about other platforms that can offer better pricing than Elucidat pricing or the same or even better features.
Elucidat Alternative #1 – EdApp
EdApp is an award-winning all-in-one learning solution that easily makes it to the top of the list as an Elucidat alternative. Its built-in drag-and-drop authoring is intuitive and easy to use, which makes course creation and customization a breeze. With EdApp, you don't need to write a single line of code just to make beautiful and engaging lessons. All you have to do is choose from over 80 microlearning templates, populate your content, and you're good to go. If you have media and assets that you already use in Canva, you'll be glad to know that you can access them and import them to your courses without leaving the platform thanks to its Canva integration. EdApp is also SCORM compliant so it's easy to import lessons from other elearning platforms like Elucidat without having to start from scratch. You can even convert existing PPT to SCORM if you have Powerpoint decks at your disposal. You can also choose from hundreds of courses available in the content library, which you can edit and customize as needed.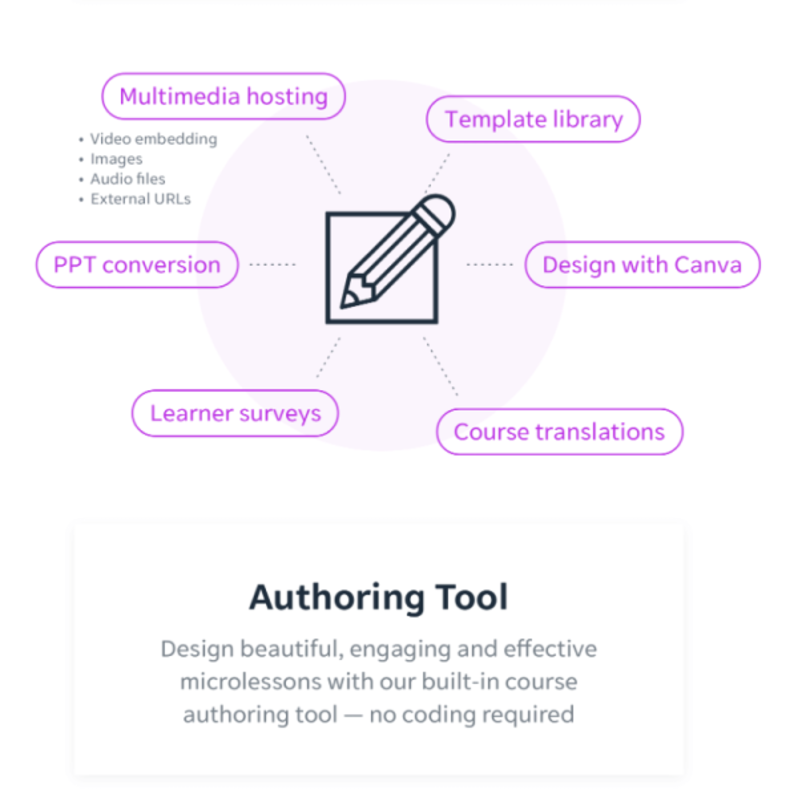 With EdApp, you'll also get other nifty features that you don't have to pay for, such as unlimited users, AI translation, live chat support, and many more. EdApp works on any device, whether it be a smartphone, tablet, desktop, or laptop. Thanks to its responsive design, you can say goodbye to compatibility issues and let learners take their training on the go without any hiccups. What's even greater about this platform is that compared to Elucidate price, EdApp is free for those who need it to be.
Cost: Free
Key features:
Rapid authoring tool

Microlearning templates

Course library

AI translation

Mobile compatibility
Sign up for Free and Start Using the Best Elucidat Alternative Today!
Elucidat Alternative #2 – isEazy
isEazy also made it to our list of Docebo alternatives because of its simple, intuitive course creation and delivery tools that you can use for free. Here, you'll surely benefit from their user-friendly slide templates and course layouts, making it easier to build well-designed instructional courses even from scratch. To foster interactivity, you can also take advantage of their interactive elements, like quizzes, videos, even voiceovers, to improve the learning experience of your employees. Thanks to its cloud technology, you can assure that your work will remain safe and secured on this platform.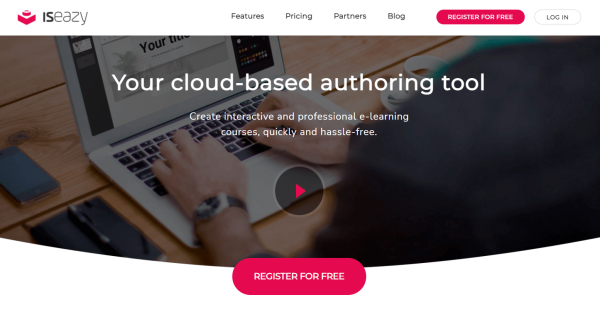 Cost: Free and paid plans (starts at US $69/month)
Key features:
Slide templates

Course layouts

Cloud technology
Elucidat Alternative #3 – Neo LMS
Neo LMS takes pride in its learning management system that operates with efficiency and simplicity. What's noteworthy about this platform is that they're bursting with an array of LMS features that can help build useful training courses and ensure that your teams flourish in their respective fields. Content authoring in NEO LMS supports various file formats like photos, videos, PDF, and PPT. They also offer a drag-and-drop quiz system, allowing you to develop engaging quizzes in game format, like true/false, multiple-choice, and fill in the blank. Built with the users in mind, this tool is very much easy to use and mostly self-explanatory making it a great Elucidat alternative to use without breaking the bank.
Cost: Free and paid plans (available upon request)
Key features:
Content authoring

Quiz system

Graphical class catalog
Elucidat Alternative #4 – Academy LMS
With Academy LMS as your Elucidat alternative, you can create simple yet well-designed online course modules, set up multiple online quizzes, and build lessons using different content formats like PDF, DOC, or image files. You can even communicate with learners and resolve course problems via interactive messaging which can be useful for blended learning. Another unique feature is the course portal, which allows learners to browse from a library of courses, save their favorites to a wishlist, and buy courses. They can even give a rating and post reviews for any of the courses they purchase. All they have to do is download the Academy LMS app to access their learning content anytime and anywhere. And what's awesome about this tool is that you only have to pay for it one time. No need for monthly or yearly recurring payments.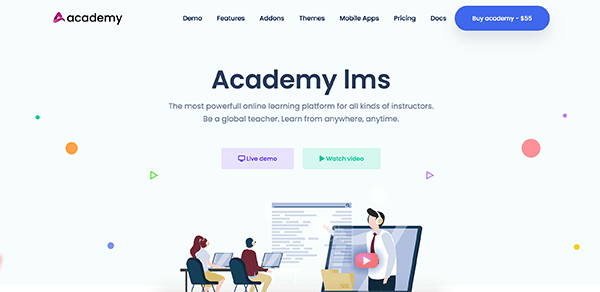 Cost: Starts at US $55
Key features:
Course builder

Quiz creator

Interactive messaging

Course portal
Elucidat Alternative #5 – Brightspace LMS
Brightspace LMS is another Elucidat alternative designed to create inspired learning experiences. Creating content with this LMS is made possible through an HTML editor, which uses content templates, files that you can save in their learning repository, or content from other supported LMSs. To allow your learners to collaborate, you can take advantage of features such as web conferencing, whiteboards, and slide sharing. Motivating learners can also be achieved by making your own awards, certificates, and leaderboards. To further empower learners and improve their skills beyond the learning pathways provided, they can even search for courses and enroll themselves.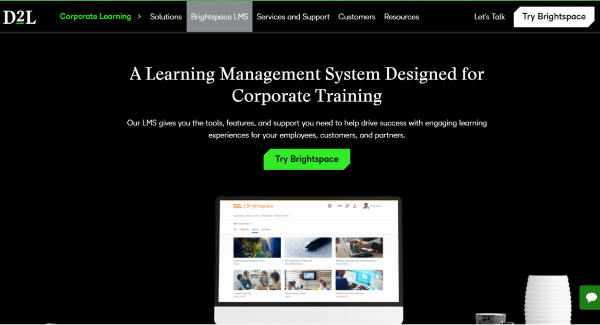 Cost: Available upon request
Key features:
HTML editor

Learning repository

Web conferencing

Whiteboards

Awards & certificates

Learning pathways
Elucidat Alternative #6 – Ruzuku
Another great Elucidat alternative to consider is Ruzuku. It's built with a powerful yet clean and user-friendly interface that allows you to create and run great elearning courses without overwhelming designing tools and options. They are all yours to edit – you can customize the design to fit your brand and incorporate content suited to your students' learning objectives. If needed, you can also add PDFs, Word, PPT, and other files to your course content and make them downloadable for self-paced learning. But it's not just limited to course creation and deployment. Ruzuku's course health feature also allows you to keep track of your team's learning progress, including activity completion and any queries or comments they may have about their courses. Any updates made by participants will be sent to you automatically via email.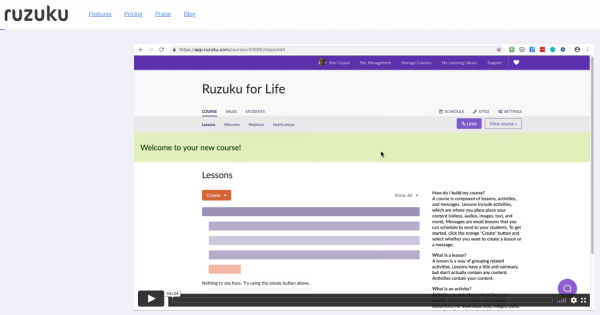 Cost: Starts at US $74.75/month
Key features:
User-friendly UI

Custom elearning courses

Course health feature for tracking
Elucidat Alternative #7 – Gnowbe
Gnowbe enables you to create impactful nteractive learning experiences with ease. With this Elucidat alternative, you can easily build interactive microlessons through rapid authoring and SCORM uploads. Through its dedicated mobile app, you can ensure that learners are always up to speed with the information they need by taking their training on the go. Unlike Elucidat, you can invite an unlimited number of users to test the courses you create at no cost. You can also upload self-help elearning resources for your learners such as videos and documents so they have all the references they need without needing any back and forth with their trainers.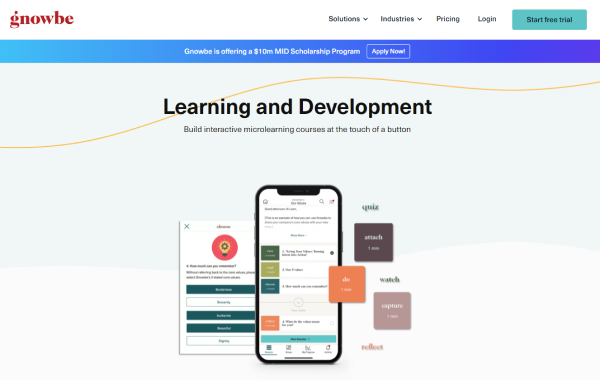 Cost: Free and paid plans (starts at $59.79/month)
Key features:
Rapid authoring

SCORM uploads

Mobile compatibility

Self-help resource uploads
Elucidat Alternative #8 – Yoobic
Yoobic is another alternative to Elucidat that you must consider if you're looking into taking a mobile learning approach. With Yoobic, you can design, import, and distribute SCORM training content in minutes. It also has an automatic translation feature with its multi-language tool, perfect for those who have employees all over the world. To check the effectiveness of your training program, Yoobic provides actionable insights where you'll be able to check learner measurement through its informative dashboard.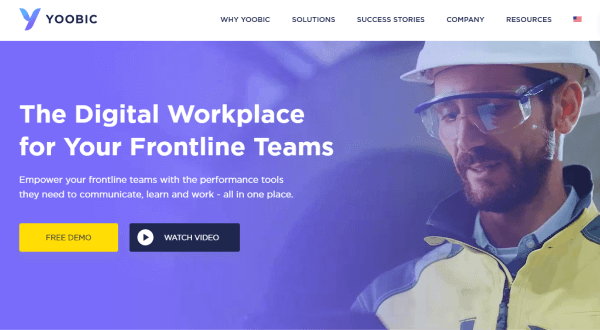 Cost: Available upon request
Key features:
SCORM compatible

Multi-language tool

Analytics and actional insights
Elucidat Alternative #9 – Edly
Edly is a mobile-friendly learning platform that prides itself on transferring the hard-won benefits of its years of pioneering work to your learners. With Edly, you can create learning content that you can brand as your own, and choose from their wide array of assessment templates and modes to check for learner understanding. You can also opt to create custom certificates to mark the completion of training done by your learners. Through its learner analytics, you can make data-driven decisions by looking into populated demographics to learner trends and determine where learners are finding challenges with.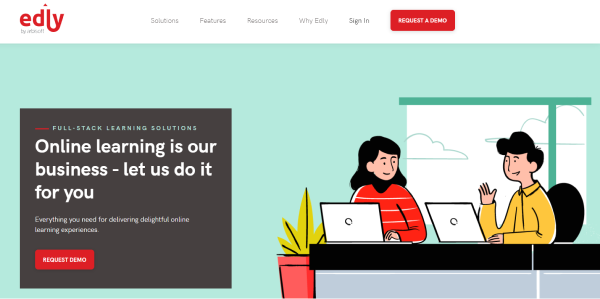 Cost: Available upon request
Key features:
White labeling

Assessment templates and modes

Custom certificates

Analytics suite
Elucidat Alternative #10 – Continu
Continu touts itself as a learning platform built for today's modern workforce and is a good option for an Elucidat alternative. With its powerful course authoring tools, you can build courses and create learning tracks to suit each learner's needs. You can tailor learning experiences through its Smart Segmentation feature which allows you to filter by geography, department, or by using custom variables. Continu also comes with custom reporting so you can fine-tune reports to gain insights on the performance of your employees. On the other hand, learners will have access to their unique dashboard so they can stay on top of their training and progress.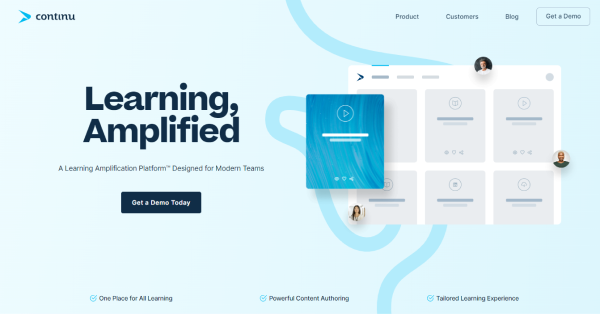 Cost: Available upon request
Key features:
Personalized learning tracks

Smart segmentation

Custom reporting

Learner dashboard