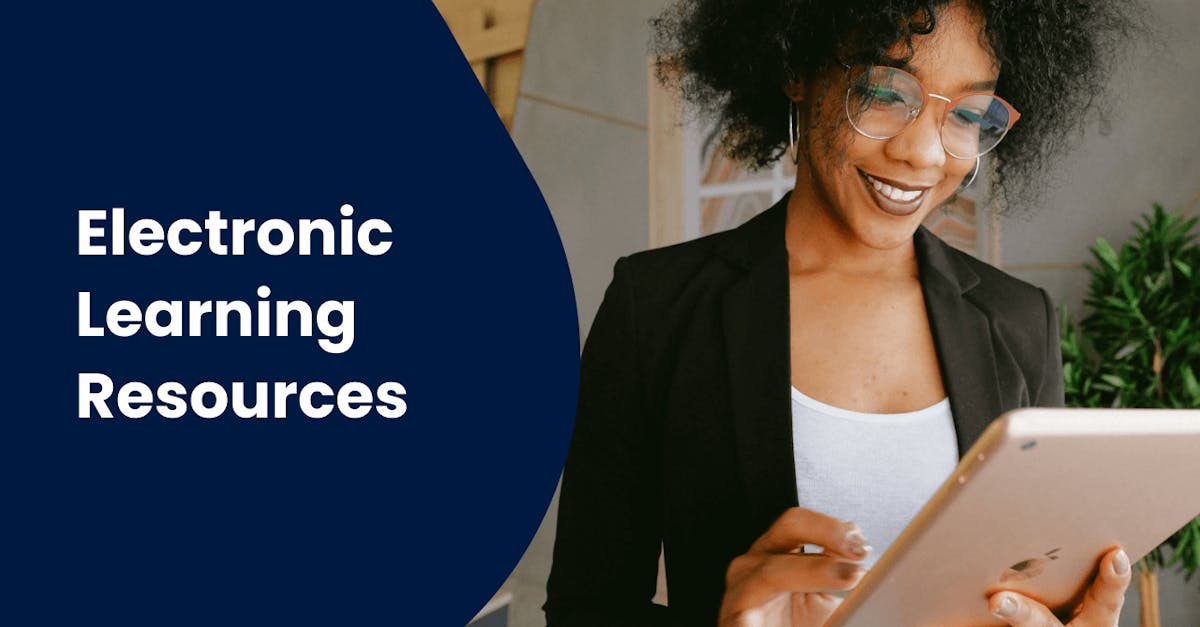 Businesses nowadays are becoming more and more interested in using electronic learning resources to support the ongoing learning and development of their remote teams. Maybe you're looking for good electronic learning resources that you can share with your organization? Then you're just in the right place! Let's look at some of the best electronic learning resources that are worth your time and money.
1. EdApp
From accessing a variety of online courses to creating elearning courses, EdApp is definitely the ultimate electronic learning resource.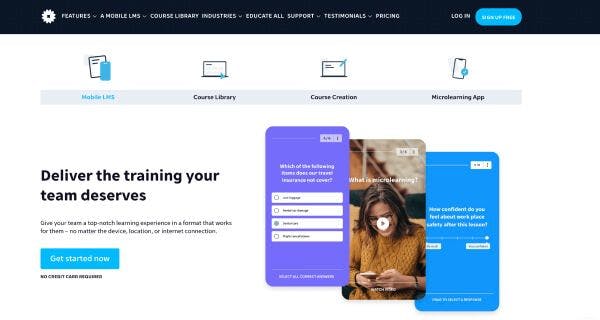 EdApp is known for its comprehensive elearning course library that can give you and your team a steady stream of bite-sized electronic learning resources. It includes free IT training courses, onboarding training, workplace compliance, and more. EdApp designed its courses with the help of some of the most respected brands and thought leaders in the world. It has a gender equality course from the United Nations, food sustainability from Marley Spoon, and responsible drinking guidelines from the makers of none other than Absolut Vodka.
And do you know the best part of it? These courses are made completely free for all!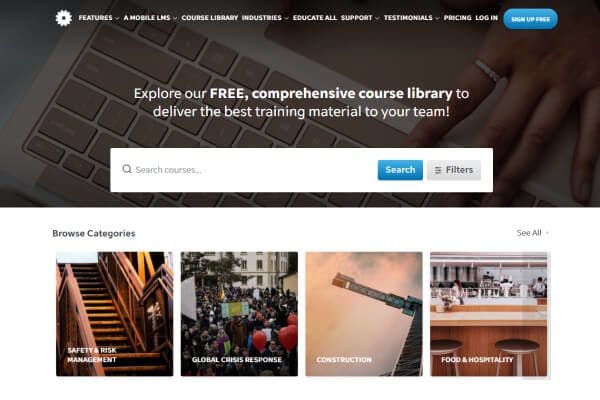 What's more, EdApp offers an intuitive creator tool that's ultimately easy to use. Compared to other authoring tools, there's no coding and instructional design expertise needed. Perhaps you're not finding any online courses that fit your training objective. Put this elearning authoring platform into use to build your training or continuing-education material from scratch. Choose an interactive template that appeals to you, drag and drop your content, apply your branding, and you're all good to go. You can also bring the magic of Canva to bring beauty into your slides – thanks to EdApp's integration with this wonderful tool.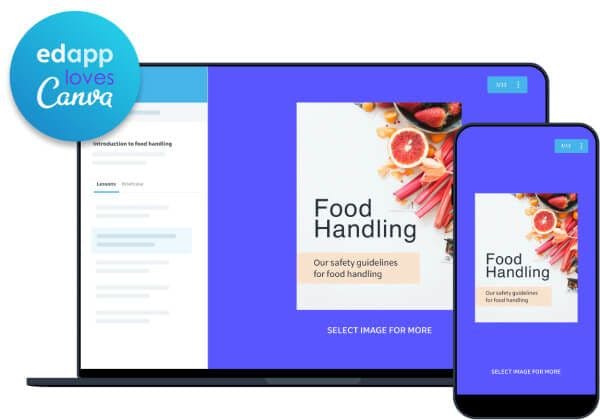 All courses published in this platform, whether from your own library or imported from EdApp's, can be accessed through desktops and laptops. They also respond perfectly on mobile phones, making sure that your team will be able to access them even when they're outside getting coffee or in the car on their way to their clients. 
Cost: Free
Key features:
2. Youtube
Youtube is more than just a place for cat videos – it's also a great electronic learning resource to find educational video materials that you can share with your team. It houses an array of video-based content on almost any topic you can think of. From sensitive topics such as workplace sexual harassment and bullying to how-to videos like how to drive responsibly or how to serve customers in restaurants, you'll definitely find it here on this platform.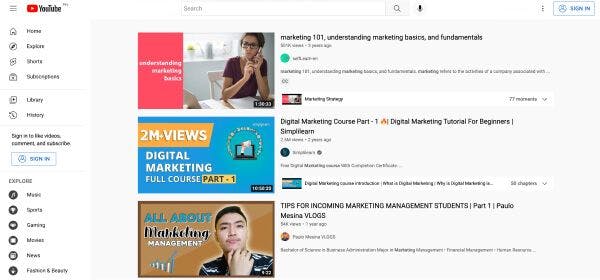 You and your team don't even need to have to worry about access. Youtube's been optimized to work perfectly on both smartphones and desktops. Chances are, your team already has Youtube on their phones. This is perfect for mobile learning. As their trainer or employer, all you'll need to do is find great elearning material for them, and send the link to them!
Cost: Free
Key features:
3. Coursera
With over a thousand courses hosted by industry leaders and the best universities in the world, Coursera has been the go-to place for professionals seeking to hone their skills. Some people even go to this platform to earn an entire degree – that's how credible this site is.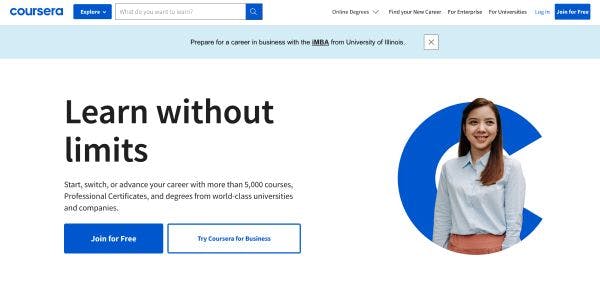 Most of the courses offered by Coursera are delivered in an online video format that your team can take at their own pace. Some of the courses on the platform include security officer training courses. These courses come with extra activities, like quizzes and skills assessments, to secure active participation. They can be completed in weeks, but sometimes they also last for months. Though that won't be much of a problem as deadlines can be adjusted accordingly. Upon successful completion, learners will be able to earn a certificate that's recognized by most industries. 
Cost: Subscription starts at 9.99 USD a month
Key features:
Video learning courses

Activities like quizzes and assessments

Industry-recognized certificates
4. Alison
Alison is jam-packed with over 1,500 courses that are free to take. They tap into a wide variety of subjects, from business and marketing courses to engineering and construction. Enrolling in any of these courses will give your team access to a series of modules and training course assessments to achieve an increased learning retention rate. Their certificate courses range from 2-3 hours on average, while their diploma courses take 8–10 hours to complete.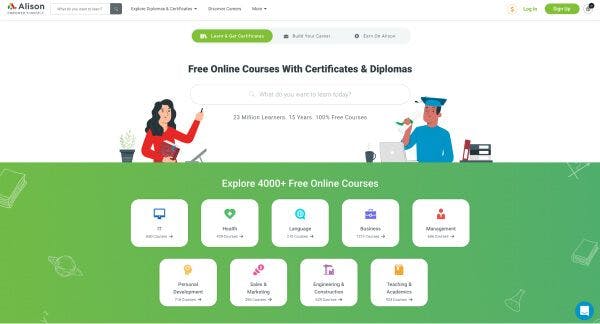 Learners will need to achieve at least 80% in each course assessment to obtain a Learner Record or Learners Achievement Verification. But for an official certificate or diploma from this electronic learning resource, a little fee will be needed. Your learners may choose from three different types of certificates/diplomas – a digital copy downloadable in PDF format, a physical version, and a physical version delivered in a stylish frame.
Cost: Free
Key features:
5. edX
Established by professors from Harvard and MIT, edX is surely a highly credible place to find high-quality elearning courses. Similar to Coursera and edX, this educational platform also houses thousands of courses and programs that can help your team earn a degree and advance their careers. The majority of these courses also support self-paced learning, which is perfect for those who are loaded with daily work tasks.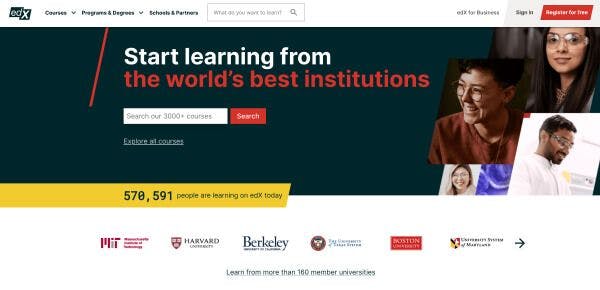 But that's not all – edX is also built to support learners from different parts of the world. Most of their courses can be translated into different languages, like Spanish, French, and Chinese. This makes an ideal electronic learning resource if you're handling global teams that speak languages other than English. 
Cost: Free and paid courses
Key features:
6. Skillshare
Skillshare is known for its collection of live and pre-recorded video lessons that are hosted by industry experts and teachers. Their selection of online learning courses is fascinatingly diverse. From motivational learning to skill based training courses, it ticks all the boxes. These video courses are usually 30-40 minutes long, and each lesson is broken down into short clips ranging from 1-10 minutes.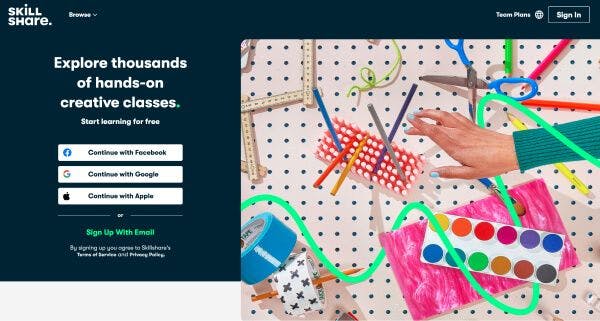 What's interesting is that Skillshare also offers a discussion forum where everyone can ask questions, share their insights, or even leave feedback on a course they're taking. If they're lucky, the instructor might even join the conversation and answer the questions themselves. 
Skillshare isn't free, but you can take advantage of its 7-day free trial to see if it fits your training or online education objectives. If you sign up to their monthly subscription plan, you'll have a whole month of access that's completely free. 
Cost: Subscription plan starts at 2 USD
Key features:
7. Audible
Audible's expertise lies in premium audio storytelling, which is ideal for learners who prefer to learn by listening rather than reading. It's also the perfect electronic learning resource for those who rarely have the time to sit down and read their books. Basically, all they need is a working headphone with Audible. They can even learn and listen on the go.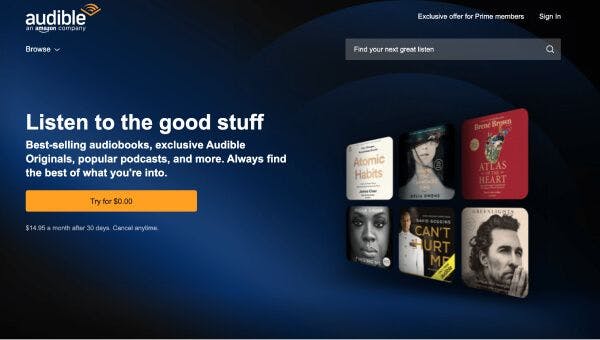 Subscribing to Audible comes with unlimited access to thousands of audiobooks, even podcasts and original audio series. Audible audiobooks cover an array of different categories, including technology and fashion, and even fiction stories. Your team can access them using their smartphones, but they can also listen to it on their Windows or Mac computers, it's all up to them. 
Cost: Subscription plan starts at .95 USD
Key features:
8. Digital Promise
Digital Promise is a non-profit organization that functions as a knowledge database of electronic learning resources. It was primarily established to make access to digital learning easier for learners across America and help them acquire the knowledge and skills they need to thrive in the real world.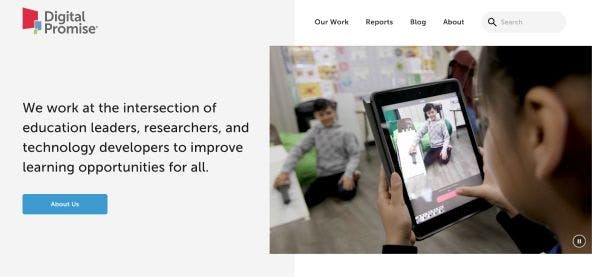 Here, you'll find a list of webinars and events that your team can join in the comfort of their home. This list is updated regularly to make sure that learners are on top of the most recent and most relevant events and webinars happening. Digital Promise also publishes blog articles on a daily basis, and their writers tap into a wide variety of topics, like the benefits of artificial intelligence (AI), designing adult learning initiatives, the use of micro-dentials, and more.
Cost: Free
Key features:
9. TallyFox Tallium
TallyFox Tallium considers itself a business ecosystem platform made to simplify virtual knowledge exchange, content management, and communication within organizations. Here, you create a community that's private and specific to your team. You can share ideas and post updates about your services, or any business knowledge information that you need to deliver to your team. If it's tagged as private, no one can access this information but you and your team.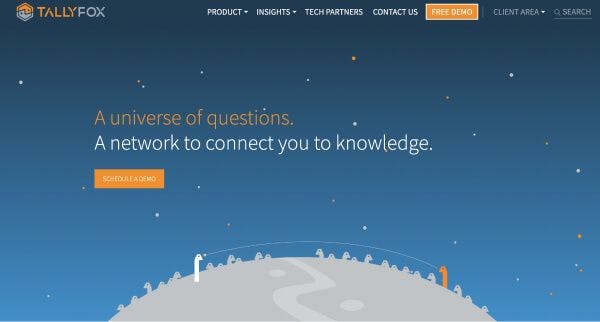 There's also an option to connect with people outside of your organization to get some fresh ideas from them and discover new information. And thanks to its peer-ranked content and taxonomy filters, your employees can easily find and select electronic learning content that's relevant to their roles and interests. Even more so, they can locate information that others have shared on this platform, including those that have been posted years from now.
Cost: Starts at USD per user per month
Key features: 
Business ecosystem platform

Public and private communities 

Secured cloud hosting

Peer-ranked content and taxonomy filters
10. IsEazy
IsEazy's quite different from most of the electronic learning resources that we've listed on this list. While it's not exactly a place to find online learning programs or connect with other learners to get new information, this learning platform can be used to create elearning materials from scratch.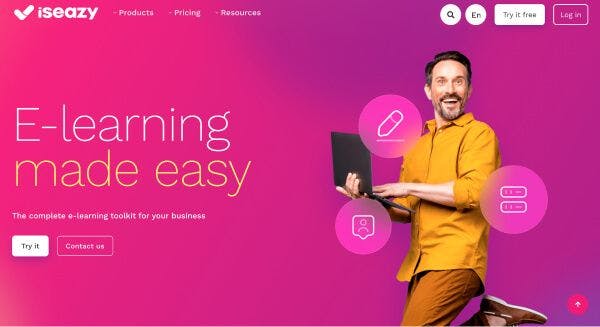 What's noteworthy about this tool is its straightforward interface and intuitive editing system. Building and designing your courses is as easy as using PowerPoint. Instructional design becomes a bit more intuitive as you can simply drag and drop your content, move elements and photos, and select the layout depending on how you'd like to present your elearning content. You can also go above and beyond by adding interactive elements like quizzes, games, and animation to boost your learners' engagement. 
This electronic learning resource offers a free plan, but do take note that your course materials will be published with an IsEazy watermark. To remove it, you'll have to subscribe to its monthly plan. 
Cost: Free and paid plans
Key features: