Given the unprecedented challenges brought on by COVID-19, we've all been forced to adjust, slow down, and adapt. Even before the global pandemic hit, however, the introduction of eLearning and microlearning were already on the rise to train professional teams. We've seen a growing number of leading organizations that have been turning to mobile-accessible Learning Management Systems (LMS) to modernize their dated and often ineffective training modules.  
eLearning Statistics – Market increases by 200% in 3 years
Between 2017 and 2020, the worldwide eLearning market increased by 200% at a value of $250 billion. And by year 2025, it's expected to reach well over $300 billion. 
Microlearning, regarded as the most effective form of learning, has seen exponential growth compared to traditional learning. And it's no surprise since the learning transfer is 17% higher, engagement is improved by 50% and a 300% increase has been adopted overall. This article uncovers these statistics and more to see how professional Learning & Development (L&D) have really shifted and how you can deliver the best training to your teams as a result.
eLearning on the rise
Backed by research from industry experts around the globe, LearnWorlds commissioned a report in 2019 to examine the benefits surrounding eLearning. The report concluded that eLearning outweighs the benefits of traditional learning structures significantly, especially in the corporate space.
These findings were echoed by the Harvard Business Review, who reported that companies spent more than $90 billion on learning and development efforts in 2019 in the United States alone. They also predicted that this kind of shift was only expected to grow by organizations, where the eLearning market size was expected to grow beyond $200 billion by the year 2025 – and this was all before COVID-19 hit.
Start using the best eLearning platform of 2020.
eLearning Statistics – Why the growth?
Now that we know eLearning trends were on the rise before the global pandemic, let's unpack the why. When executed correctly, eLearning can not only be a more convenient option as it enables dispersed teams to connect and complete vital learning content. But it can also produce better learning results in terms of completion rates, and more importantly knowledge retention. In fact, Brandon Hall and Rosenberg (2001) found that eLearning can increase knowledge retention by up to 60% simply because it's more engaging than traditional learning.
Retention. This isn't a new concept, as thought leaders and communication experts have long shared ideas around "The Medium is the Message" (Marshall McLuhan, 1964). This concept stresses the importance of the channel in which the message is delivered, rather than the message itself. Meaning, you may have important compliance-based learning content to deliver to your teams, but if it's a 30-page Word document or PowerPoint presentation of dry text, the likelihood of interaction and retention is slim to none.
Time. Beyond its effectiveness, eLearning can also save an exponential amount of time. Reports have consistently found that eLearning typically requires 40 – 60% less time from any employee compared to traditional training. This type of training also seamlessly fits into employees' busy schedules, providing a more flexible option for teams to complete their content when it suits them. Similarly, delivering training via eLearning or LMS saves hours of tedious preparation around face-to-face training or dated training modules since content can typically be updated and distributed in real-time – at scale.
Business revenue. Apart from its overall learning effectiveness, and being time-effective, it's also been reported that 40% of companies say eLearning has helped them boost revenue levels, and companies that offer eLearning have generated more than 25% higher revenue per employee.
eLearning Statistics – Microlearning at a glance
Fast forward to early 2020 and COVID-19 hits, prompting an unprecedented amount of organizations, teams, and individuals to work remotely. It's no surprise that eLearning boosted in light of this, meaning that businesses have adapted by pivoting to tech-based training and learning. TechJury reported that the corporate eLearning market is projected to increase by almost $40 billion between the years 2020 and 2024.
Similarly, a survey of 2,500 found that those with comprehensive training programs (including eLearning) have 218% higher revenue per employee along with 24% higher profit margins. (TechJury, 2020). Furthermore, the worldwide eLearning market has projected to be worth over $300 billion by 2025, which is an impressive 50% increase from what was previously expected in 2019. 
The takeaway
We know that eLearning is effective, time-saving, and results in higher business revenue. We also know that 2020 and perhaps more accurately COVID-19 has boosted the introduction of effective eLearning, particularly in the workplace.
Microlearning trends and results
Like eLearning, microlearning has been steadily increasing in popularity as workplaces continue to modernize and produce better training styles to experience consistently better learning results.
In case you're unfamiliar, microlearning is the breaking down of information into small, bite-sized chunks so learners can easily absorb the information. Microlearning is typically delivered in small increments, meaning the learner tackles concepts in as little as five or ten minutes. The results mean that engagement rates soar from an average of 15% up to 90%. It also means that retention rates are improved and learners and because of the cognitive theory behind microlearning, the content learned has a better chance of being stored in long-term memory. That way, learners can have a deeper understanding of the content at hand as well as apply the knowledge in practical and effective ways.
Because of microlearning's effectiveness, 8 out of 10 L&D professionals favor microlearning above other learning methods because their learners prefer it. It's also been reported that development costs are reduced by 50% but the speed of development is increased by 300% with the introduction of eLearning microlearning.
Another reason why the introduction of microlearning has grown at higher rates is because of its learning results. This is backed by cognitive results and our brains' capability to focus. For context, experts found that in the year 2000, the human attention span was 12 seconds. Jump to 2015 and it amounted to only 8.25 seconds. It's clear that the average person's attention span is consistently declining, so it only makes sense to adjust learning and training accordingly. In light of this, it's not surprising that more and more organizations are embracing microlearning.
Mobile learning trends
Like eLearning and microlearning, you've probably guessed that mobile learning has also experienced a boost in popularity – not only in the year 2020 but also since the introduction of COVID-19.
The statistics:
In

2015

, the mobile learning market was worth

$7.98 billion

By the end of

2019

, the mobile learning market was worth

$27.32 billion

By the year

2025

, the mobile learning market is expected to reach

$78.5 billion

(Tech Jury, 2020).
Thought leaders like Josh Bersin believe that mobile microlearning should not only be embraced by organizations but must be introduced for businesses to succeed. Forbes reported that 80% of the workforce is composed of deskless workers, making mobile learning critical in becoming more proficient in their roles (2020). This number is only expected to grow, as more and more employees work remotely, either by necessity or by choice as a result of COVID-19.
Microlearning impact vs. traditional learning benefits
As an award-winning mobile-first and completely free platform, EdApp is designed to train teams – large and small across the globe. Every day around 50,000 lessons are delivered by EdApp in more than 90 countries around the world. But has the platform experienced any dramatic shifts to speak of in 2020 or, more specifically as a result of COVID-19?
The short answer is yes. Based on all the proven learning results that come from eLearning, microlearning, and mobile learning examples, it's no wonder that an innovative learning platform that encompasses all three is seeing exceptional results.
Microlearning at a glance
EdApp's monthly active users have grown by almost 300% since COVID-19 hit.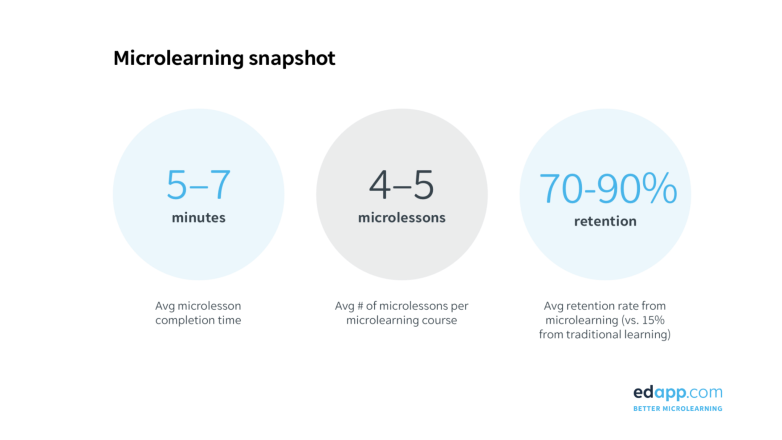 EdApp and microlearning: Completion & retention rates
The average microlesson takes 5 – 7 minutes to complete

There are an average of 4 lessons within a each microlearning course

Meaning, a microlearning course takes less than 30 minutes to complete

Average retention rate of microlearning is 70-90% 

Average retention rate of traditional learning is 15%
EdApp and microlearning: The results
If you're looking for tips to produce the best training results, learning designers have broken down three tips to incorporate into your learning ecosystem:
Introduce

gamification

. Microlesssons that incorporate elements of gamification result in a

15% better

understanding as well as retention rate. This can be done simply with platforms like EdApp, which instil concepts in a fun way, making it not feel like learning at all.

Include video in your microlessons. When courseware has some elements of video through short, relevant clips, it results in up to an

80% higher retention rate

.

Lessons that include elements of narration to help solidify or tell a story within your learning can increase retention of up to 22 times.
Gamification and Video
Gamification is used in 48% of EdApp's microlessons

Video is incorporated into 70% of EdApp courseware
Microlearning usage up by 700%
In the year 2020, microlearning has been widely embraced to train teams large and small across the globe. Measured by active users per month, EdApp reported that the audience went from around 5,000 up to well beyond 40,000 users, which is a staggering 700% increase from the year 2019 to 2020.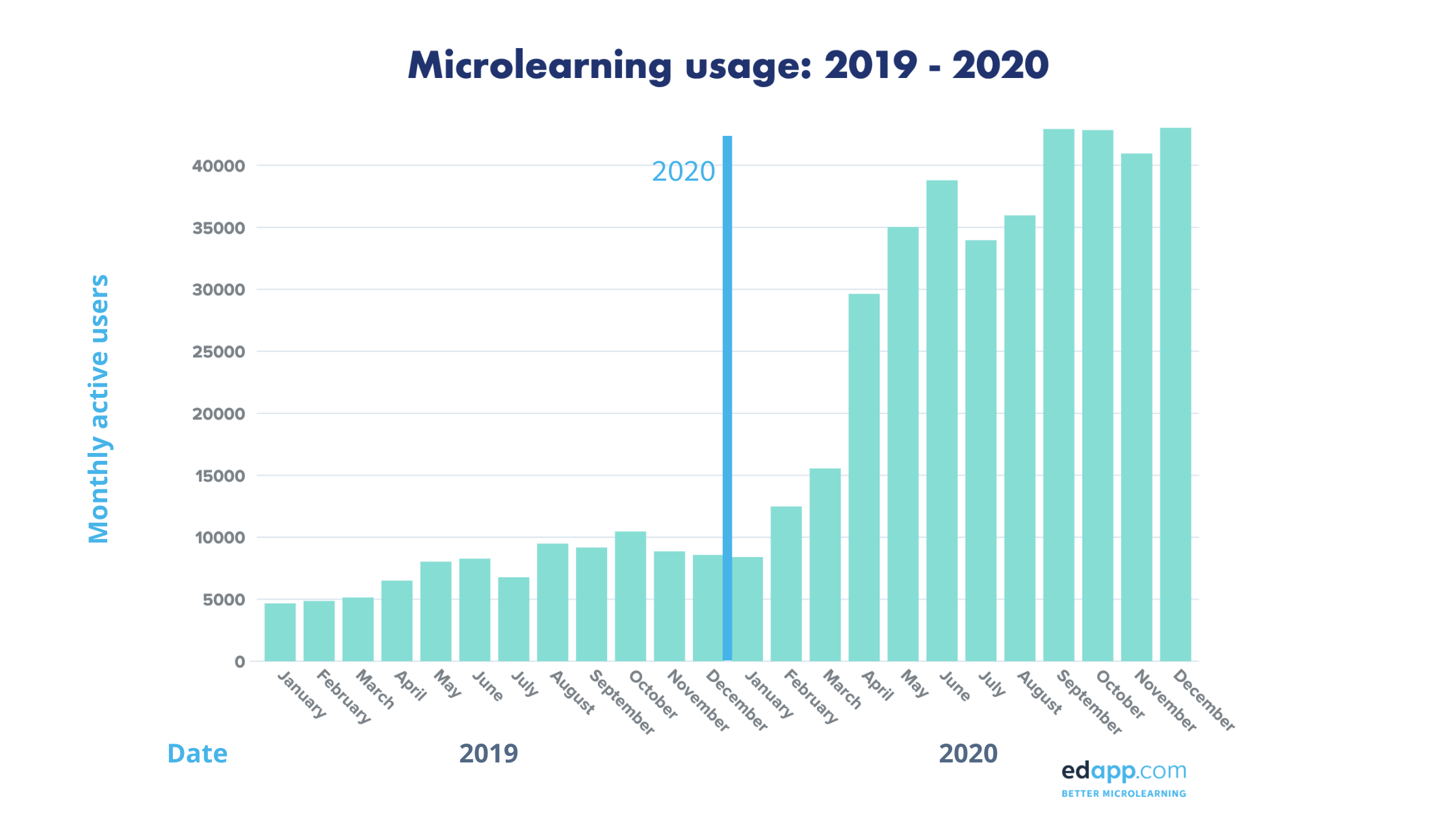 EdApp boasts a large collection of gamification templates to choose from, designed to suit every learner. Backed by learning theories results, EdApp's gamification templates boost engagement, make learning feel fun for the learner with intuitive and interactive activities, and ultimately increase knowledge retention.

By using microlearning videos in your online training, you automatically reduce cognitive overload. Since videos are short, they provide our brains with enough time to process the information and improve the working memory capacity.
EdApp's 50 intuitive templates to choose from include videos, making it incredibly easy for users to click and drag video content into microlessons. EdApp's narration template supports storytelling and can include pre-recorded content to easily add to your slides simply by clicking and dragging. Like the rest of EdAopp's templates, narration or storytelling is essential to help build and retain knowledge and can be seamlessly integrated into your EdApp microlesssons to produce a truly holistic learning experience.
Microlesson results: 2019 vs. 2020
As microlearning has only continued to grow in popularity between 2019 to 2020, so have some notable features. Microlearning platforms like EdApp that include built-in features to host elements of gamification, audio, and video components are on the rise.
2020 Microlesson results:

Audio or narration is used in over 40% of microlessons

Video elements are used in 80% of microlessons

Gamification is used in over 60% of microlessons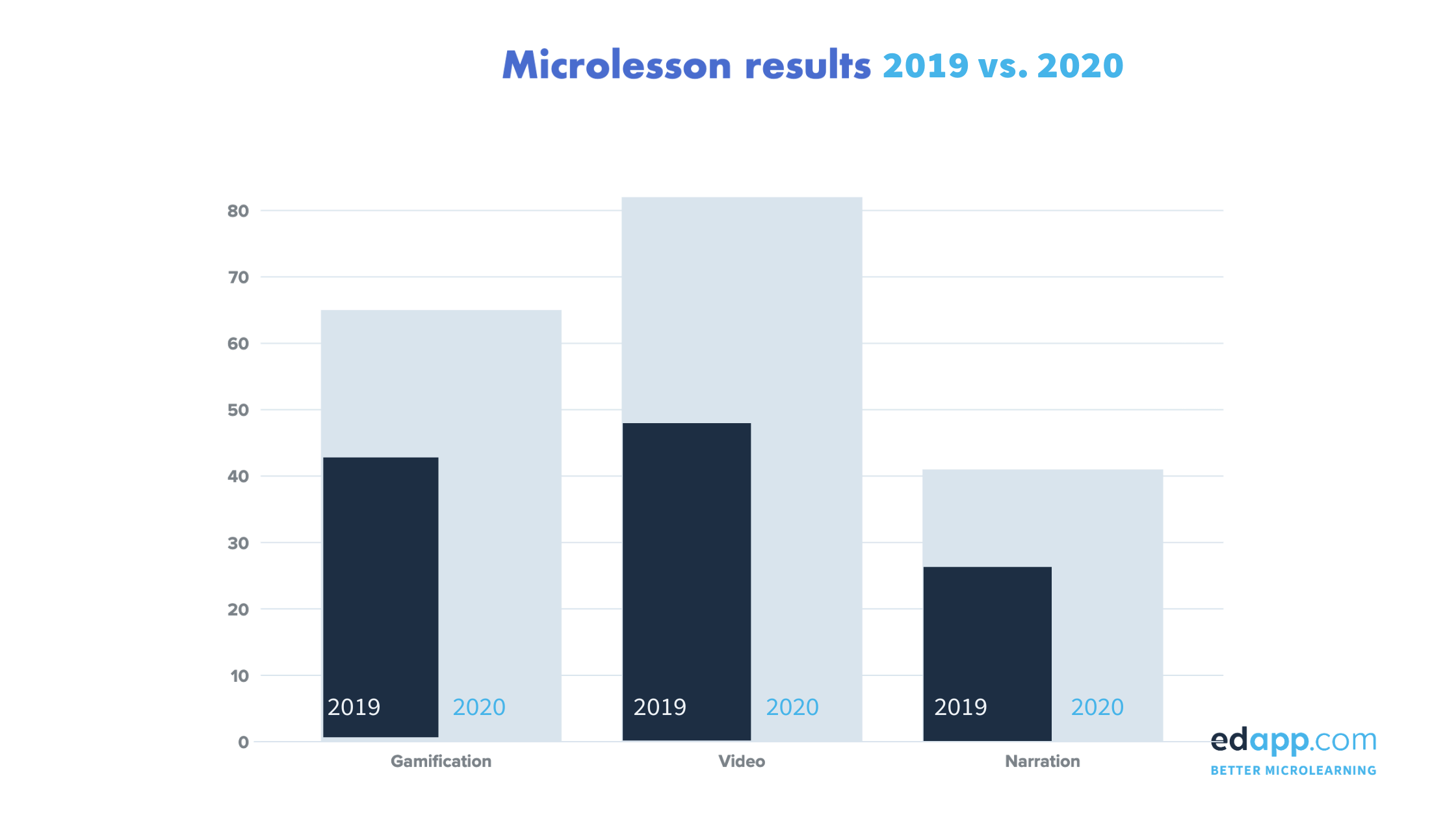 Incorporating gamification in learning has proven to consistently increase participation and completion results. Similarly, elements of video and audio have reportedly increased. According to leading education specialists, images are directly processed in the hippocampus function of the brain which means content with imagery is more likely to be deeply understood and stored long-term.
Learning on mobile increases by 20%
While EdApp is made for mobile learning, meaning that you can access your courseware from wherever, whenever, microlessons can also be completed via desktop. Let's breakdown the results.
Mobile vs. desktop learning:
In all of 2019,

79% of EdApp

activity was experienced on mobile

From January up to October 2020, 92% of EdApp's activity was on mobile
Even as we continue to work remotely or from home more often, the numbers show that the preference is still learning via mobile.
If you had any hesitations of introducing a modern, mobile-first microlearning experience to your professional training, we hope this article has helped clear them up. Based on recent trends and an even stronger boost due to COVID-19 and the shift to remote learning, it's clear that an all-in-one training solution like EdApp is the best option.
EdApp is an agile learning platform with built-in features like an extensive library of complete lessons, ready for you to edit and deploy to your teams. The innovative platform also includes AI translation capabilities, and will even help modernize your dated PowerPoint into beautiful, microlessons within minutes.
Ready to get started? Train your teams – large and small all for free by clicking below. Have any questions? Reach out to hello@edapp.com and one of our team members would be happy to help!