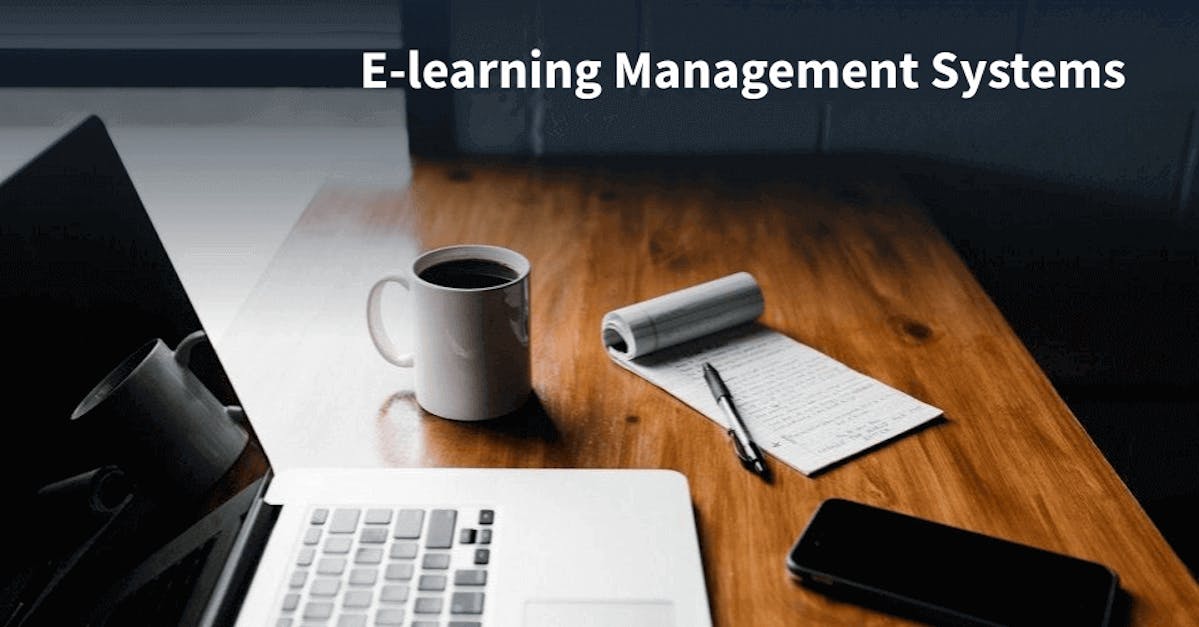 Building online training is not an easy task unless you use the right elearning management system with the right features. But it is worth doing as online learning is very convenient for the employees and it also saves management time and money. To help you find the right training platform, we've narrowed down 10 elearning management systems to make creating and managing training content easier.
Elearning Management Systems #1 – EdApp
EdApp is a mobile-first elearning management system perfect for managers to build their online training. With its intuitive authoring tool, course creation can be done in a breeze as it streamlines the processes compared to when done manually. Not only that, there are different microlearning and gamification templates managers can use to make the training materials more engaging for the learners. By using the microlearning approach, learners can digest the information properly as bulks of overwhelming information are transformed into bite-sized modules. This form of training allows you to embed information into the long-term memory of your employees while also empowering them to have control over their learning process.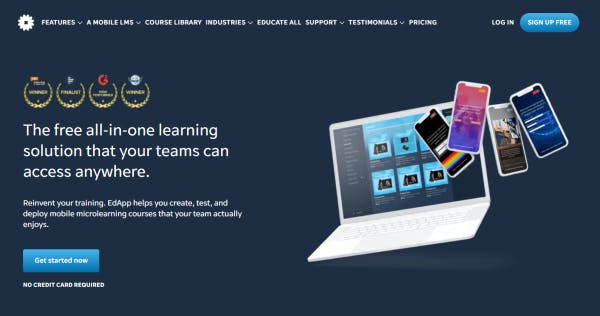 EdApp also has its own fully editable course library where training officers can instantly deploy ready-made courses. It's perfect for busy trainers who have no ample time to put together a microlearning course. This whole learning experience is not complete without a learner's assessment of their learnings. Fret not, EdApp has got you covered with their Rapid Refresh online quiz maker. There is also analytics to track employee performance.

With this microlearning LMS, you have full control over course management, and your employees can access training materials conveniently on one platform. The best part? You can enjoy its easy-to-use features – all for free! All you have to do is to sign up and start exploring the training platform.
Features:
Cost: Free
Elearning Management Systems #2 – Abara LMS
Abara LMS is a powerful elearning management system designed to simplify businesses' employee training processes and resource management. It provides training administrators with web and mobile-based features, like course creation and distribution, knowledge management, SCORM compatibility, virtual classroom training, as well as assessment and survey capabilities. Apart from scheduling and deploying courses to your learners, you can also send out push notifications to remind them of completion deadlines, tests, or lesson updates. There are also a couple of learner engagement tools that your employees can use, including the learner dashboard, course progress feature, and gamification elements like leaderboards, points, badges, and certificates. Abara LMS also incorporates social learning through discussion forums and a modern message center.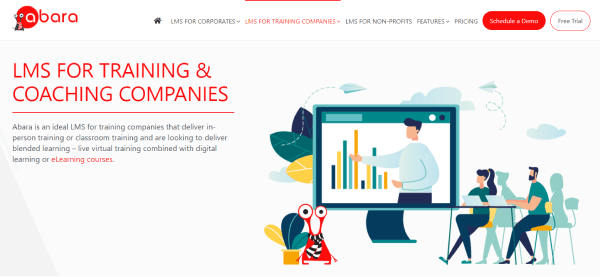 Features:
Course creation

Knowledge management

Virtual classroom

Assessments and surveys

Learner dashboard

Modern message center
Cost: Starts at 20 USD per month
Elearning Management Systems #3 – Unlock:Learn
With more than 25 years of experience in the corporate training industry, Unlock:Learn enables organizations to design tailored learning experiences for their employees. Its easy-to-use features and automated processes, allow you to seamlessly onboard, engage, and train your entire business. Managers can also plan training strategies by accessing relevant reports through the platform's analytics feature. An AI-powered chatbot also guides employees through different training processes to minimize the need for support requests.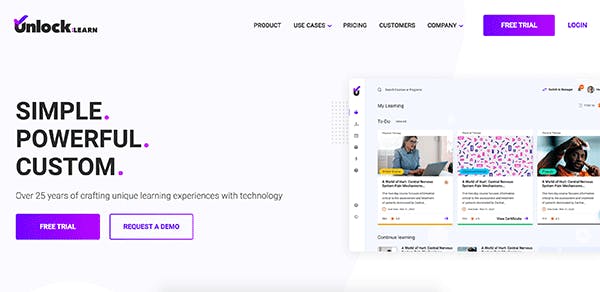 Features:
AI-powered chatbot

Automation

Analytics
Cost: Free trial, starts at 0 USD/user per year
Elearning Management Systems #4 – Intellum
Another elearning management system to consider is Intellum, especially if you're looking to create, present, manage, track, and improve the kind of experiences that engage and educate your learners. With this platform, you can give your learners access to live and on-demand training content all in one place. It allows for rapid content authoring through its built-in Evolve authoring tool where you can create blog post-like pages of content, quizzes, surveys, and assessments. You can also host virtual training, webinars, conferences, and even in-person instruction when needed. To track learner progress, you can create custom reports that can be exported to third-party visualization tools for deeper insight and analysis. This platform works across multiple browsers and devices and also has dedicated iOS and Android learning apps.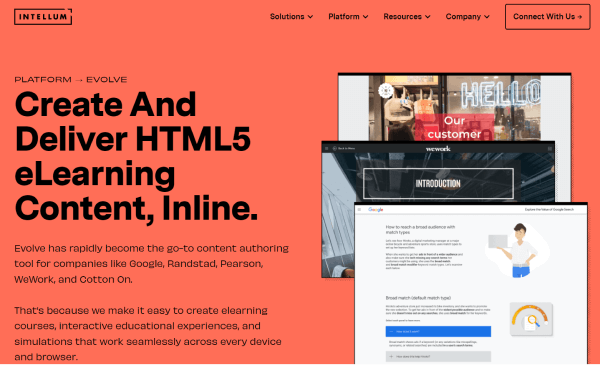 Features:
Cost: Paid plans
Elearning Management Systems #5 – Sharepoint
With Sharepoint, L&D professionals can deploy employee training programs like a pro. From creating your courses and organizing events to gathering employee feedback, you'll discover a range of helpful templates that can make administrative tasks a breeze. This elearning management system also serves as a friendly platform where you can customize training events and keep track of dates, including course deadlines. After completing training courses, the expertise and skill level of the learner will be updated in the database, making it easier for leaders and administrators to find the most qualified person for a specific task.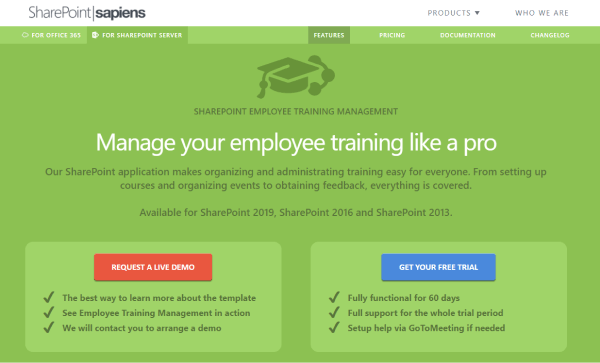 Features:
Training development and monitoring

Feedback collection and analysis

Accessible training history database
Cost: Starts at ,799 USD
Elearning Management Systems #6 – Tovuti LMS
L&D officers can streamline the employee training process with Tovuti LMS. With its built-in course authoring suite, you can create, schedule, and deploy interactive courses in just a few easy steps. You can also include gamification and leaderboard features to encourage them to complete their assigned learning tasks. If you want to integrate synchronous learning sessions into your training, Tovuti LMS's live virtual classroom allows you to meet with your team members in real-time and discuss learning content through third-party online video conference platforms like Zoom and GoToMeeting.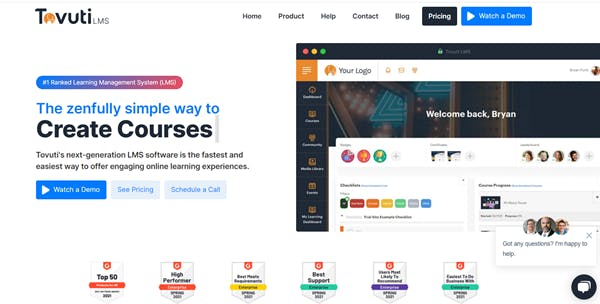 Features:
Course authoring

Leaderboards

Virtual classroom 
Cost: Paid Plans
Elearning Management Systems #7 – Eloomi
Eloomi is an elearning management system that aims to simplify training through its platform that can be readily accessed from any device. It provides flexibility with content creation as it allows you to make custom courses or select from hundreds of pre-built programs. It also has a 360-degree feedback system wherein peer reviews can be given for a more purposeful evaluation to close any skill gaps and identify training challenges. Eloomi also allows you to set learning paths to direct your employees to the training content that's most relevant to them for a personalized path to career advancement and success.
Features:
Cost: Paid plans
Elearning Management Systems #8 – Auzmor Learn
Auzmor Learn allows managers to create courses, deploy learning content, and monitor employee performance with ease even without coding knowledge or technical design skills. Their easy-to-use course builder can help you create your training materials or customize courses using templates from their expansive lesson library. With its responsive design, lessons are automatically adjusted for any screen size, so your employees can complete their assigned learning materials on any device. On the other hand, Auzmor Learn's real-time reporting dashboard and customized analytics features can help you track overall employee training progress, monitor course completion rates, identify learning trends, and address knowledge gaps.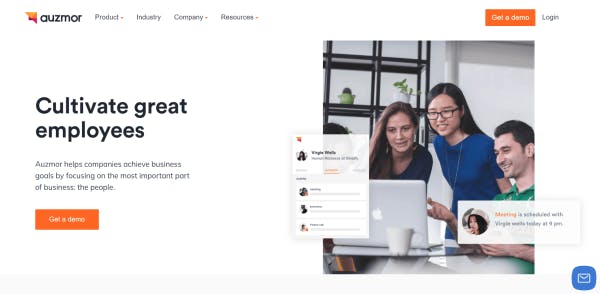 Features:
Course builder

Lesson library

Reporting dashboard

Customized analytics
Cost: Paid plans
Elearning Management Systems #9 – isEazy
Build engaging training courses with isEazy's cloud-based authoring tool. With its simple interface and intuitive editing system, you'll be able to quickly design polished learning materials without needing technical and instructional design skills. This elearning management system enables you to choose from a range of well-designed slide templates and course layouts, personalize your images, and translate courses with ease. You can also customize your course by adding interactive elements like quizzes, catalogs, and timelines. If you want to deploy a course more efficiently and save time, the collaborative tool is a handy feature that allows different users to simultaneously edit a single course.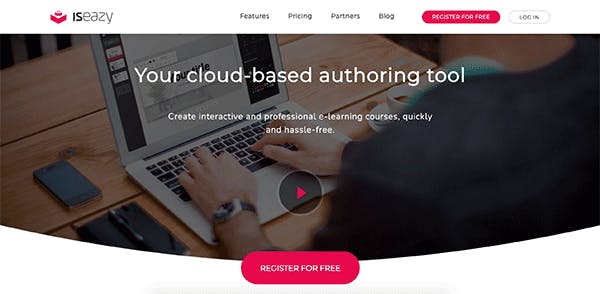 Features:
Slide templates

Collaborative tool

Course translation
Cost: Free, starts at 9 USD 
Elearning Management Systems #10 – AdaptiveU
With the AdaptiveU elearning management system, trainers can create responsive web page-like courses through their all-in-one cloud-based authoring software. Designing your course is made easy by its intuitive tools that require no advanced tech skills. Just copy and paste your lesson's text, add links to relevant articles, and attach images or videos. To help learners retain the material better, managers can build quizzes to assess the learners' knowledge.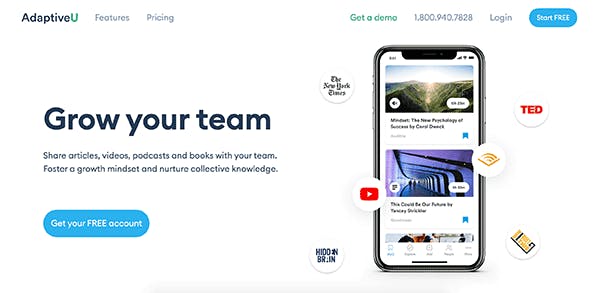 Through this elearning tool, learners can track their peer's course progress and share relevant learning content. Company trainers can also generate reports because of AdaptiveU's powerful analytics and learning management functionality.
Features:
Web-page style courses

Content sharing

Progress reports
Cost: Free, starts at 5 USD