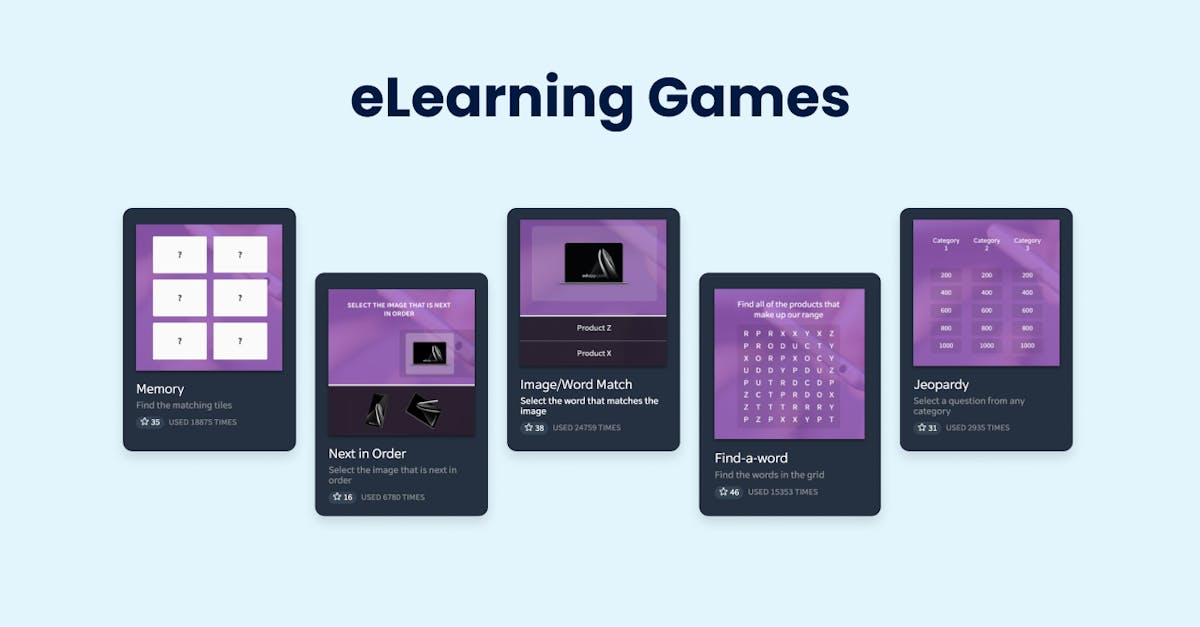 If you're interested in using games in eLearning to make your lessons more fun and exciting, then we've got here some eLearning games you can consider. These eLearning games are designed to be interactive for learners and effective in improving their learning retention. 
1. Word Find
Word Find is a classic eLearning game that asks learners to recall keywords and search for them in a grid. For instance, You can include definitions or mention related keywords to give learners clues about the word/s they should be looking for.  If you're introducing new concepts or terms to them, this is the ideal game to include after a lesson.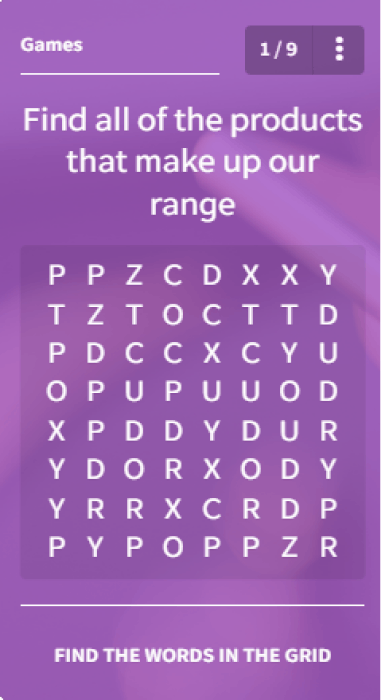 Creating eLearning games is made easy using LMS with tools to gamify training like EdApp! This software offers an amazing course creation tool that features a variety of interactive and responsive templates, including Find A Word along with the other games on this list. Thanks to these templates, it's easy to get started with content creation. You can easily create taccp training courses and . Plus, you can be as creative as you want. 
Add eLearning games into your lessons with ease using EdApp. Join EdApp for free today!
2. Memory Game
The Memory Game asks learners to select matching tiles within a shuffled collection of cards. To play this game, learners have to reveal each card one by one. Once they've spotted tiles with related images or words, they have to select or reveal both tiles. To make things more exciting, you can include a timer to challenge them to think fast.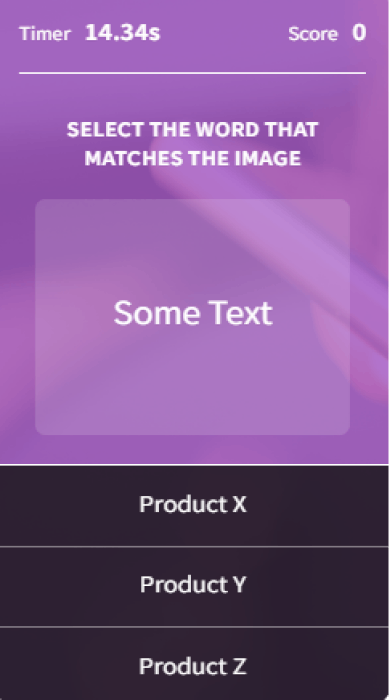 In EdApp, this eLearning game allows your learners to earn Stars, which they can use as a virtual currency to play Star Bar games. Here, they can win real prizes, like voucher codes, coupons, and more, depending on what rewards you set.
3. Image/Word Match
In the eLearning game Image/Word Match, your learners must choose the word among a list of choices that best matches either an image or a word flashed. The images or words don't have to be similar. Rather, they can only be related to each other. In practice, you can use this game to help them remember a product's visuals along with its corresponding name, price, feature, benefits, and so on.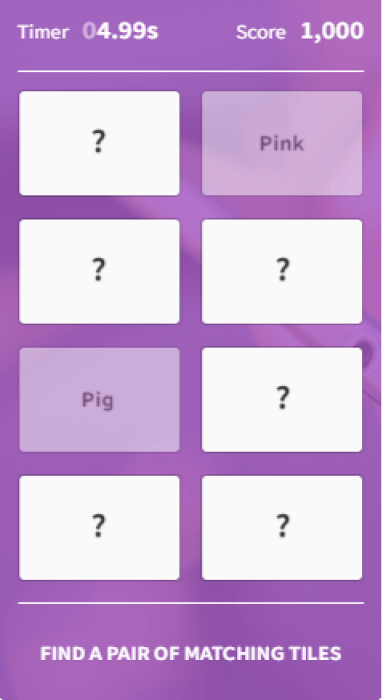 4. Image Pairs
Image Pairs is a little similar to Image Connect, but here, the learners should select images that are exactly the same among a pool of tiles. You can use this eLearning game to highlight which products are limited editions. Or, you can emphasize the lines or categories that a product falls under.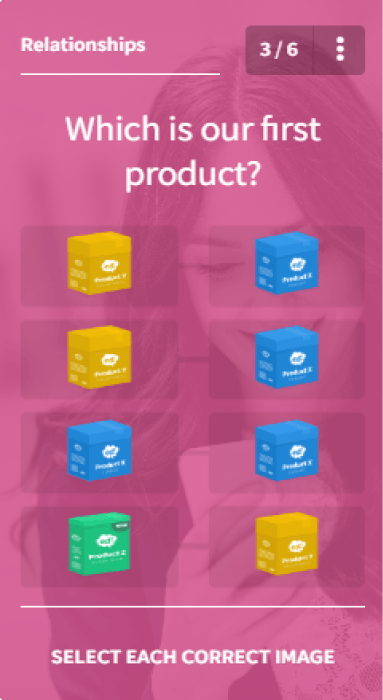 5. True or False
Another classic eLearning game in this list is True or False. This is very easy–all your learners need to do is determine whether a statement is right or wrong. Depending on the template you're using, your learners can either input "true" or "false" or click a button. This is a good game to use to reinforce guidelines, especially with compliance training.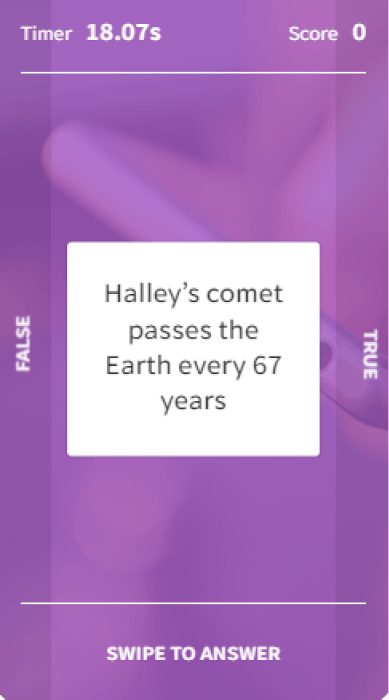 In EdApp, learners play this game by swiping truthful sentences to one side and false statements to the other. It also includes a timer, so the learners should be able to accumulate as many points as they can before the timer expires. 
6. Reorder
In the Reorder game, learners are asked to rearrange the positioning of words, so that they're in the right order. You can use this to reinforce the chronology, ranking, or sequence of certain concepts. For example, you can ask your learners to rearrange the order of products according to their sales ranking. This way, they're more aware of the top-selling ones while keeping in mind to look after the bottom-ranking products more. Similarly, you can use it to reinforce the order of processes at work.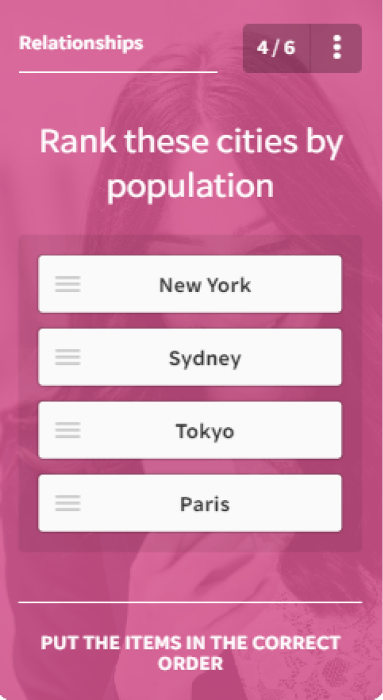 7. Select in Order
Select in Order is also similar to Reorder, but this eLearning game asks learners to choose the appropriate sequence of photos instead of words. Like Reorder, you can use this game to reinforce your best-selling items, focusing on their visuals for easier recall. Or, you can highlight the stages of certain products, services, and other concepts.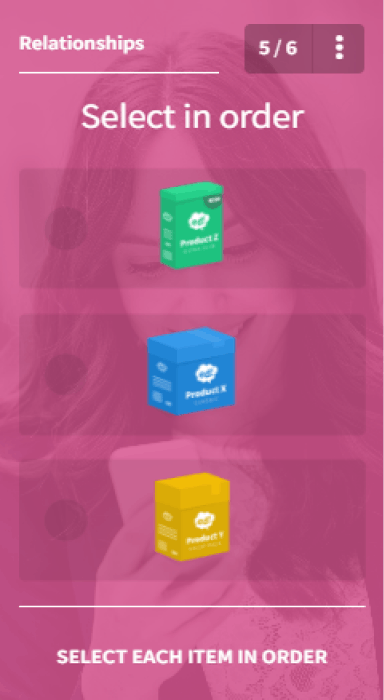 8. Circle the Answer
Circle the Answer is a multiple-choice type of eLearning game where your learner selects an answer among an option of responses by drawing a circle on it. It's a fun game that lets them use a mouse or a touchscreen device to circle the correct response to a question. You can use this eLearning game for training that covers crucial and in-depth topics like OSHA training, HAZPOWER training, safety training, and more.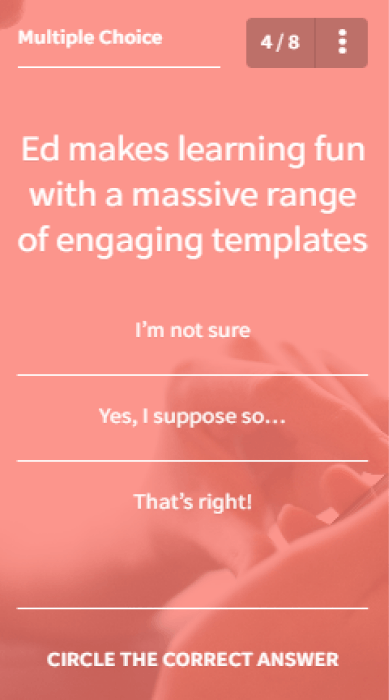 9. Image Multiple Choice
Image Multiple Choice is simply what the name suggests–learners can choose an answer among options that are in image form. In practice, you can input a statement and ask learners to choose the image being described. It's perfect for introducing a new product, signs/symbols related to safety compliance, and other similar important visual information.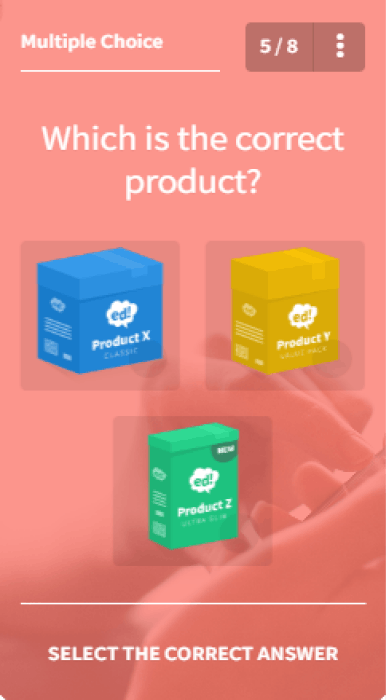 10. Multiple Choice
Last but not least is an all-time favorite eLearning game format used by many, which is Multiple Choice. Here, learners will choose the right answer among options that are in text format. Depending on the template you're using, there can be multiple correct answers. As it encourages learners to think critically to not be tricked by the other choices, it's effective for active reinforcement.