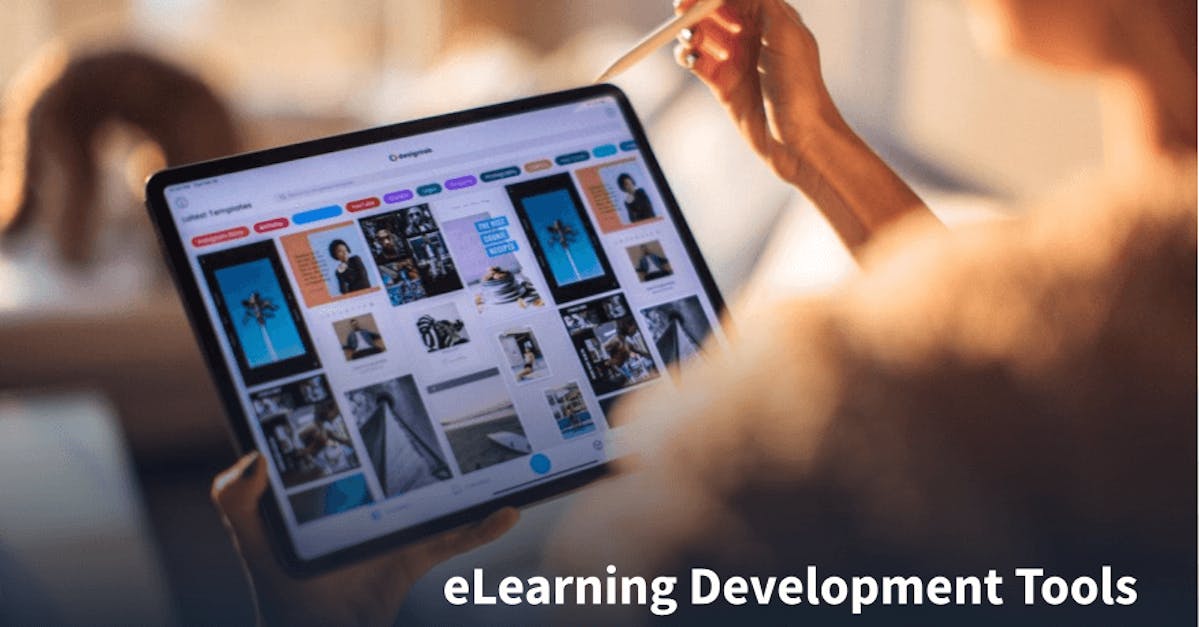 Organizing training programs can take so much time, from creating the content flow to the deployment of training materials. But with the availability of eLearning development tools, managers now have the option to use those to speed up the process of training preparation. Here are 10 eLearning development tools to help you with your training.
Elearning Development Tool #1 – EdApp
EdApp is an award-winning free eLearning development tool that makes course creation for trainers and managers a breeze. This learning management system prides itself on its intuitive authoring tool,  which will speed up the whole process of building your training materials.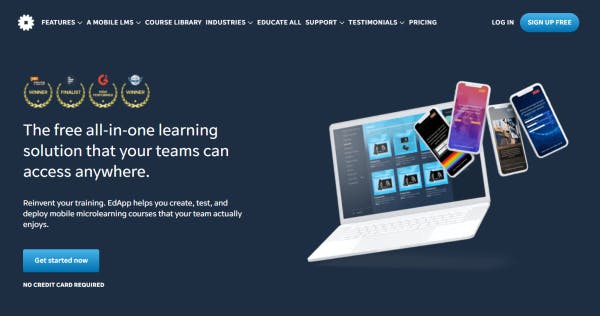 To make things engaging for the learners, EdApp offers microlearning and gamification templates that trainers can take advantage of to keep the attention of the learners throughout the training. One of EdApp's fundamental tactics is microlearning, which breaks down large amounts of training knowledge into small chunks, allowing your employees to complete courses in only a few minutes. When this method is paired with gamification elements, microlessons become not only effective but also enjoyable, yielding completion rates of 90% in comparison to conventional online courses.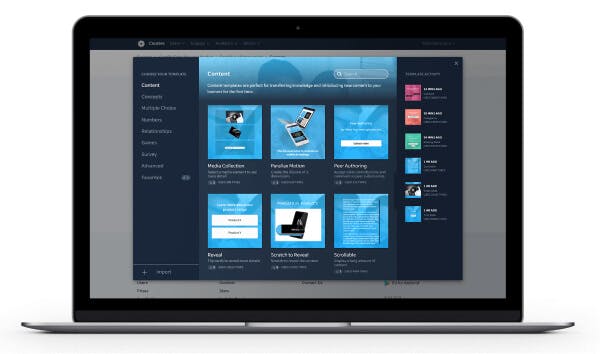 Additionally, EdApp LMS has fully editable coursewares with hundreds of high-quality, ready-to-deploy microlessons. There are different courses that you can alter to meet your training needs at any time of the day. It also offers in-app branding, which allows you to tailor your course materials and to match your organization's corporate branding. 
Features:
Authoring tool

Editable course library

800+ high-quality courses

Microlearning & gamification templates

In-app branding
Cost: Free
Elearning Development Tool #2 – Accessplanit
Accessplanit is an eLearning development tool with hundreds of courses available designed for training organizations. This is yet another learning platform that provides resources and assists businesses in achieving the finest learning outcomes. This learning management system enables training administrators to optimize and automate operations while producing high-quality training materials and providing great learning experiences. You can also conveniently organize courses and training events, whether they are in-person learning sessions or online. Training providers are provided flexibility in providing face-to-face sessions, webinars, virtual learning, and short courses for in-house training, public sessions, and employee sessions as part of the effort to centralize all training activities.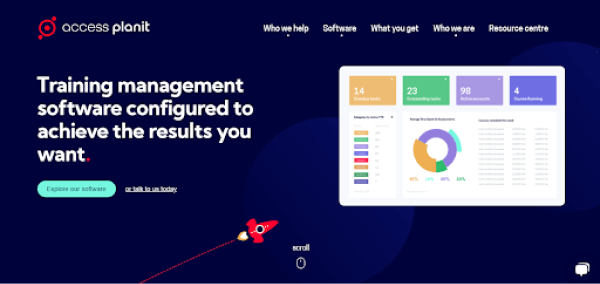 Features:
Course management tool

100-1,000+ course selections

Course and training events: face-to-face, web, eLearning, and blended learning 

Centralized training
Cost: Paid plans
Elearning Development Tool #3 – Learnbook
The Learnbook eLearning development platform is loaded with a range of interactive eLearning tools and features that can help you easily build and manage presentation slides, quizzes, and games, and also upload interactive videos, securing a higher learning success in your organization. You can also run live webinars and virtual conferences, allowing you to deliver your online courses and discuss the content with your team and colleagues in real-time. You can even record the discussion and publish them as courses so your team can still revisit them for their self-paced learning.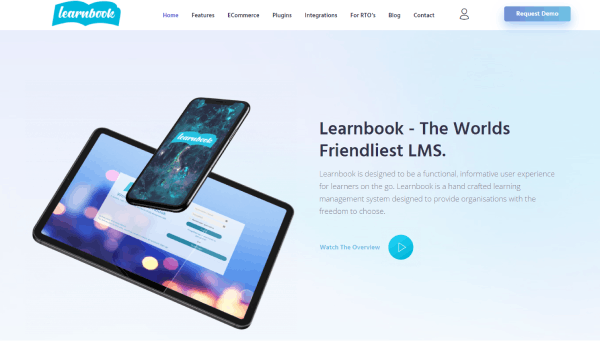 There are no ready-made courses available on this platform. Although a subscription will give you access to 10 off-the-shelf classes from GO1, which houses more than 50,000 programs covering diverse topics ranging from health and food services to digital marketing and finance. 
Features:
Friendly content creation tools

Quiz maker

Webinars and virtual conferences

Access to GO1 courses
Cost: Paid plans
Elearning Development Tool #4 – Raptivity
Raptivity is an eLearning development tool that allows you to create visually appealing and engaging learning environments, making it ideal for managers and supervisors. It has an increasing library of responsive features, such as parallax displays, panning slides, and 360-degree interactions. Anyone with no design experience can easily use the platform's simple and user-friendly interface to create interactive tests, games, simulations, flashcards, and brainteasers. You may also maximize the tool's various features to keep your learners motivated and engaged throughout their learning experience, whether you're a teacher or a corporate trainer. However, you should be aware that the program has some limitations, and you may need to download extra tools to produce a comprehensive training course.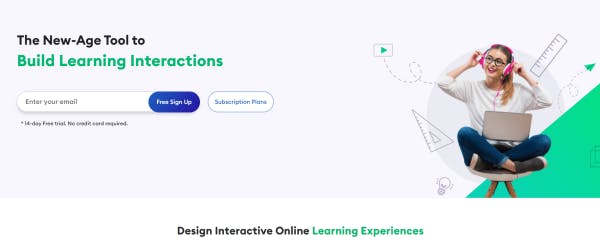 Features: 
Interactive displays

Quizzes

Games
Cost: 0 USD/user per monthly
Elearning Development Tool #5 – Auzmor Learn
Auzmor Learn is a simple and intuitive eLearning development tool that enables managers to build online courses, distribute instructional materials, and track employee learning progress without the need for programming or specialized technical background. Using their straightforward course creator, you can design your own training content or edit courses from their vast course catalog. The real-time analytics dashboard of this eLearning authoring tool can also be used to monitor employee performance and uncover social learning trends. You can request a demo directly from their website to learn more.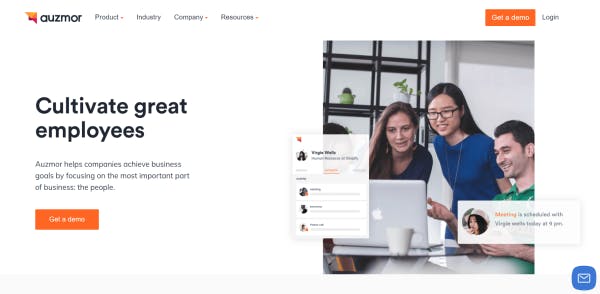 Features:
Course builder

Lesson library

Real-time reports
Cost: Paid plans
Elearning Development Tool #6 – Degreed
Degreed is a training tool that's focused on upskilling or reskilling your employees – whether small or large-scale. It integrates skill analytics that gives you a holistic and measurable view of your employees' strengths and weaknesses. This eLearning development tool also enables you to develop a strategy that aligns with the needs and career goals of your employees. Its data-driven insights on skills and growth opportunities allow you to efficiently curate custom learning journeys for your employees delivered through courses, videos, books, articles, podcasts, and projects. Degreed not only goes beyond supporting you in developing training programs, but also creates a dynamic opportunity marketplace that connects your workforce to projects, gigs, assignments, and jobs that equally matter for your business.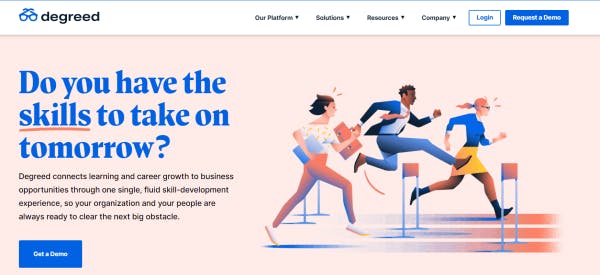 Features:
Cost: Paid plans
Elearning Development Tool #7 – Bridge
Bridge is an all-in-one knowledge management software equipped with a range of robust features that you can use to drive your employees' growth while keeping them aligned and connected to your company's vision and strategy. What impresses its customers the most is its native course authoring tool, which harnesses the power of simplicity. Everything is in drag and drop function, and the customization of content like cleaning training courses works like your usual Microsoft Word. What's more is that this platform will also store all your company documents and learning materials in their platform, giving your employees quick access to all the resources whenever needed.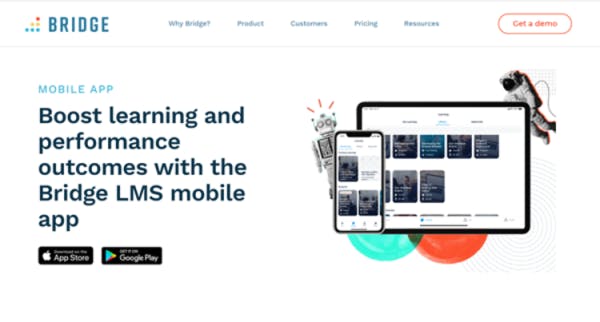 But apart from its course authoring, Bridge can also help you track your employees, conduct performance reviews, and implement a pulse survey, all in one place. You can even export all the data from Bridge to your own business intelligence platform to take your knowledge management strategy to the next level.
Features:
Native course authoring tool

Training tracker

Performance reviews

Pulse survey

Easy export of data to other business intelligence platforms
Cost: to 2 USD per month
Elearning Development Tool #8 – Ruzuku
Ruzuku is another eLearning software built with a powerful and user-friendly interface. It allows you to create and run great online courses even without design experience or technical expertise. You can even customize the designs to fit your brand and incorporate content suited to your students' learning objectives. If needed, you can also add PDFs, Word, PPT, and other files to your course content and make them downloadable for self-paced learning.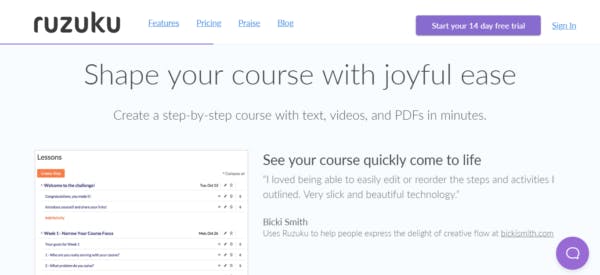 But it's not just limited to course creation and deployment. Ruzuku's course health feature also allows you to keep track of your team's learning progress, including activity completion and any queries or comments they may have about their courses. Any updates made by participants will be sent to you automatically via email.
Features:
Course authoring

Self-paced content sharing

Detailed reporting

Learners progress tracker
Cost: Starts at 4.75 USD per month
Elearning Development Tool #9 – Kitaboo Insight
Kitaboo Insight is a cloud-based eLearning development tool that allows you to track courseware utilization through its robust in-built analytics tool. It offers visual reports and dashboards containing in-depth real-time analytics to help personalize and redesign your employee training materials based on your learning outcomes. If you're already using another LMS, you can quickly integrate it using LTI standards.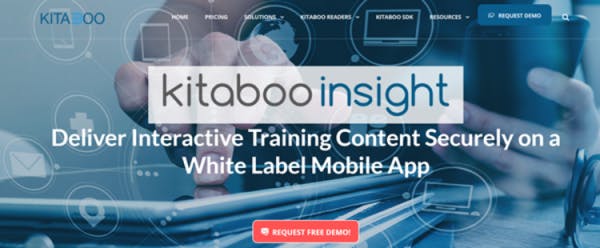 Since Kitaboo Insight is cloud-based, this means that it works from any mobile device, tablet, and desktop. No need to worry about device compatibility issues.
Features:
LTI and xAPI compliant

Reporting dashboard

In-depth analytics

Mobile-friendly
Cost: Paid plans
Elearning Development Tool #10 – LearnWorlds
LearnWorlds is another online training platform that allows you to create an engaging learning experience for your employees through a course player, templates, ebooks, and a social community. This virtual learning environment is especially adept with video learning, allowing you to synchronize transcripts, add quizzes, and other interactive elements. You can even customize your learning materials through the tool's branding and theme editor. With the help of LearnWorld's note-taking and highlighting functions, it's easier for learners to go through lesson readings and keep track of important concepts. To be able to access their library of course materials, you must register to their site.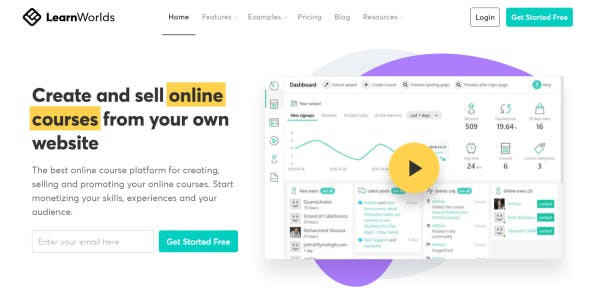 Features:
Cost: Starts at 4 USD per month