Elearning course design templates are a huge lifesaver. With pre designed slides, you no longer have to worry about course template design and functionality. Instead, focus on what matters the most – your course content. Here, we'll look at EdApp's elearning course design templates to help you quickly create visually appealing online courses.
Elearning Course Design Template #1 – Comparison 
Create an awesome product or service comparison slide that will appeal to your team with EdApp's Comparison template. You don't have to worry about whether you want to show off the difference between the quality of your products and those of your competitors or just highlight the contrast between the products you offer. Trust this template to make your elearning course design appear professionally designed and easy to follow. 
The Comparison template uses a unique "reveal" interaction style. The template does this by placing products side by side. To reveal the comparison content, learners must drag the vertical line from left to right or vice versa.
Built with course designers in mind, this elearning template gives you full control over the customization of your comparison slide. Using EdApp's course maker tool, customize every aspect of the design, from the theme to its font style, so it fits your branding requirements.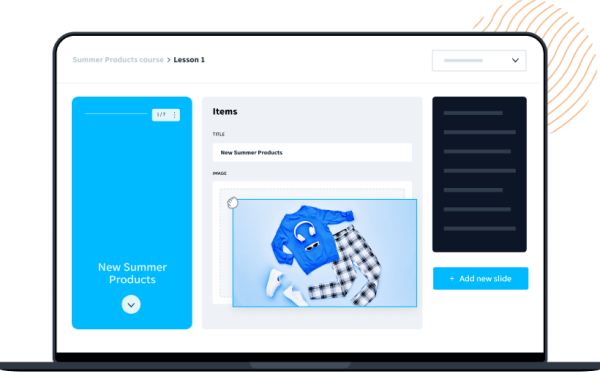 Start your course design with the best elearning course design template now! Join EdApp for free
Elearning Course Design Template #2 – Expandable List 
Don't drown your learners with heavy blocks of text. Separate your content into smaller chunks and highlight important bits through EdApp's Expandable List template. 
This template is built around the concept of using bullet points, giving learners quick access to information. Your learners are first shown the main points, which are designed to expand when pressed or clicked to give more context. With only one piece of information exposed at a time, learners can gain a better understanding of the information you intend to share with them. 
What's great about this template is that it has already been configured to respond perfectly to all screen sizes. This gives you peace of mind knowing that your course looks good and presentable across different devices, from smartphones to desktop computers.
Elearning Course Design Template #3 – Simple Image
Maybe you'd like to introduce your learnersto your product and its specific part or component. For this type of elearning course design, you might want to try EdApp's Simple Image template.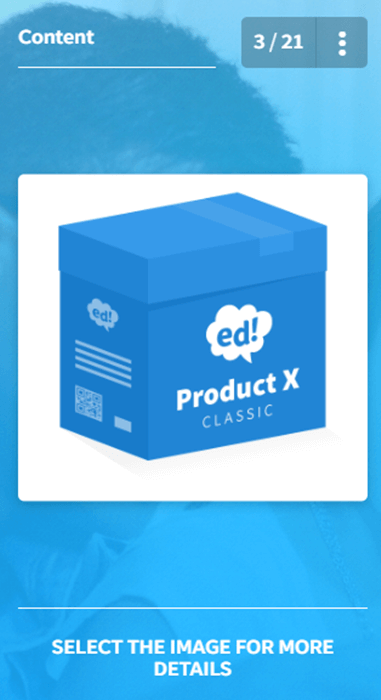 Here, you'll get to display a single image in a slide, even a high-resolution one. Learners, on the other hand, will have to zoom in and out of the image for more information. On a desktop computer, they simply have to hover their mouse over the image and click on specific areas to zoom in. For smartphones, they can just pinch the image to get a closer look at it. 
Elearning Course Design Template #4 – Image Map
EdApp's Image Map template offers a smart way to display a lot of information in a single image. The idea is simple. Assign clickable hotspots, and then ask your learners to press or click them to find out additional information. This elearning course design template is flexible and can be used to present a variety of topics – showcase new product packaging, highlight interior shots of a room, or show locations of a store, it's all up to you. 
Elearning Course Design Template #5 – Word Construction 
Word Construction is an enhanced version of the popular fill-in-the-blank quiz type. Basically, it asks learners to spell the keywords from the lesson content to complete the thought of the sentence. While the idea of this template appears simple, the challenge is that learners will have to reproduce the words themselves. With no answer choices to choose from, it can be more challenging and engaging to guess the right answer!
Elearning Course Design Template #6 – Find-A-Word Game
The Find-A-Word template is part of EdApp's gamified templates, which are designed to overcome your team's mental barrier to learning. 
The concept is based on well-loved word search puzzles. Word letters are strategically arranged in a grid, and the goal is to find all the hidden words that are relevant to the given question. It's the best elearning course design template to use if you want to summarize key chunks of information. You can also use it to shed light on the most important keywords that your customer-facing learners should remember when talking with their customers.
Elearning Course Design Template #7 – Jeopardy
Similar to the Find-a-word template, Jeopardy is also part of the instructor app's gamified template collection. What's interesting about this template is that it was inspired by the popular TV quiz show game, Jeopardy!, making it an excellent way to get your learners excited about their training.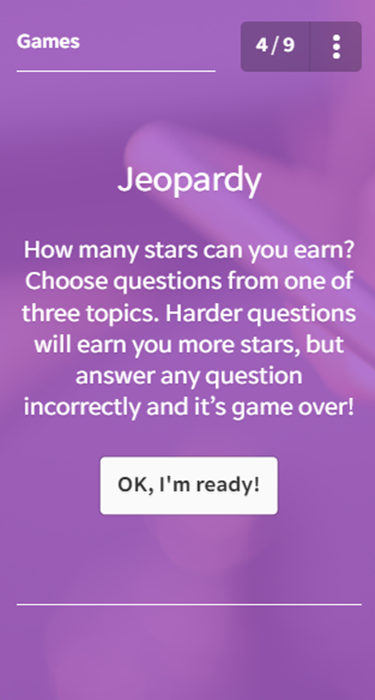 For this template, you need to come up with up to three categories, and under those, create a mix of true or false questions with points depending on their difficulty level. Meanwhile, learners can choose questions from one of the three categories. The harder the questions they pick, the more points they earn. 
Pro tip: Make the game more meaningful by integrating EdApp's point and reward system. The idea is to make the points convertible to real prizes and rewards, like gift cards, food vouchers, or free coffee. With this strategy, you can expect your training completion and engagement rates to skyrocket in no time.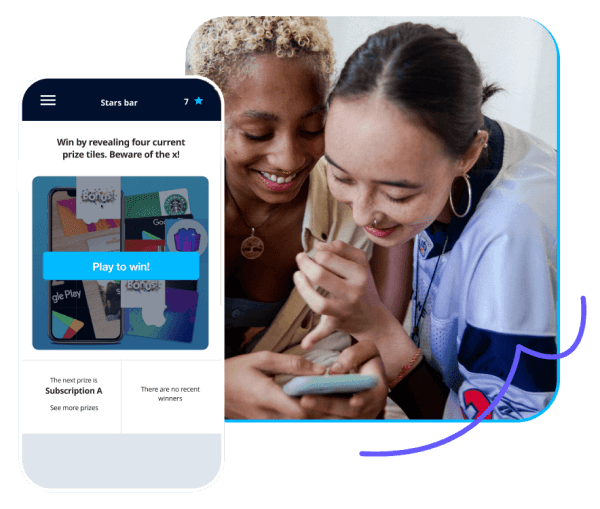 Elearning Course Design Template #8 – Connect
EdApp's Connect template falls under the relationship template category, which aims to reinforce connections between related concepts. Here, learners are instructed to draw a line to connect the matching words, phrases, or sentences. While this game is fairly simple, it's an effective way to practice their memory and make sure that they remember the connection between the concepts given. 
Elearning Course Design Template #9 – Reorder
Reinforce a procedural knowledge or survey results, or assess your learners' knowledge of the best-selling products by using this simple but effective Reorder template. 
It's simple. You just need to add the items in the template, and EdApp will automatically arrange them in a random order. Course participants will be asked to put the items presented in the correct order by simply dragging the bar up or down. 
You can create a takeaway reinforcement that displays shortly after your learners submit their answers. Take this as an opportunity to explain why their answer is correct or not. 
Even better, put a time limit and a scoring system to improve your training session and make things more challenging and exciting for your learners!
Elearning Course Design Template #10 – Free Text Survey
There's no better way to end your elearning course than by getting some feedback from your learners. For this, EdApp highly recommends its Free Text Survey template. Here, you can ask them pretty much any question, like how they've benefitted from your elearning course, which part of the training they find most difficult, and how the lessons can be improved. The design of this template is very much flexible, allowing your team to freely express their thoughts using their own words.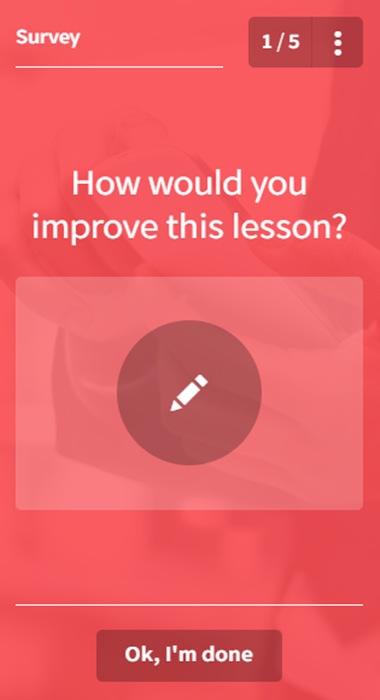 Aside from these excellent elearning course design templates, EdApp also offers a course creation service that can help you build your courses from scratch. You'll get to work with their team of experts to put together custom content that looks and feels like you built it, so your team can get your training up and running in a short time, without having to lift a finger.