While you may be no stranger to Easy LMS and its owl mascot, there are many Easy LMS alternatives that you can use that can provide the same or even better features. With the stiff competition for the best LMS, we've done the homework for you and rounded up 10 Easy LMS alternatives to level up your training content creation and delivery with ease of use and reliability in mind.
Easy LMS Alternative #1 – EdApp
EdApp is a mobile-first LMS that's easily the best Easy LMS alternative in the market. Unlike most lms platforms, it's free for anyone to use but is still packed with robust features. Its intuitive authoring tool uses a drag-and-drop functionality, and even comes with a built-in Canva integration, making editing a breeze without the need for any technical know-how. It also comes with a growing content library of 800+ free courses available for you to deploy right out of the box or fully customize to fit your training needs. If you're pressed for time to create training courses, their team of expert instructional designers can even create bespoke training courses, like active shooter training courses and top 10 ppe courses, that your team will surely learn from and love.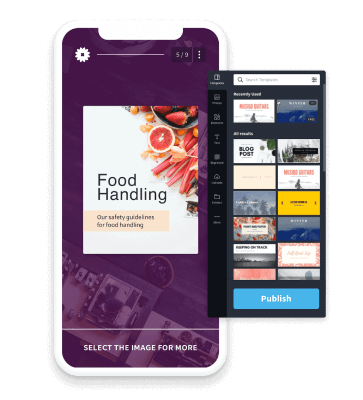 With EdApp's course analytics, you can easily monitor the effectiveness of each slide within a lesson or course in just a few clicks. This built-in tool allows you to track key metrics, such as each learner's course progress, their ability to correctly answer in-lesson questions, and the time it takes them to progress past each slide and in your lesson overall. This enables you to uncover challenging sections and quickly update your courses for a seamless learning experience for your teams.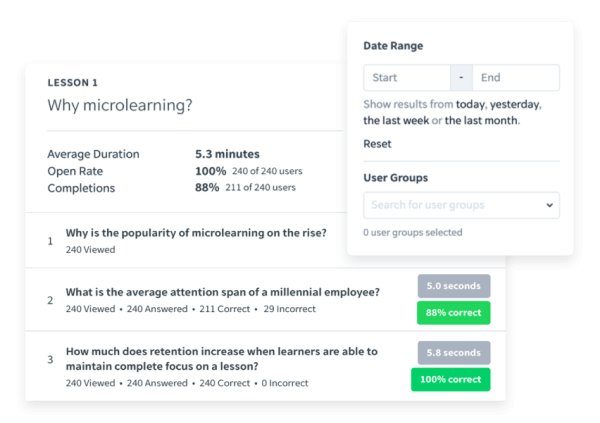 If that's not enough to end your search, EdApp also has interactive and collaborative features to keep the boredom out of your learning such as gamification templates, an online test maker, a virtual classroom, forum-like Discussions features, and many more. With over 90k+ monthly active users, 70k lessons daily in more than 90 countries, and 6.5M lessons delivered in 2021, EdApp is easily the best choice for your organization.
Cost: Free
Key features:
Drag-and-drop authoring tool

Course library

Gamification

Collaborative learning

Course analytics
Sign up for Free and Start Using The Best Easy LMS Alternative Now!
Easy LMS Alternative #2 – ProProfs
With Proprofs' learning management system, you can craft well-designed online courses in minutes. To build a course, simply choose from over a hundred ready-made templates, add your own videos, images, or text, and customize learning materials according to your company's brand guidelines. This powerful Easy LMS alternative also provides you with a vast library of ready-made courses on important topics like compliance, top 10 ppe courses, sales, leadership, and customer service training, all of which you can easily distribute to your teams. Test your learners' knowledge levels using their simple online quiz maker software and quickly get insightful data on their learning progress through ProProf's AI-powered reporting feature.
For seamless collaboration and knowledge sharing among your learners, Proprofs also provides additional features like a learning community, virtual classrooms, discussion forums, and a centralized knowledge base for FAQs, how-to manuals, and other training materials. 
Cost: Available upon request
Key features:
Editable course templates

Course library

Quiz maker

AI-powered reporting

Learning community

Virtual classrooms
Easy LMS Alternative #3 – Abara LMS
Abara LMS is a powerful Easy LMS alternative designed to simplify businesses' employee training processes and resource management. It provides training administrators with web and mobile-based features like course creation and distribution, knowledge management, SCORM compatibility, virtual classroom training, as well as assessment and survey capabilities. Apart from scheduling and deploying courses to your learners, you can also send out push notifications to remind them of completion deadlines, tests, or lesson updates. There are also a couple of learner engagement tools that your employees can use, including the learner dashboard, course progress feature, and gamification elements like leaderboards, points, badges, and certificates. Abara LMS also incorporates social learning through discussion forums and a modern message center.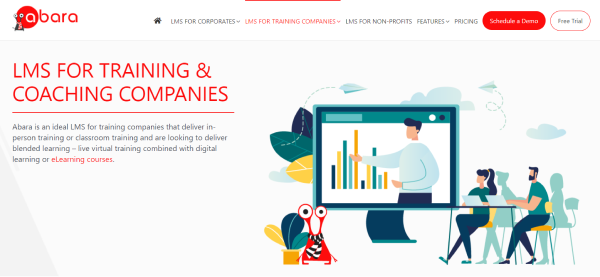 Cost: Starts at US $420 per month
Key features:
Course creation

Knowledge management

Virtual classroom

Assessments and surveys

Learner dashboard

Modern message center
Easy LMS Alternative #4 – Tovuti LMS
Tovuti LMS is an Easy LMS alternative that incorporates features dedicated to an efficient training process for managers and an effective learning experience for your teams. It integrates a course management tool that enables you to build and deploy interactive courses, as well as track interactions with your course content. This training LMS supports a blended learning strategy through its virtual classroom that allows you to set up synchronous training sessions where your employees can discuss in groups or have one-on-one interactions with an instructor. Learners also have access to a personalized portal that shows their badges, certificates, leaderboard rank, checklists, assigned courses, and upcoming training sessions.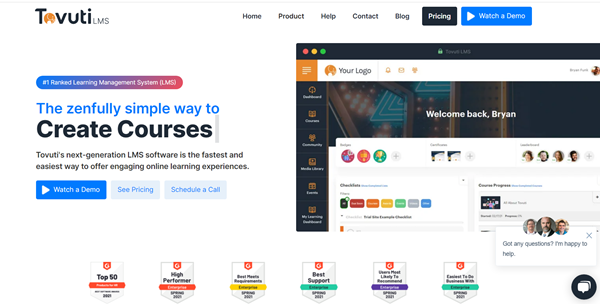 Cost: Available upon request
Key features:
Course authoring tool

Analytics tool

Virtual classroom

Personalized learner portal
Easy LMS Alternative #5 – Brightspace LMS
Brightspace LMS is another Easy LMS alternative designed to create inspired learning experiences. Creating content with this LMS is made possible through an HTML editor, which uses content templates, files that you can save in their learning repository, or content from other supported LMSs. To drive social and collaborative learning, you can take advantage of features, such as web conferencing, whiteboards, and slide sharing. Motivating learners can also be achieved by making your own awards, certificates, and leaderboards. To further empower learners and improve their skills beyond the learning pathways provided, they can even search for courses and enroll themselves.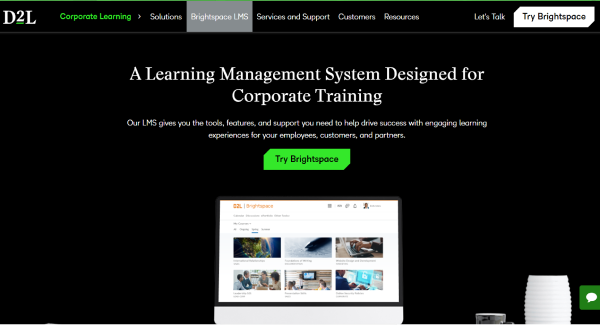 Cost: Available upon request
Key features:
 HTML editor

Learning repository

Web conferencing

Whiteboards

Awards & certificates

Learning pathways
Easy LMS Alternative #6 – Trainual
Trainual is an Easy LMS alternative that you can use to train current team members without location restrictions. When creating courses, you'll have the option of embedding images, videos, and multiple-choice questions, and you can easily customize learning materials by choosing from over 150 free templates. Although optional, you may also opt to store and organize your useful documents in Trainual's library section. This way, all courses will be accessible, searchable, and trackable by users anytime needed. 

Trainual highlights the importance of process and procedure documentation so they also provide playbook templates for training to become infinitely repeatable and scalable. Your employees can access training courses through multiple online course platforms, including iOS, Android, Chrome extension, and any web browser. However, this LMS doesn't support SCORM files or other eLearning formats, which can be a deal-breaker for those with existing content on other platforms. 
Cost: Starts at US $99/month
Key features:
Course templates

Multi-platform access

Playbook templates

Content library
Easy LMS Alternative #7 – Google Classroom
Google Classroom has gained popularity among many schools and organizations trying to reach learners remotely. Trainers can create a "classroom" where employees will be able to participate in different training sessions and access lectures assigned to them. With the help of the resources and tools also created by Google, you can designate different creative projects and hands-on learning to keep them engaged. It also allows cross-software integrations with your favorite third-party apps, like Bakpax and BookWidgets, making sharing files and documents seamless. Since it's created by Google, this means it can effectively be used with Google Meet, Google Docs, and the like for a more streamlined experience. While this Easy LMS alternative is free of charge, it lacks the bells and whistles that come with other platforms that allow for more customization to make training visually appealing.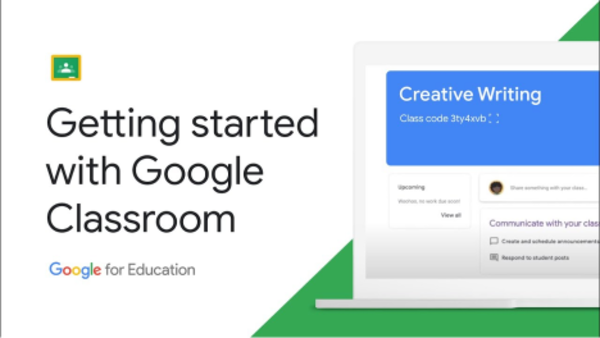 Cost: Free
Key features:
Virtual classroom

GSuite integration

Third-party app integration
Easy LMS Alternative #8 – Intellum
Intellum can easily pass off as an Easy LMS alternative, especially if you're looking to create, present, manage, track, and improve the kind of experiences that engage and educate your learners. With this platform, you can give your learners access to live and on-demand training content all in one place. It allows for rapid content authoring through its built-in Evolve authoring tool where you can create blog post-like pages of content, quizzes, surveys, and assessments. You can also host virtual training, webinars, conferences, and even in-person instruction when needed. To track learner progress, you can create custom reports that can be exported to third-party visualization tools for deeper insight and analysis. This platform works across multiple browsers and devices and also has dedicated iOS and Android learning apps.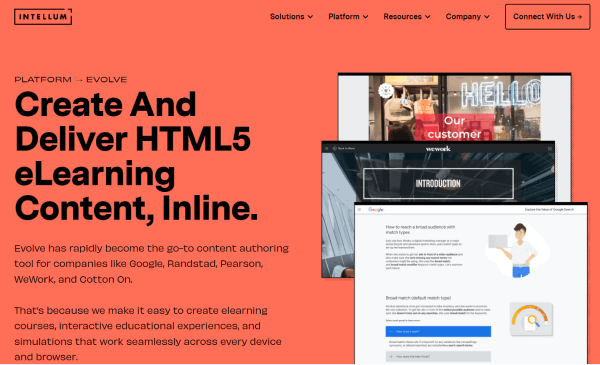 Cost: Available upon request
Key features:
Rapid authoring tool

Quizzes, surveys, and assessments

Virtual training

Mobile app
Easy LMS Alternative #9 – Coassemble
If you're looking for a quick study learning platform as an Easy LMS alternative, Coassemble has got you covered. It offers 30 different screen layout types to populate your content and present them in an engaging manner. Here, you can customize the content according to your brand's image by changing the font, theme, and color schemes. This LMS also offers automation to simplify tasks, such as automatically enrolling learners in courses and awarding certificates upon completion. Learning measurement is made easy with Coassemble's powerful data analytics that allows you to check real-time insights on course progression, whether it be by learner or group.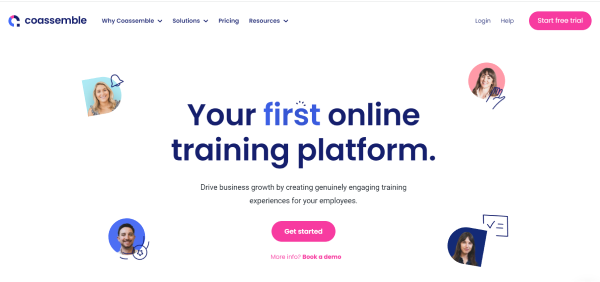 Cost: Starts at US $49/month
Key features:
Screen layout templates

White labeling

Automation

Data analytics
Easy LMS Alternative #10 – Auzmor Learn
Auzmor Learn allows you to create courses, deploy learning content, and monitor employee performance with ease even without coding knowledge or technical design skills. This Easy LMS alternative's easy-to-use course builder can help you create your own training materials or customize courses using templates from their expansive lesson library. With its responsive design, lessons are automatically adjusted for any screen size, so your employees can complete their assigned learning materials on any device. On the other hand, Auzmor Learn's real-time reporting dashboard and customized analytics features can help you track overall employee training progress, monitor course completion rates, identify learning trends, and address knowledge gaps. To get access to all these tools, you can ask for a demo and a custom quote directly from their site.
Cost: Available upon request
Key features:
Course builder

Lesson library

Reporting dashboard

Customized analytics