Are you looking for Docebo alternatives? Docebo is a high-end LMS that makes the entire training process – from course creation to tracking – an ultimate breeze. But there's one catch: it's also prohibitively expensive, posing a big purchasing issue for most organizations. With that said, we've scoured the internet for you and compiled a list of more affordable yet high-value Docebo alternatives that won't burn a hole in your pocket. 
1. EdApp LMS
EdApp LMS is the best and most affordable Docebo alternative on this list. The first thing you should know about this platform is that it is free, which makes it a game-changer in the field of corporate training. Nonetheless, it is bursting with rich and powerful features that can help you take your training efforts to the next level.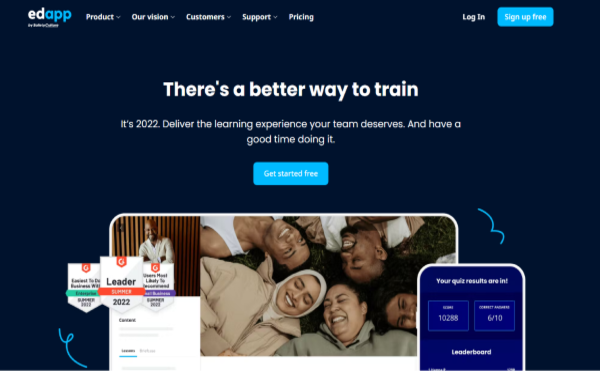 Here, you don't have to spend a lot of money to develop high-quality courses. EdApp's rapid authoring solution is free and very much easy to use – no add-ons or any coding experience needed to get started. All you need to do is drag and drop your content, add interactive elements, and hit publish. Yet the best part? It also integrates with the world's leading graphic design program, Canva. There's no need to leave your authoring page – now from within EdApp, you can choose from millions of photos and animations, fonts, and templates from Canva to build beautiful media content. 
Should you find yourself short on training resources, you may also visit its expansive course library, which is filled with beautiful, world-class microlearning courses. Whether you need a driver safety course for your gig workers, ergonomics training courses for your retail workforce, or fire safety training for the first responders, EdApp has you covered. Most of them also come fully editable. Feel free to tweak and personalize them, so it matches your branding.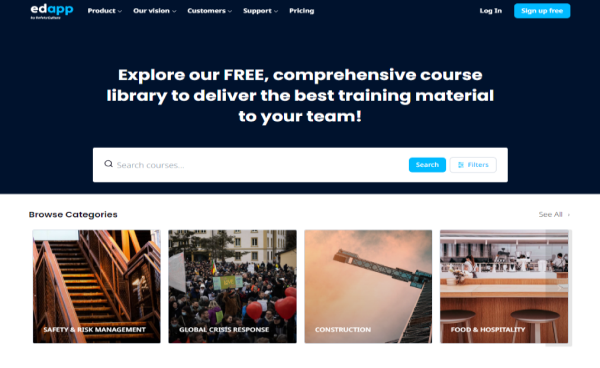 Similar to Docebo, EdApp also offers an automated analytics suite to help you track your learners and measure the impact of your training programs. Their tracking tools can help you monitor how many users have completed and unlocked their training, as well as how frequently they use the application.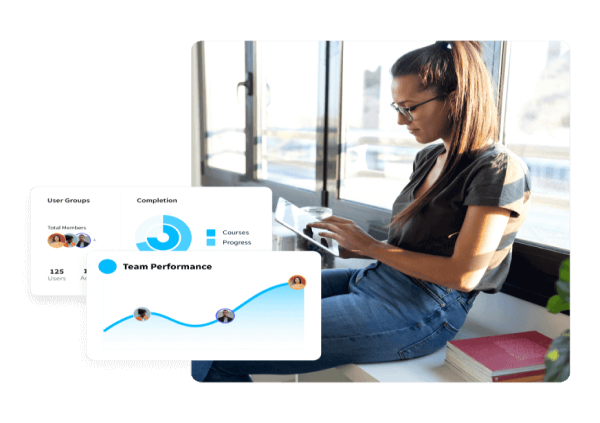 Cost

: Free

Key features:

Intuitive authoring tool, interactive elements, Canva integration, expansive content library, editable microlearning courses, automated analytics suite
2. CourseMill
CourseMill, a brainchild of eLearning Brothers, is another fantastic Docebo alternative on this list. This learning management system capitalizes on its array of powerful tools and features that can help simplify your training process and improve your team's learning outcomes. For one, you can use its course management tools to easily create and publish elearning courses specific to your training needs. Fret not as they are designed for easy use, requiring no course expertise and coding experience to get started. Plus, they support SCORM, AICC, xAPI, and non-SCORM items such as PDFs, audio, slides, and video files, giving you a hassle-free integration of your existing training materials, if any.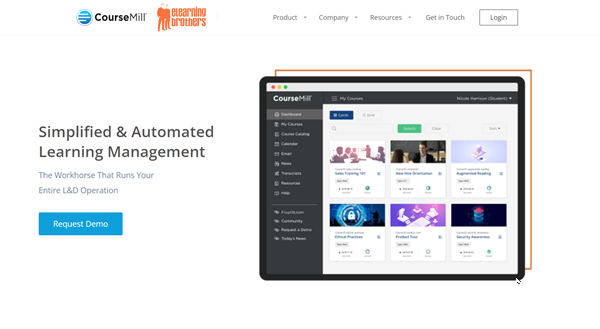 This digital learning platform also offers an advanced reporting solution to help you check the impact of your learning programs. Whether you want micro and macro-level data for thousands of users or receive operational data and learning KPIs, you can trust CourseMill for a timely report. 
Cost:

Available upon request

Key features:

Course management, easy-to-use interface, advanced reporting
3. isEazy
isEazy also made it to our list of Docebo alternatives because of its simple, intuitive course creation and delivery tools that you can use for free. Here, you'll surely benefit from their user-friendly slide templates and course layouts, making it easier to build well-designed courses even from scratch. You can also take advantage of their interactive elements, like quizzes, videos, even voiceovers, to improve the learning experience of your employees. Thanks to its cloud technology, you can rest assured that your work will remain safe and secured on this platform.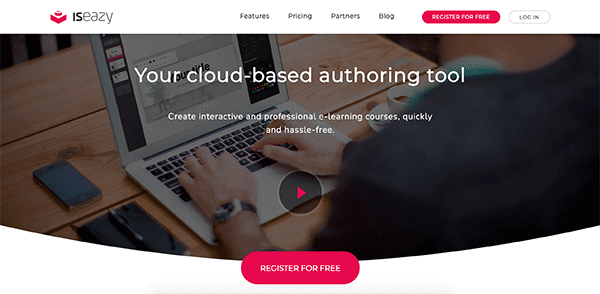 Just one thing to keep in mind – isEazy's free version publishes courses with their logo and watermark, which can be a little uncomfortable for your learners. You can, however, subscribe to their pro plans to remove them and add your branding logo and format. 
Cost

: Free; Pro plans start at $69 USD per month

Key features:

Slide templates, course layouts, interactive elements, cloud technology
4. SAP Litmos
SAP Litmos is highly regarded for its two key products: their streamlined learning management system, and its robust library of off-the-shelf learning content. As for its LMS, it contains course maker tools that can help you personalize courses and content, and even roll out games and quizzes for maximum engagement and retention. It can also automate tedious and repetitive tasks, like course enrollment and activity assignments, giving you more time to focus on more important things, like authoring your training materials. As for tracking and monitoring, SAP Litmos also produces custom reports, which you can use to observe your learners' progress and performance, and gain insight into your training impact.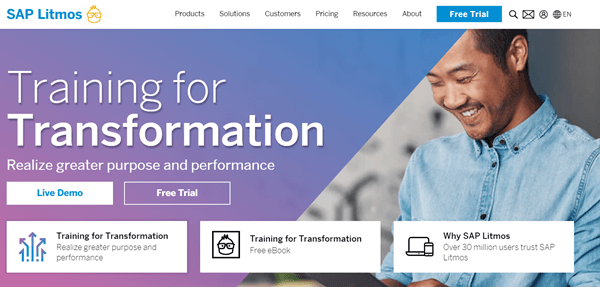 Just like Docebo, SAP Litmos is also jam-packed with professionally-created, SME-tested courses that you can instantly import into your LMS. Their library consists of a mix of workbooks, infographics, fact sheets, and handouts that tap on a variety of topics, like marketing strategies, human resources compliance, information security and data privacy, and more.
Cost

: Available upon request

Key features:

Content creation tools, games and quizzes, automated tasks, custom reports, off-the-shelf learning courses
5. Axonify
Axonify's training solutions are geared towards one goal: to help employees perform their best at work every day. Here, you can build your own custom content with the help of their learning experts, making sure that your team is getting the right training that will help them confidently perform in their field. Axonify also houses a number of ready-to-go content materials covering a range of topics, from workplace etiquette to time management, ensuring that the skills and knowledge of your team are updated and consistently aligned with your business goals.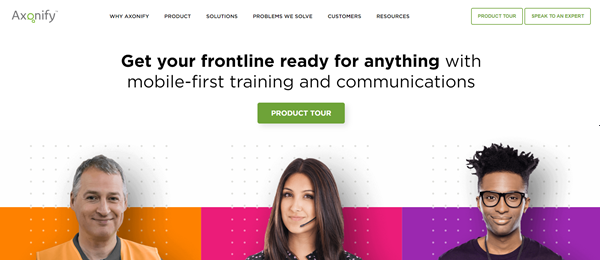 Another notable feature of this platform, which you'll undoubtedly appreciate, is the personalized learning path. You can serve your team with personalized bursts of training by mixing training materials, training activities, compliance certifications, and more helpful resources, so they can keep learning even long after their onboarding. 
Cost

: Available upon request

Key features:

Custom content, ready-to-go content materials, personalized learning path
6. Totara Learn
Trusted by over 19 million users worldwide, Totara Learn is undoubtedly another worthy Docebo alternative to check out. Totara's learning management system gives you a lot of options to make your courses engaging for your learners. You can add gamification elements to stir up healthy competition among your employees, customize your course theme so it matches your branding, and even include assessments and certifications to prove the timely completion of their training. Totara Learn also supports flexible formats, so feel free to make your learning available offline and online, or even a mix of both, it's all up to you.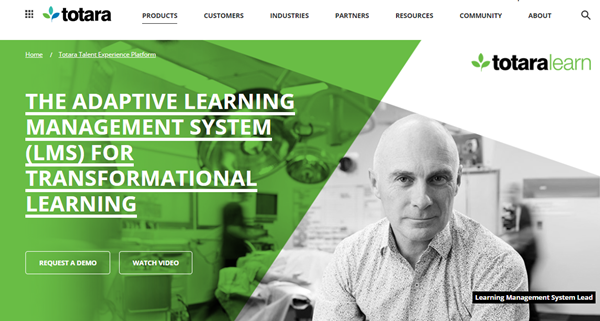 You can also take advantage of Totara's comprehensive custom reports to track your learners' performance and monitor their compliance. Enable their email notifications to keep everyone up to date on new courses and training updates.
Cost

: Available upon request

Key features:

Flexible LMS, gamification, custom theming, assessments and certifications, flexible learning formats, custom reports
7. Neo LMS
Neo LMS takes pride in its learning management system that operates with efficiency and simplicity, making it another great Docebo alternative on this list. What's noteworthy about this platform is that they're bursting with an array of LMS features that can help build useful training and courses and ensure that your teams flourish in their respective fields. Some of their expertise include content authoring, which supports various file formats like photos, videos, PDF, and PPT. They also offer a drag-and-drop quiz system, allowing you to develop engaging quizzes in game format, like true/false, multiple-choice, and fill in the blank. Built with the users in mind, these tools are very much easy to use and mostly self-explanatory.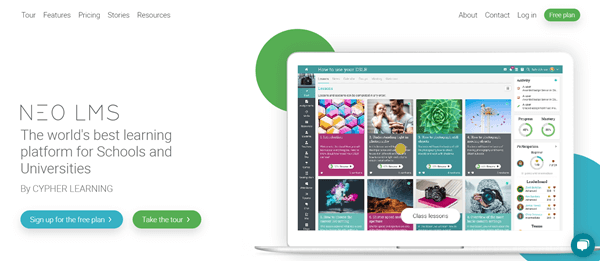 But what sets Neo LMS apart from its competitors is its graphical class catalog, which organizes all classes and courses in one location to ensure easy access. The dashboard will show them information about the program, class schedules, and course links.
Cost

: Free and premium plans

Key features

: Content authoring, quiz system, graphical class catalog
8. 360Learning
Instead of Docebo, you may also use the 360learning LMS to manage your company's knowledge base and ensure that everyone in your team has easy access to important information. Among the must-have tools include its easy-to-use authoring tool, which takes your content creation time from months to just minutes. You can craft and format text documents and even add images and video clips to make your learning materials more engaging and interactive. If needed, you can also include quizzes and enable feedback to improve learning comprehension among your team.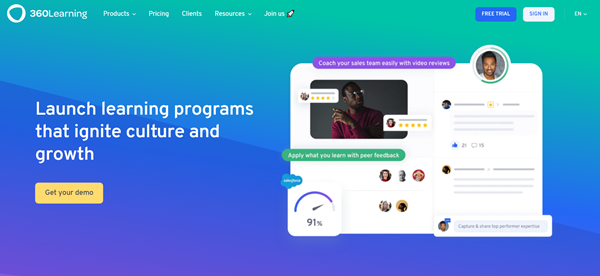 This Docebo alternative allows further collaboration functionality with its discussion boards and group pages where your employees can directly interact and share knowledge with their managers and colleagues. 
Cost

: Starts at $8 USD per user per month

Key features

:  Authoring tool, text documents with images and video clips, quizzes, feedback, discussion boards, group pages
9. Ruzuku
Another great Docebo alternative to consider is Ruzuku, built with a powerful yet clean and user-friendly interface that allows you to create and run great online courses without overwhelming designing tools and options. They are all yours to edit – you can customize the design to fit your brand and incorporate content suited to your students' learning objectives. If needed, you can also add PDFs, Word, PPT, and other files to your course content and make them downloadable for self-paced learning.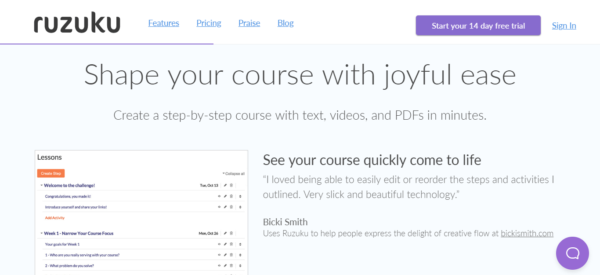 But it's not just limited to course creation and deployment. Ruzuku's course health feature also allows you to keep track of your team's learning progress, including activity completion and any queries or comments they may have about their courses. Any updates made by participants will be sent to you automatically via email.
Cost

: Pricing starts at $74.75 USD per month

Key features:

Clean interface, custom courses, compatibility with PDF, Word, and PPT files, course health feature for tracking
10. Tovuti
Tovuti LMS is another learning management platform that you can use to streamline your employee training process. With its built-in course creator suite, you can create, schedule, and deploy interactive courses in just a few easy steps. You can also include gamification and leaderboard features to encourage them to complete their assigned learning tasks. If you want to integrate synchronous learning sessions into your training, Tovuti LMS's live virtual classroom allows you to meet with your team members in real-time and discuss learning content through third-party online video conference platforms like Zoom and GoToMeeting.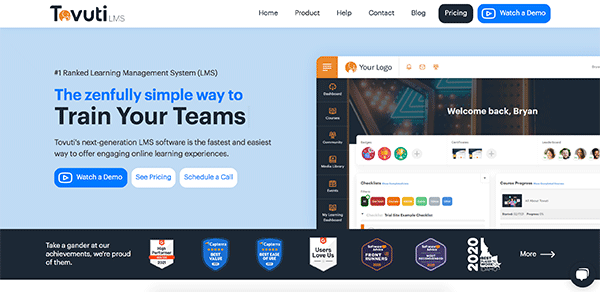 Cost

: Available upon request

Key features:

Course creator suite, gamification and leaderboard, synchronous learning integration, virtual classroom