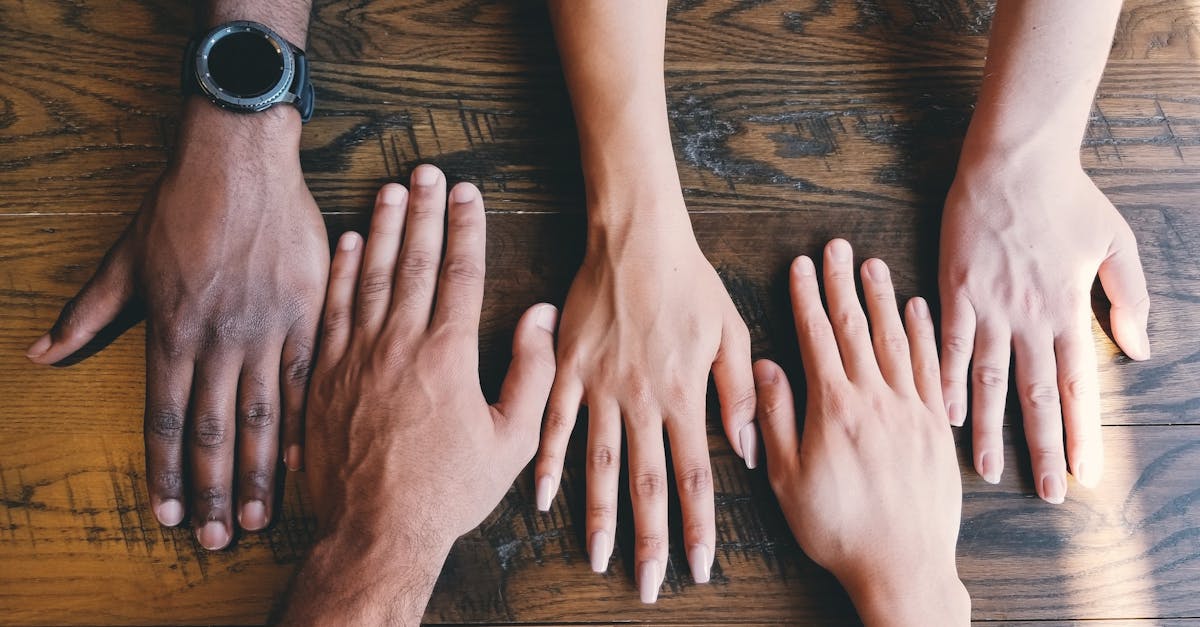 In the ever-changing and connected business world, staying up to date with societal changes, ethical recruitment processes, and inclusion and diversity have become one of the main issues, which contemporary HR departments have to handle with special care. Representation, visibility, and justice towards employees and a diverse workforce shouldn't remain any more than pretty slogans spread at conferences, in brochures, and in advertising.
Rather, diversity and inclusion (D&I) should form one of the main components of the HR policies aiming to erase racial, gender, orientation, or unconscious bias in the workplace. The benefits of incorporating more of such diversity and inclusiveness strategies are, as research shows, manifold and in EdApp, we strongly advocate higher D&I awareness. How? Doing what we do best – educating.
What is diversity and inclusion and why it's important?
According to Semel Mondal, diversity in the workplace is: "understanding, accepting, and valuing differences between people" which include but is not limited to races, minorities, LGBT, ethnicities, genders, transgenders, ages, religions, differences in physical abilities, personalities, educations and many other aspects [1]. Diversity in the workplace assures, that the profile of the employees reflects that of the multicultural society they come from and the positions, responsibilities, and privileges are doled out regardless of the socially enforced, often harmful and exclusive, stereotypes. Inclusion ensures that all employees are equally heard, seen, appreciated, and valued based on their work performance and other arbitrary and measurable factors, rather than their background. Diversity and inclusion practices actively applied in the workplace are fostering and ensuring heterogenous, tolerant, multifaceted communities, teams, and task forces that are sensitive to a whole new variety of issues in as much as they are creative, goal and solution-oriented, and culturally sensitive.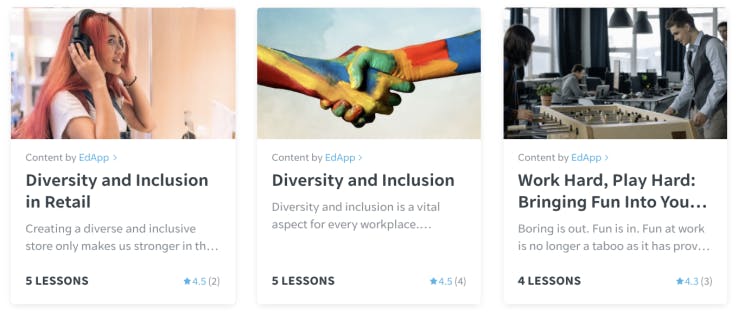 D&I strategies are luckily being increasingly incorporated into recruitment processes among global businesses, not only under the pressure of governmental stakeholders but purely due to measurable benefits that diversity and inclusion ensue. Global companies, recruiting far and wide among a variety of communities, gradually include D&I training and mentoring among their employees. It's true – increasing diversity translates into numerous challenges when it comes to smooth communication and teamwork, due to the variety of perspectives and approaches represented by the employees. But it's an easy fix and what would seem a hurdle can quickly be coined into the strongest asset, with just a bit of training.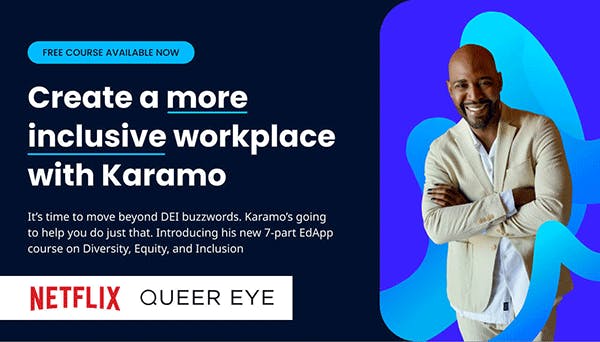 At EdApp, we offer multiple courses which tackle principal issues pertaining to diversity and inclusion in the workplace, all organized into easy-to-digest digital lessons. One EdApp course, in particular, is the newly launched DEI course by Queer Eye's Karamo Brown. With it, you can train your team on different DEI topics and put inclusion into practice.
Who benefits from D&I?
Research shows multiple advantages coming from employing more diversity programs and D&I oriented strategies during recruitment and employee management. Certainly, there are financial ones, which form one of the main motors driving this change. A 2018 research from McKinsey shows, that "Companies in the top quartile for ethnic diversity at the executive level are 33 percent more likely to have above-average profitability than companies in the bottom quartile. When it comes to gender diversity, companies in the top quartile are 21 percent more likely to have above-average profitability than companies in the bottom quartile" [2]. Money, however, is not the only driving force.
Employing workers with diverse backgrounds simply pays off in many more ways. Great Place to Work, an online consulting platform researching HR strategies concludes, that more diverse workplaces ensure more innovativeness, creativity, and pioneering approaches than those with homogenous employee profiles. Ensuring diversity in the workplace is the first step to attracting new, diverse talents – people will want to work where their ethnicity, gender, looks, and so forth are being represented and not treated as an obstacle to their employability.
Furthermore, advanced inclusion practices and diversity and inclusion initiatives increase employee retention, and we all know it – a happy employee will work better. If the workplace equally values and integrates the presence and contributions of a variety of employees, and doesn't marginalize groups, which are often already oppressed, it will only benefit from workforce diversity, cultural-diversity, and employee resource groups. Equal involvement, support and protection of any and every employee immediately translates to the company's reputation, status and popularity on the labour market.
Compliance with official equality norms, active pursuit of social equity and providing a just working environment earn a company a positive attitude of governmental and non-governmental stakeholders equally. That, combined with retention of talents should prove a fool-proof recipe for entrepreneurial success and cultural diversity in the workplace.
Start Using EdApp & Its course library today
No credit card required.
Ways to introduce diversity and inclusion training in the workplace
Education is always key to advancements in any environment and the workplaces are no different. Your employees can be top-notch each to their own – but a good company needs to work as a team, a big organism, attuned to signals coming from all directions and sensitive to changes within the immediate communities. Magical word – teamwork – is key. And the key to smooth teamwork is effective, efficient and assertive communication. This is where diversity training comes in, presenting how to navigate this multiethnic, multiracial, beautifully diverse community and how to foster diversity in general.
There is no shame in not knowing, the shame is in not wanting to know. We should add: not wanting to self-reflect and try to do right! At EdApp we are prepared to come to aid every working place to get back to basics and build a healthy, just and inclusive environment. In the free editable course library available at EdApp, you and your company will find comprehensive courses tailored to particular business branches, such as retail or advertisement. Highlighting internal biases and promoting inclusive language, EdApp courses are a firm step towards improving the D&I situation in the company.
The diversity and inclusion training in the workplace is catered not only to HR departments but all employees equally, as only communal efforts will bring the best results. To be sure, efforts require time, and the results are not likely to come immediately. Stereotypes and internalized biases are embedded deeply in our minds. Though at EdApp we are certain, that the business world is heading in the right direction and soon, justice representation and visibility will become basic standards in the big-money world. e big money world.
Sources:
[1] https://www.greatplacetowork.com/resources/blog/why-is-diversity-inclusion-in-the-workplace-important
[2] https://www.cio.com/article/3262704/diversity-and-inclusion-8-best-practices-for-changing-your-culture.html
[3] https://ideal.com/diversity-and-inclusion/